Literature - Guest Contributions
After the Marathon................Goal Accomplished!
by: Lynette Johnson, WWT Guest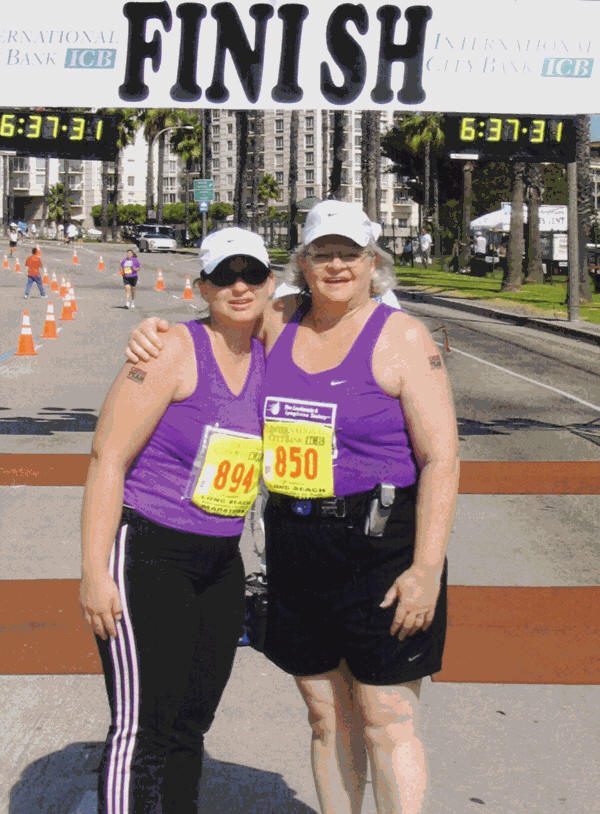 Under the tape after we finished. The clock above us says 6:37, but we started 1:15 ahead of the regular start time. Even after that many hours, those really are smiles on our faces! At least as much as we could muster. Half smiles, maybe?
Five months of training and I've done it – 26.2 exhilarating and grueling miles were walked in this Long Beach Marathon and my daughter Jessica and I crossed the finish line together,. We leapfrogged each other along the course taking turns in strength and weakness, determined not to give in to the body's desire to stop, trying to meet each challenge presented in order to be able to cross the finish line. There are many to pay tribute to for the triumph of that day.
I'll never forget the sights, sounds, and feelings of that Sunday, October 10, 2004:
Gathering in the hotel lobby and walking over to the starting line in the predawn dark with the entire Team In Training (TNT) teams of both LA and Orange County chapters for our 6:15 am start time. How strange it felt to be putting sunscreen on at 4:30 in the morning!

For a woman whose background did not include competitive sports for girls, to put her foot on the starting line for a race that included 15,000 participants, there are no words to describe that surge of emotion.

Hearing the words, "TNT walkers, on your mark…"

Walking in the early dawn down the middle of a freeway that had been closed for us.

Hearing a policeman behind us, just as the sun began to come up, on loudspeaker saying, "Walkers, move to the right, in-line skaters coming through." We had been told the skaters would reach speeds of 32-35 mph so we needed to be sure to be out of their way.

Watching as the line of skaters in their colorful full-body suits whizzed past in a snaking undulating line. What an exhilarating moment! I could have reached out and touched them they passed so close, heads down, arms on backs, shoulders and legs moving smoothly and rhythmically, not wasting any motion.

Three groups of in-line skaters passed and the last included children. We cheered them on as they went by and later passed some of those same children struggling to get uphill on tired legs. You should have seen them dig into resources they didn't know they had as we cheered again and encouraged them up one more hill, determination strong in their faces.

The elite runners passed us about 45 minutes into our race. I'd seen them on TV, but to be that close to them in person, to see their liquidity of motion was amazing. We cheered as they passed. Some cut their eyes our way, some gave us a thumbs up as they passed, acknowledging our efforts as we acknowledged theirs.

On the overpass that crossed the starting line at the 7:30 start time for the rest of the pack, we looked down from both sides and as far as you could see, runners filled the entire width of the road below. What a sight!

Rounding the bike path for our stretch along the beach, the fireboat was circling in the harbor passing close enough that we felt the spray from the streams of water pouring out its spouts.

Neighborhoods had cheering sections and some even had bands playing us on.

TNT families and alumni stationed along the way cheered and yelled encouragement as soon as they saw a purple TNT shirt.

Coach Jennifer and TNT mentors Barbara and Ann made the race so much more fun and doable. On the back side of the course, Coach Jennifer was always looking ahead for the next mileage sign, "Look there, Lynette, see the sign? This mile is almost over. You've done it!" Along with, "OK, now you've only got to 3 Rocks and back," relating it to the training course we'd completed so many times over the last 5 months. When you're at mile 22 on an unfamiliar course, it's way too easy to say to yourself, "I can't make it any farther," because at that point, after that many hours, the miles just seem to have no beginning and no end.

We'd told our family not to try to make it to the start, but had asked them instead to meet us somewhere between miles 17 and 19 with ice and Gatorade. We carried our phones and what a great sound to hear the phone ring and be told that Don and Mark were at mile 17 walking back toward us to mile 16. This was the back side of Cal State Long Beach in an industrial section. The sun was high in the midmorning sky and to our backs and there were no trees for even brief interludes of shade. I had baggies in my pack so when we met up, they filled them with ice and I dropped them inside the front and back of my shirt and in my hat. Instantaneous relief! And oh how refreshing the drips when that ice began to melt!

Miles 16-19 were the toughest miles for me and tougher because I hadn't planned on feeling so drained until at least mile 20. But with ice in my shirt and Gatorade in my system, I began to recover somewhat. Jennifer had Don call ahead to my other two children, Josh and Jacquelyn, so they could find a store and get us some pretzels. What a lifesaver those pretzels were. We'd carried plenty of Power Bars and Goo with us, but really needed something salty and not so sweet in those later hours.

Jessica hit her toughest at mile 22. She said it was just being able to listen to Mark and Ann (who'd walked back out to meet us) talk over her head that got her through those last couple of miles. Her husband, Mark, had decided to walk on in with us in order to be with Jessica while Jennifer walked with me. He actually did about a half-marathon himself that day without planning to. The last six miles, Jennifer and Mark traded off between Jessica and I making sure we had the essentials of encouragement, water, and food. It was like having servants. We just had to speak it and it was there.

At mile 26 the last bit of the course is downhill to the finish line. Mark and I were about 100 yards ahead of Jessica, Jennifer and Ann at that point. He looked back and said, "She's just behind you, want to slow down and walk in with her?" At the same time Jessica heard, "Your Mom's just ahead, want to catch up?" I turned around and looked and there she was running toward me. I slowed my pace until she caught up, we clasped hands and walked in together crossing the finish line at 1:30 pm! From 6:15 in the morning to 1:30 in the afternoon, now that's going for a long walk!

It was a great accomplishment for both of us to push our limits and find the strength needed to finish. And it was great to become champions with the support of friends and family. My husband and children, Don, Josh, and Jacquelyn were at the finish line taking pictures and cheering us in along with the rest of our TNT team. Jessica and I were the only full-marathon walkers on the Irvine team and even though everyone else from our team had already finished, they stayed to see us in. Our friends, Steve and Gisa, who did the half-marathon and 5K, respectively, also waited for us. What a fabulous finish line reception we had!

And then came recovery… After 7+ hours of walking the same pace mile after mile, the body said, "Enough is enough!" and began to shut down. Sausage fingers had sprouted from my hands and the swelling prevented normal use. Due to bad planning on my part, I'd gone all day without protein but, by the time I'd had my shower, which I wasn't sure I was going to make it through, and an essential emptying of that sweet energy I'd had ingested all day, the hamburger Don ordered had arrived and Jessica and I split it. It was the greatest hamburger I've ever had in my life and I savored every mouthful! Through the next day, exponentially by the hour, I felt better and better and really, by the end of the day didn't feel any worse than after my longest training day, which both surprised and pleased me.

And to top it all off, I had absolutely no problems with my knees, not even in the days following! My appreciation goes to the staff at Pacifica Orthopedics, Dr. Bakman, Dr. Khreich (who I saw riding his bike along the course checking up on all the TNT participants), and Edith. With their help in the weeks preceding the race, I was able to gain enough strength in my knees to finish in the time frame I had set for myself!
When I started training for this marathon and from the first day faced things I wasn't sure I could do, I thought many times of Don Schollander, the great Olympic swimmer and a contemporary of mine, because I remembered something he'd said many years ago. In 1964, he was the first swimmer to win four gold medals in a single Olympiad. After that accomplishment he said in an interview that it's when you can break through the pain barrier into real agony, that you have the mark of a true champion. Even though I was not an athlete, I have applied that principle to my life many times over the years when facing adverse circumstances. No one likes going through something hard and painful and the initial reaction is to find a way around it. Most times, however, that's just postponement. I've learned, like Schollander, to face the challenge and push through the pain barrier knowing that sometimes it does give way to real agony. But at the end, it's a very pleasant surprise to find that you've actually taken a shortcut. You've become the champion of your circumstances. And as a champion, you can face the next set of circumstances with a champion's heart and spirit.
I followed the life of Don Schollander to see if his youthful statement carried through his life as well as his swimming. He went on to Yale University after the 1964 Olympics and competed on the swim team there and again in the 1968 Olympics. Swimming was always fun but never a means to an end for Schollander. He's a family man, with a wife of 20 years and three children and he owns Schollander Development Co., a real-estate development and construction company in Portland, Oregon and he applied that same kind of dedication and commitment to other areas of his life, pushing through what was painful instead of pulling back and saying, "I can't."
I'm convinced those with blood-related cancers must develop that same determination to push through the pain and agony of treatment in order to live each day as a champion over their circumstances. I was pleased to commit to finish this race in their honor and to honor all of you who donated to the patient care and research and development for better treatments of blood related cancers.
And through the five months of training, and the long hours of Sunday, October 10, 2004, I was able to reach the end with a champion's heart and spirit, too. I pushed through the pain barrier into very real, but temporary agony, and I wear the mark of a champion with pride! I continue walking my now piddly 4-5 miles on Saturdays and/or Sundays and I continue with the regimen given to me by Dr. Bakman and team, as I certainly don't want to lose the newly gained strength and flexibility in my knees.
Thank you all for your support in this incredible journey of mine,
Lynette
Literature


Essays
The WWT doesn't just write about travel! See what else I am up to.
....more
Poetry
In addition to painting, I occasionally express myself via a poem....more
Stories for My Grandchildren
Stories about my life to be preserved for future generations....more
Guests
Guest contributions to my collection of literature....more