Welcome to the World's Worst Tourist
Welcome to my web page! I hope you will spend some time here and enjoy (or at least find interesting) some of what you read and see in these pages.
My profession takes me all over the world. I love to experience and learn of cultures, present and past and I am blessed with many dear friends in wonderful and exotic places who enhance this process. Here you can read about them and their places and cultures. Writing enhances and even changes my experience of travel as well as life, itself, and ultimately my most reliable decision making process is to choose only after asking, "Which choice would be most interesting to read about?".
A passion for art since childhood shaped my right-brained approach to science and life. As a physicist my work involves the science of light, images, and holography, some of which are represented in these pages. Included are chapters that describe encounters, experiences and critiques of artists, scientists, and their creations. Eventually, this will get me into trouble, especially the critiques.
To see a more indepth look at my work in science and art, please see my resume. Click here for James D. Trolinger's Resume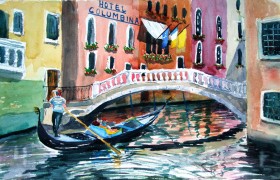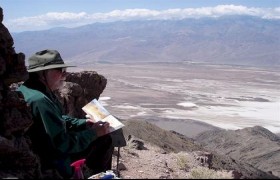 I spend a lot of time painting in the studio and while visiting distant places. Want to own one of my paintings? It's easy! Just make a donation to breast cancer research, and I will send you a painting of your choosing. Please visit the Art section of the website to see what is new!
James D. Trolinger, 
B.S., M.S., Ph.D., Holoknight, WWT
The World's Worst Tourist