Painting Uluru
November, 2012
Viewing a total solar eclipse is a bit like being born again, and doing it in northern Australia was a bonus, giving us a chance to experience a continent that neither Pauline nor I had seen before. Now that the eclipse was history, we saw no particular reason to purchase the option for continuing on to Ayer's Rock on the way back to Sydney. Not that we didn't want to see Ayer's Rock; we just didn't want to be confined any longer to a tour group. We said our goodbyes to newly made friends and from here we were on our own. We flew from Cairns to Ayer's Rock, or Uluru, the Aborigines name for it, with a stop in Alice Springs. This gave us a great look at the outback from above.

I had noticed a tight connection with our other flight from Alice Springs to Ayer's Rock, and became concerned when the flight was late leaving. Upon asking the airline hostess if we would have time to make the next gate, she explained that, while the flight number changed, the plane did not. Alice Springs essentially has only one gate and ours was the only plane in the airport. We stopped worrying. We were surprised to be treated to a full meal on the short flight.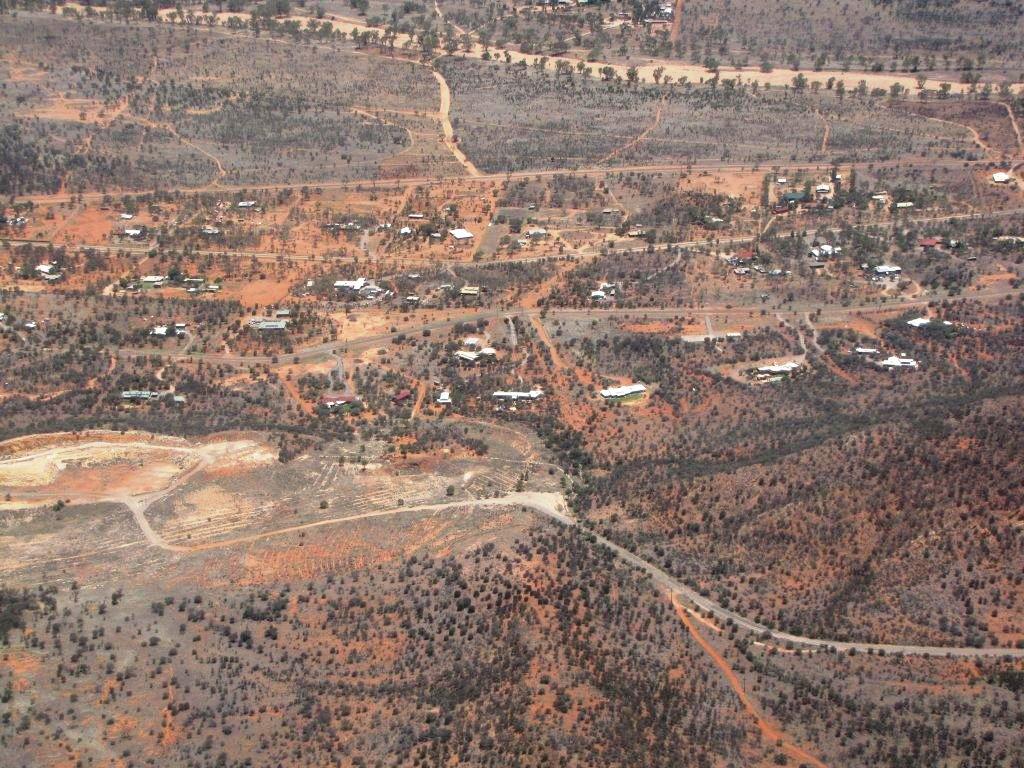 Alice Springs, one of the few towns in the outback. Alice Springs in not close to anything.


Ayer's Rock/Uluru

Ours was the only airplane in the Ayer's Rock airport. Here we rented a car and headed for our hotel, the Desert Palace. Pauline help keep me reminded to "drive on the left".

Having paid a few extra bucks for a room "overlooking Ayer's Rock", I discovered as soon as I entered the room, it was the best investment so far on the trip, providing a second floor balcony with a clear view of Ayer's Rock, which lay about 10 miles away as the crow flies. I could have been happy just staying right here and watching sunsets. Nevertheless, we set out for Ayer's Rock, which was about a fifteen minute drive, to see our first Uluru Sunset, and oh what an amazing experience it turns out to be.

At sunset, Ayer's rock seems to come alive as shadows form, giving it a feeling of life. Then it transforms in color from a dull gray to a deep red. It is easy to see why the aborigines see it as a holy place. It would be possible to spend days enjoying this geological formation in many different ways. Climbing it is still allowed but highly discouraged out of respect for the aborigines, who consider that to be blasphemous. Many people still make their way up the rock. We chose other methods. We drove around it, stopping occasionally to photograph unusual formations; we walked the path that goes around the base; we hiked into some of the waterholes, and special features, I painted it several times, and we watched it several times from a distance during sunset.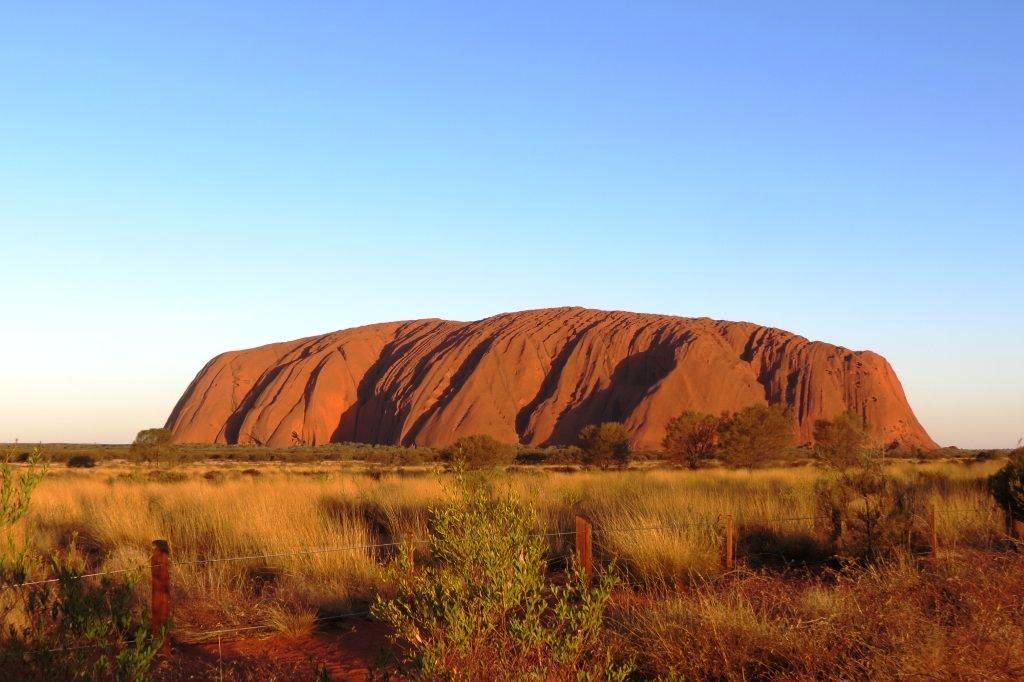 Uluru, also known as Ayer's Rock as the sun goes down. Looking east, shadows form and give the formation a life of its own as it transforms from a neutral gray to a deep red color.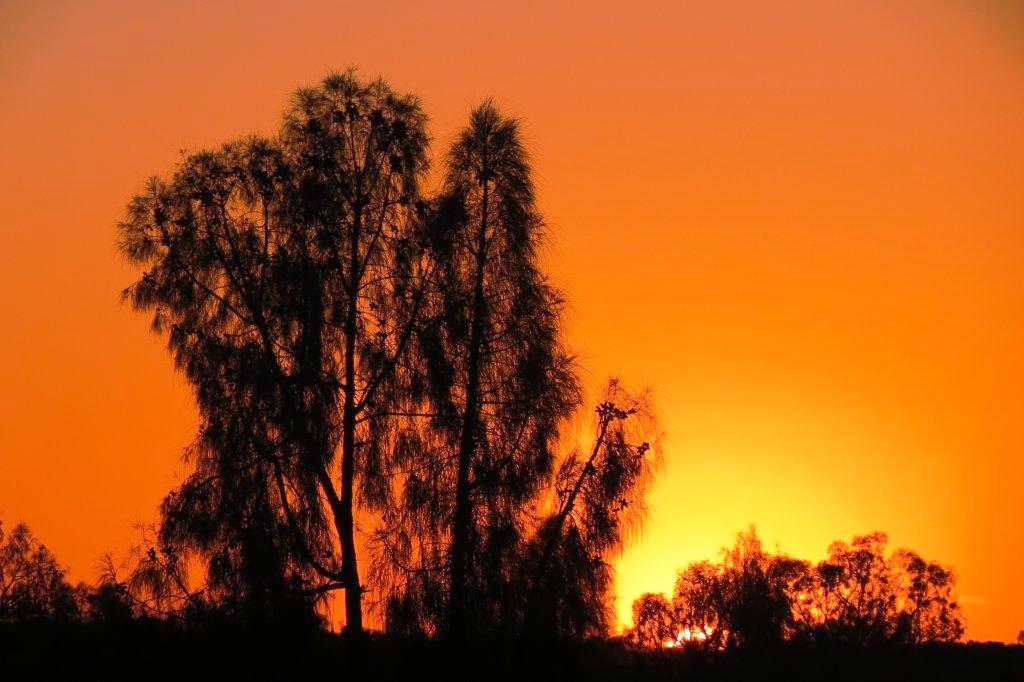 Looking west from Uluru at sunset also provides striking colors.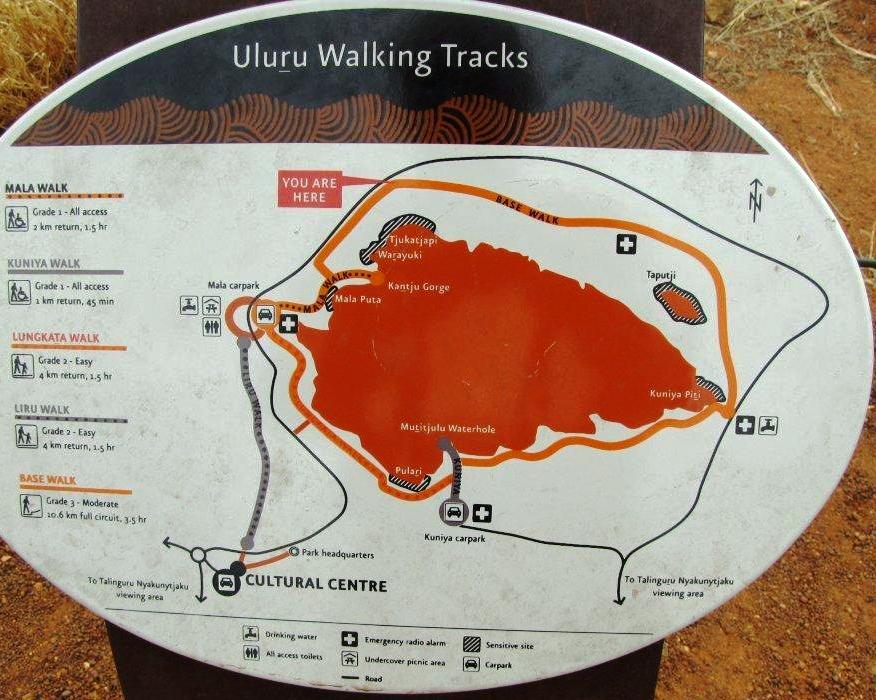 Ayer's Rock/Uluru-There are many ways to enjoy the formation, walking around it, driving around it, watching it at sunset from a  distance, and even climbing it (considered disrespectful to the aborigines).
One of our hikes included Mutitjulu Waterhole, an ancient aborigines site that includes petroglyphs and a beautiful cascading rock formation where precious rainwater drains from the mountain into the waterhole. Pauline and I had it completely to ourselves for about and hour, and we simple sat, meditated, enjoying the silence, and listened to the sounds of the forest. It is one of those places I simply don't want to leave.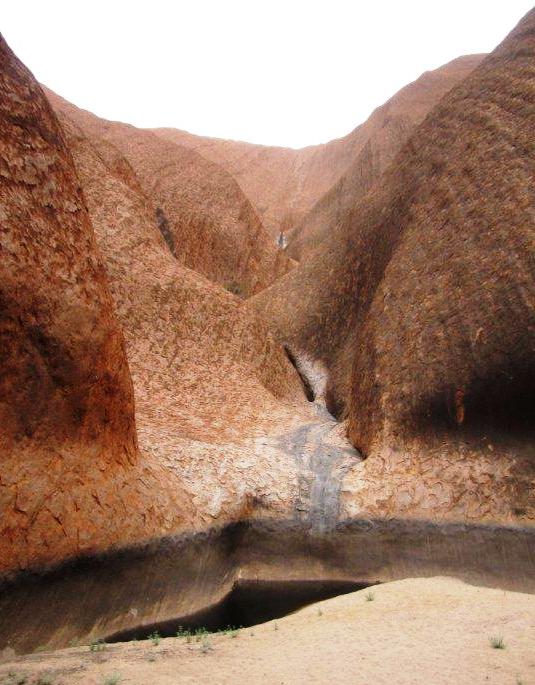 Mutitjulu Waterhole-We sat here and enjoyed the silence, listening to the sounds of the forest. This cascading rock formation concentrates and drains precious rainwater into the waterhole below.

Near the waterhole, closer the parking lot lies a cave that served as shelter for the natives passing through the area. I chose this spot to paint since the park service had place a nice bench conveniently before the scene.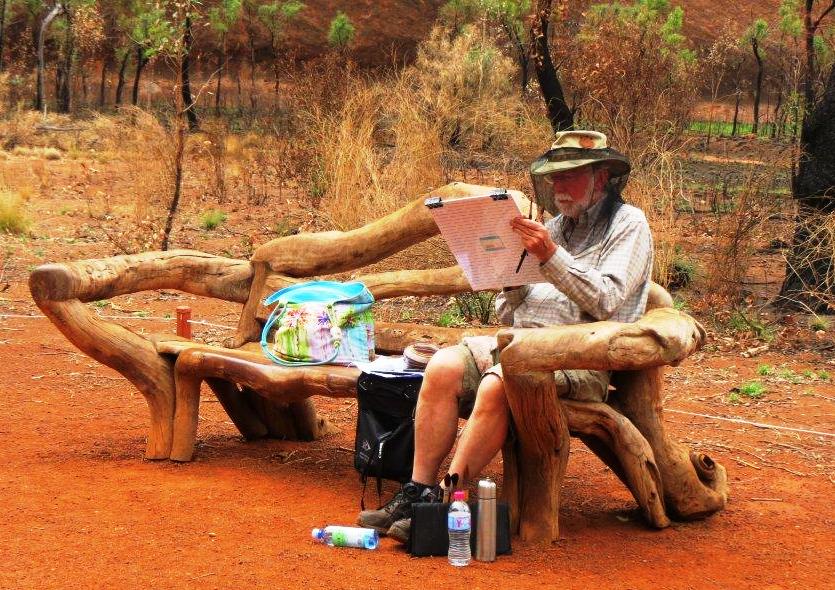 Fortuitously, the universe (actually the park service) had placed a nice bench conveniently before the scene I decided to paint.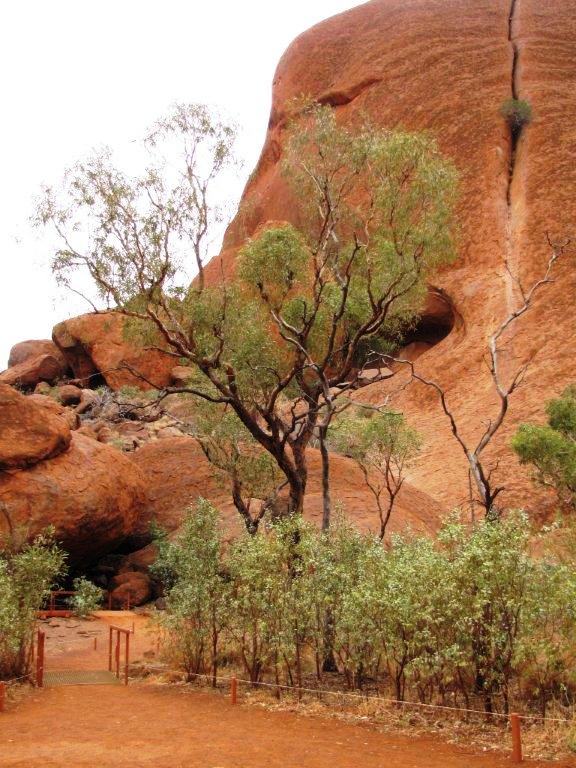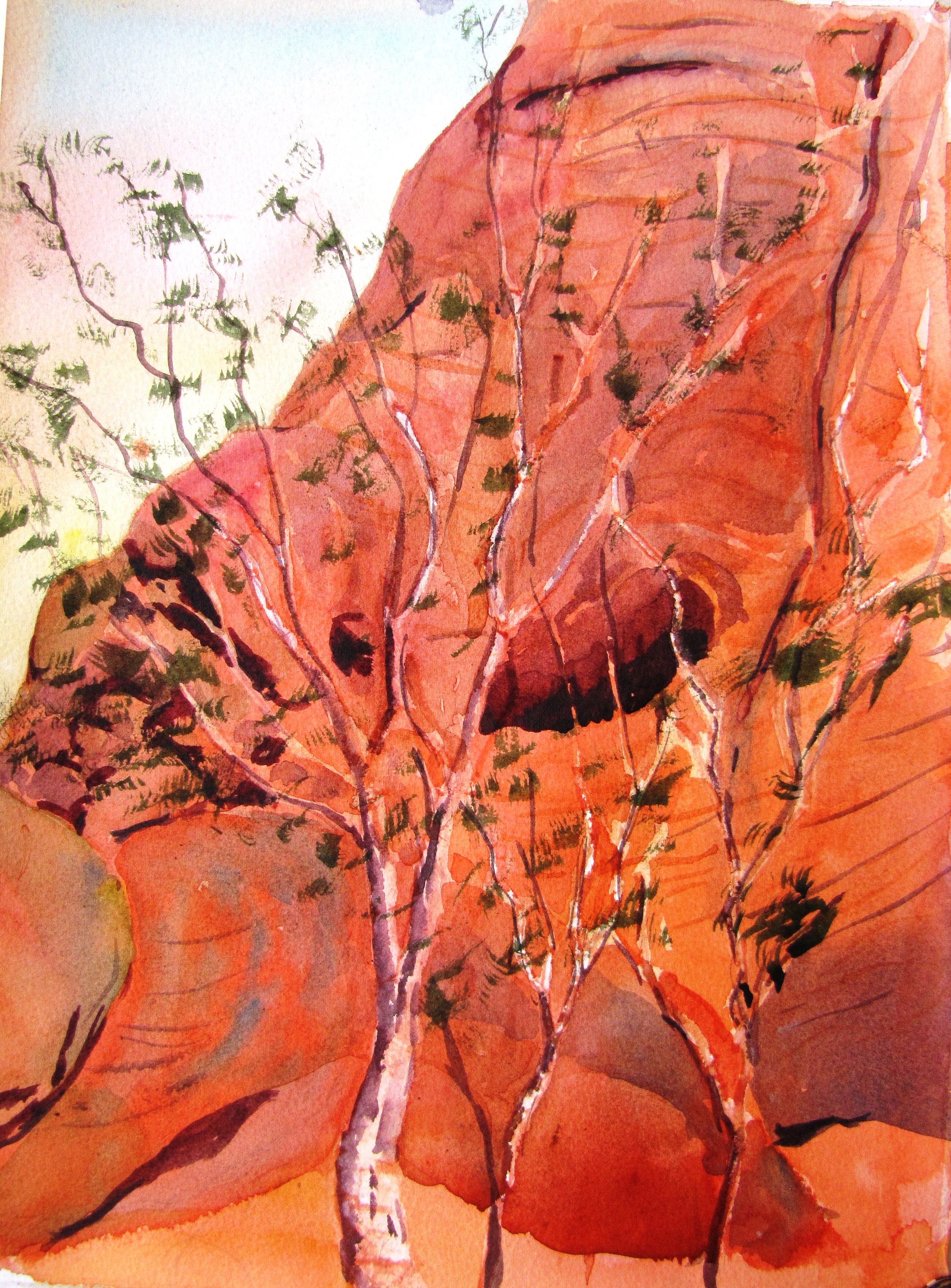 A cave at the edge of Uluru where natives found shelter. The cave also is decorated with petrogyphs. The Cave at Uluru, 12x16, watercolor on paper, painted on location

Our treat of silence was too good to last forever. Eventually, the ominous sound of car doors in the parking lot and a tour bus told us that our solitude would be short-lived. Shortly after that, the place was totally over run with tourists; I could only be thankful for getting here earlier and sorry that none of those tourists would be able to experience what Pauline and I had just enjoyed.

We abandoned the area by taking a hike around the rock passing through a special religious zone, where tourists are requested to be silent and refrain from photography, since the carvings in the rock contain personal histories of the aborigines. We complied.

Kata Tjura

Forty miles to the east lies Kata Tjura, another intriguing rock formation which, in many ways, is even more intriguing than Uluru. We eventually devised a poem to help us remember how to spell Kata Tjura.

If you go to Kata Tjura,
I will try to be a tutor
Kata starts with a K
And Tjuta's T, you don't say.

We devoted an entire day to Kata Tjuta, making stops along the way to photograph and view interesting formations and to take advantage of a number of viewing platforms provided by the park service. I sketched and painted Kata Tjuta from both sides using convenient rest areas and viewing platforms. When feasible, I enjoy mixing some of the local materials into a painting, and in these locations, the bright red soil made this even more functional, since it behaved somewhat like the watercolor pigment. This part of Australia is overloaded with flies, and I found the hat net to be extremely valuable, though a bit clumsy to paint while wearing. One problem with such a net is that occasionally, a fly finds his way inside the net, and one struggles with the decision to stop and remove him or to let him wander around inside the net with you.
Painting Kata Tjuta from the west side. I mixed some of the red soil into the painting to give it an Australian spirit. 
Kata Tjuta from the west side, 12x16 watercolor on paper, painted on location in Australia. The watercolor pigment was enhanced by mixing in some of the red soil.
We were extremely lucky with our timing, which placed us at good viewing sights when no one else was present. In several instances tour buses arrived near the end of a sitting and the sight became filled with chatter and tourists lining up to have their pictures made with the features in the background.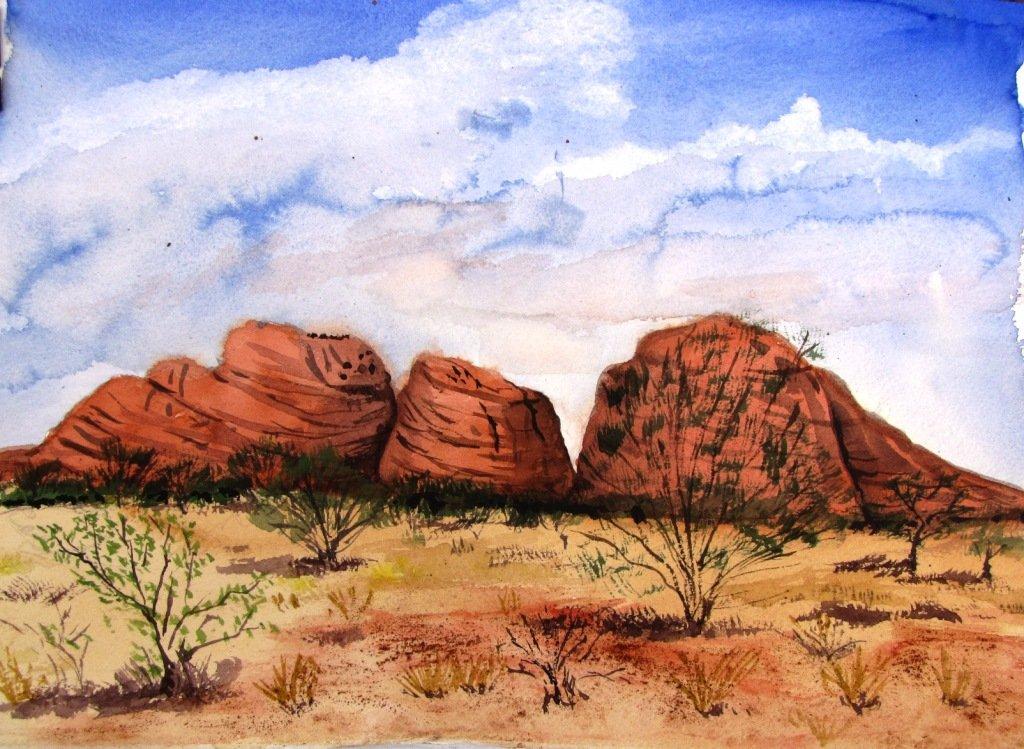 Kata Tjura from the East, 8x10, watercolor (and natural pigment) on paper, painted on location.

I had just about finished the painting when I heard the dreaded bus entering the parking area. Time to go. This wonderful place of quiet meditation is about to disappear.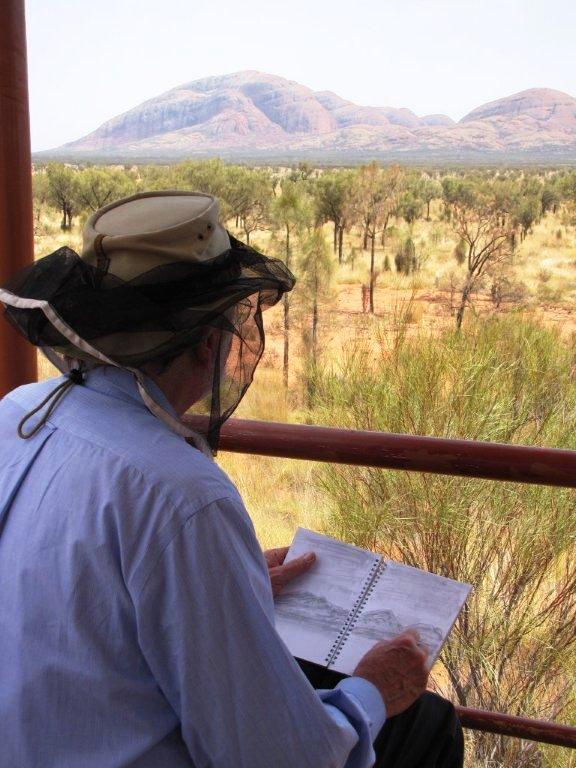 Painting Kata Tjura from the east. Notice the lifesaving fly net. It works fine until eventually a fly finds his way inside.  Then one struggles with a decision to get him out or to live with him a while.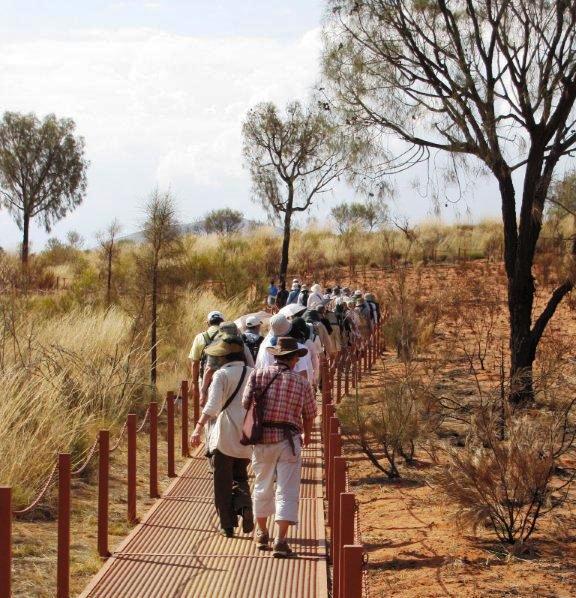 When the tour buses arrive, it's time to head in the opposite direction.

Leaving now also gave us time to visit the Culture Center at Uluru, have an ice cream, and then watch the sunset at Uluru.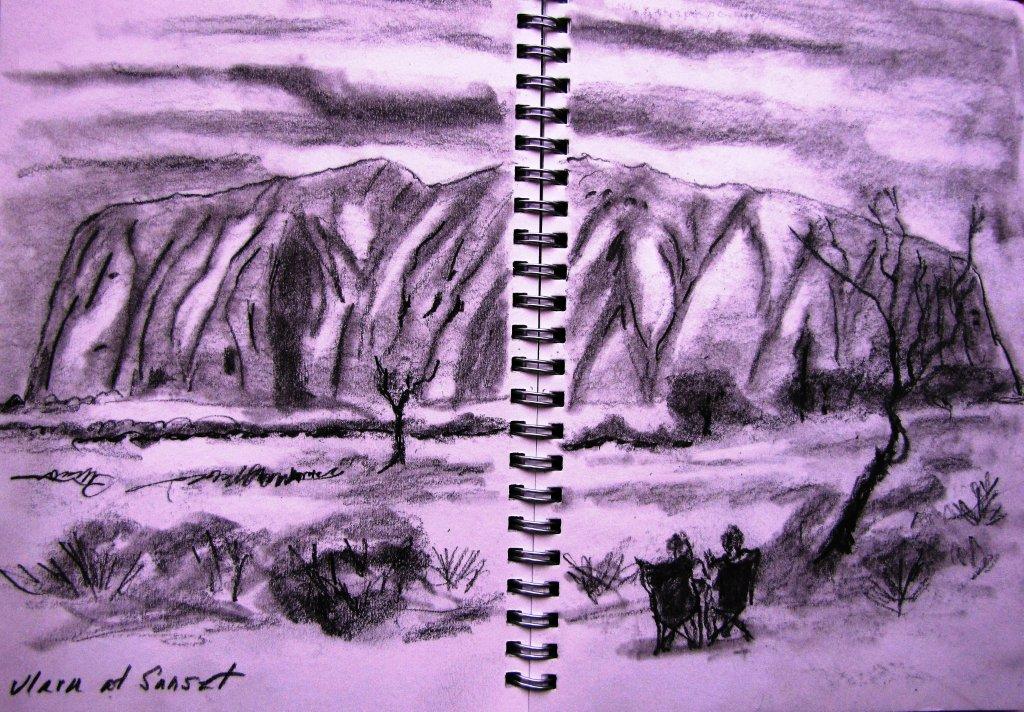 Sunset at Uluru-The car parks fill up fast, and people bring out lawn chairs to watch the sunset at Uluru. Fortunately, buses have their own car parks.
The "town" of Ayer's Rock". 

Before coming to Australia, I had an image in mind of a sleepy small Outback village with road side shops run by aboriginal people, a gas station, grocery store, pubs, and a lot of hotels and tourist shops. This would be the best place in the world to get tourists to pay the Aboriginal people big bucks just for being themselves or at least for being what the tourists expect them to be. What I found was nothing like what I had imagined.  Ayer's rock is an airport and a resort, run by one company, administered by the Australian park service and ostensibly owned by the Aboriginal people.  The resort has a four or five hotels, campground, gas station, and a group of shops, and a grocery store.  Since one organization runs everything, the prices are essentially fixed everywhere, i.e. a bottle of water costs $4 whether you purchase it in the hotel or the grocery store. Since a monopoly exists, prices are high, and you have no choice; you cannot shop around.  Aboriginal art can be purchased in the shops or at the cultural center, at what I thought were inflated prices. Surprisingly, you see almost no aboriginal people working in the shops or even as staff. I concluded that they have no interest in such employment. I had made a mistake, thinking that this might be a good place to purchase an authentic didgeridoo; however, people in this area did not do didgeridoos. I satisfied myself by purchase a couple of sticks containing burn marks that purportedly are clacked together to make music…. for the bargain price of $10.

Our four day experience of Uluru was one we will not forget; it is a place I could easily hang out in for a week or two.  On our 3 hour flight to Sydney we again were treated to a full meal and snacks.  In the evening, Robin and Lyndall met us at our hotel near the airport for a farewell meal, and we all compared notes of experiences in Australia.  Now it was time to head for California and to retrieve the day we had lost getting here.