Tennessee Autumn Adventure
November, 2007
After growing up and living a major part of my adult life in Tennessee, I left the volunteer state many years ago and set up households in California and Bedfordshire, England. Even so, I never tire of returning to Tennessee to visit friends and relatives as well as experiencing some of the great offerings of the state. One of the greatest times of the year in Tennessee is a magical few-week window in autumn, when the foliage turns into and incredible rainbow of colors. The only surefire way to experience it is to live there. I know this because I spent the last twenty-five years visiting too early or to too late to catch the peak. In 2007 a year long drought had brought lakes to new lows and some trees had already begun turning brown, apparently skipping the color process altogether. I hoped to find the odd pocket of color to convince Pauline that I had not been exaggerating the beauty with too much prejudice.
In planning with a colleague whom I had planned to visit I mused that my visit would surely bring on the rains like it always had in the past, each visit having been accompanied by torrential rains. He responded that I could make myself rich if I could convince the farmers of any truth in that and stroll around their parched fields.
My hotel choice for Nashville is the Best Western Capitol, located in the center of town across from the state capitol. This hotel in addition to being economical offers simple, free parking, and a perfect on-foot access to museums, the capitol, the Bicentennial Mall, Broadway, Second Street, Printer's Alley, and the footbridge over the Cumberland River. Along with these favorites are the unique Nashville architecture, murals and street art.
We had set up a dinner visit with kids and grandkids at The Stockyards, one of the best steak houses in America. Rather than drive ourselves we caught one of the motorized rickshaws, which now populate Nashville, and had a bumpy, fun, ten-minute adventure. These rickshaws are a good alternative to taxis; they are less expensive and they can get you to your destination much faster, not to mention their "green" character. I hadn't seen anything like this since New Delhi, and I couldn't help but wonder how long it would be before Nashville would resemble New Delhi.
In planning this, I figured the Stockyards would be an interesting alternative to our usual restaurant choices, such as The Cracker Barrel or Shoney's, although the meals cost about an order of magnitude more. As much as I have eaten in my life I remain unconvinced that the difference is really worth it, but it was rewarding to see that even my grandkids could tell the difference in the quality of the food between The Stockyards and, say, Shoney's. Nevertheless Pauline and I were served a cold steak and had to send it back to the kitchen to be warmed. I probably wouldn't have done that at Shoney's, but here we paid for the very best and so demanded it.
After such a meal, a walk around town is mandatory and downtown Nashville is perfect for a midnight walk. A stroll through droves of revelers allowed me a glimpse of the many live music clubs that line Second Street, Broadway, and Printer's Alley. Just enough separates them so that you can stand outside and enjoy the music from one without interference from the next. I was reminded how really good these bands are as I stood, spellbound, in front of Legend's enjoying a band replicating Elvis Presley music. The Presley words flowed through me like a chilling breeze….."We're caught in a trap………I can't get out………because I love you too much baaaabeeee. Why can't you see? What you're doing to me…." I could almost feel the life-sized statue of the king standing near the corner come to life.
We began the next morning with a walk along the Cumberland, past Fort Nashborough and across the footbridge over the river. From this vantage point we could see the General Jackson paddling down the river on one of its lunchtime specials offering some of the finest music in the world served up with Southern cooking. Unfortunately, Southern cooking is not the healthiest; Time magazine placed Tennessee food among the unhealthiest in the country in this month's issue. Part of the problem is that the first three ingredients in most recipes are salt, sugar, and bacon grease, and then they cook whatever it is it to a mush.
After shopping for cowboy hats and music along Broadway we dropped in for a noontime beer at our favorite bar, The Second Fiddle, where a great band was already in action. At this time of day, we had the band, more or less, to ourselves and chatted with the musicians between songs, eventually discovering that one of them had moved to Nashville from the west coast not far from our own hometown. Twelve hours earlier this place had been packed shoulder to shoulder with people and a line out front. Why didn't all those people come at noon today? They must have been looking for something besides the music and beer.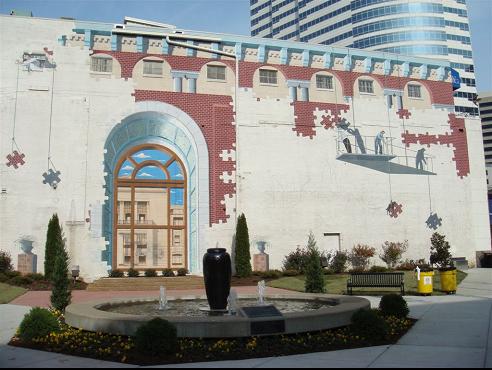 On of many great murials in Nashville.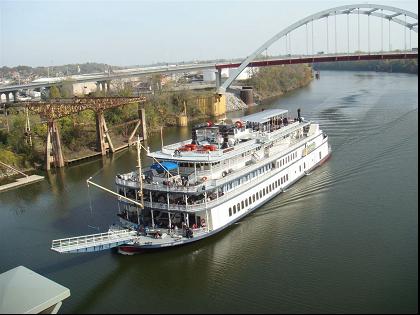 The General Jackson on the Cumberland River, taken from the footbridge
By early Saturday afternoon we had arrived at our new abode with relatives in Shelbyville, where we began to see that our timing for the colors was not bad at all. I took a few minutes of late afternoon sun to design a painting that I could complete on Sunday. The sunlit tops of the trees provided an amazing color display that was duplicated in the reflection. I hadn't observed such a dynamic color show since painting Artists Palette in Death Valley. On this lake I have witnessed the most beautiful geese launching exercise, where geese organize themselves into a v shape on the water and take off in a dazzling display for another day of migration. The event inspired the painting below.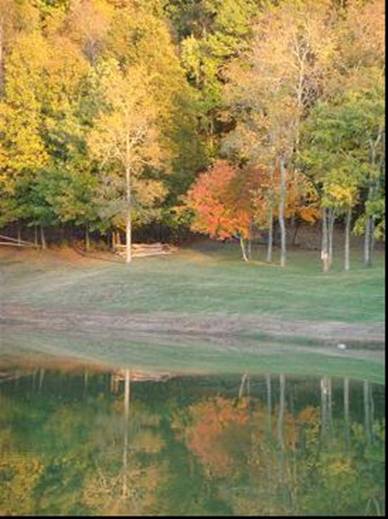 November evening with sunlit treetops on Cartwright Lake, TN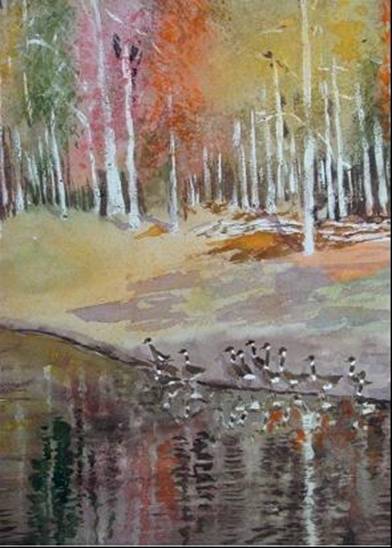 Preparing for Takeoff-11"x22" Watercolor on paper, collection of Wallace Cartwright, Shelbyville, TN
Having inadvertently lucked into another one of those "miracles" that seem to be designed just for us we witnessed the Veterans Day reveling, which included a parade followed by an amazing fireworks display. The drought had rendered the July 4 fireworks display unsafe because of the fire hazard, so those fireworks were combined with the Veteran's day celebration to produce a spectacle that could compare with any I had seen anywhere.
On rare occasions such as serendipity places events so nicely that one adventure flows right into the next. What had started as an extremely intensive visit was not to let up. On Sunday morning after a nice painting session with fall colors reflecting in a lake, we joined six high school classmates at Miller's Grocery in the village of Christiana for an old-fashioned country brunch. A few of these people were 18 years old the last time I saw them. Now they had wives, husbands, (some two or three) children, grand children, and fifty years of life to catch up on. We could have talked for days; we parted ways again sooner than we wanted to with promises to repeat the experience.
Afternoon brought us yet another reunion with brothers, sisters, cousins, children, grandchildren, and so on. Again we satisfied ourselves by grabbing snapshots from each other's lives and parted again before anyone was ready. A wise friend once told me that parties should be terminated when they reach a peak and not a minute later. This is how it felt.
Members of the Class of '58
Monday was a more leisurely day, but with no less adventure. Exploring the countryside with the Cartwrights in search of the best fall colors took us on the back roads of Bedford, Coffee, and Franklin Counties, haunts of an earlier life. Some of the most beautiful groupings of colored trees were located in the vicinity of Normandy Lake, which itself had almost transformed itself back into Duck River as a result of the drought..
I finished off the day by painting a larger canvas of the lake and trees behind the Cartwright home place.
In the evening we moved on to Tullahoma to prepare for a Tuesday workday at the nearby US Air Force test center. A colleague and I would report on a fiber optical temperature sensor that we have developed for the Air Force to use in testing airplanes.
By noon we found ourselves wielding umbrellas, as I had predicted. The downpour continued into the evening, even so not interfering with an evening meal with friends in the village of Cowan. Who would imagine that a great Italian restaurant such as Sernicola Ristorante would exist in a small railroad town in Tennessee? Only the locals know about Sernicola proving one of the corollaries of the WWT travel principle of DoWhaLDo (Do what the locals do.)
On Wednesday we again became tourists and headed with the Cartwrights to the mountains to the east in a quest for even better foliage. We were again in luck with the mountains from Sewanee to Chattanooga and the road winding up Lookout Mountain to Rock City offering stunning views with unbelievable, natural colors. For the first time we realized that we had inadvertently hit the fall foliage at the very peak.
Lookout Mountain is an interesting phenomenon on the South side of Chattanooga, featuring four unique attractions, Rock City, Ruby Falls, Point Park, and amazing hiking trails that wind around the mountain providing stunning views of the countryside. Going directly to Rock City to take advantage of the best light we found a nearly empty parking lot. Rock City is a beautiful collection of rock formations that form the basis of a two-hour walk including a wide range of adventures. At one moment you are squeezing through "Fat Man's" squeeze, a narrow canyon between two huge rock structures, and in the next, you cross a swinging foot bridge over a deep cavern. Half way through you find yourself looking over a cliff at the world below from "Lovers Leap". Rock City is a great experience any time, night or day, but this trip was extra special since we had it along with mind blowing colors all to ourselves This is another one of those few places in the world I was not ready to leave.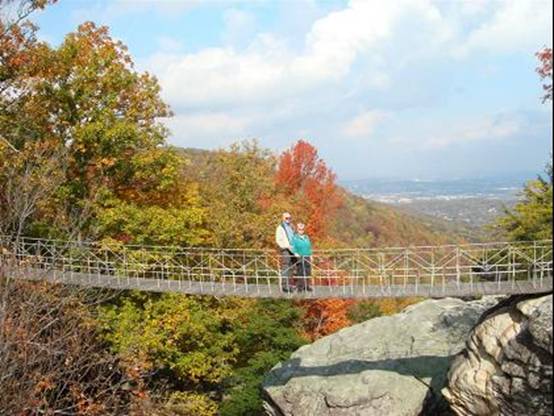 Footbridge in Rock City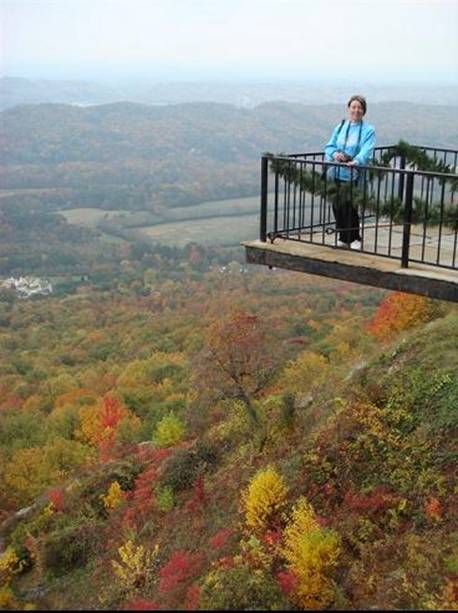 Fall colors on Lookout Mountain, TN
As if someone was watching over us near the end of the walk, the sun faded behind clouds and a light rain began. We had only to cross the road to reach our room for the night in the Chanticleer B&B, one of the few places to stay on Lookout Mountain. The Chanticleer is a great find, and with only 17 rooms, a place that is usually full.
The Lookout Mountain Café is the only place to have dinner on the mountain, and fortunately it is a good place, serving one of my favorite Tennessee dishes, fried catfish. By the time we finished dinner a storm was moving through the area, and we could see from the color of the sky and the lightning that someone nearby was catching hell. By the time we reached the motel, tornado warnings were out. A city just north of Lookout Mountain was practically wiped off the face of the earth by a tornado during the night.
By morning the storm had moved on ahead of a cold front, leaving behind a clear, sunny, cold, windy day. The Chanticleer served the best blueberry pancakes I had ever eaten to go with a buffet breakfast.
Our next stop was Point Park, a national war memorial park overlooking the Tennessee River, with civil war cannons in place to illustrate the battles of Chattanooga and Chickamauga. We walked along the trails and played with the cannons. Thousands of men were killed in a matter of days in battles that are described in detail in the visitor center and along the trails and monuments. Near gale force winds produced a chill factor to temperature levels much below what we had come equipped to handle. Even so, we managed to find life saving wind breaks to stand behind, taking one from pain to pleasure with warm sunshine countering the effects of the cold. We had the park to ourselves except for one, apparently crazy, park attendant who was walking around swishing a leave blower back and forth in a cloud of leaves that were already being blown randomly in every direction, quickly canceling any useful thing he could do with the leaf blower. I think all leaf blower operators must be crazy, but this one was the most bizarre I had ever seen.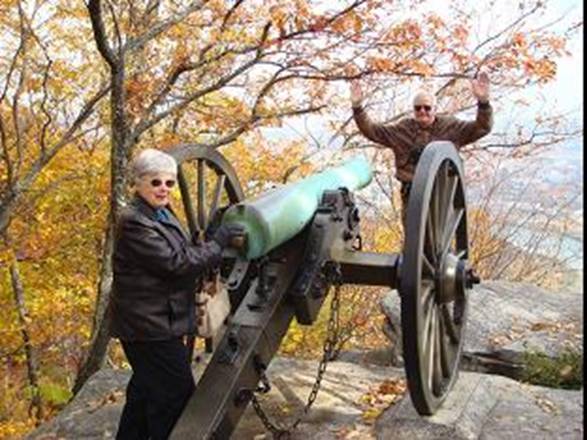 Civil War Cannon in Point Park
On the way home, after a few more stops to photograph leaves, we stopped at a Western Sizzling steak house for lunch. This was particularly significant as an ending of a trip that had begun with a meal in the Stockyards in Nashville, where the cost of one bottle of wine would cover the entire meal for four at Western Sizzling. Moreover, at Western Sizzling I had fried ochre, green beans, hushpuppies, turnip greens, pinto beans, steak, chicken, ham, pecan pie and ice cream. It occurred to me that people who go to places like the Stockyards for a meal are just as crazy as the leaf blower on Lookout Mountain.
Aside from a five-hour delay on our return American Airlines flight, the rest of the trip was uneventful. On the bright side of this was arriving back in Los Angeles way past the rush hour traffic. On the not so bright side, Pauline and I both gained three pounds after experiencing only seven days of delightful Tennessee cooking.