A Wedding, A Celebration, & A Sunday Brunch
Tennessee
July, 2007
It seems that everyone chose the weekend of 21 July to go to Nashville. President Bush was there (I don't know why) and Bill Gates had flown in to play in a national bridge tournament at the Renaissance Hotel. The latter explained why reservations thought I was joking when I asked if they had any rooms. This would be Pauline's first experience of a Tennessee summer, since previous trips had come at Thanksgiving and Easter. This would be unique also in other ways, including the wedding of a niece, a brunch with high school classmates, and a celebration of my brother-in-law's recent election to the office of Mayor of the city of Shelbyville, Tennessee. We like to bundle things these days. (Bush had not been invited to attend any of these……..well, I don't know about the bridge tournament.)
Budget car rentals must have seen me coming, putting me in the ugliest, fresh-from-Florida Saturn one could imagine. Nevertheless, this color, sometimes referred to as "shit brintle" by Tennesseans, turned out to be a real blessing, since, being the only thing like it in Nashville, made it a snap to spot in a large filled parking lot, a problem I often encounter with rental cars. I was thinking that this was so convenient someday I may even paint my Lexus this color………..NOT.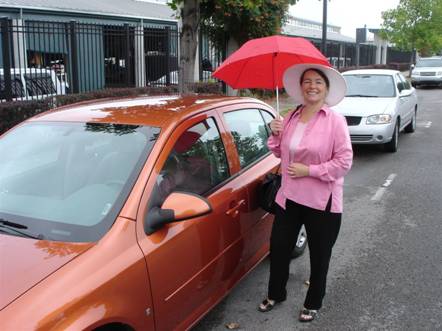 Our rental car was the only "shit brintle" car in Nashville. We could spot it a mile away. How about this color combination?
My usual downtown hotels were all booked, confirming how great Nashville is to visit; I chose an old favorite hotel further out. On our first morning we walked from the hotel into what felt like a huge steam bath, with an overcast sky, 90-degree temperature, 98 percent humidity, and beautiful green everywhere. Noticing the shock on Pauline's face, I said, "Welcome to a Tennessee summer."
By the time we were halfway to downtown for our traditional walk, the sky had opened up and rain fell in torrents, but by the time we approached the Bi-Centennial Mall, the rain had stopped and it seemed even hotter than before. In this kind of weather the rain lasts just long enough to raise the humidity that last two percentage points but not long enough to cool off anything. Even so, we did a quick pass through the Farmer's Market, Pauline liberated a white hat from one of the vendors and I located a nice spot to sit and paint the capitol building.
View of the State Capitol from the Bicentennial Mall. My brother works in the high rise on the right. I painted this scene.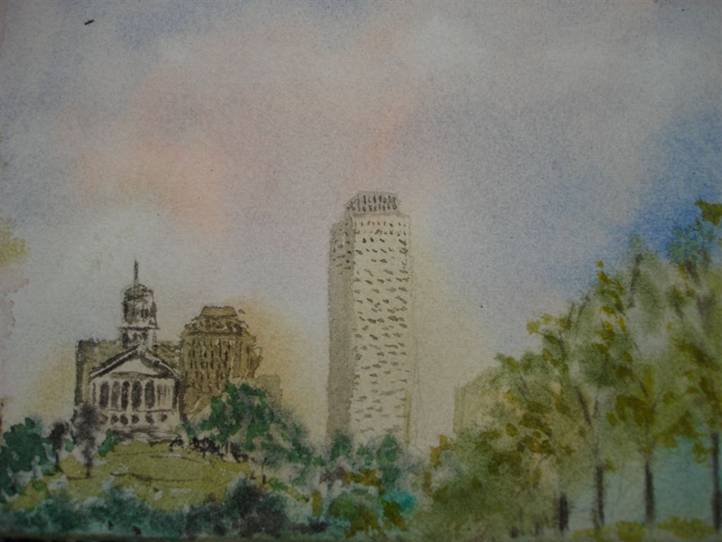 Tennessee State Capitol, 5x7", watercolor study on paper, painted on location
Normally, we would walk the entire downtown from the Mall to the capitol, down fifth to Broadway, along the Cumberland River, then down second, and pause in the Second Fiddle for a beer and a dose of live country music. It's a wonderful few hour walk including the music, street art, murals, and the footbridge over the Cumberland. Nevertheless, we passed on our usual walk today to try out a new place near the Percy Priest Lake dam.
Meeting up with my daughter, Kris, for a brunch at the Cracker Barrel, I eased Pauline gently into southern cooking again. The most serious Southern foods on the menu were grits, green beans, turnip greens and fried okra, which I had subjected her to on previous visits. She usually humors me and eats some. I still haven't found a restaurant that serves "poke sallat". One way you know you are in the south is that the greens beans stick together and have a texture more like lasagna. If a green bean makes any sound when you bite it, southerners consider it to be raw.
Near the Cracker Barrel is the Percy Priest Dam, which also is a trailhead for the so-called "Greenway", a footpath that runs for miles along Stone's River and eventually joins the Cumberland. We checked it out for about an hour finding a beautiful flower covered trail smothered in butterflies and striking views of the river that I couldn't resist painting.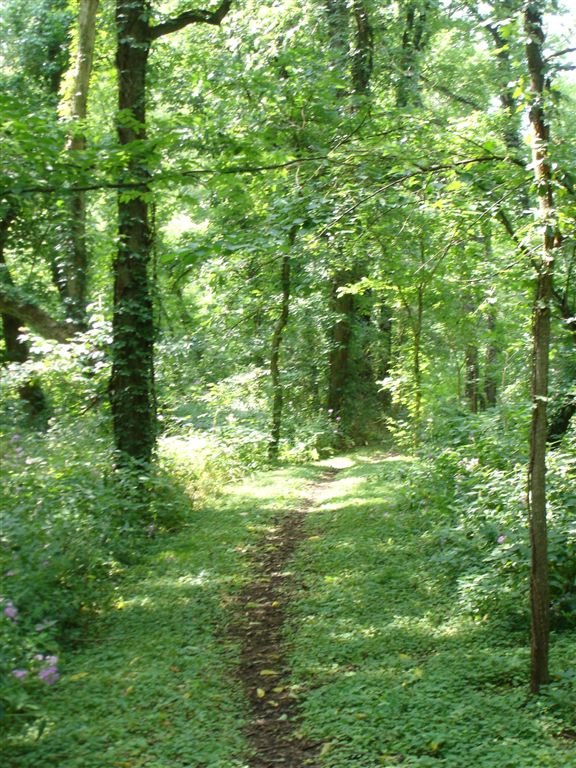 Pathway off the Greenway to the Stone's River. The air was full of butterflies.
Stone's River Scenery from the Greenway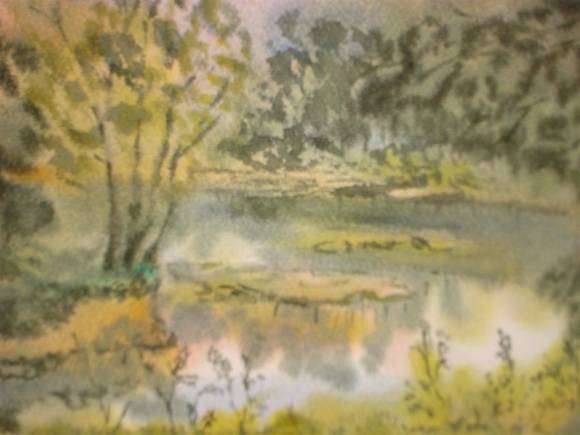 Stones River, 5x7" watercolor study on paper
Our wedding participation began with a Friday night rehearsal dinner at Famous Dave's Barbeque in Cool Springs, which, fortunately, had cooled off considerably from the day's high. Famous Dave's is one of those places that is rated according to how many doggy bags you take home. The dinner included about thirty people from the wedding party and both sides of the family. We met mothers, fathers, brothers, sisters, aunts, uncles, cousins, nephews, nieces, friends, and two grand parents. Our table of eight had two platters of food that included barbequed chicken, beef, pork, and ribs, beans, corn, slaw, and potatoes, enough for an army battalion. One helping of this would fill your cholesterol quota for a month.
After eating for an hour, it looked like we had more food left than we started with. I now know Jesus' secret; he ordered the fish and loaves of bread from Famous Dave's. Still, with all this left over, everyone went for one of the desserts, which were even more obscene than the food. Pauline and I split a bread pudding covered with ice cream. Since people now routinely split desserts, restaurants have started doubling up on the quantity and price to make up for it. We managed about half of it between the two of us and were amazed that a few of the party managed to wolf down an entire dessert and lick the bowl afterwards. (No names mentioned here, but refer to the figure below for clues.)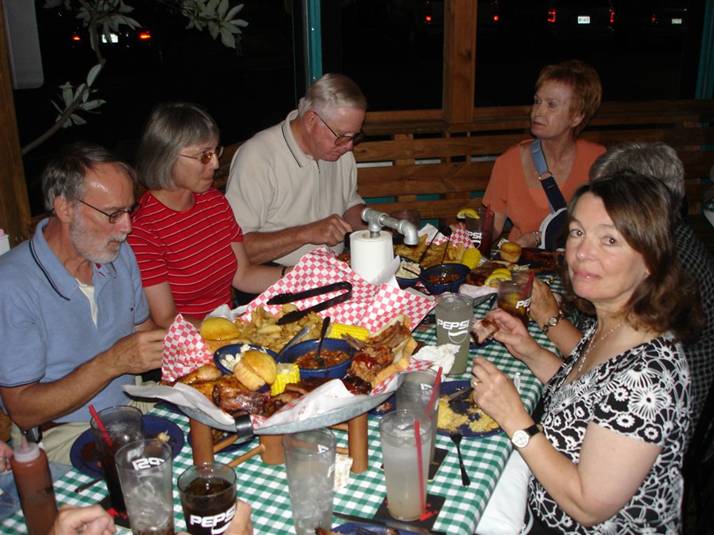 There was enough food on this table to feed the city of New Delhi.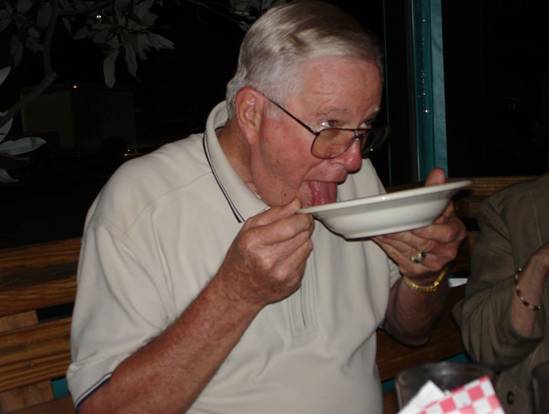 Some desserts are just TOO good to leave even a trace behind.
It was a beautiful outdoors wedding held in an iris garden in Ellington Park. Someone had done some serious planning with the layout; just as the ceremony began, shade from nearby trees covered the entire audience. Everyone did his job, the bridesmaids were beautiful, but not as beautiful as the bride, and newly weds were created with class. One unique thing about weddings is that they bring together two (or more) trees of relatives for the first and time, people who are not likely to assemble again until a funeral, if even then. All in a short period of time I was able to observe a wide range of relatives side by side. Clearly cousins sometimes look more alike than brothers and sisters.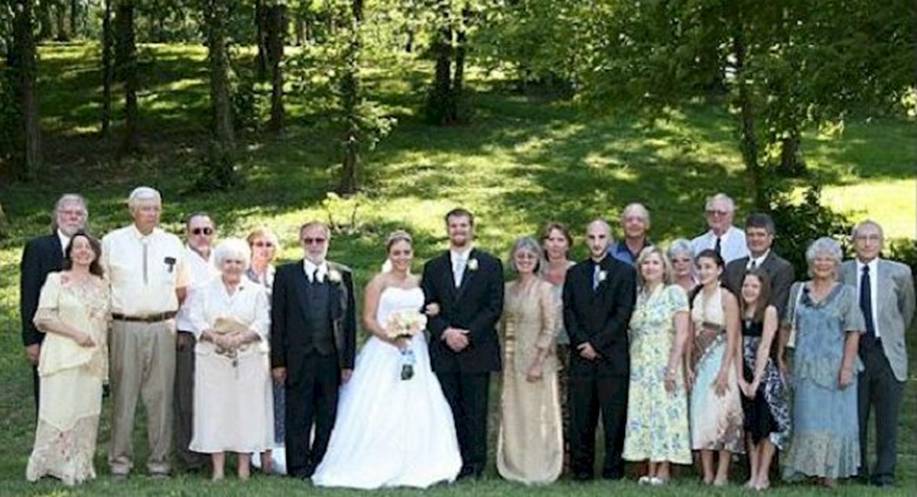 Two branches of the brides family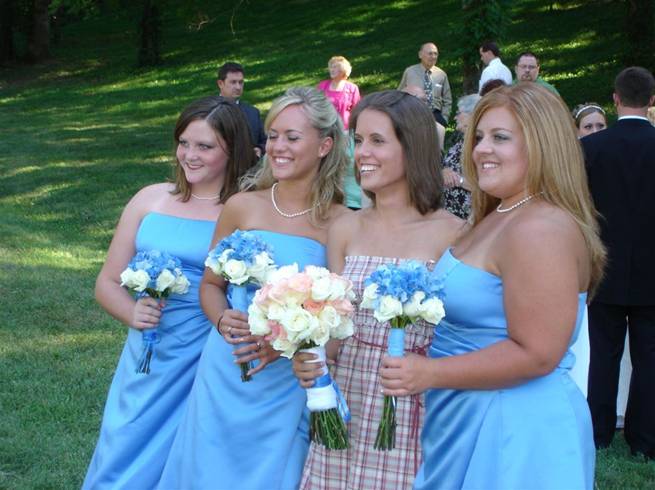 The bridesmaids were beautiful, but not so beautiful as to outshine the bride.
>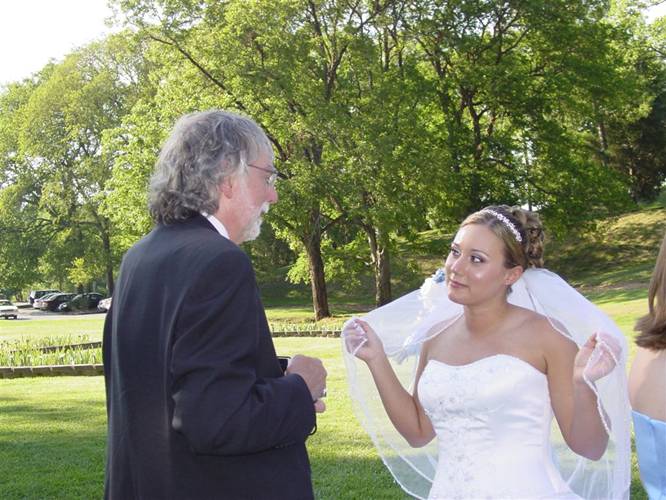 After the wedding, I disclosed my highly classified secret of how to live happily ever after.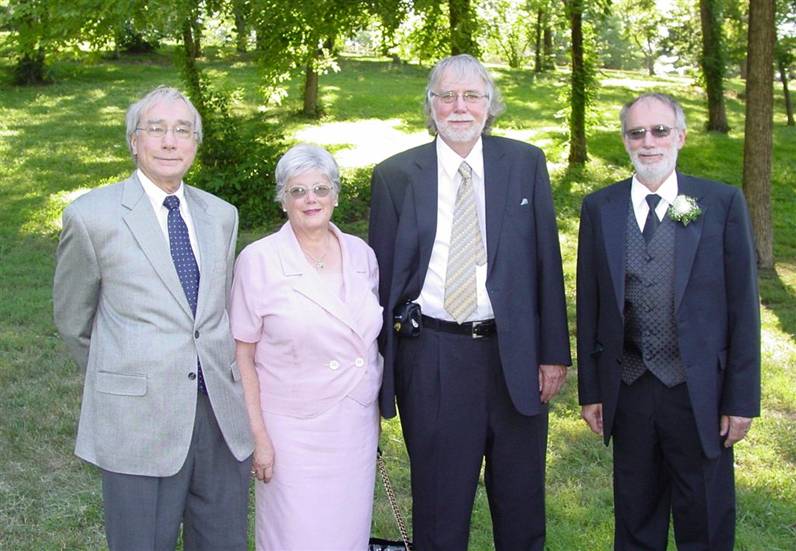 An entire generation of Trolingers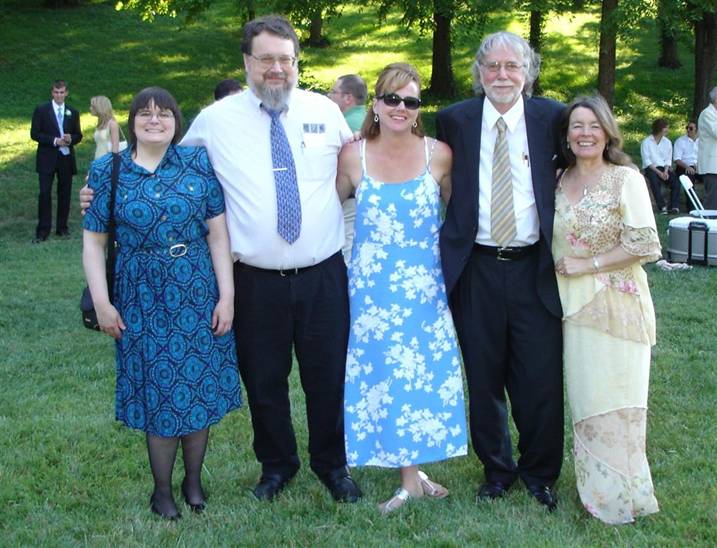 The Jim Trolinger Immediate Family minus Jonathan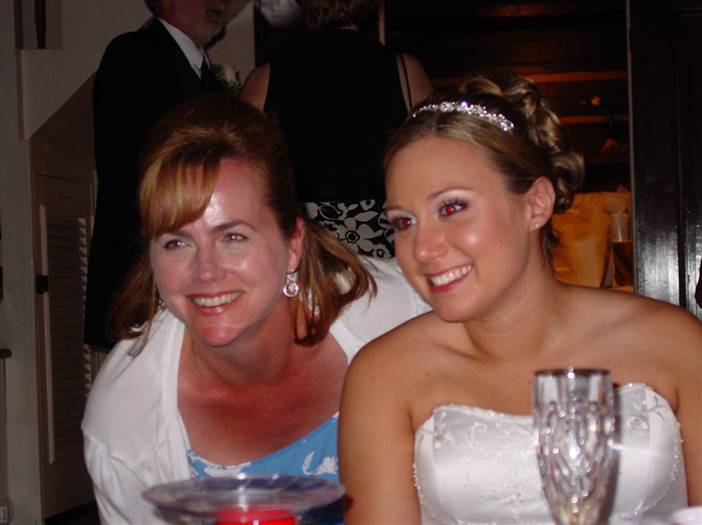 Do they look like first cousins?
A great party followed, and the kids danced, while the old farts sat around and discussed who was dying or dead since we last met up. I have noticed that the obituaries are the first thing a few of my relatives check when they get the daily newspaper (no names mentioned). Maybe I would do that too if I was mayor of the town.
Pauline was able to observe Southern wedding traditions such as the formal and informal wedding cake, neither of which was a fruitcake, like it would be in an English wedding.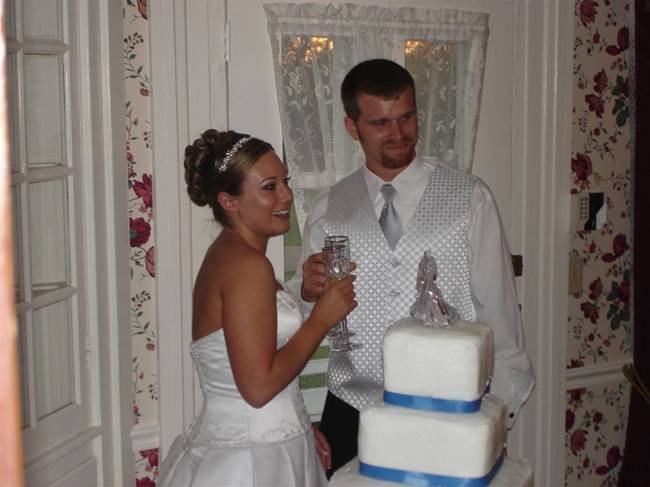 Toasting at the formal cake.
Toasting at the informal cake. Notice the UT Big Orange cake. You can tell where these guys went to university.
On Sunday I had agreed to meet up with old friends for brunch. What began as a rather fluid and undefined plan, typical of the WWT planning, solidified with a nine AM phone call from Ed Maupin, the third (or E3, as he was called in high school.) He and Gayle Clanton had devised a plan to introduce us to a small country restaurant in nearby Christiana, known as "Miller's Grocery". I had no idea what was in store for us but it sounded interesting and fun.
In fact, I had never actually been to Christiana, even though it lies within 15 miles of Shelbyville where I had spent the early years of my life. Central Tennessee has undergone a unique evolution that correlates with the evolution of transportation. In the 17th and 18th centuries, the river was an important link to the outside world as well as between cities. Larger cities were positioned on the river for transportation as well as water and power. In the nineteenth century railroads connected these cities and also spurred growth along the railroad with many towns having a primary purpose of supporting the railroad with fuel and water. These towns had little need for transportation on rivers or even roads, so they were strategically placed along the railroad and sometimes difficult to access except by rail. Roads were sometimes narrow and rocky if existent at all.
On a forty-mile stretch between Tullahoma and Murfreesboro the towns of Haley, Normandy, Wartrace, Bellbuckle, Christiana, Fosterville, and Rucker were such railroad towns. They thrived and grew halfway through the twentieth century, developing their own school systems, hotels, power, water and infra structure. A few even attracted major industries.
Eventually, the highway system began to compete with the railroads, steam engines were replaced with diesels and the most isolated railroad towns, like Haley, met a quick death. The growth of the air line industry and the interstate highway system drove the final nails in the railroad casket and train routes were terminated one after another. By 1965 there were no passenger train routes through Tennessee and many of the freight trains were replaced by trucking firms accessing the essentially free interstate system.
Hundreds of small railroad towns began returning to dust, even the ones that had become viable towns linked to others with drivable roads. Having linked the small towns to larger ones with good highways, eliminated the need for autonomy, for example, school buses now could transport children to larger schools in larger towns, power and water lines could now be laid along the new roads and the need for small infra structure was eliminated. People could easily drive to a major super market in a nearby town so even country groceries stores could not survive.
The interstate highway system combined with improved surface highways enabled megastores like Walmart to cater to large regions, changing the face of even larger towns and driving many smaller stores out of business. Small country stores no longer had a chance and one by one they faded from the scene creating ghost towns out of what had once been fairly large collections of businesses. Then an interesting bounce began to take place. The road systems between the cities and large towns had improved so much that an urban sprawl began to occur, leading to major improvements even between the smallest towns, which now offered attractive, low cost places for people to live. Now excellent highways began to link the ghost towns, not because towns were there but because a lot of people lived in the area.
This fortuitously opened the way for a new industry where a ghost town could be resurrected as "Historic RRtownville" with antiques, arts, and a quaint "country" restaurant to attract tourists, a new form of entertainment. Some of the old buildings were still there, and a marketable romance could be structured around them if they were close enough to the interstate highway traffic or a larger city. Anyone in the area can now drive to Christiana or Bellbuckle in twenty minutes on a good four-lane highway, for example, from either Murfreesboro or Shelbyville. More remote towns of Wartrace and Normandy are still questionable, being still too far from Murfreesboro.
That brings us back to Christiana. As we neared, I was having a bit of fun jacking up Pauline about where we were heading and what we would be eating. She was beginning to get suspicious after my having repeated some of the Beverly Hillbillies famous dishes, like crows eggs, hawg jowl, grits, pigs feet, and chittlins. After a twenty minute drive I turned from the main road, crossed the rail track, and pulled into "downtown Christiana, which comprises an antique store (that was once the bank), a post office, and what looks like a gas station, called Miller's Grocery. At this point Pauline, clearly confused, queried, "Where is the restaurant?"
"That's it", I replied, pointing to Ed and Gayle standing on the front porch of the "Gas Station".
"You mean we are going to eat in the petrol station?" She came back in a puzzled voice.
Miller's Grocery, Christiana, where we had brunch.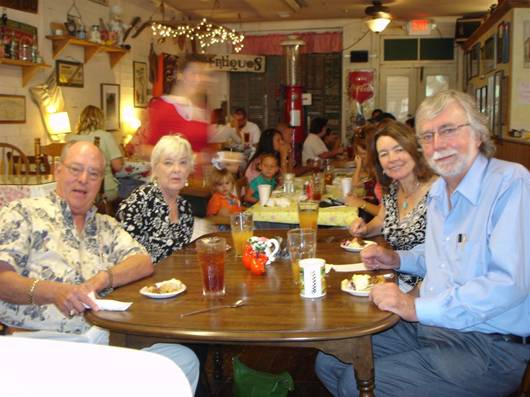 Brunch with high school classmates
Apparently in its final evolution Miller's grocery had been the local general store, which was typically also the local gas station. Interestingly, gas stations have evolved all the way around and back to this state with today's minimarts that fill the highways and sell gasoline and snacks to travelers..
A large parking lot was filled with cars, and one could only wonder how so many people would fit in such a small building. Inside we confronted wall-to-wall tables and chairs, none of them matching. In the middle was a long table filled with authentic southern dishes. Although there were no crows eggs or hawg jowl, the real southern dishes were all there, including fried okra, baked apples, grits, turnip greens, biskets, tomatoes, green beans, pecan pie, and so on. All sorts of interesting memorabilia decorated the walls, and hung from the ceiling setting the motif and mood. The noise level would compete with just about any Los Angeles restaurant. A friendly waitress seated us at a table, and the feast began. After brunch that more resembled a Thanksgiving feast we visited the local crafts shop, where Pauline liberated some angels and I added a few handcrafted bookmarks, made by the owner Bunny, to my collection.
Back at the Shelbyville mayor's home, we persuaded Wally to show us round the town, which has experienced an impressive growth during the 30 years I have been away. Major companies have located manufacturing facilities in the town to access the low cost labor base. We moved through a range of housing districts that characterize some of the growth, which is not always logical. A building boom has placed hundreds of houses in every range, from low cost, affordables, all the way to what would qualify more as palaces than houses.
While I was impressed by the large number of really upscale homes that had been built, I was stunned to see a large number of 10,000 plus square feet homes built on 500 acre lots, some with mile long driveways and manicured gardens that are more like parks. On the sadder side, one district that had once been the most exclusive street in the town has become a ghetto.
On the northeast side of Shelbyville, just inside the city limits lies Horse Mountain, a place where the Confederate army dug in to defend the town during the civil war. About 50 acres of it are part of my portfolio. Maybe I'll even move back here some day…………..NOT.
I think it is a lot more fun to visit. No matter how careful I am, I always leave here with a few chigger bites.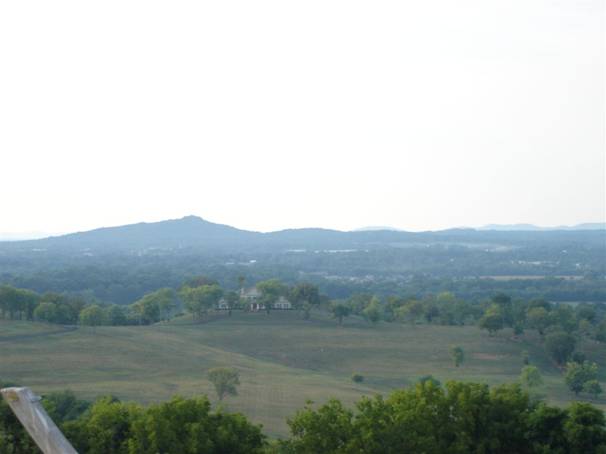 View of a "Palace" on the south side of Shelbyville (Center). They built their home on a few hundred acres of land. Horse Mountain, on the horizon on the northeast side of town is still scarred with remains of Confederate breastworks; I own a fifty-acre piece of the mountain myself. This photo was taken from the private "driveway" to another "palace".
We finished our tour with a stroll along the new park that the city constructed along the Duck River just above the Dam, once a source of electric power for the city. The now abandoned powerhouse at the dam is just waiting for some entrepreneur to come along and turn it into a posh restaurant.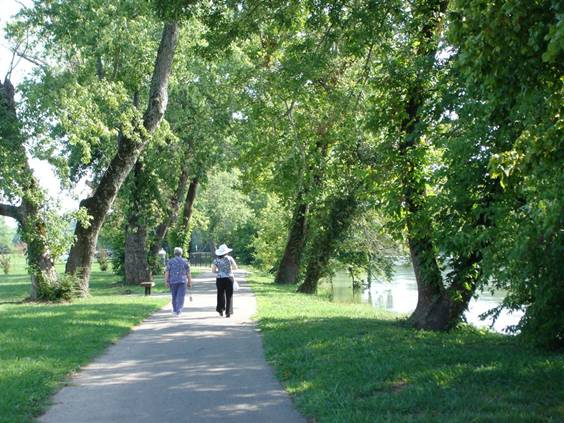 Views along the Duck River near downtown Shelbyville. The city once got its power from the dam just behind me.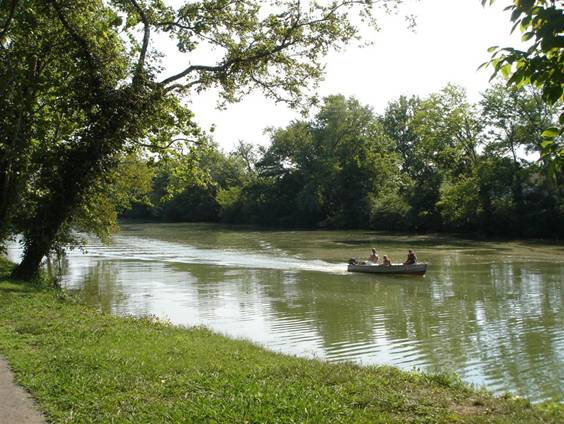 Fishermen on the sleepy Duck, which sometimes turns into a raging river in flood season. My buddies and I maintained an entire fleet of boats that we had recovered from floods along the Duck.
We made one more stop at the city hall to look in on Wally's new office.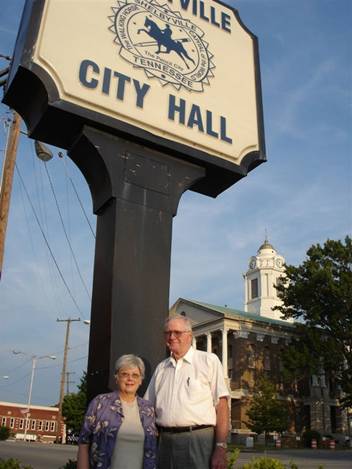 The new Shelbyville Mayor and his lovely wife.
Having fulfilled our goals of marrying off a niece, renewing old friendships, and congratulating a new mayor, we returned to California the next day, completely satisfied with being visitors to my Southern birthplace. We returned to a place that never heard of chiggers, where 70% is high humidity, where it never rains after March, and an overcast day is called bad weather.