South Africa-Kruger National Park to Capetown
October, 2008
A pleasant 12 hour South African Airline overnight flight from London placed us in Johannesburg. Here we changed to a tiny airplane that took us on a 90 minute flight to Nelspruit, where we rested and spent our first night in Africa. (Once again I found myself wondering how airlines like South African Airlines can provide great meals, free drinks, plenty of leg room, great service, a lot of airline attendants, an on call library of recent movies, and low costs when American Airlines service continues to sink to new lows while fares continue to rise. For breakfast American Airlines offers you a pack of raisins, a cold roll, and occasionally a cup of yogurt. The South African Airlines breakfast included eggs, sausage, ham, baked tomato, mushrooms, a warm roll, jam, cheese, crackers, and a chocolate, and the flight attendants were always present for refills.)
In the evening we linked up with two California friends, David and Sue Ellen, who had arrived on a later flight. The next day Johann, our next source of transportation, loaded our bags into his car and began our four-hour drive to Hamilton's Tented Camp inside Kruger National Park.
Kruger National Park in South Africa, a 250 miles long and 50 miles wide area of land on the Northeast border, surrounded by an electric fence, has been a protected region for nearly a hundred years. We spent three days and nights in Hamilton's Tent Camp fifty miles inside the Park.
Johan was not only a competent driver but also a good guide. He began talking about South Africa as soon as we left the Emnotweni Sun Hotel and never let up for the next four hours. Occasionally he drifted onto the politics of the country but usually halted himself, commenting that he was not supposed to get into politics. Our trip took us through banana plantations, tree farms, nut farms, a few towns and villages and ultimately through the Kruger Gate, which is about an hour north of Nelspruit. Within minutes inside the gate we saw our first animal, a giraffe leisurely eating leaves high in a tree, and from that point on we had a continuous show of zebras, elephants, baboons, antelope, and birds.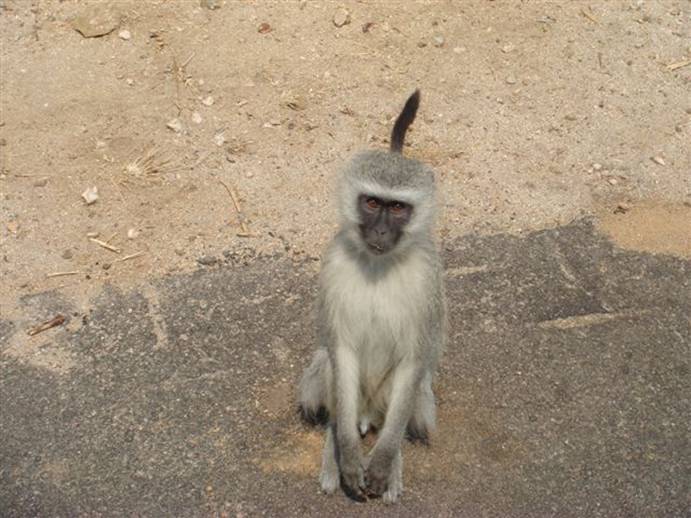 This little guy came up and begged. Someone must have fed him before………..not good. These guys develop all kinds of talents to get food, including learning how to open car doors and trunks.
Ground Hornbill, an endangered species that lays only nine pairs of eggs in her life. Only one of the eggs survives, and sometimes not even one. An ongoing program searches out the nests to try and save one of the eggs.
We were housed in such a way as to fit us into the environment with as little disturbance as possible. Six elevated tent/cabins separated by about 50 meters were connected by elevated walkways. No one was allowed to set foot on the soil anywhere in the camp, except to board the range rovers that took us on a morning and evening game drive. No one was allowed out of the cabins after dark without an escort since the surrounding bush was teeming with animals. With a king sized, poster bed surrounded by a mosquito net, a full bath, air conditioning and a back porch overlooking the river, these weren't exactly rustic tents we stayed in.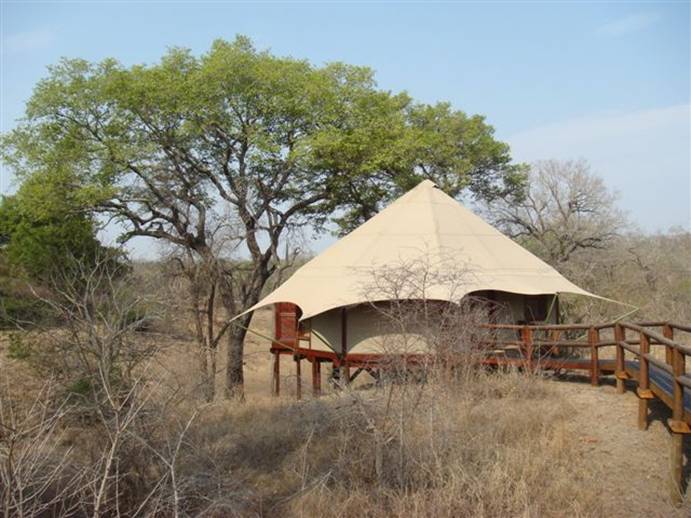 One of six tented cabins at Hamilton's Tent Camp in Kruger National Park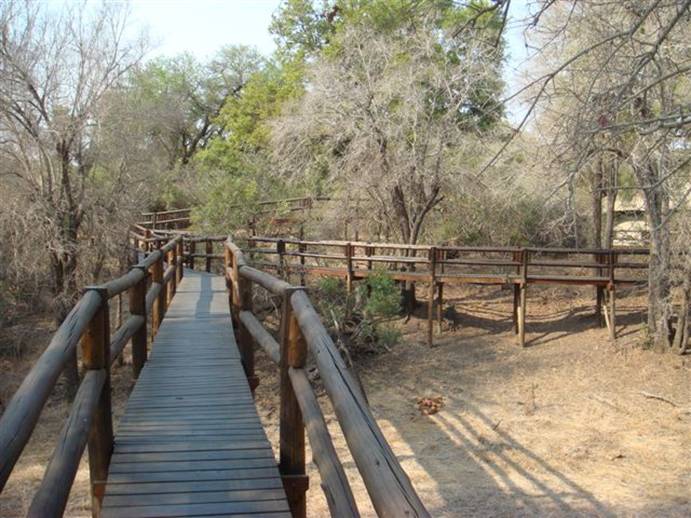 Elevated Walkways connect the tent cabins with the dining room. Guests are not allowed to set foot on the soil anywhere here.
Our mornings began with a 5 AM awakening by baboons using our tented roof like a trampoline and surrounding trees so full of waking birds that you'd think a hurricane was passing through. Our back porch provided a continuous show of elephants, Kudu, Gnu, and Impalas, and other beautiful creatures walking down a dry riverbed to a nearby watering hole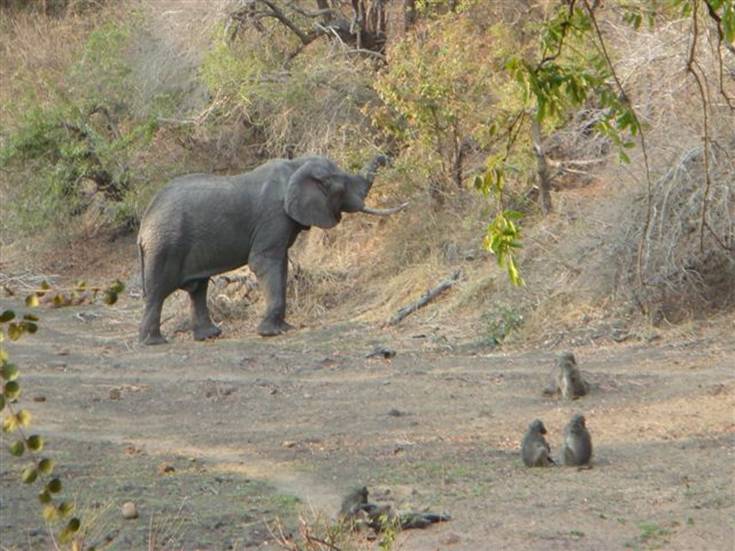 The riverbed behind our tent was like a highway for animals headed for a nearby watering hole.
By 6 we were in the open topped Range Rover driving over dirt roads through the bush looking for "the big five". Every now and then when I catch myself having an extremely good time, I make it a point to pause for a few seconds and tell myself, "By God, at this moment I am having so much fun." And then I thank the universe for the gift and continue on having fun. The entire Africa experience was fun, but especially during these drives through the bush I found myself repeating the fun acknowledgement over and over.
The bush drives were reminiscent of my Sunday afternoon drives through the hills of Tennessee looking for hawks or anything else that moved. A major difference was that the only weapon in the vehicle here was a .470 caliber carried by our ranger, Harald (Harald was quick to point out the German spelling of his name), for our protection. The reason they call them the big five is that they represent the most dangerous big game animals alive, the rhino, elephant, lion, leopard, and buffalo.
Within five minutes on our first drive camp we came upon a male lion sleeping in the road ten meters in front of the vehicle. We watched him for a while before he finally decided to get up and move out of the road, quickly finding himself a softer, cooler place to lie down and sleep.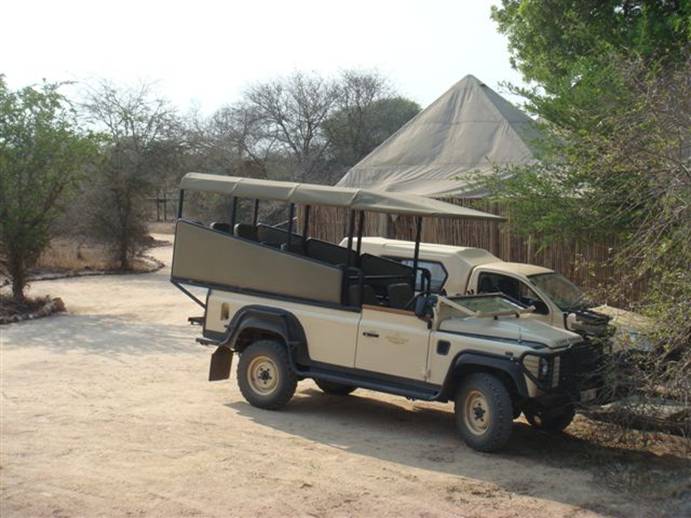 Range Rover. Although it seats up to 11 people there were usually just the four of us and Harald, the ranger. Every now and then when I catch myself having an extremely good time, I make it a point to pause for a few seconds and tell myself, "By God, at this moment I am having so much fun." And then I thank the universe for the gift and continue on having fun. The entire Africa experience was fun, but especially during these drives through the bush I found myself repeating the fun acknowledgement over and over.
Except for extremely limited locations, no one was allowed outside the vehicle. The reason is that the animals are used to the vehicles and are not disturbed by them. However, what they will do if they see a human separated from a vehicle is a totally different story and can be extremely dangerous. Harald told us that the only time he knew of an animal attacking a vehicle occurred when a ranger mistakenly drove between an elephant and her baby. The elephant attacked and upended the range rover.
"We don't have to worry about him," Harald said. "He has just eaten and will do nothing but sleep for a few days. He used up all the energy he is willing to spend just to get out of the road". Johan, our first guide had told us that lions are fairly easy to read, and they are dangerous mostly when they are hungry or looking for a female. They eat about every six days. And when he's ready to eat, nothing in the bush is safe.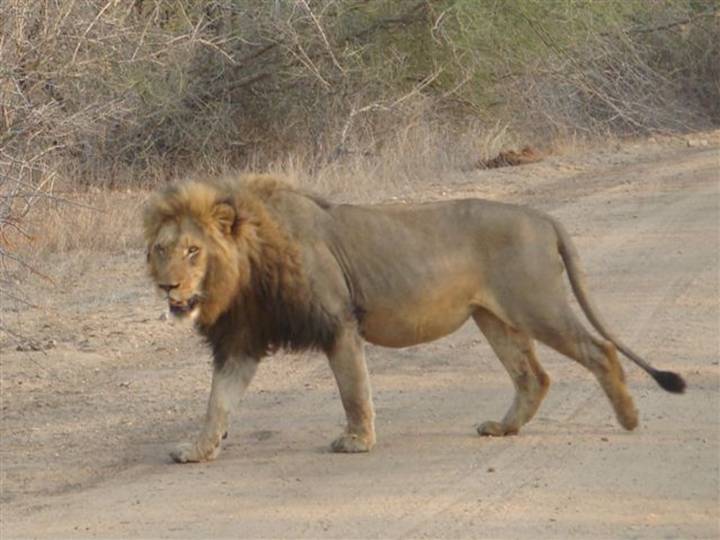 Lion sleeping in the road manages just enough energy to move a few feet off the road before lying down again to sleep.
Further down the road a lioness watched over her cubs as they played like little kittens. Although the females do the most serious hunting, when the kill is big enough the whole gang jumps in.
Our afternoon drives started at 4:30 PM with a pause for a "sundowner" for drinks and snacks, while Harald stood guard with the rifle. The park has a few fenced picnic areas where people are allowed out of their vehicles, but these are few and far between. We continued after dark looking in the trees for leopards and other nocturnal creatures. Of the big five, leopards are the most elusive, since they are nocturnal, and this was the one that we will have to return again to see.
I could tell that Harald is not only good at his job, but also loves it. He carried a stack of reference books in the range rover and took almost as many photos as we did. He rarely needed the books to answer our questions. Regularly, he would stop the vehicle and point to an animal in the brush that we could see only after a search or to some distant tree to a bright colored bird that we could find only with the help of binoculars. In a deep South African accent he would say excitedly "in that dead tree over the' is a lilac breasted sky roller. Watch his beautiful manoeuvres when he takes off". At the clap of his hands the bird lifted off from the treetop, rolled in the bright sun and flashed us as he rolled into flight.
I asked Harald how much he had to pay to get to do this job.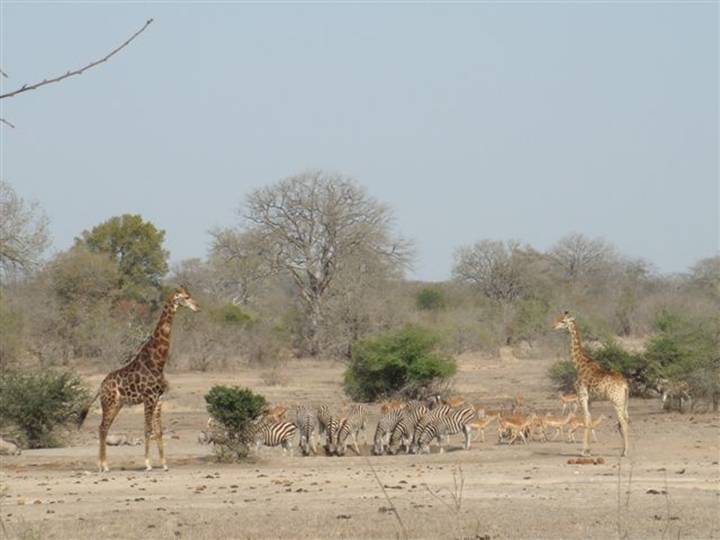 Animals at a watering hole. They took turns drinking.
The morning drive ended around 10 AM and breakfast was ready for us on our return. Our breakfast overlooked a waterhole in the river so we found ourselves jumping up to get a closer look and hanging around with coffee for a while. Hamilton's Tent Camp is definitely not a place to go for weight loss. We returned for lunch at 2, had a high tea at four and a gourmet dinner after the evening drive around 9 PM.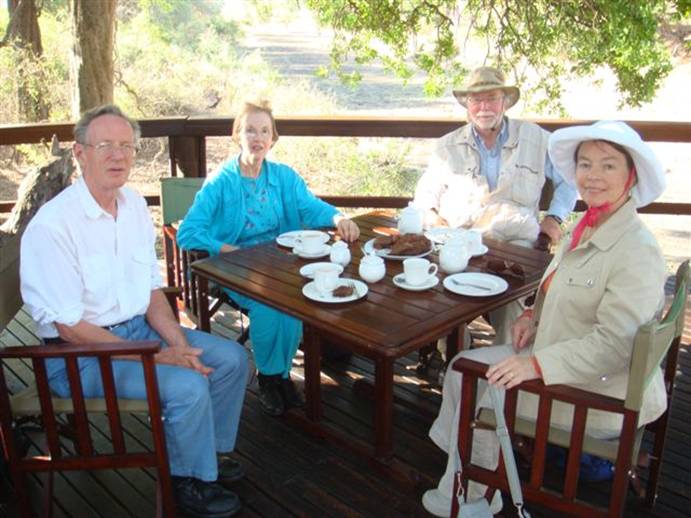 David, Sue Ellen, The WWT, and Pauline at high tea. The dining area overlooks the river and a watering hole where animals can constantly be observed.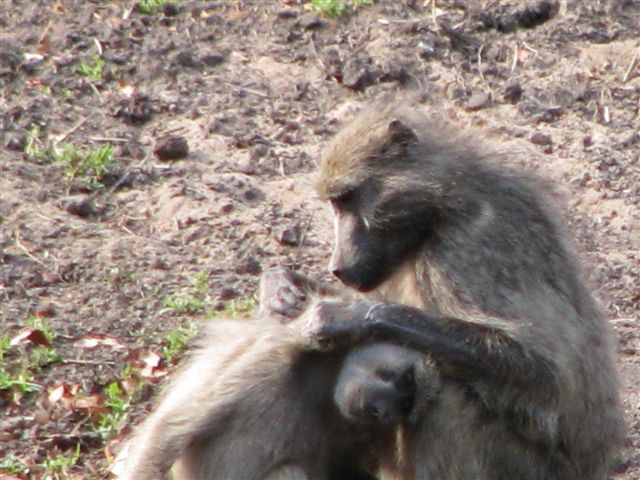 Baboon grooming his mate entertained us during high tea.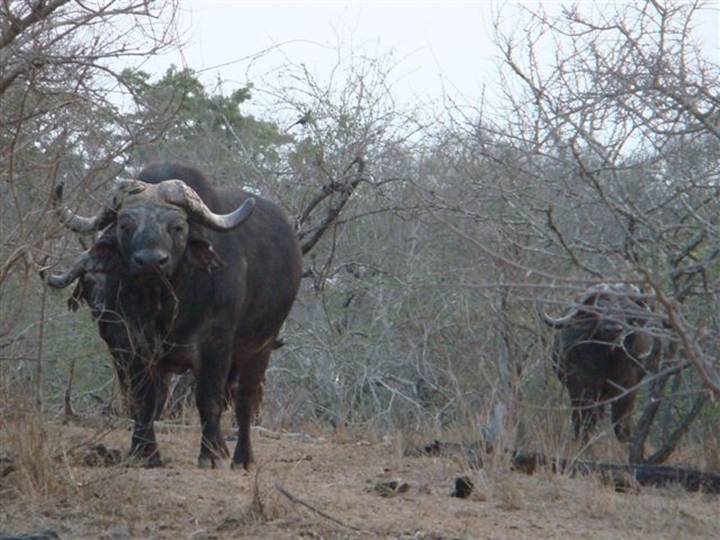 Buffalo-One of the most dangerous and unpredictable of the big five. This guy gives no warning when he decides he doesn't like you. When we encountered them, Harald put the range rover in reverse and slowly backed away while they moved on.
We took breaks for coffee in the morning rides and drinks at sunset in the afternoon rides. Some stops were located in a fenced picnic area, where more movement was possible, while others were done in an opening; where everyone remained close to the vehicle while Harald stood guard. We enjoyed one of the most beautiful sunsets in an opening around a Baobab tree. This tree, also called an upside down tree, as the legend goes, was thrown out of heaven and landed with its roots facing upward. It is, indeed, an odd, but beautiful in its-own-way tree. Standing next to the baobab tree with an African beer in one hand, a hand full of African nuts and sausages in the other and watching a beautiful African sunset with friends is something I could really get used to.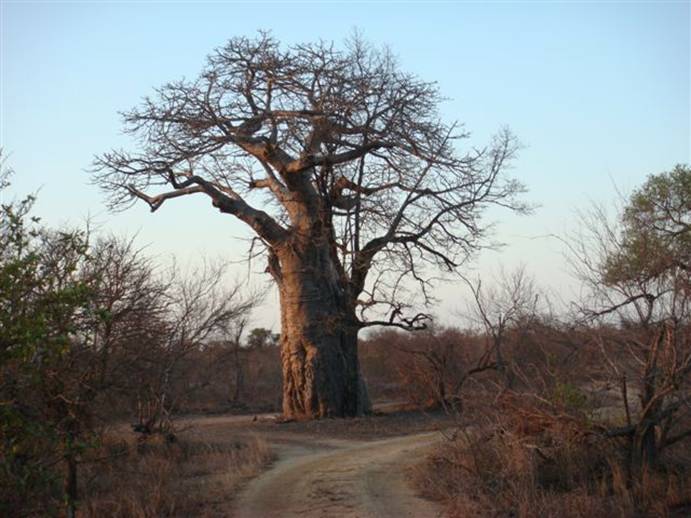 Baobab or upside down tree. Legend has that it was tossed out of heaven and landed with its roots facing upward. One of our favourite sundowners took place in the clearing around the baobab tree.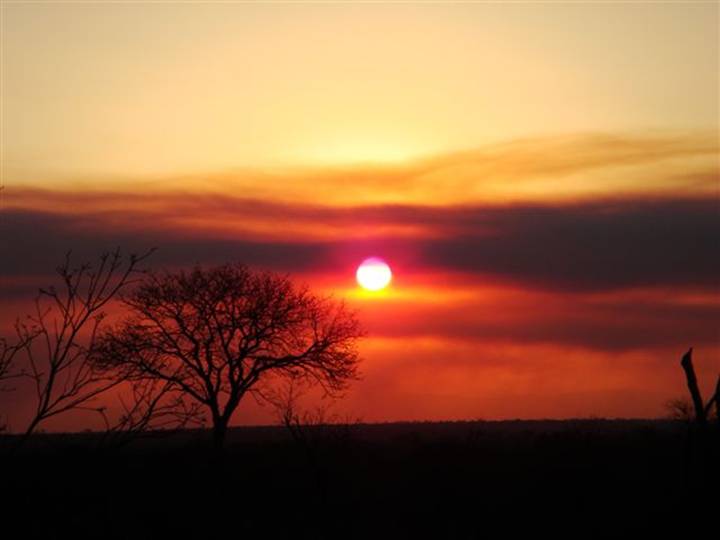 Sundowner in Kruger Park. Pauline had gin and tonic; I chose African beer. This sunset, aided somewhat by a distant brush fire was just like in the advertisements.
By the end of the first day I had seen more big game animals in one day than I had seen in my entire life. By the end of the week I had seen more different kinds of antelope than I knew existed, from the tiny steenbok to the giant kudu.
Shortly after arriving back at the camp, we had a candlelight dinner, and I sampled my first taste of impala, a truly delicious meat. Pauline had difficulty eating such a beautiful animal and instead chose duck.
After four drives we found ourselves expanding our interests to more exotic birds and other strange animals. These included warthogs, ostriches, cranes, eagles, wildebeeste(gnus), a variety of antelopes, rhinos. Harold was determined to locate the elusive leopard. He found tracks and other clues, but we left that one of the big five for our next trip to Africa.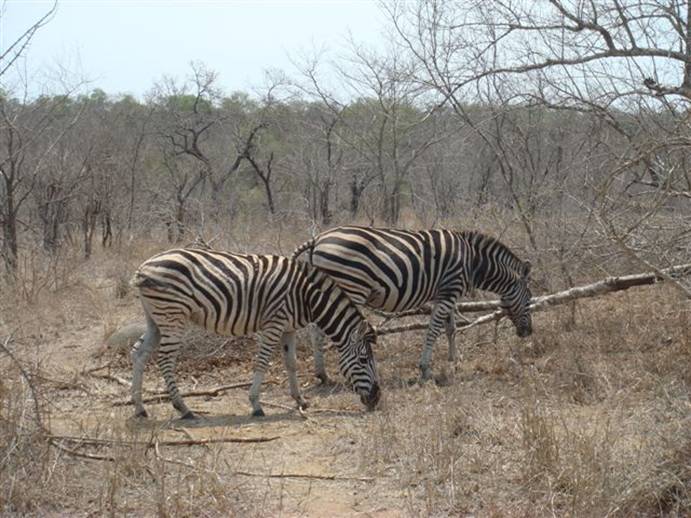 We saw zebras with black stripes on white and also with white stripes on black. We even saw some brown stripes.


Wildebeeste or gnus often travel with zebras. These two herds of twenty or so of each crossed the road together.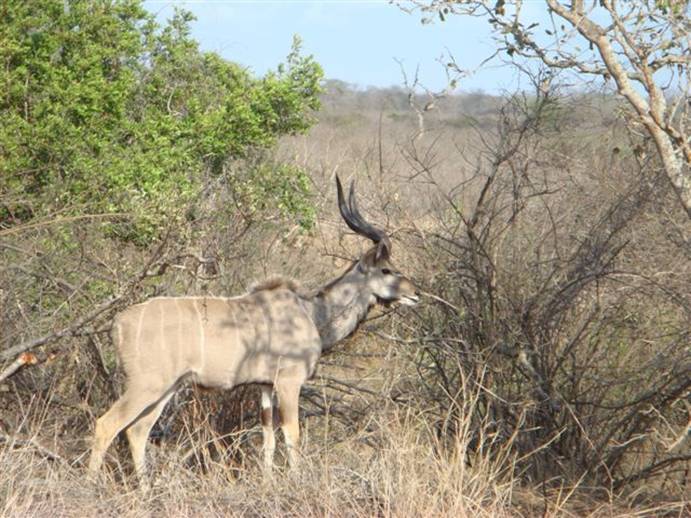 Kudu having a lunch of leaves. Impalas eat both grass and leaves and therefore outnumber all the other antelope. There are nearly 300,000 in Kruger Park. The lions probably like it that way.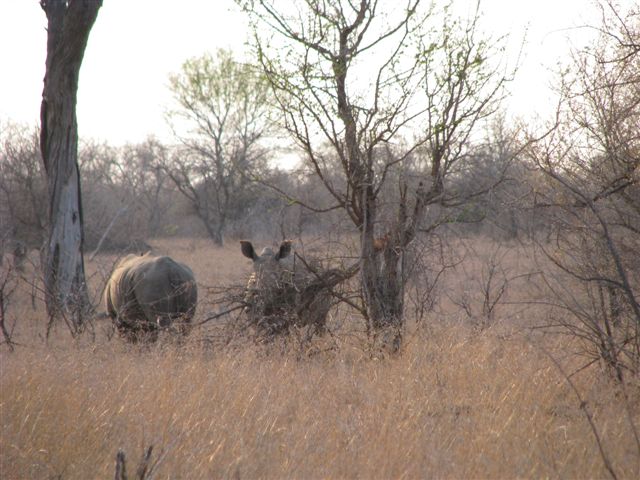 Two white rhinos grazing in a field. These animals have terrible eyesight but ears that swivel around and hear distant sounds.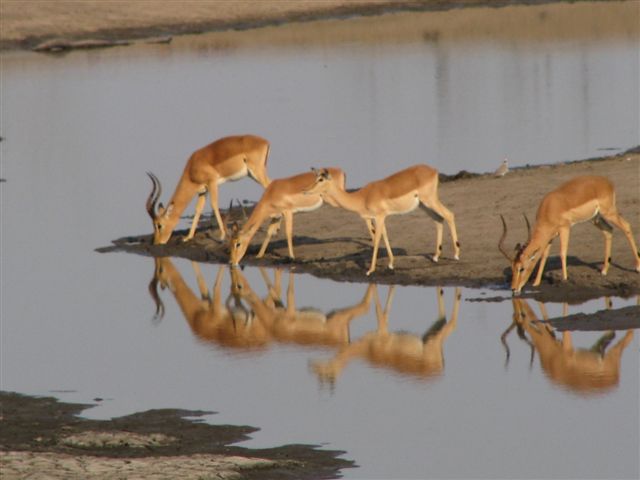 These impala had not yet seen a lioness hiding on a nearby hill overlooking the waterhole. Fortunately for them, the one in the middle spotted the lion and they quickly decided they were not as thirsty as they had thought.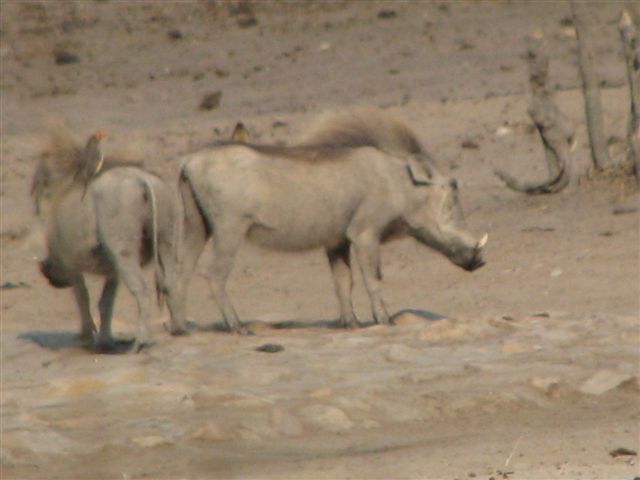 Warthogs. Ugly looking rascals aren't they?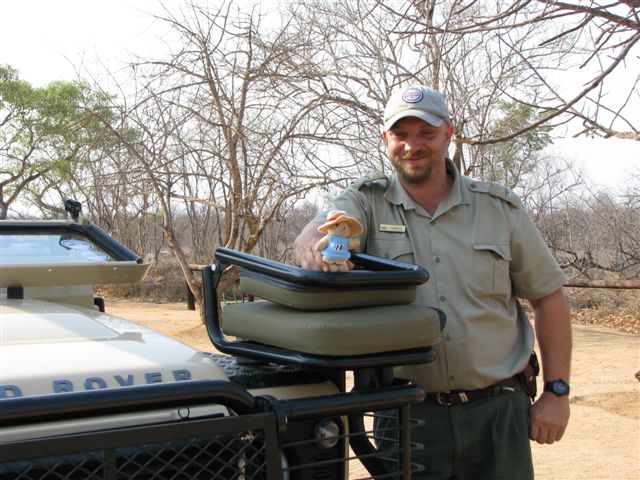 Harald asked me what Pauline was doing with the stuffed animal, and when I told him about Barnaby, the world travelling bear, he commented, "This I gotta see." So she quickly drafted him to pose with Barnaby.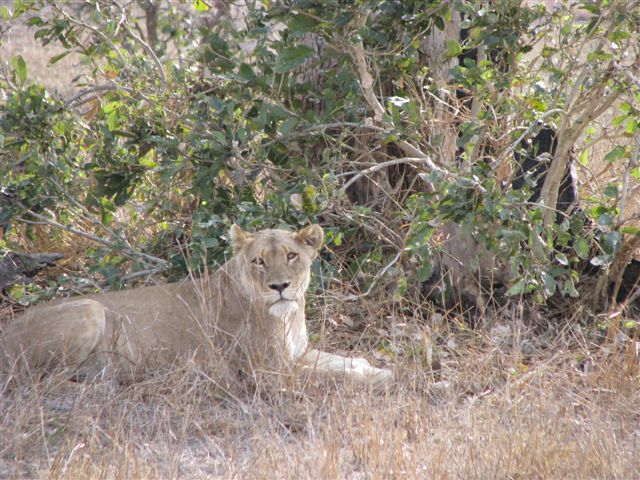 This young lady walked right past our vehicle and found a spot in the shade. As long as people stay in cars, the animals apparently pay little attention. It is when the animal sees a person separate from a car that the trouble begins.
We were pleasantly surprised by the scarcity of tourists. With the exception of one day, our group of four were the only residents at Hamilton's. We saw very few people during the drives. Drivers from the different camps communicated with each other by radio during the drives to alert each other of interesting sightings, and occasionally a few range rovers would converge on a particularly interesting collection of animals. We had arrived at the beginning of spring just before the rains come. The good news is that there is not much foliage and we could see more plus there are not many water holes where the animals tend to concentrate. The bad news is that there is not much foliage to see and the rivers and lakes are nearly dry.
We expected to be attacked constantly by mosquitoes and other insects. We had religiously taken the malaria pills and all the shots, and we sprayed ourselves before each outing with mosquito repellent. I saw only one mosquito during the entire stay in Kruger, apparently another good thing about arriving before the rains. I had just sprayed myself with deet, paying special attention to spray the exposed places like the backs of my hands. I walked onto the back porch looking for a good painting spot and leaned against the railing. A mosquito landed on the exact spot that I had just sprayed with deet and started to dig in. I can tell you from first hand, deet is worthless in South Africa. Nevertheless, after swatting that mosquito, I never saw another. Maybe the word got out.
While the rules limited my painting venues, I had little trouble finding some great scenes and could have painted for days just sitting on our back porch.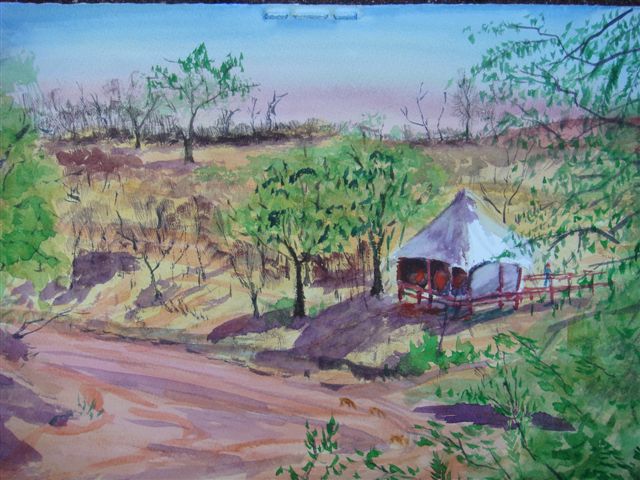 Kruger Tent Camp, 11x15", watercolour on paper. Painted on location from the back porch of our tent.
Kruger National Park can be experienced in many different ways, some more and some less luxurious than the one we chose. However, I cannot imagine a more delightful way than a stay at Hamilton's Tented Camp.
From Hamilton's Tented Camp we made it back to the Nelspruit airport in about three hours. This should have given us an hour to spare, but as we checked in, a look of panic filled the ticket agents face. "You must hurry. The plane is boarding as we speak." Inadvertently, this particular flight had been moved up and hour.
I am often amazed at timing in the universe. If we had stopped once more to photograph an animal, if we had paused, as we had considered, to purchase a souvenir, or if we had stopped to photograph the beautiful jacaranda trees along the highway, we would have been spending at least one, if not more nights in Nelspruit than we planned. This once a day flight to Capetown in a small plane was packed.
As we boarded, three jolly, black ladies carrying drums walked ahead of us. Each was almost as wide as the plane itself. There was no way any one of these ladies would fit in the narrow South African Airlines seat. I wanted so bad to follow them to their seats and photograph the debacle, but Pauline vetoed my idea as we took our seats in row one. Somehow they managed.
I have a number of friends and colleagues who speak about South Africa with a special kind of reverence and a few who actually moved there after a visit. Even after my short visit I began to sense some of that feeling. Once again I discovered that no matter how much you hear or read about a place in the world, you have no idea what it is like until you have been there.
A three hour flight took us to Capetown at the Southern tip of Africa. Even in this short flight South African Airlines served a light lunch.
The second week in South Africa, my real excuse for being here, was the annual meeting of the Aeroballistics Range Association, ARA. This international association meets in a different country every other year, with venues in the USA on odd years. Members of ARA are the world experts on blowing stuff up (the guys who develop and test bombs and bullets) as well as preventing stuff from getting blown up (the guys who develop and test protective armor). My expertise and role in all of this is in developing and employing ways to measure how well stuff is getting blown up or not. As gruesome as it may seem, I work both sides telling the armour guys how strong the armour has to be to stop the bullets and then telling the bullets guys how strong to make the bullets to pierce the armour.
We hung out for another week, exploring the coast down to Cape Hope, the southern most tip, sampling the foods, wines, and the culture. I never imagined a more beautiful coastline or more friendly people. Pauline is writing up that part of the trip and you can read about it on this web site.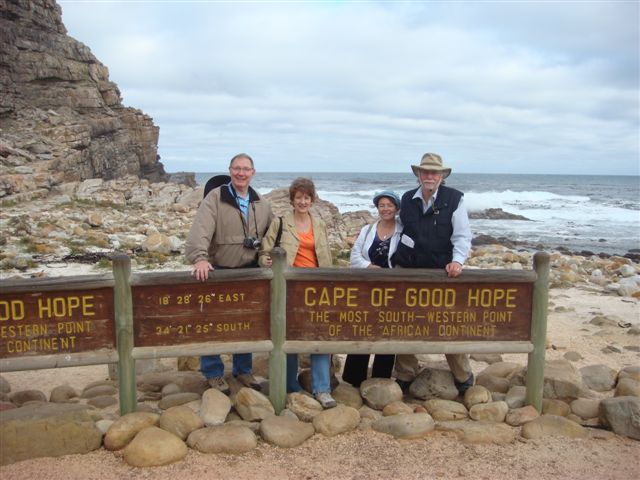 Cape Hope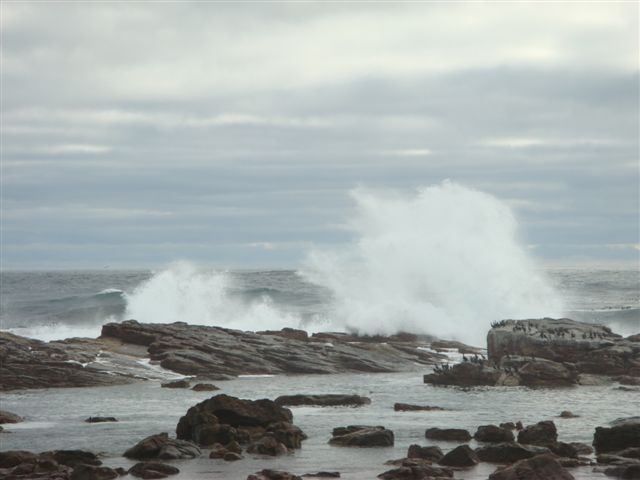 Cape Hope-Whales were always in sight along the coast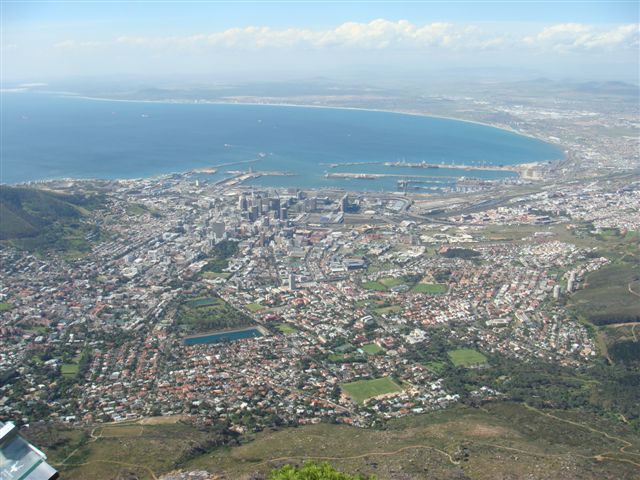 Capetown from Table Mountain


South African Penguins at Boulders Beach near Simon's Town. These guys are about a foot tall.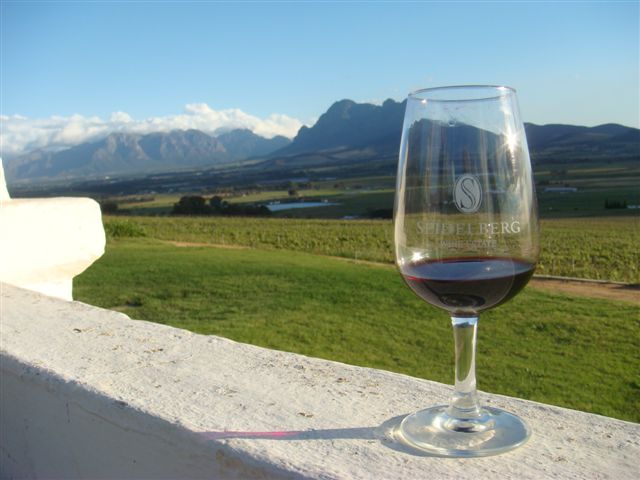 Wine tasting in the wine country at Seidelberg Winery