The World's Worst Tourist Goes to Scottland
May 2013


In May of 2013 I spent seventeen days driving coast to coast and back across Scotland, painting, visiting castles, cathedrals, museums, and gardens.  My journey  included the highlands, large cities and tiny villages. Having spent many springs and summers in England, I often saw the weather reports for Scotland. British weather forecasters have endless ways to forecast rain such as "sunshine and showers (very common), some dry spells, partially dry, spotty rain, showers, and so on". The weather forecast for Scotland always seemed to include the word "wet", so I went prepared with poncho, umbrella, layers of clothes, and an adjusted attitude.
The four hour train ride from Bedfordshire, England to Glasgow was pleasant with scenery getting better and better as we moved north. I could have done it in less than an hour by airplane, but all the nonsense and unpredictability of air travel these days, combined with my love for the railway, made my decision a no brainer.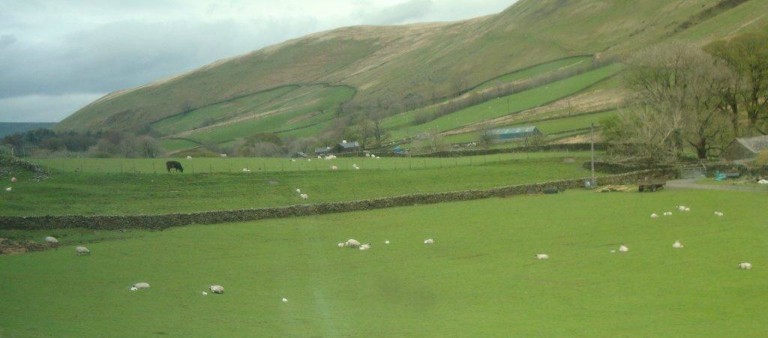 Typical view from the train from Bedfordshire to Glasgow. I could have done it in less than an hour by airplane, but all the nonsense and unpredictability of air travel these days, combined with my love for the railway, made my choice a no brainer.

I was pleased to arrive in Glasgow after the rain had let up. During the next twelve days, I faced some of the most challenging painting conditions I had ever experienced, managing to paint in many combinations of freezing cold, intermittent rain, and high winds. During the spells containing all three, I completely ran out of tricks, found a good pub, and enjoyed the Scottish beer and haggis.

Haggis-I never knew that haggis came in so many various preparations, which reminded me of Bubba's shrimp scene from the movie Forest Gump, "baked haggis, fried haggis, stewed haggis, boiled haggis, haggis pagora, haggis starter, haggis main, haggis with vegetables, and so on". I had haggis for breakfast, lunch, dinner, and snacks. Sorry for the diversion, but if you don't like haggis and lamb, Scotland is not the best place to eat.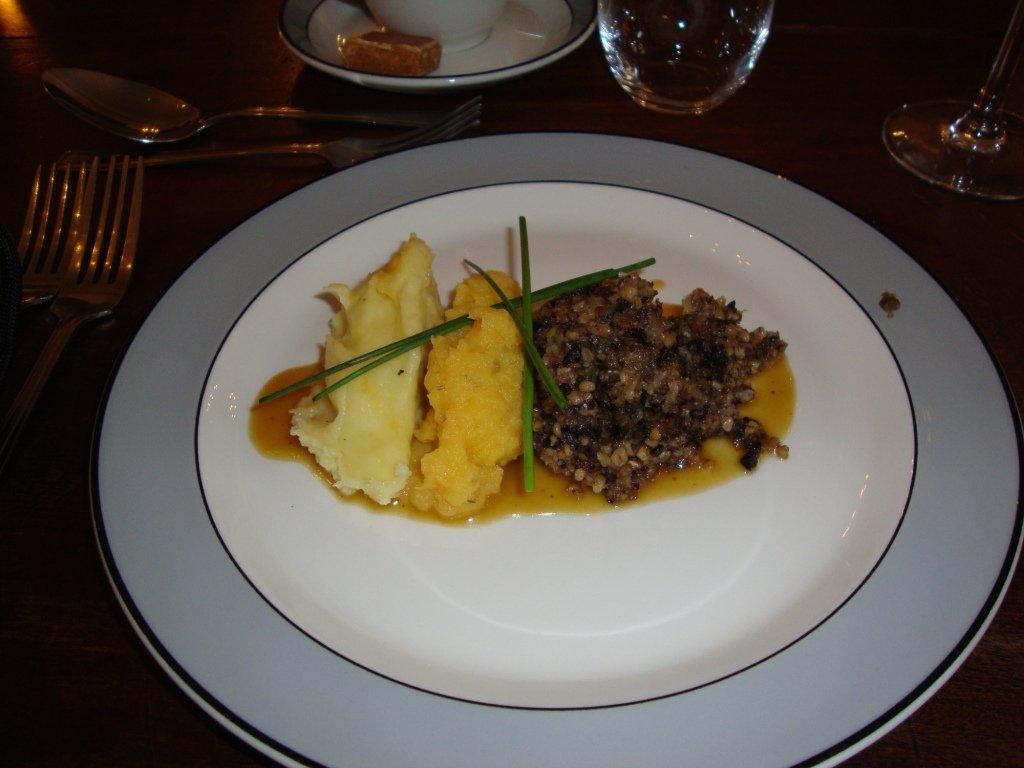 One of the many presentations of haggis that I sampled in Scotland.
My Scottish experience began and ended at Glasgow Central Station. I walked to the Carlton Hotel where I would stay with the Tim Clark art group with whom I have painted many times. By now most of the 20 artists had become close friends and I looked forward to seeing them again, since our last encounter was a year ago in the Aeolian Islands. Tim had arranged visits to two art galleries in Glasgow, and I linked up with the group at the Huntarian Gallery, where we were treated to the largest collection of Whistler paintings in the world. From there we moved on to dinner at the Glasgow Art Club. Boarding the bus, I heard someone mention that the home in front of the bus was the Mackintosh House. Who was Mackintosh? I was soon to learn that Mackintosh was the Frank Lloyd Wright of Glasgow, and that name would pop up a lot in days to come. Glasgow has produced many artists, and an art movement known as the "Glasgow Boys". Now having these new words in my vocabulary, I see them pop up often.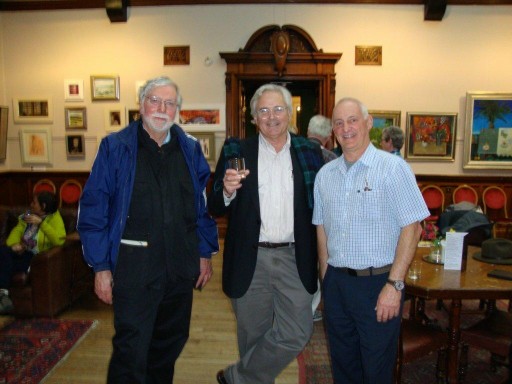 Right to left, Zeke Guspan, Tim Clark, and me at the Glasgow Art Club just before dinner
Scotland is so far north that darkness does not descend until around 11PM in May. Since I was the one of the few in the group who was not jet lagged, I wandered around Glasgow alone until midnight and did my first painting of an evening scene in George Square.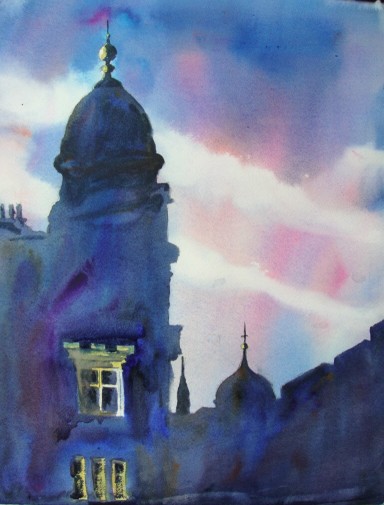 Glasgow horizon from George Square at midnight, 16x20 Watercolor on paper, painted at George Square, Glasgow. My first painting of the trip.

After a visit and tour of the Glasgow School of Art, another of Mackintosh's great achievements, we left for Killin, where we would spend the next three days. One of the stops along the way was village of Brigoturk, home of John Ruskin, and we hiked along the river to the spot where John Millais painted the famous portrait of Ruskin while seducing his wife. Ultimately the marriage was annulled and she and Millais had eight kids.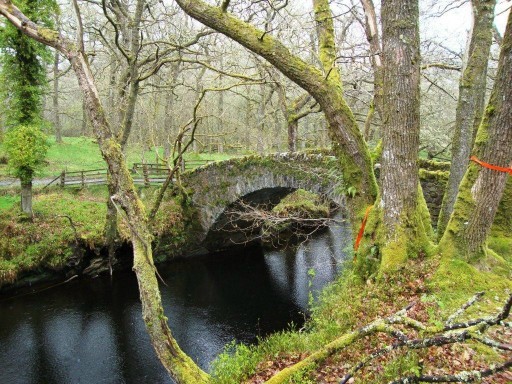 On the way to Killin, a bridge near the spot where Millais painted the famous portrait of John Ruskin at the same time he was having an affair with Ruskin's wife.


We spent the next few days in Killin, a small village that would be a wonderful painting venue when the weather cooperates. It didn't. Tim set the pace for us by doing his first demonstration in a drizzling, freezing rain just outside our hotel. I used up all of my weather tricks the first day before giving up and painted the view of Loch Tay from my third floor room, which fortunately provided the next best thing to sitting in a freezing rain outside.
Tim Clark doing a demonstration in the rain in Killin, Scotland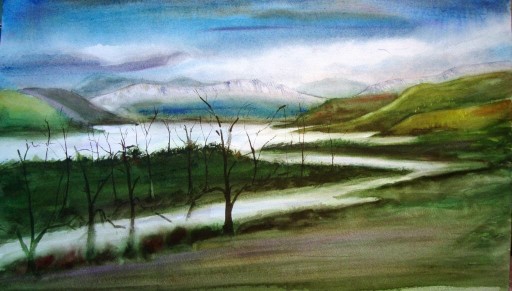 Loch Tay, 12x22 watercolor on paper, painted on location in Killin, Scotland
My usual strategy for rain painting, which includes locating some kind of shelter with a view, did not work in Killin.  I was amazed at the lack of any sort of shelter at all, like an awning or bus stop. After having my umbrella repeatedly turned inside out in the gusting winds until it finally broke, I surmised that the winds were probably the reason why the usual shelter would not survive this environment. We were able to manage a few hours of outdoor painting during the three day stay.  I was really surprised to discover that watercolor paint does dry fairly quickly even in 100 per cent humidity.
Fortunately, one did not have to go far to find a paintable scene. I made two attempts during semi dry spells before finishing a painting. The  first attempt with me under a poncho, with an umbrella tucked over my head and a plastic cover over the painting, ended when the gusting winds blew the cover into the river. While attempting to fish it out, the wind blew the easel over and rain finished off the painting I had started. When the sun came out in the afternoon, being determined to paint that scene, I went to the same location with more success. Strangely enough, after the trip, while showing paintings to an abstract artist, the throw-away, rained-ruined painting appeared. Before I had the chance to hide it, she proclaimed it the best of the lot. I haven't decided if I should toss it, work on it some more, or just frame it as it is.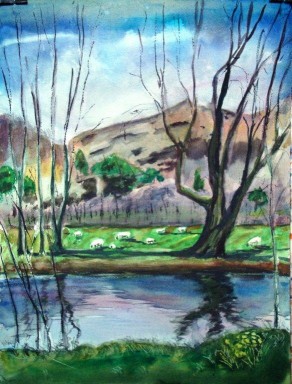 View behind The Killin Hotel, 15x22 watercolor on paper, painted on location.
In spite of the weather Killin is a great town for walking, with interesting architecture, bridges, and a castle all within a short walk. I managed sketches of several of these structures from beneath an umbrella and during dry spells.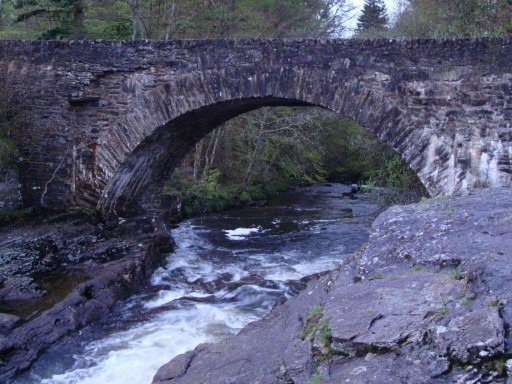 Bridge over the River Lochay. I attempted to fasten an umbrella to a tree along this ledge, but the gusting winds killed that idea.
Scotland is loaded with castles at every turn, many dating back to the eleventh century, and many changing hands over the centuries during invasions, feuds, marriages, and trades, with varying use both by individuals and the military. Most of them now lie in some state of ruin with reconstruction underway in some cases; however, as wonderful as they are, the expense of reconstruction and management  puts the hope for most outside economic feasibility. I could spend days with every single one of them, but in most cases we had just enough time for a quick look and sometimes a sketch. More often than not we simply sighted one on a distant island or strategic peak. The remarkable thing is that so many such castles still exist, open for visiting, with no one around. I enjoyed walking around and being alone with these amazing relics, free to imagine what living in the tough, violent and adventure filled past could be like, realizing how fortunate I am to live now instead of then.
On a cold rainy afternoon, I walked to the nearby Finlarig Castle, located on a knoll near Killin, built in 1629 by 'Black' Duncan Campbell and visited by Rob Roy MacGregor in 1713 (Remember the movie?). The castle is now in very bad condition and very dangerous to explore. The only sounds were water drops in the trees and bleating sheep in a distant field. I could see the sheep framed in a beautiful rainbow, which told me rain was not far away.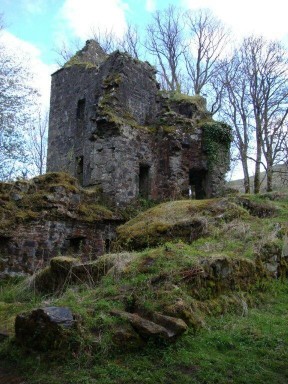 17th-century Finlarig Castle near Killin. Beside the castle is a pit for beheading royals (the most painless execution) and a tree for hanging the commoners (much more painful). As I sat and sketched the castle in a drizzling rain, with the only sounds being dripping water and sheep in a distant field, I could almost feel the violent past of this place.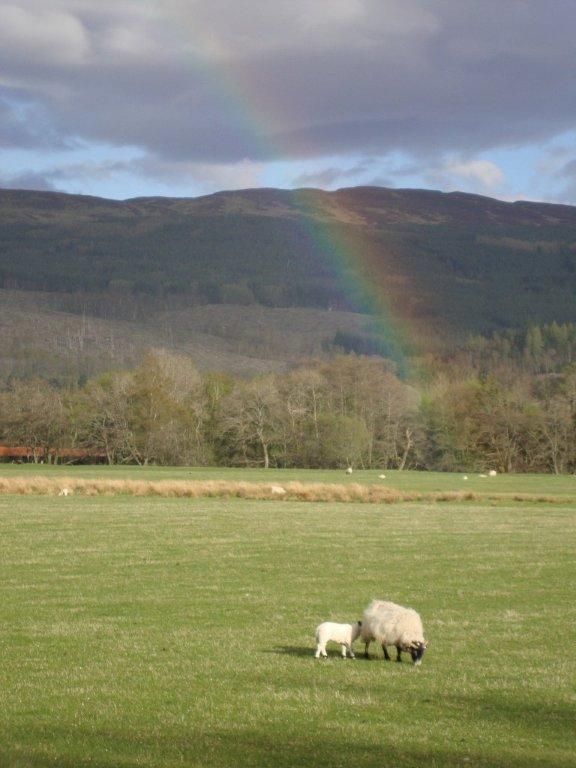 Sheep in the field next to Finlarig Castle, framed in a beautiful rainbow. I could tell that the black cloud was headed my way. It is said that "If you can clearly see the other side of the field, it is going to rain. If you cannot see the other side of the field, then it is raining."
From Killin we journeyed to our next venue, making a brief stop in Oban including a visit to the famous Oban whisky distillery. In the early afterrnoon we arrived on the nearby Isle of Eriska, where we were blessed with a Downton Abbey experience, which began with the staff lined up outside to greet us as we arrived. I fully expected to see Carson on the way in.  On several occasions when I was lost in the house, a minion appeared from nowhere to guide me and satisfy my every  requirement. The house was equipped with secret staff-only stairwells from which servants would emerge. The meals were works of art  themselves, prepared by a chef with an incredible imagination. The Isle of Eriska hotel surpassed any five star hotel I have ever experienced in every respect, including a high tea served on the outdoor patio.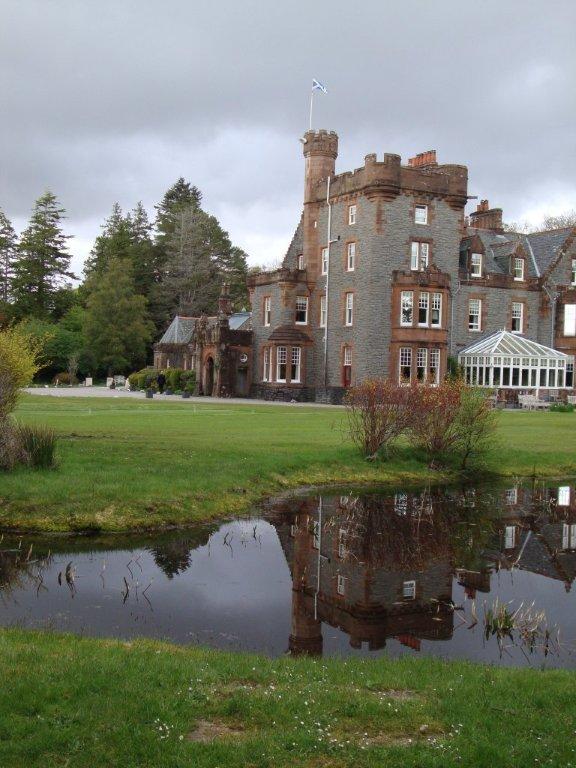 The Big House, Isle of Eriska. I had a fourth floor room with a balcony overlooking the loch. Staying at this place is about as close to Downton Abbey living I will ever get, beating any five star hotel I have visited.
Although we still had to be constantly aware of intermittent showers, this was a productive two day stay for all artists, and the last morning provided one of the best times.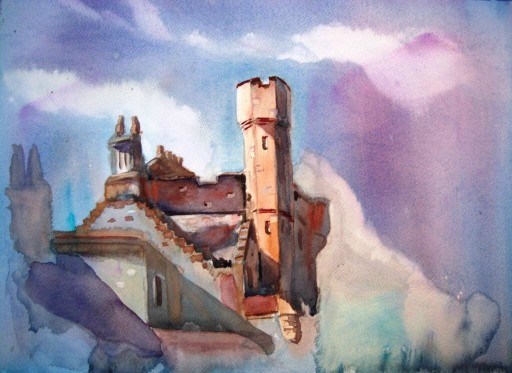 The Big House on the Isle of Eriska 1, 16x20, watercolor on paper, painted on location.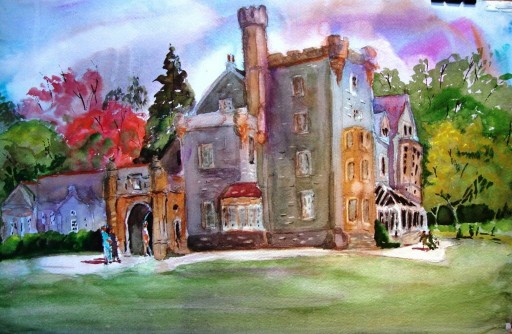 The Big House on the Isle of Eriska 2, 15x22, watercolor on paper.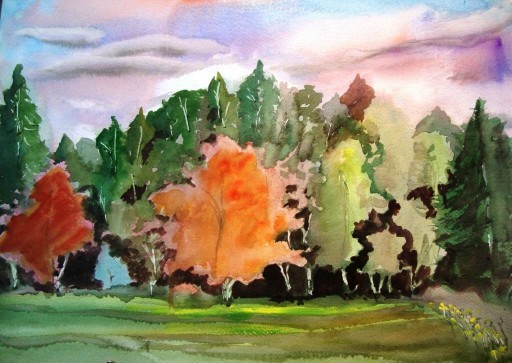 Isle of Eriska Lawn, 15x22, watercolor on paper, painted on location.


On day six we drove the full breadth of the country and, after a brief stop in St. Andrews, entered the nearby fishing village of Crail. In our two day stay at Crail, those who could handle the cold squeezed in a half day of out door painting in  the small harbor. One of the unique features of the paint out was a picnic lunch in the harbor consisting of lobster and crab directly off the boats .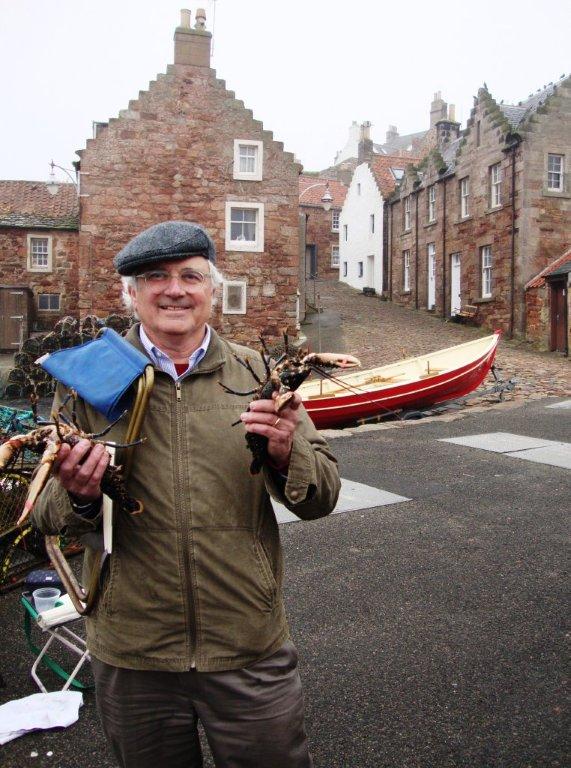 Tim showing me lunch while standing before my easel as I painted the scene in  his background.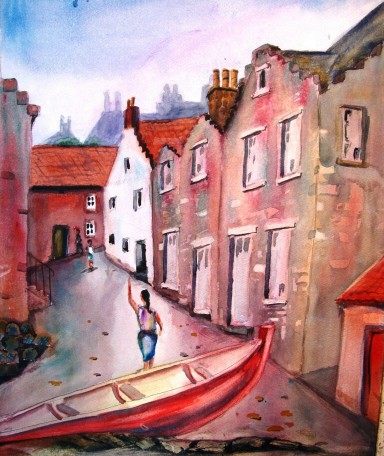 Crail, at the Harbor, 15x22 watercolor on  paper, painted on location.
Crail is such a small town that our group occupied the entire hotel, including the bar, which Tim and Zeke had stocked with five carefully selected scotch whiskies. Consequently, our art education included learning the difference between a single malt, single grain, single cask, blended, etc, and, of course how to spell "whisky".
If ye spell
whisky and put in an 'e',
Ye should be handcuffed
and thrown in the Dee.

In the US and Ireland,
it's spelt with an 'e'
but up here in Scotland
we spell it 'Whisky'.

So if you see Whisky
and it has an 'e',
Dinna ye take it,
unless it is free!

For the name's not the same
and it never will be,
a dram's only real,
if it's labeled whisky.

Fortunately, for us, Zeke is a scotch aficionado, and he was ready to educate us into the maximum enjoyment of the scotch. The hotel manager, Morgan, was only too happy to offer his opinion as well. At least for a few days Zeke turned me into an avid scotch drinker. Jack Daniels would roll over in his grave and cancel my Tennessee Squires membership. On the other hand, some of the scotch I was drinking was probably aged in a used Jack Daniels barrel. I think I detected a hint of Tennessee in the Macallen.
Zeke and Morgan tending bar in Crail. Zeke had selected a variety of Scotch Whiskies for us to sample and educated us in the drinking of scotch.


After Crail, we made another brief painting stop in St. Andrews, home of one of the most famous golf courses in the world; people get on long waiting lists and pay big bucks to play here. Not far from the golf course lies the remains of the  largest cathedral ever built in Scotland, originally built in the middle of the tenth century, falling into decay during the fifteenth century reformation. I enjoyed sitting for a while in this amazing ruin and painting one of the beautiful walls. That said, I am still trying to figure out where the custodians think the thousands of people visiting it daily will go for a pee. The Saint Andrews cathedral is the largest tourist attraction I have ever seen without a toilet. I assumed this to be an example of the Scottish reputation for austerity.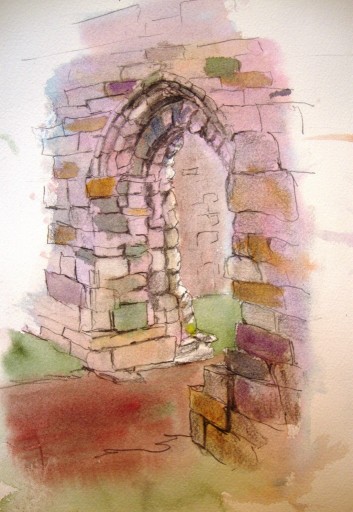 St. Andrews Cathedral, 8x10 watercolor on paper, painted on location.


Around noon we headed for our final painting destination, Edinburgh. By the time we reached Edinburgh we had become accustomed to so much rain that we were surprised and delighted anytime the sun came out, or, in fact, any time it wasn't raining. Edinburgh has so much art and architecture that choosing to sit and paint or to see a much as possible was even more difficult than usual. The major architectural feature of Edinburgh is the castle high on a hill above the city. Prince Gardens below it provide an excellent place to hang out and enjoy it.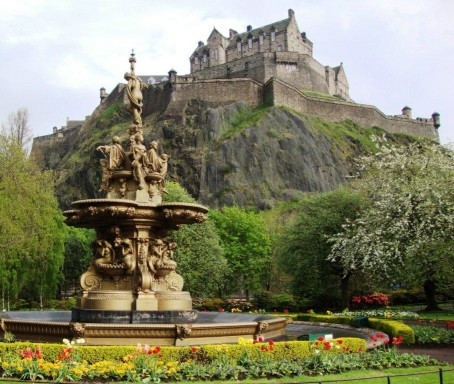 The Ross Fountain in Prince Garden with Edinburgh Castle behind. When the fountain was installed in the late 1800's a local vicar called it indecent and disgusting, largely because of the nude lady at the top, another demonstration that you can't please everyone.


Turner made several drawings of the Edinurgh Castle but only one small painting. After several attempts at painting it, I think I know why. I sketched the castle over and over from various angles. Tim suggested that I treat it not specifically as a castle but more as a shape behind the trees in bloom. Based on his suggestion, I produced several sketches, attempting to keep focus on the blooming trees. The castle, itself, is so interesting I found this difficult to do. Nevertheless, I created a painting with this idea, though I couldn't resist putting a little bit of interest into the shape. Even though the flowers contain more detail, it is pretty clear that my real interest remained in the castle.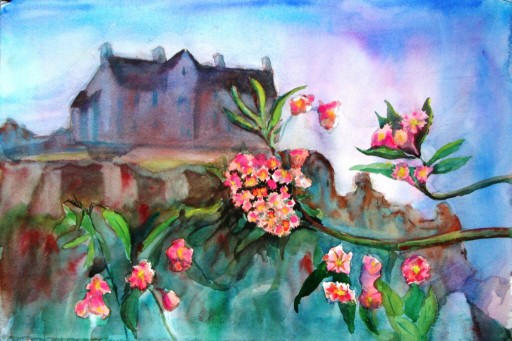 Blooming trees with Edinburgh Castle as backdrop, 15x22, watercolor on paper. Drawn on location, painted in the studio.
Another highlight of our visit was the National Gallery, which is loaded with great art, including great works by many of the old masters like Da Vinci and Raphael as well as those of more recent masters like Sargent, Picasso, Mattise, and Cezanne.I have always been drawn to stand before the original works of these masters in awe, humbled, and a bit intimidated. Without looking to see who painted it, I studied the Madonna and Child, painted with an amazing softness, brilliantly capturing a foreshortened hand, with shadows "breathed on". And yet she holds a baby that is way too big, not delicate, with a face that would tempt me to send it back, and a head of hair that looks like a red headed Elvis chewing tobacco. The artist obviously didn't have a real baby as a model. Wait! It is Leonardo Da Vinci's "Madonna and Child". I take it all back. `The painting is perfect, the baby is beautiful and extremely well done'. But I have reached a stage in art that frees me from signature worship and the need to act sufficiently impressed to avoid accusations of blasphemy or ignorance by high brow art snobs. I can recognize and appreciate the faults and short comings in some of the works while also admiring their magnificence, enabling me to enjoy great art galleries all the more.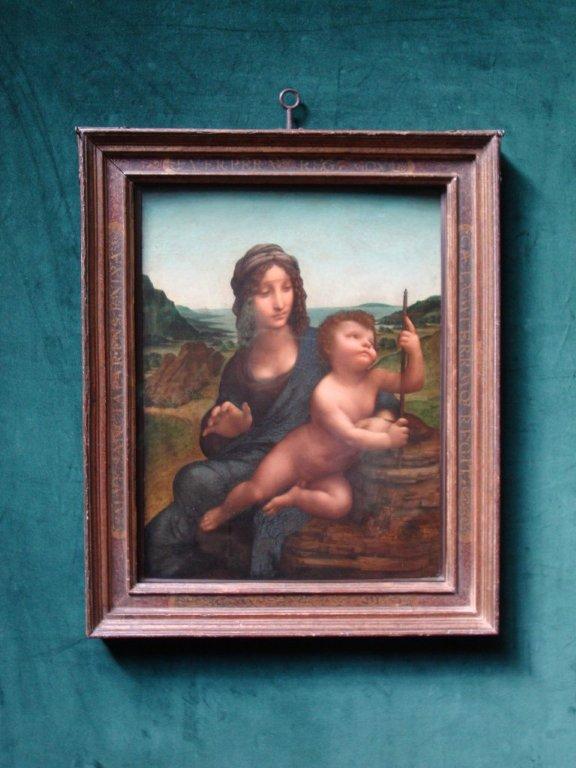 Madonna and Child by Leonardo Da Vinci.
I had a three hour slot to take another crack at the castle on the last full day. Locating a comfortable spot away from tourists, beneath a  shade tree looking up at the castle, I made a few sketches to produce a workable design before putting paper on the easel. Another bit of Tim's wisdom is "Paint what you love." So during this session, I forgot about the blooms in the foreground and simply enjoyed concentrating on the castle. By the time I had put on a first wash to wet down the paper, I began to get some help from above. A small rain cloud moved  fast enough to be waited out, so I did. Halfway into the painting another drop splashed in the middle of the painting, coming from a much larger cloud, so I packed up, satisfied to have a good start for later completion. This piece is what kept me interested in finishing the two castle paintings with the help of a photograph. Every time I look at this painting I can still see where the raindrops hit the paper, and I feel the sun going in and out, the cold rain starting again, and the thrill of looking up at the castle.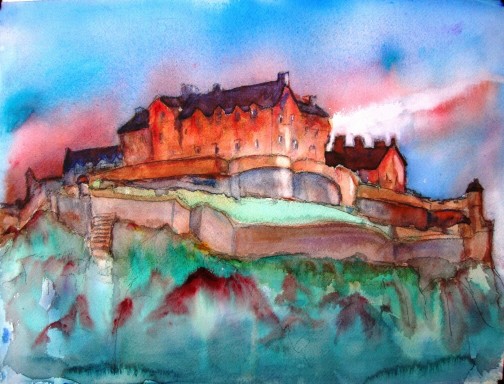 The Edinburgh Castle 2, 12x16 watercolor on paper, painted on location.
Fortunately, I was a few minutes walk from the hotel, with time to get back and prepare for our farewell banquet and to meet Pauline, who would soon arrive to join friends, Ruth and Chuck, and me for the next part of the Scottish adventure. We had planned to drive across Scotland through the highlands and spend a few days visiting castles, glens, islands, and gardens before returning home from Glasgow.
That evening we held our farewell banquet, which gave me  one more chance at haggis (as a starter). Walking home in the evening we enjoyed a clear view of the castle, this time with a clear sky and the moon above it.

On day thirteen, Pauline and I spent the morning walking through  Prince's Garden, the cemetery where Napier, inventor of logarithms is buried, and taking one last look at Edinburgh before joining up with Ruth and Chuck. Together, we picked up a new Ford Cougar from Thrifty and headed west. The afternoon weather could qualify as spotty rain, the kind that makes one appreciate automatic windshield wipers.  Our first stop near Stirling, featured Stirling Castle, the famous Stirling Bridge, and the William Wallace monument, which involved a quarter mile hike up a steep hill. William Wallace is one of the greatest Scottish heroes, and his life helps to characterize the eleventh century environment. The nearby Stirling Castle overlooks the Stirling Bridge, where Wallace, badly outnumbered by the English, tricked them into advancing across the bridge, whereupon his troops essentially slaughtered them in a conveyer belt type of operation. He became an instant hero and was appointed protector of Scotland all before he had reached the ripe old age of 30.

Using guerilla tactics he managed to create a lot of havoc for the English until they finally caught him through a betrayal, and handed him over to Edward I. One of Scotland's greatest heroes was a murderer, thief, and terrorist to the English. What did the king do to convicted terrorists in the twelfth century? You probably don't want to know, but I'll tell you anyway. They dragged him through the streets,  hung him for a while making sure not to kill him too soon, disembowled him and burned his guts as he watched, then beheaded him. They mounted his head on the Tower Bridge and sent body parts around the country to put on display.  His career ended at the age of 35.  Kids today are barely out of school at 35.

The movie "Braveheart" is highly romanticized but I was impressed by how much truth it contained. The English sheriff did murder Wallace's wife, whom he had married in secret, and Wallace did kill the sheriff. However, I doubt that Wallace made out with the queen of England like in the movie. At least, nothing at the monument mentioned that.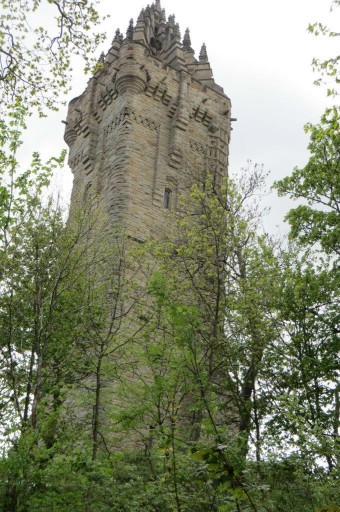 The William Wallace monument. Wallace is a national hero of Scotland and a terrorist, murderer, and thief to the English. Much of the movie "Braveheart" was to my surprise based on the truth, except maybe the part about Wallace making out with the queen of England.
We continued west through the highlands and Glencoe National Park. The weather had cleared up; however, it was freezing cold and the winds totally ignored our windbreakers, removing temptation to take anything but short walks.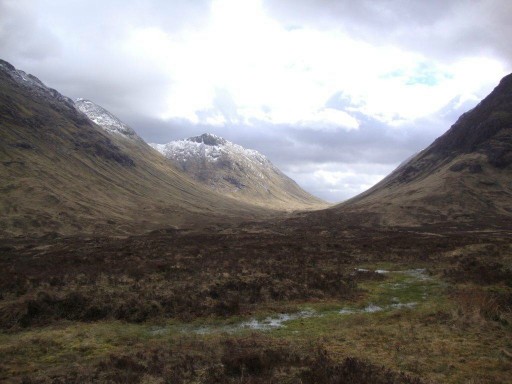 Glencoe National Park-The Highlands-One of the brief stops along the highway. It was too cold and windy to take more than short hikes.
Our B&B for the next two days was Ard Daraich, located on the Ardnamurchan Peninsula between Fort William and Oban. Our only  time constraint was to make the ferry across Loch Linnhe before the last trip at 9:30 PM, giving us time for a delicious seafood dinner at Lochleven Seafood Cafe.  We located Ard Daraich, just outside the town of Ardgour, were greeted by Norrie MacLaren, the owner, and began one of my most unusual stays ever in a B&B. My experience with B&Bs in England has been universally good. B&Bs almost always cost less and offer better service than hotels, and the owners are almost always helpful with a visit. But Anna and Norrie, who run Ard Daraich, were special, perhaps partly because they are avid gardeners and artists and have learned how to enjoy life to its fullest. Norrie gave us an extensive tour of his eight acre garden, an amazing, almost magical creation including  rhododendrons, camellias, azaleas, roses, and a wide variety of carefully chosen plants covering a hillside overlooking Loch Linnhe to the south and Glencoe and Ben Nevis to the east.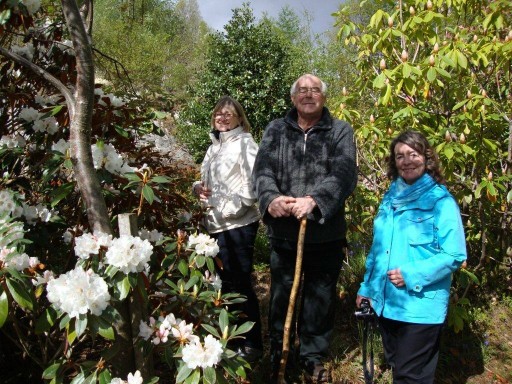 Ruth Westfall, Norrie MacLaren, and Pauline Abbott in Norrie's Garden. The eight acre garden with its wide variety of flowers, trees, and shrubs has sweeping views of Glencoe, Ben Nevis, and Loch Linnhe.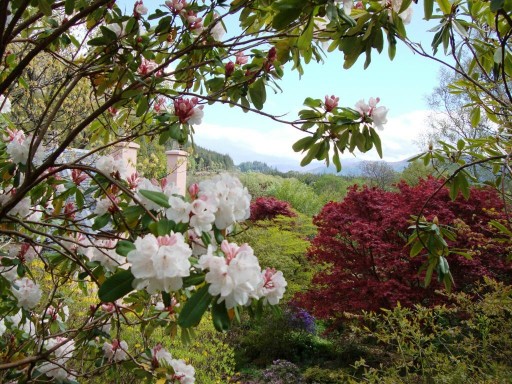 View of Glencoe and Ben Nevis to the east. Our timing  was perfect for the rhododendron and other spring flowers in Norrie's garden.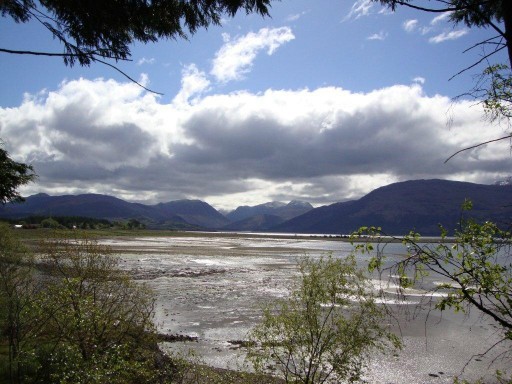 View of Loch Linnhe (tide out) from Norrie's garden.
On day fourteen we began our driving tour of the Ardnamurchan Peninsula, first stopping in the village of Strontian (From which the element, strontium, gets its name) to pick up a picnic lunch and some money from the cash machine. From this point on the roads are single track, requiring a completely different approach to driving. These single track roads handle two way traffic by placing turnouts on either side of the road roughly a quarter mile apart.  The turnouts belong to the driver who is on the side of the road where the turnout is located, i.e. the turnouts on the left are mine, and the ones on the right are his.  This requires both planning ahead and also  making a mutual decision with the oncoming drivers; the driver must always be looking as far ahead as is visible to see both oncoming vehicles and turnouts. When an oncoming vehicle is spotted, a mutual decision must be made by both drivers as to which turnout will be used to allow passing.

For example, if a turnout is closest to me, I will turn into it if it is mine, or stop and wait if the turnout belongs to the oncoming car until he can reach me and use it to pass.  The driver who makes the decision first can flash his lights to inform the other driver to continue. When we pass each other, the moving driver thanks the yielding driver with a courtesy hand wave, which is returned. This works easily on a straight road, but gets really tricky on a curved road with blind spots. The locals get so good at this that neither driver needs to stop and sometimes the pass happens with neither driver  slowing down much. The real problem happens when a novice makes the mistake of moving into the opposing turnout and hits head on with a speeding local who also claims it.  In the next  few days Chuck and I drove over 100 miles on such single track  roads.
Our only setback with single track roads took place at the end of a very rough dead end drive to Dorlin Castle, (another castle of the Campbell clan that lies on a west coast tidal island). I had  successfully maneuvered by an oncoming car and was driving at about 10 miles per hour when my left front tire dropped into a hole  cut out of the edge of the road. The sudden jolt and ominous noise gave me an instant feeling of dread. Upon inspection we found it completely flat. Fortunately we had a spare, enabling us to continue on foot to the castle ruin, have our picnic, sketch the castle, and leave the tidal island to avoid getting trapped by a  rising tide that would soon surround the castle with a natural seawater moat.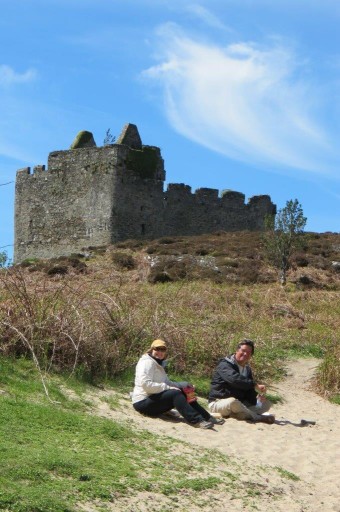 Picnicking at Dorlin Castle. The only time constraint was to be back before the tide cuts off the tidal island from the mainland.


The half sized spare tire was a minor irritant, putting us at the mercy of driving without a spare. Our enquiries for a replacement in Fort William or Oban and calls for help from Thrifty were fruitless. Fortunately the remaining tires supported the rest of our journey. From Dorlin Castle, we drove to the north end of the Peninsula to a garden that Norrie had recommended.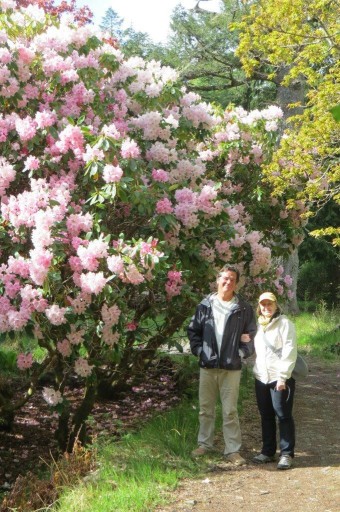 Lochailort Gardens, on northern Ardnamuchan Peninsula, recommended by Norrie.


Our day tour continued with a visit to Glenfinnan, site of a Harry Potter train bridge, monument to fallen soldiers, and Glenfinnan Hotel where Norrie and Anna had booked us in for a bar meal, one of the best meals of the entire trip.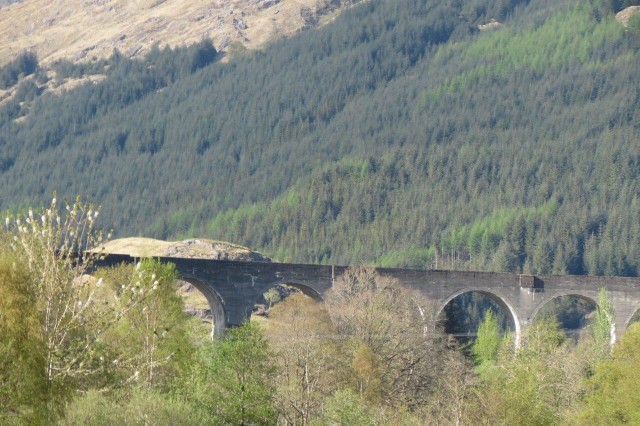 Bridge near Glenfinnan featured in Harry Potter movies.


On day fifteen we drove another fifteen miles of single track road to a ferry for the Isle of Mull to visit the fishing village of Tobermory, where we painted, visited various shops, ate fish and chips on the pier, enjoyed afternoon tea, and met the Tobermory cat.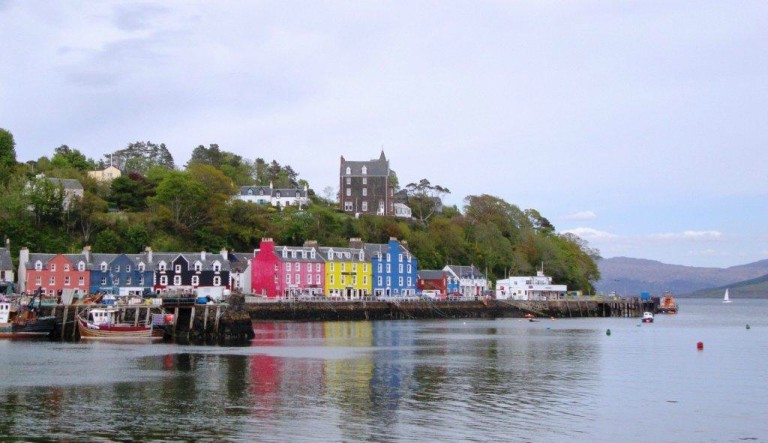 Tobermory, a fishing village on the Isle of Mull, where we painted, visited various shops, ate fish and chips on the pier, enjoyed afternoon tea, and met the Tobermory cat.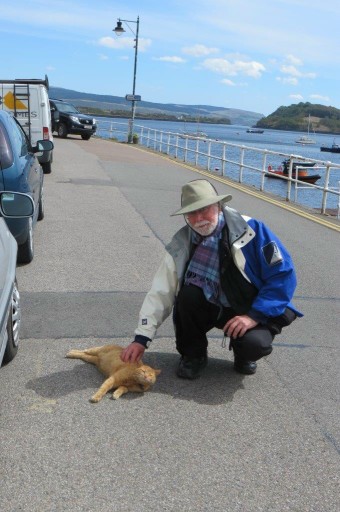 Greeting the Tobermory cat, sleeping in the middle of Main Street. This cat is probably the most photographed cat in Europe.
The Tobermory cat is famous for several reasons. He seems to "own" Tobermory and chooses unusual places to sleep, like in the middle of the main road. Perhaps the most important factor is that a local author seized upon his fame, wrote a children's book featuring him, created a website, and promotes him in many of the stores. He is possibly the most photographed and most famous cat in all of Scotland.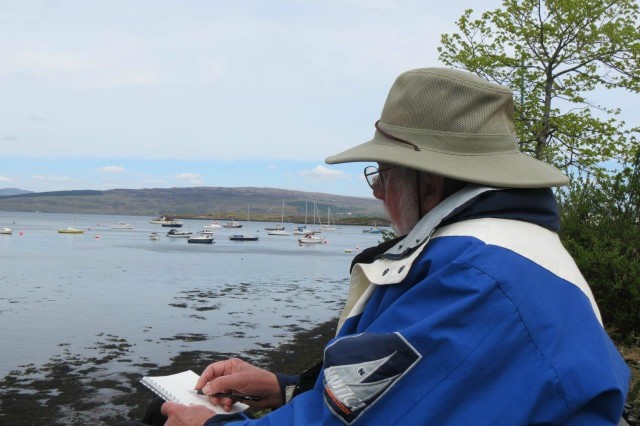 Painting in the Tobermory harbor.


Leaving Tobermory, another ferry took us to Oban, location of our next B&B. The ferry took us within a rocks throw of Duart Castle on a tip of the Isle of Mull. A half dozen castles lie within a few mile radius around Oban, reflecting a much different past and drastically different way of life. An hour later we docked and made a short drive from the harbor to our B&B on the northern edge of Oban.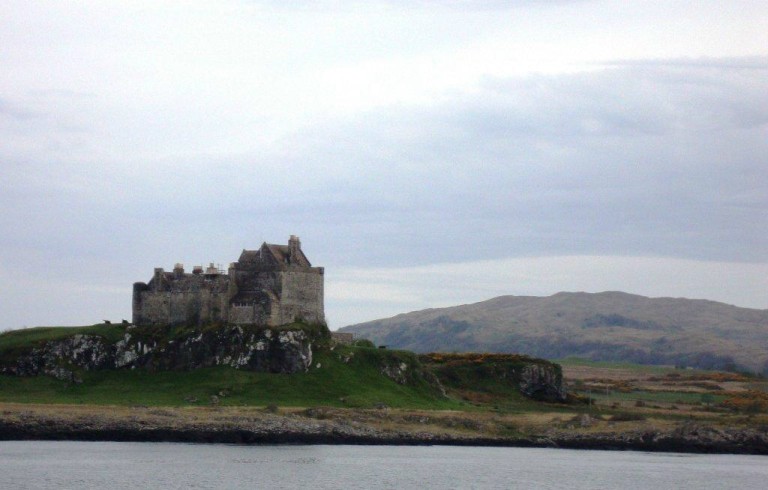 Duart Castle, Maclean Clan, on the Isle of Mull.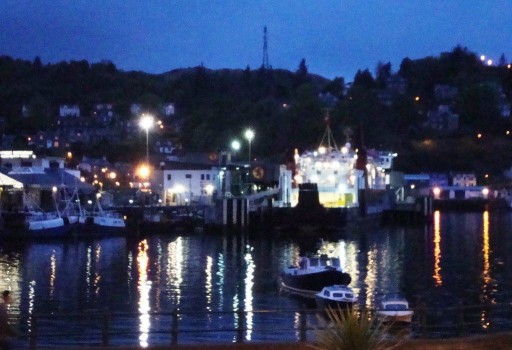 Oban Harbor by night.


We began day sixteen with a walk around Oban before heading towards Glasgow with a planned stop at Inveraray Castle. We sighted so many tempting attractions along the way such as churches, gardens, and castles that we had to force some discipline to be back in Glasgow by six to turn in our rental car. We stopped near the head of LochAwe for a brief view of the Kilchurn Castle ruin, which dates back to the thirteenth century and was occupied by the Campbells until the eighteenth century. At this point we were on yet another single track road for about 20 miles; traffic was a bit heavier, including a few buses, which somehow, to our amazement, could fit into the turnouts.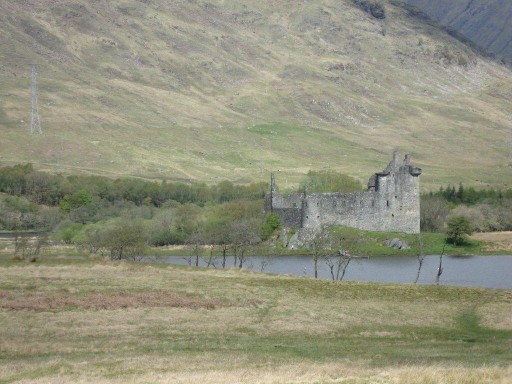 Kilchurn Castle, another Campbell clan castle that was painted by Turner.


Next stop was Inveraray and Inveraray Castle, the seat of the Campbell clan and home of the Duke of Argyll, still partly occupied by the duke's family. Its latest claim to fame is a debut in the 2012 Christmas installment of Downton Abbey, when the Granthams visited "Duneagle" for a holiday. Inveraray Castle merited a complete visit inside and out including its gardens and lunch. As we left the car for this visit and stepped into warm sunshine we debated whether to don a coat or not. By the time we had toured the castle and opted for a lunch in the garden, we wished for mittens and by lunch end umbrellas came out and lunch goers ran cover. Before dessert and coffee the sun had emerged again for our tour of the garden, four seasons in the course of a lunch.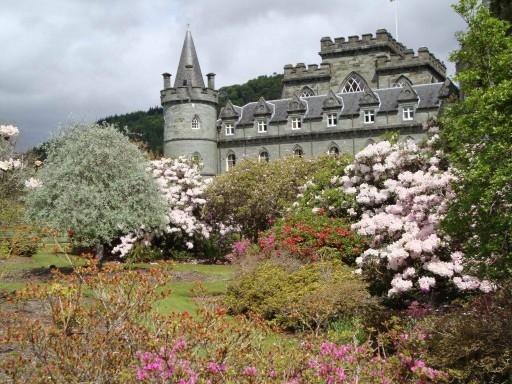 Inveraray Castle, from the gardens. The Granthams strolled in this garden in the 2012 Christmas special of Downton Abbey.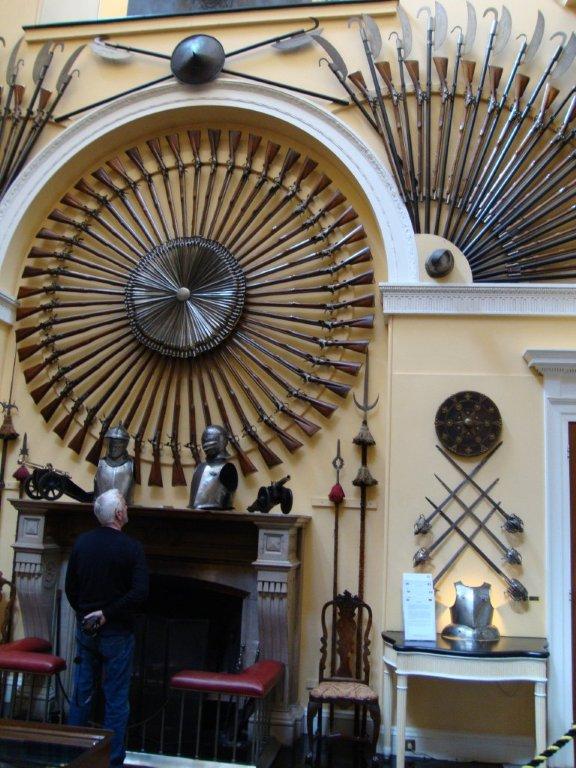 The Gun Room in Inveraray Castle. This room displays some amazing relics from Scottish history, including cannon balls recovered from a sunken Spanish armada ship that sank off the Isle of Mull.


We made it  safely back to Glasgow on our half sized spare tire, turned in the car and took a taxi to the Grand Central Hotel for our last evening in Scotland. (Because I had opted out of full insurance coverage, Thrifty nailed us for over $200 for the tire.)

Since Ruth and Chuck were leaving by air, they opted to stay near the airport, while we, leaving by train, stayed next to the train station. We joined together once more for our last dinner in Glasgow, and walked to dinner under the large umbrellas supplied by the hotel. Pauline had a selection of venison samples which was more that she could consume, so Chuck and I gave her a hand. We could not identify one of them, though I thought it tasted somewhat like haggis. Upon asking the waiter what was in that sample, she sent out the chef, who explained that it, indeed was a blend of vegetables and haggis.

Having a half day in Glasgow before our train departure gave Pauline and me time for three site visits, the cathedral, one of Scotland's oldest, the museum of modern art, and tea at the famous (Mackintosh designed) Willow Tea Shop.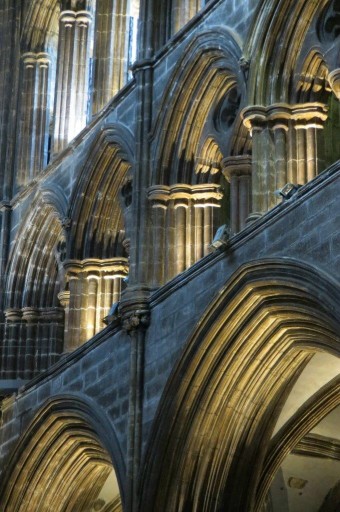 Glasgow Cathedral. Like many old cathedrals the surrounding scaffolding hints at the never ending struggle to restore and maintain these thousand year old structures.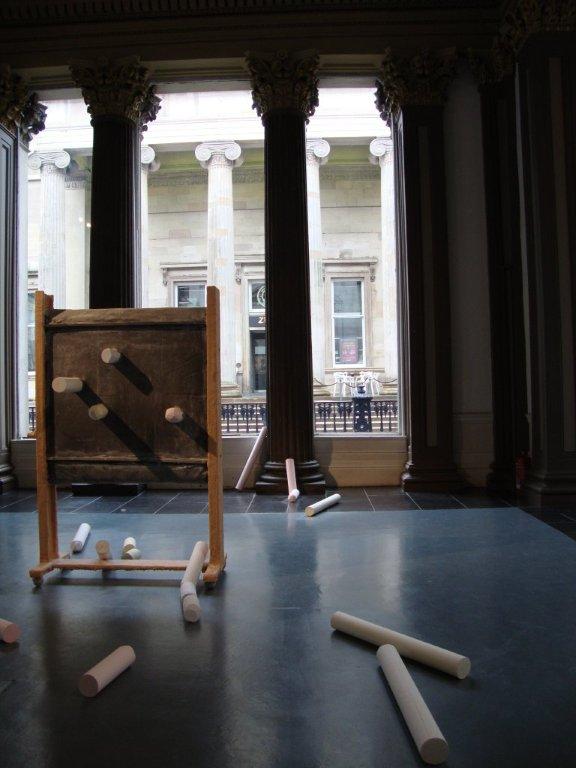 Ongoing exhibit at the museum of modern art. I found it fascinating to observe modern sculpture with a background of ancient Doric and Ionic columns.
Tea…well actually a latte…. at the famous Mackintosh designed, Willow Tea Shop. The high backed chairs are more comfortable than I had imagined. Mackintosh designed them as a way to section off each table into its own "room".
Appendix for Artist Friends

On the last day of a painting workshop the Tim Clark painters gather, discuss paintings, what we learned, and to put on a few skits by several groups, one, a singing group known as "The Fabulosas". We created a song with a chorus about friends gathering and always expanding verses that summarize some of our experiences and learnings from the week together. (This year the women sang their version of the song.) By popular request I include here some of the verses that were created this year.

Chorus
Oh Yeah! Oh Yeah! Don't be a capitosa (Hard head)
Keep your friends real near
And drink lotsa beer
And don't be a capitosa
Verses Describing Painting tips:
If you want
to paint with grace,
Be sure and paint
the negative space.
There are six ways
to take color back.
Compliment, white, glaze,
color, water, and black.
To paint a white line,
use four different ways.
Scratch, wax, lift,
and negative space.
Sometimes a painting
can be helped a lot,
Simply by adding
a single red dot.
At the end of the day,
if you have naught to show,
Say you painted a swan
eating popcorn in the snow.
One more lesson
in this song,
If it looks right wet,
it's probably wrong.
Other Verses from Scotland
Tim taught us how
to paint in rain
We can now do it
without much pain
Scottish art
is filled with awe.
Sit in a bar
and drink and draw.
I gave Tim
my secret tip.
How to paint a woman
with a bouffant flip.
What was under his kilt
Was a gruesome bore,
Until she found
It gruesome more.