People
Gene Isaacson, an amazing art inspiration
My very first class in art history and appreciation, offered at Orange Coast College in Costa Mesa, around 1993, was, to my very good fortune, taught by Gene Isaacson, an amazing teacher, who later became head of the Arts Department at Saddleback College in Santa Ana. The reason I say it was to my good fortune was because he is the teacher that inspired me to take many subsequent courses, not only at Orange Coast College, but also several other colleges in the neighborhood. Even more significant is that a few of the subsequent teachers were so bad that I either left the classes without finishing or finished without much satisfaction or desire to continue. I feel very lucky to have experienced Gene's influence first.
Pauline and I had decided to take a few classes together in the local colleges; it just seemed like a good idea to broaden our educations and to provide something we could do together. Although we both were interested in art, we had never taken the time to study art formally, and to be perfectly honest, I was not sure what art history actually was. Art appreciation was at least a concept I could understand, even though my understanding of it was pretty naïve. I imagined that the history part of it could be pretty boring, especially if it meant spending time memorizing the histories behind each piece of art. That, of course, is not what art history is about.
The first class began with prehistoric art and went to the renaissance. We took it reluctantly, only because it was a pre requisite to art of the renaissance, which we both thought would be much more interesting. We used the classic text of the Jansens, which had been revised and rewritten many times by later writers who survived the original husband and wife team. One of the first and most important duties of a professor is to choose an excellent book for the class and to follow it to some degree. Gene troubled me a bit when he stated in the first class that he was diverging from this edition of the book because it had reduced and moved the chapter on African art, which he considered to be one of the most important chapters. I felt some relief when he handed out copies of that chapter from the-now-out-of-print edition, but some skepticism remained as I wondered how interesting African art could really be.
It happened that, in addition to being a leading authority on African art, Gene was one of the top private collectors in the country. His excitement on the subject was truly contagious, and one could not help but gain extremely interesting insights as well as enthusiasm from his lectures. We could hardly wait for the next lecture, always leaving class wanting to hear more, and continuing the discussion of what we had just heard. He showed us how art history provides a logical framework for understanding art. It was as though all pieces of art produced throughout history could be sorted like pieces in a giant puzzle that provided another way to display world history, giving each piece a meaning that connected it with both world history and with the art world itself. I came to realize that the history part of art history told not so much the history of the art as it told the history of the world. Although the sorted art was a way of displaying a history of world, the history of the world was equally a way of sorting the art.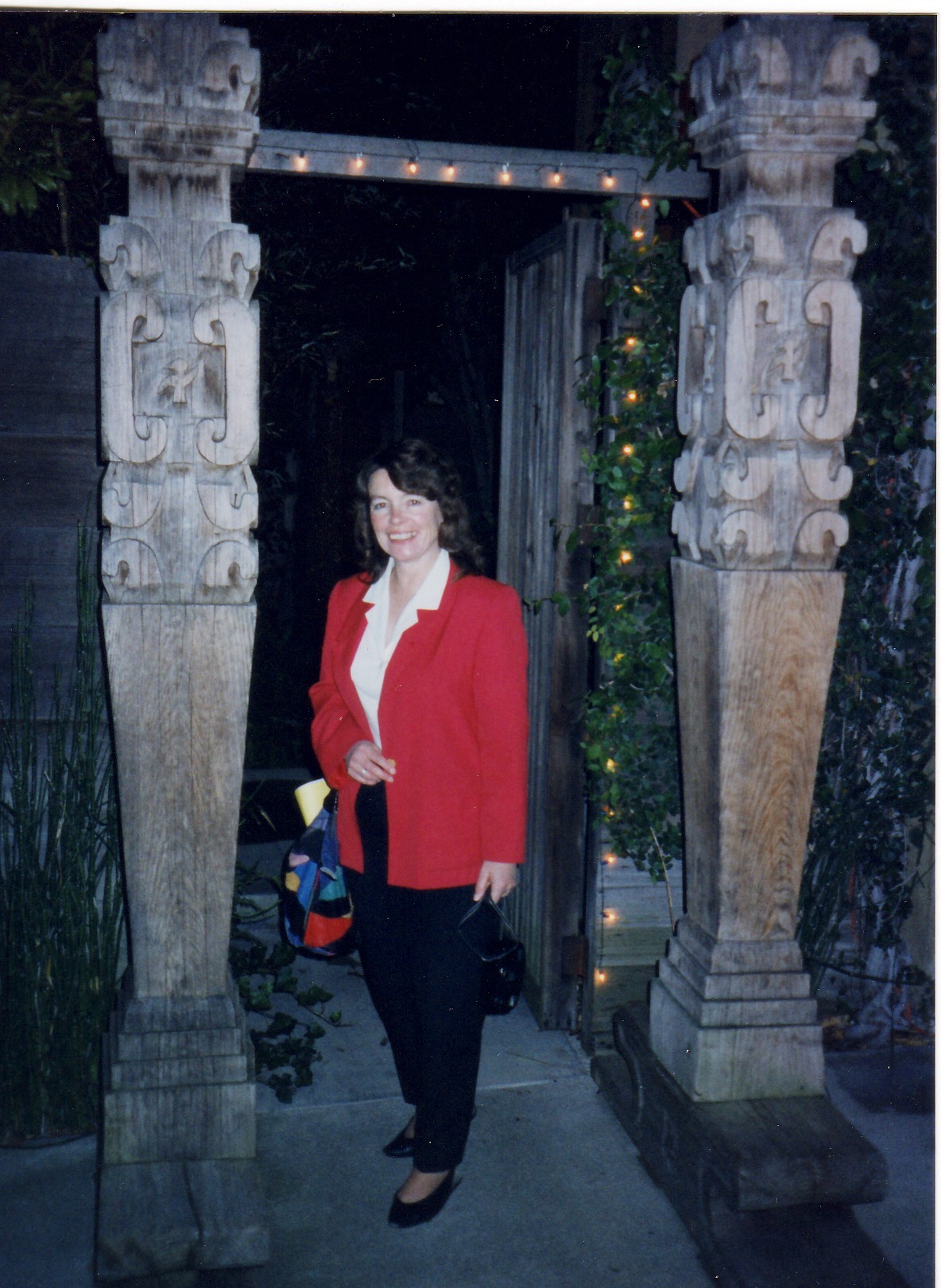 The entrance to Gene's home was a gateway into Africa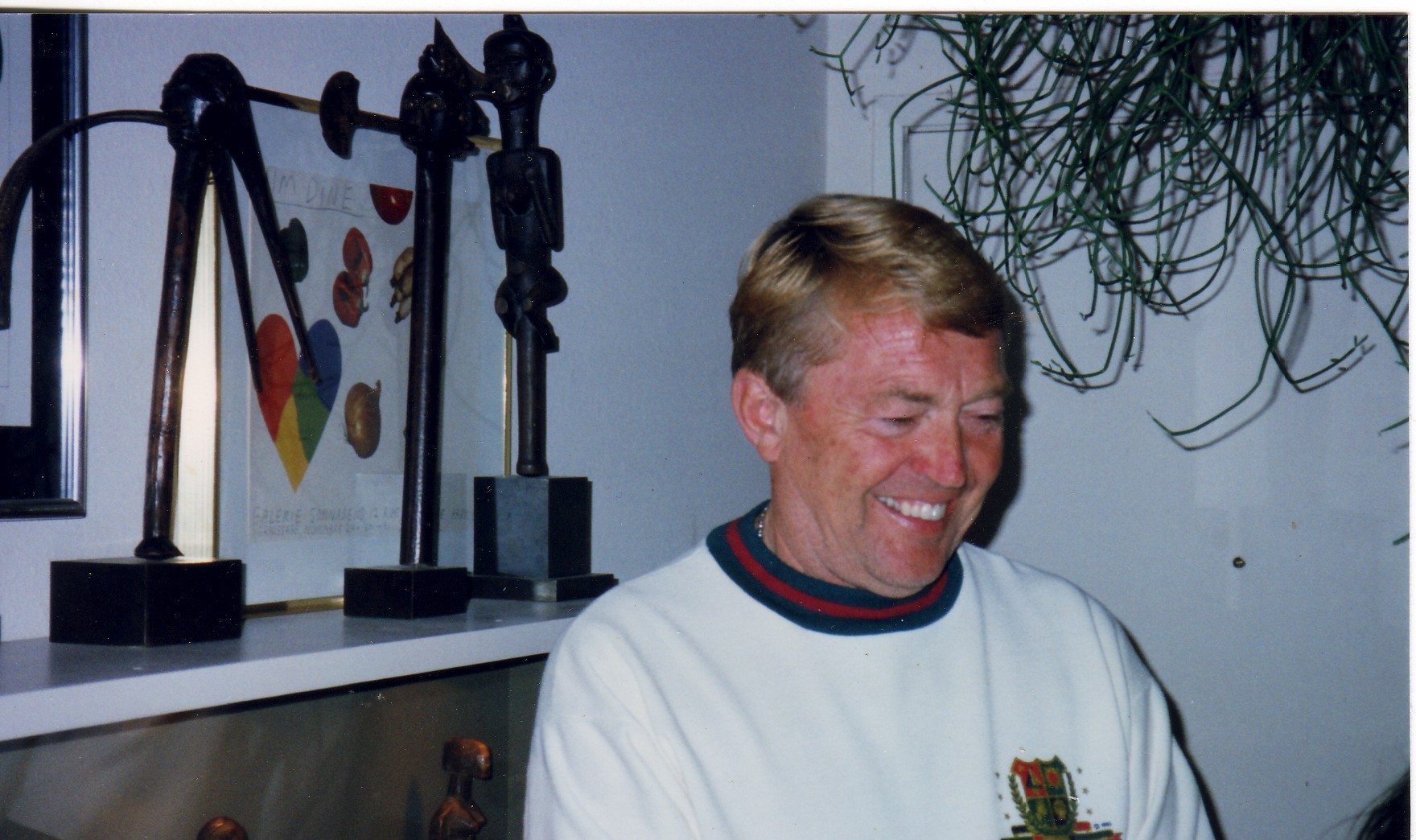 Gene had one of the best private collections of African art in the country and he loved to share it.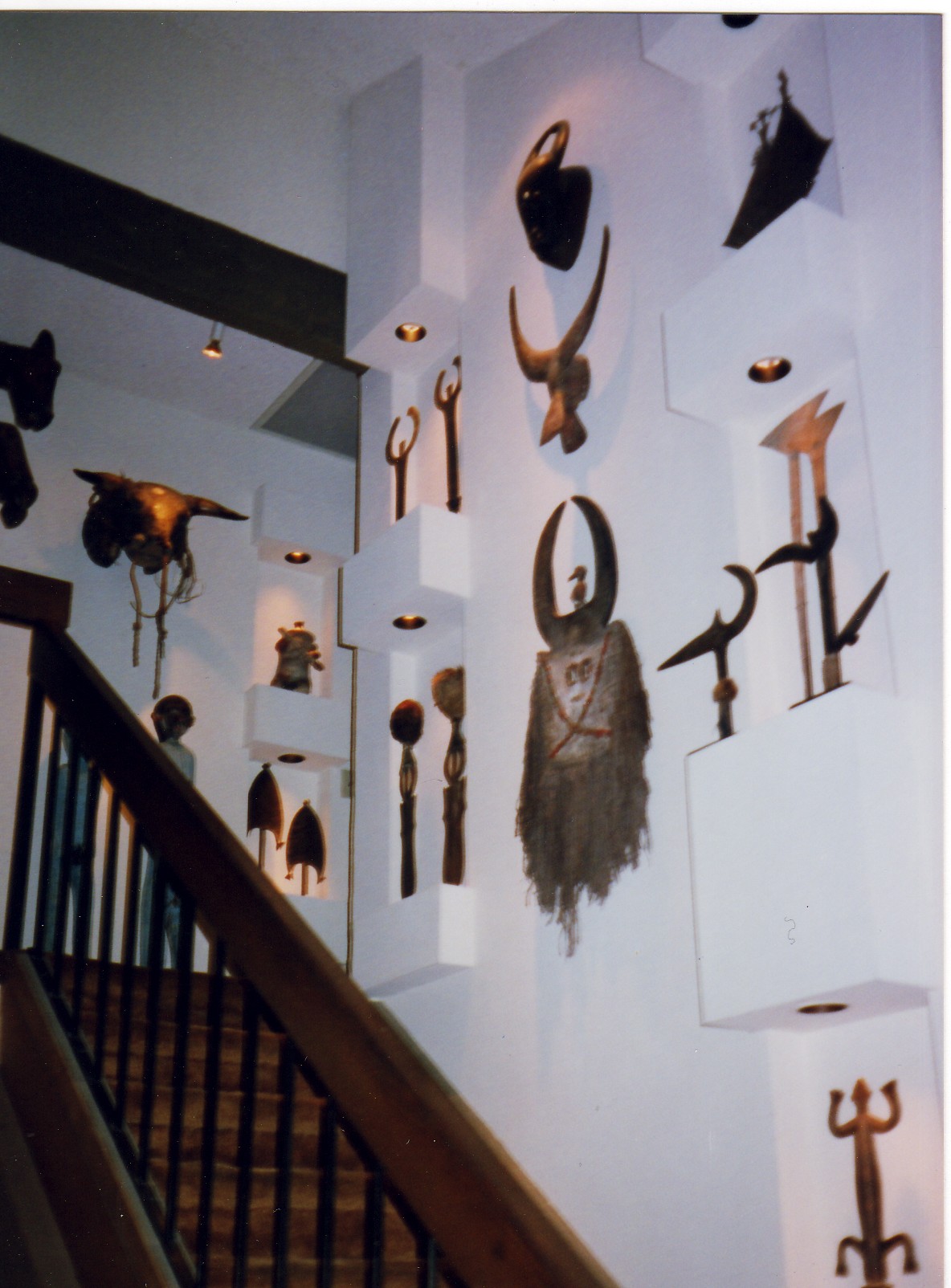 Every wall was covered with valuable African art-He had traded an automobile for one of the masks and a house for another.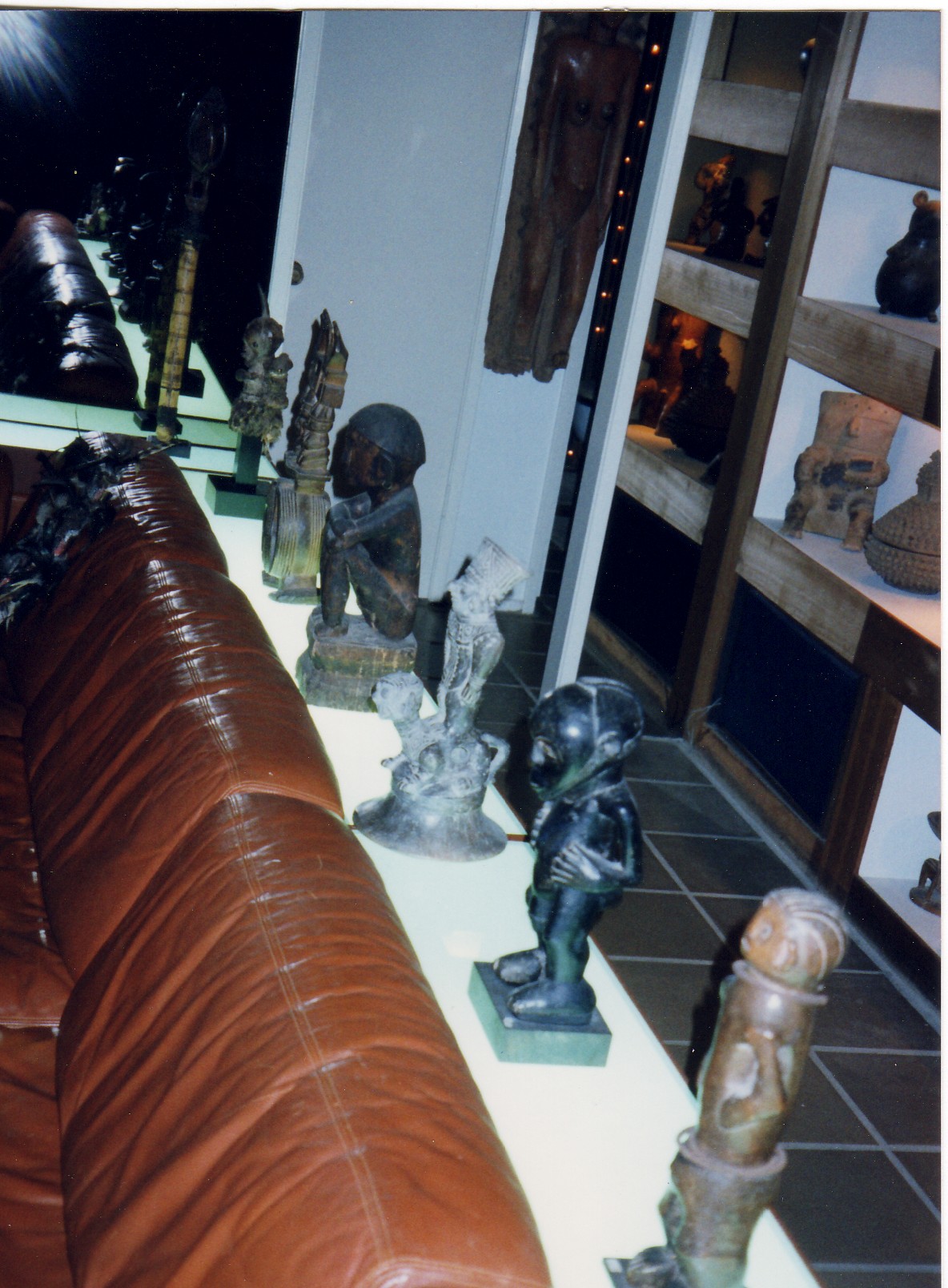 The reason that African art was so important in the sorting scheme was that it is ethnographic, coming from a society that was continuous and also had not had a written language. Its art would be passed down through the ages verbally and by direct apprenticeship. A widely accepted theory in art history is that art will evolve slowly in a society that has no written language. This would mean that African art of the twentieth century would represent the very earliest of art forms, so it should be placed near the beginning of history, even before ancient art forms like Stonehenge. It provided the very foundation of art.
Gene routinely brought pieces of his own collection to class for discussions. Effectively, he turned the entire first quarter into a study of African art. He arranged for his classes to visit galleries around Orange County that specialized in African art, including a visit to his own home, which, itself, was one of the most extensive collections in the state. Upon entering his front garden, which had a jungle-like appearance, we heard the sounds of Africa. Inside, masks covered the walls, statues covered the tables, and a full sized canoe hung from the ceiling. He seemed to have an interesting story about each piece. We began to understand the value of some of the pieces as he disclosed to us that he had traded an automobile for one of the masks and a house for a Coda Guardian, or mbulu nbulu, an extremely unique, mystical, funerary piece. He had acquired one of his prized pieces in a small African village by trading his blue jeans and tennis shoes for it.
Pauline and I were puzzled that at a goodly number of the 75 students in the class would sneak out after roll call. How could they pass up such an opportunity to learn from this genius? At mid term, I began to dread that I had signed up for course credit, not considering that there was more than simply attending and enjoying classes. Since we both worked full time, neither of us had studied much outside of class; It had been so long since I had been in school that taking and passing exams was a process I had long since forgotten. Taking off from work on the afternoon of the exam, which would be held at 7PM, I gave myself five hours to review notes with Pauline.
The exam had a hundred and thirty questions, for which one could attain a score 130. After the exam, we both came out worried, having missed a lot of questions. Suddenly, being a student again became terrifying.
At the next class, grades were posted outside the class and we nervously approached the grade sheet to take our medicine. Pauline had scored 118; I had scored 112; the next highest grade in the class was 67. It seemed to point out the distinct difference between students who are interested and those whose interest lie elsewhere. They simply attended to get a necessary credit, while we attended because we wanted to learn. Gene gave points for various write-ups and gallery visits, so by the time finals rolled around Pauline and I already had enough points for an A in the class and were not required to take the final exam.
As a result of his teachings we both left with a great enthusiasm not only for African art, but for art in general and we went on to take most of the art classes offered at Orange Coast and Coastline Communities College. In some cases we learned that one could take the same class from two different professors and gain new insights each time.
We remained in touch with Gene for many years after our initial classes with him, and he always recognized us and invited us to various events that he championed. Among these was the grand opening of the Santa Ana College gallery in Artist's Village.
One morning after not having heard from him in many months I read the obituary with great sadness. Gene Isaacson had passed away in October 2005.
I credit this one man for getting me off to a start that inspired me to stay interested and to revive my own interests in painting, which l enjoy so much today.