Paris, Cartres, Vaux le Vicomte
August, 2002
What to do after you've already been nere, done nat, and got the t-shirt
Four Days in and around Paris?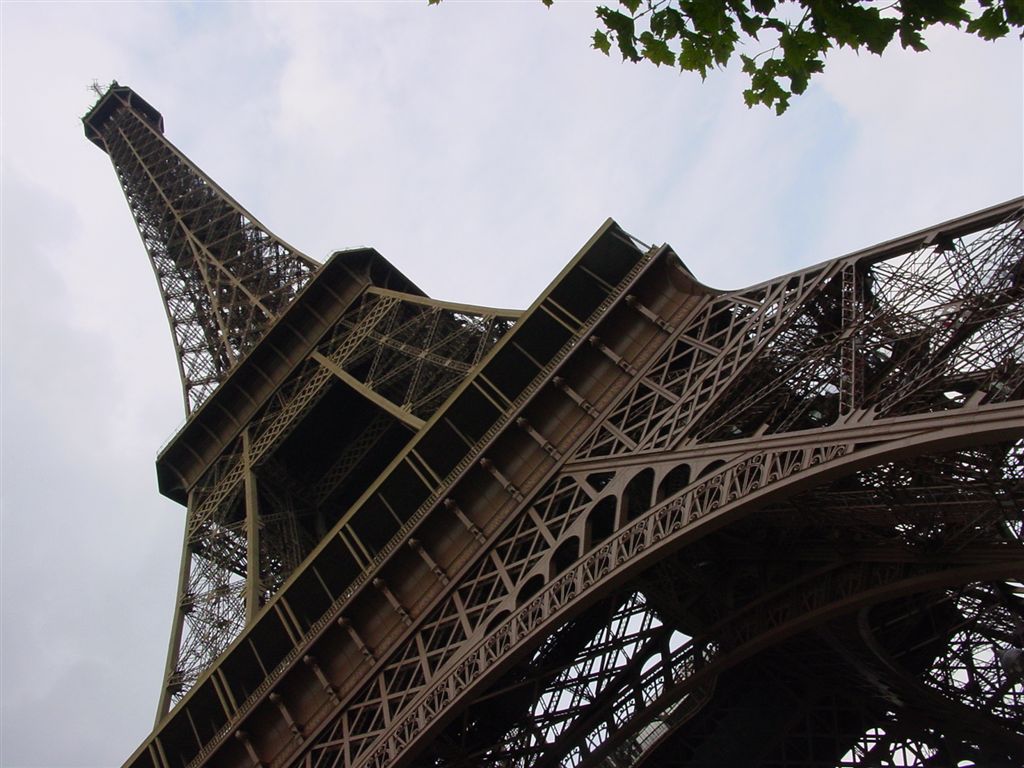 I've been to Paris almost as many times as I've been to Las Vegas, and like Las Vegas, I shall return again and again. Return to Las Vegas because it is growing so fast there is always something new and spectacular to see. Return to Paris because no matter how many times you've been there you have still missed a lot that is worth seeing. I've visited Paris with my son, mother, friends, business partner, fiancée, mother, lover, and alone a few times, and every trip was wonderful and different. In August, 2002 my wife, Pauline, accompanied me (she's also the fiancée and lover I saw Paris with.) This time we came not for Paris per se, but for the purpose of seeing nearby Chartres Cathedral, in the city of Chartres about 50 miles Southwest of Paris and the Gardens of Vaux le Vicomte in nearby Melon. Since Paris would act primarily as a hub for a visit to Chartres we made no plans to SEE anything in particular, but we knew that we could have fun just wandering around, since Paris is packed with interesting sites, spectacular art, and architecture.
It really matters little where one stays in Paris as long as it is close to a Metro terminal, since anywhere in the city is within a few minutes and less than a dollar subway ride with rarely any waiting time once in the subway. For our last trip (a honeymoon of sorts) we stayed in a $200 per night hotel room with a view of the Notre Dame Cathedral, and that was wonderful. For this trip we had a nicer $50 room near the end of the number 8 Metro line.
The trip began with a 3 hour, 5:15AM, Eurostar trip under the English Channel from London to Paris. We arrived at the Paris Gare du Nord (North Train Station) at 9:20AM, took a subway, made one change and arrived at the hotel before 10AM. As always I enjoyed the empowerment gained by learning to use public transportation. In Paris even if you can afford taxies, the Metro system is much better, faster, reliable, and user friendly. A pack of 10 tickets cost 9 Euros, which is 9 dollars (unfortunately, in 2008, 9 Euros is more like 15 dollars).
Introduction of the Euro really makes life simple, since the Euro and the dollar are about equal now (Thanks to our government, this is no longer true.). We live in a very unique time of international finance. Everyone will be able to observe how the Euro and dollar compare in time from an equal start. In the past with so many currencies and such odd conversions, it was not easy to keep up with which country was juggling the books. It will become perfectly obvious which politicians are the sneakiest during the coming years. It would be really wonderful for travelers if the Euro and dollar could stay equal (too much to hope for, I guess).
After leaving our bags we hopped on the subway to the Concord Metro stop, the closest Metro to Musee' L'Orangerie, a wonderful gallery that I wanted to see again. My excitement turned to frustration as I saw the scaffolding still around the building and a notice that it would be closed for remodeling for two more years.
View of Eiffel Tower from the Veterans Hospital near the Seine River.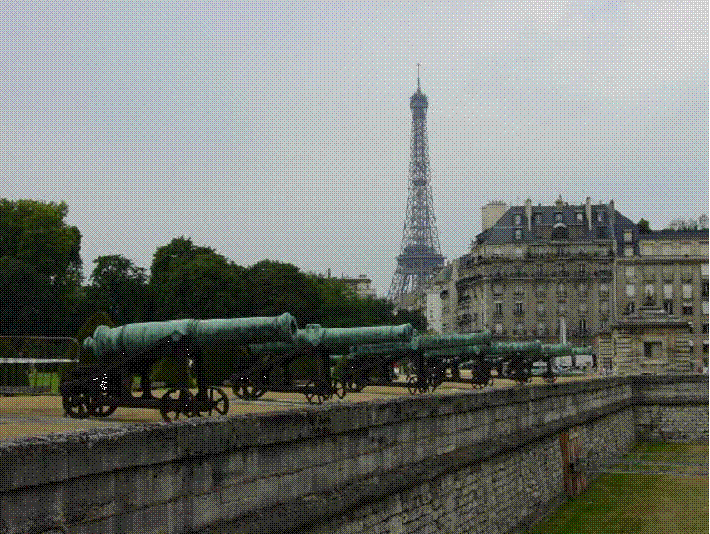 My disappointment soon faded as I took more interest in the amazing architecture and street art along the Seine. We could see the Eiffel tower in the distance, and chose to walk in that direction. August is a good time to come to Paris because a lot of Parisians leave for holiday. Many of the non-tourist stores close for the entire month. Unfortunately, some of these are worth seeing open. Nevertheless, the crowds are smaller and it is said that hotel bargains are better. One would hardly know it when seeing the lines to go up the Eiffel tower. We were both happy to have already "done nat" and neither of us even considered the question of whether we should stand in line for the next two hours. There are much better ways to see Paris. We chose instead to watch the tower from a sidewalk restaurant where we had lunch accompanied by some of that wonderful French Bordeaux.
As much as I love Paris, after this trip I must say that one of the greatest things about Paris is that it is close to Chartres. One can take a tourist bus from Paris to Chartres for $75. Alternatively, trains leave every 30 minutes for Chartres for $12.50 round trip and take less than an hour, a much more satisfying process for the WWT. Pauline made the process even easier when to my pleasant surprise I discovered that her French was actually good enough to make the reservations in French. I was not sure what to expect in Chartres besides a wonderful cathedral that I have read about for years. What we found is a magnificent medieval town that is almost as exciting as the cathedral itself.
Chartres Cathedral may be the most beautiful cathedral overall in Europe. It has everything in massive quantity, stained glass, sculptures, paintings, a labyrinth, and one of the most exciting clock towers I have ever climbed. Three hundred steps takes one to a breathtaking view of the town and of the cathedral itself. Walking around the unfenced ledge was both inspiring and terrifying. At times I had to lean against the wall and pretend that I was not 300 feet in the air on a 1000-year-old ledge.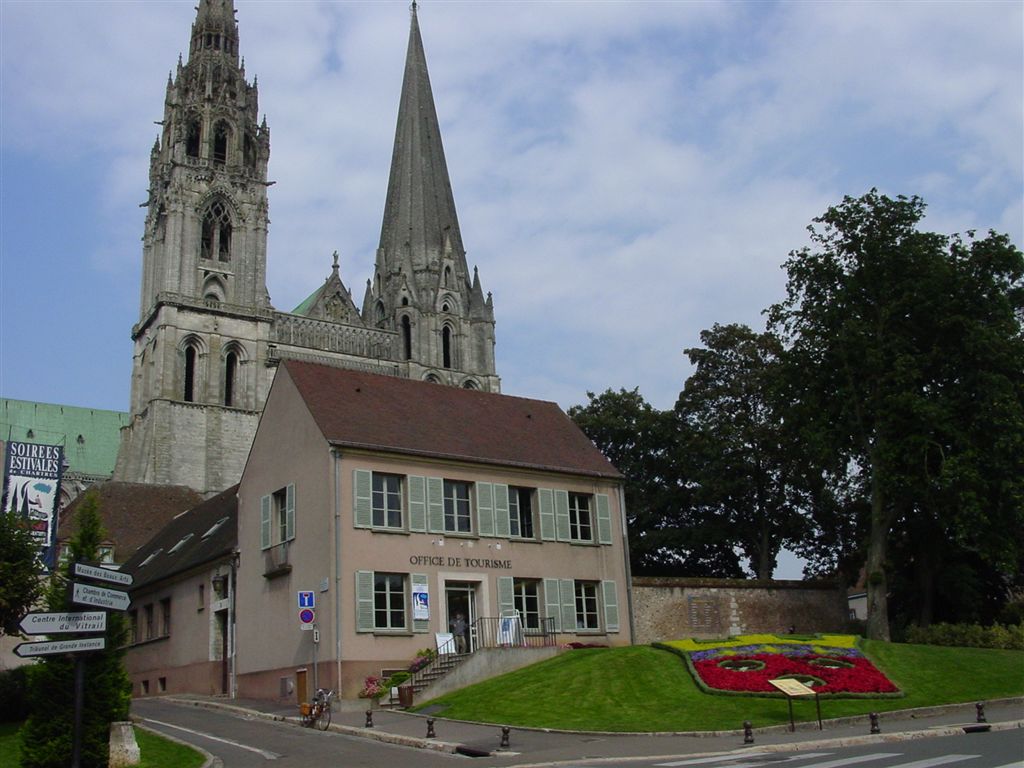 Chartres Cathedral-What bureaucrat decided that this was a good place to put the tourist office?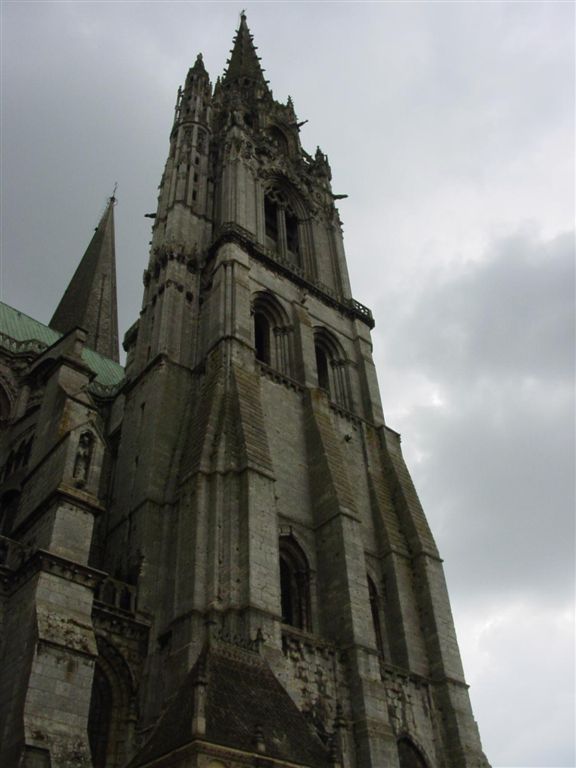 Cathedral from the side showing the tower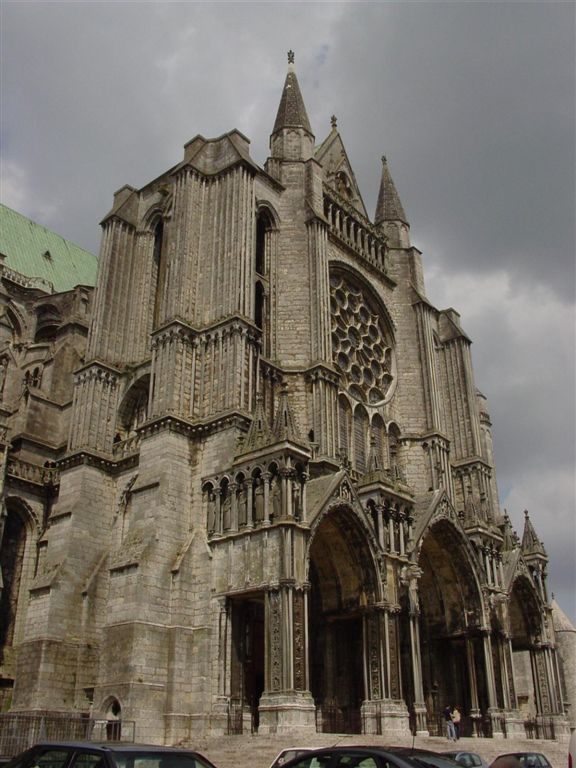 Cathedral from the rear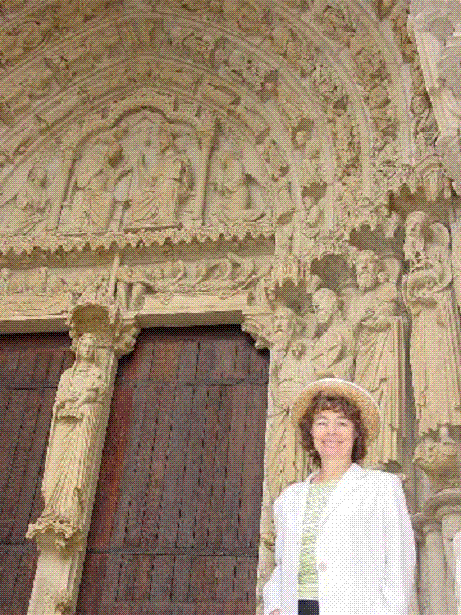 North Portal of Chartres Cathedral
Over 1000 sculptures both inside and outside are so detailed, so lavish, and so many one could look at this place for days. People have made careers studying the several hundred stained glass windows, 10,000 square feet of it; that's more than a football field of stained glass. One of the great benefits of being outside of Paris is that the crowds are small, there are no lines, and one can sit anywhere and meditate without someone wanting his picture made standing where you are looking. We enjoyed a lunch in a sidewalk cafe overlooking the cathedral South Portal. I had only two gripes about the Chartres Cathedral. One is that they have covered the labyrinth with chairs and the other is that the tourist bureau sits immediately in front of it, blocking the entire Northwest view of this magnificent structure.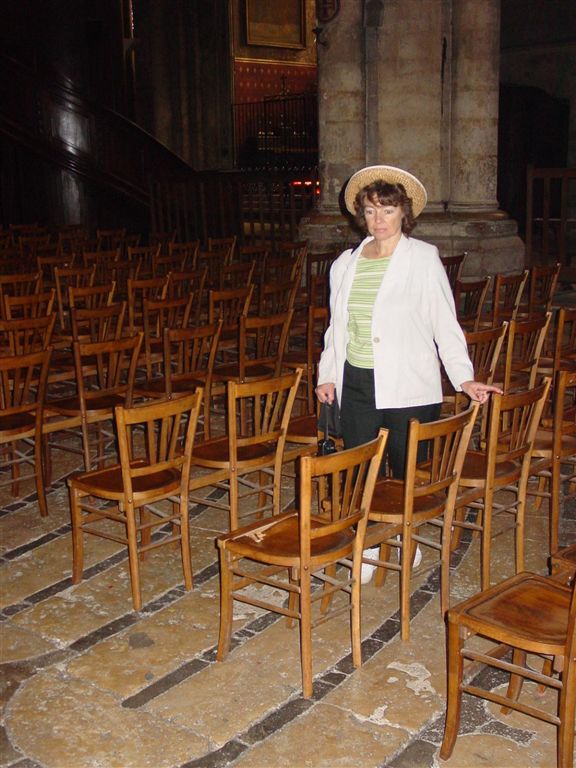 Laberynth inside..........blocked with chairs!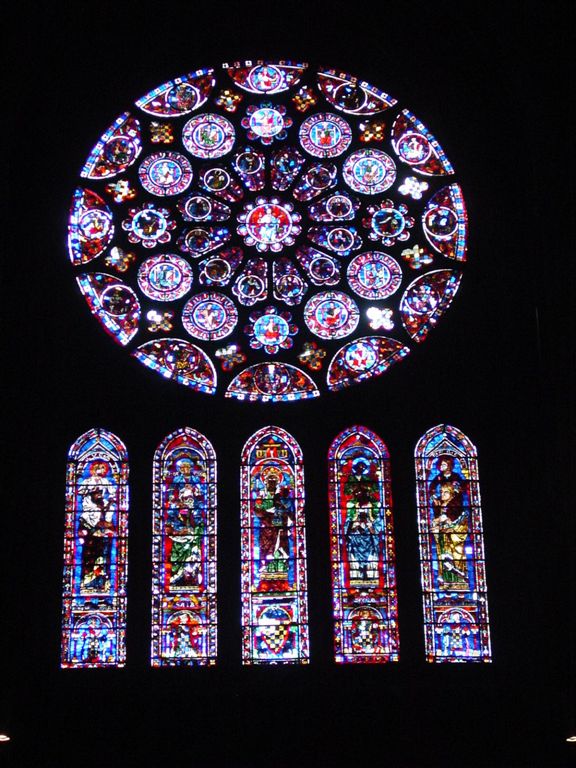 One of many stained glass window sets.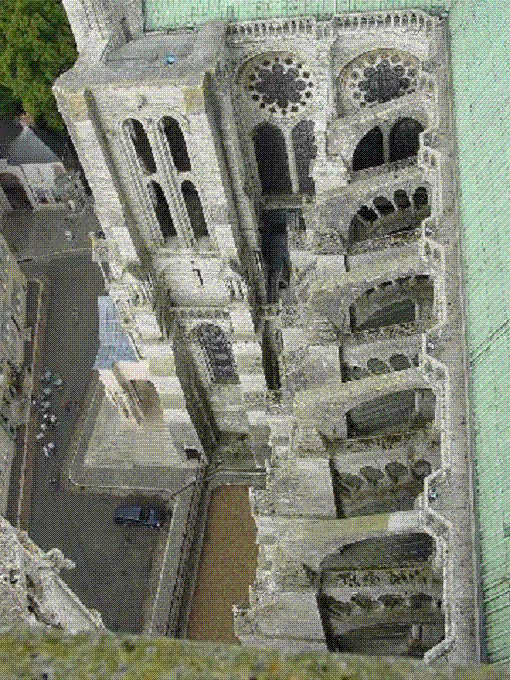 Flying Buttresses viewed from the Clock Tower
One cannot help but stand in awe of this achievement of man. The man who conceived that such a structure was even possible must be an absolute genius......or absolutely crazy (Maybe God helped?). And to think that at one end of the measure of mankind while such an unbelievably beautiful and inspiring structure was being created, at the other extreme a bunch of peckerhead kings were running around cutting people's heads off because they didn't like them.
The town of Chartres has several medieval churches worth visiting within walking distance. Indeed, within a rock's throw of the Chartres Cathedral, the Benedictine Abbey Church of St. Pierre also has truly spectacular stained glass windows that would attract visitors from afar, perhaps even more so if they weren't so overshadowed by those of the cathedral. As we were ready to leave Chartres we visited the tourist bureau to see what possibly could have justified its blocking the view of the Cathedral. I suspected the well known MburP (Maturing bureaucracy principle) to be at work. We found a walking map with rentable headsets describing the various sites. We had inadvertently seen and thoroughly enjoyed 9 of the ten sites listed without knowing we were supposed to see them. This testament to the WWT PIAP principle (principle of ignorant appreciation) alone made the trip to Chartres an unqualified WWT success story.
Old Town Chartres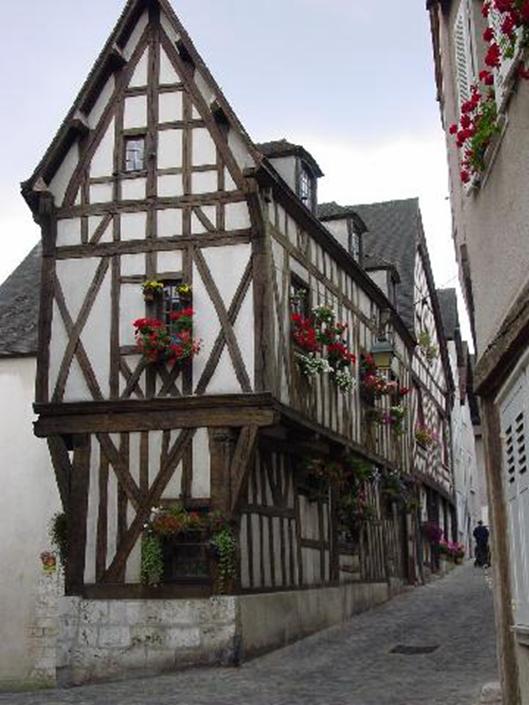 By the time we were unable to walk another step, we elected to head back to the station for the trip back to Paris. We left knowing that we would want to return to Chartres and the next time we would stay the night. We had spent a day's energy and the only way we could enjoy it more would be to sleep here.
On Tuesday night our legs were like rubber thanks to the Chartres Cathedral tower and the hills of Old Town. We began to look at a few options for Wednesday that would be less strenuous and involving more flat ground. We had collected a few tourist brochures from the lobby that listed a few intriguing tourist buses such as a half day at Giverny, the home of Monet's gardens, or a whole day to Normandy Beaches, where Allied troops landed in World War II. Another place that intrigued us was not in the available tourist brochures, a place called Vaux Le Vicomte.
In the early 1600's King Louis the 14th had a bean counter named Fouquet, with a very large ego. Fouquet commissioned Andre Le Norte, a well-known garden designer to build a château and garden that befitted his high rank. When it was finished, he threw a huge party in honor of King Louis. The story goes on to say that King Louis was so jealous of Fouquet that he commissioned Le Norte to build something more magnificent (This would become Versailles.), and threw Fouquet in jail for life. At first this sounded like a real rip off by King Louis. On second thought, I would also get suspicious if my bean counter built something like Vaux Le Vicomte for himself.
As the WWT I was curious to see if we could use local transportation to visit these places. The DK tourist guide, which I have come to favor as a valuable WWT resource gave only marginal help. Clearly we could take trains to Melun, which is near Vaux Le Vicomte, but we were not sure how one would get to the final destination. The closest city, Melun, was about an hour's train ride away. We were very curious to see the Chateux and garden that inspired Versailles, which we visited on our last trip to Paris. For this and several other reasons, we elected to go for Vaux Le Vicomte. Our hope was that Vaux Le Vicomte is close enough to Melun to take a taxi, or a tram. We assumed that information about such a famous place would be available in the Melun station. Worse come to worse, we may have to try and rent a car or even hitch hike when we get to Melun. We had to accept the possibility that we may get to Melun and find nothing to do but return to Paris.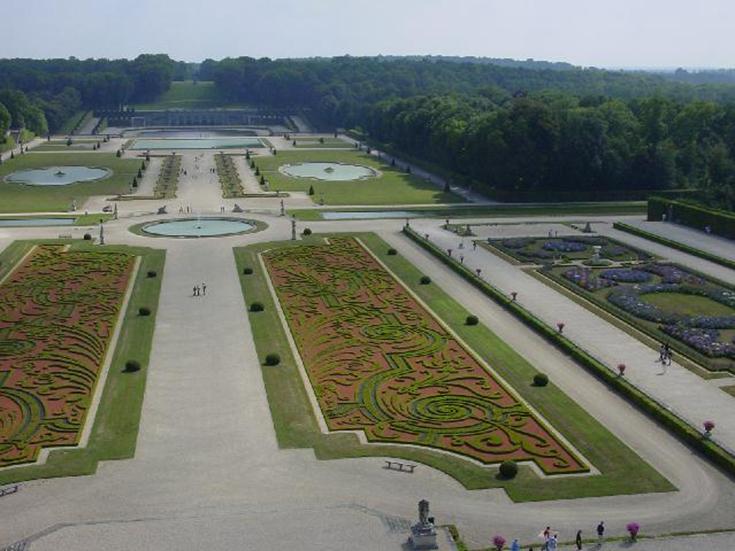 Gardens of Vaux Le Vicomte
The train had about 20 stops to make between Paris Gare du Lyon and Melun. We sat on the top deck, which gave us a nice view of the French countryside. About half way there, a closer look at the train map led us to conclude that we were on a train that had taken a branch that led somewhere besides Melun.
We got off the train at the next stop, only long enough to read a monitor that still confirmed Melun as its destination. We quickly reboarded and studied the map on the wall inside the train which indeed was an updated version of a train map that that we had gotten from the station when we arrived. Somehow, unbeknownst to us, the map we had was obsolete, even though it was two days old. Somehow the locals know that this train belies that map passed out in the station; it goes on a track that is not yet plotted.
What we had hoped would be in Melun wasn't. The Melun station is a tiny station with not tourist office, no information about tourist sites and little help at all. There weren't even taxis waiting outside. We walked up and down a few streets hoping to locate a tourist bureau, travel agent or any sign of Vaux Le Vicomte. We found nothing of use, and the town, unlike Chartres would not be one I would choose to walk around in. Back at the station a box at the taxi stand beeped when we pushed a button. We were not sure what this meant but we waited hopefully. At one point a man emerged from the station and started his car and pulled up to the taxi stand. He really looked puzzled when we asked him how much it would cost to go to Vaux Le Vicomte. His response was that he had no idea. Why don't we ask a taxi? Realizing what we wanted, he instructed us to push the button again. Again, it made a funny beeping sound. Just as we began to have doubts about our adventure a taxi rolled up. He agreed to take us to Vaux Le Vicomte for 15 Euros. Our hearts lifted again.
WWT visits Melun, France
To our great relief, the chateau is about five miles north of Melun. Our taxi driver was friendly and offered to pick us up for the return if we called him a few hours later. In many ways I found Vaux Le Vicomte more pleasant than Versailles. One would need more than a day to explore the entire grounds of either. Lavish fountains, sculptures, hedges, flowers, and reflecting pools cover the grounds. One can rent golf carts to cover more ground, but we elected to walk. The small number of people makes Vaux Le Vicomte so much easier to enjoy. For example, we climbed the Château tower with half dozen people for a wonderful view of the grounds. Such a place would have been totally impractical at Versailles, which has at least five thousand tourists in it on a typical day.
It took less than five minutes to retrieve our taxi back to Gare Melun. He even told us the next train and platform, a direct express, double-decked train leaving in five minutes. For the first time I realized that at quitting time the trains leaving Paris stop at all stations but there is no reason for those returning to Paris to stop. So what was a one-hour trip out earlier took less than 30 minutes back.
The Pompidou Center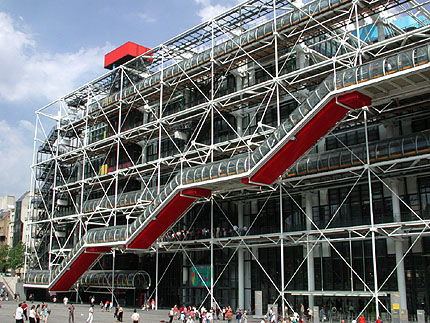 Knowing the subway in Paris allows one a flexibility to choose any of the places to visit from anywhere else. How we spent the last day is a good example of this. We elected to visit the Pompidou Center, the National Gallery of Modern Art, which is in North Paris, near Gare du Nord, our departure train station for Eurostar. We had a leisurely breakfast, left our bags at the hotel, which was in South Paris, took a 30 minute trip by subway to the Pompidou Center and returned for our bags later in the day, completely crossing Paris three times in the process.
We left the subway at the Arts and Crafts station, leaving what appeared on the map to be a one block walk to the Pompidou Center even though one additional subway transfer would take us all the way. The only problem with this is locating oneself when one emerges from underground. Possibly a compass would be useful in achieving this. Maps posted in the streets help some, but they always seem to be located in a position where one cannot see a single street sign. Locating one street is not enough. One must also locate either a direction or a second street. We had no idea which way to walk, so we just chose a direction and started out hoping that we would see something familiar. I encountered a scholarly looking gentlemen, whom I was sure must be a Parisian and ask him in my best French. "Pardon, Monsieur, ou est le Centre Pompidou?" He looked at me strangely and responded. I am sorry, I don't speak French." He also had no idea where the Pompidou Center was. Finally we bit the bullet, located two street names, found ourselves on the map and discovered that we were within 100 meters of the center.
The Pompidou Center houses a truly fine collection of art of the 20th and 21st century. It represents what can happen when artists are turned loose to create something "artistic". Most of the churches in Europe are surrounded by scaffolding because they need repair. The Pompidou center appears to be surrounded by scaffolding for no good reason. It has been described by some critics as appearing like an oil refinery, with exposed pipes, steel structure, and escalators that run up the outside. Supposedly, it is a building turned inside out, leaving completely versatile space inside. I would criticize it simply by saying that it is butt ugly, looking unfinished, dirty, and poorly color coordinated. Fortunately, the inside makes up for the outside.
At the front door, screeners made their token attempt to keep terrorists from entering the building with a bomb. Once inside, there is the problem of selling everyone a ticket. I encountered a phenomenon that I have observed widely in international travel. It is the problem of the man machine interface compounded by a language barrier. It is such a common problem that I have decided to name it and add it to the WWT vocabulary. I call it the MANMAC (Man And Machine Adverse Communication) problem. I had already attempted to buy subway tickets and train tickets from machines without success. In attempting to alleviate the long lines for ticket purchase, ticket-issuing machines were spread around the lobby. While Pauline waited in the real person ticket agent, I stood at a machine, watching others to help me with the process as well as to evaluate the success probability before waiting in line for a machine myself. I watched four people who could not figure out how to use the machine. One man attempted three different credit cards, turning them every way possible before finally giving up in frustration. After failing to see a single success, I rejoined Pauline where we waited for about 10 minutes for a real person to sell us tickets. Even then, the system was complicated by the fact that you have several options ranging from 3 to 10 Euros. To make sure we encountered no further delays, we elected to pay the 10 Euros, assuming that we could go anywhere in the center on the "Day at the Center" ticket. Fortunately it worked.
Modern Art at the Pompidou Center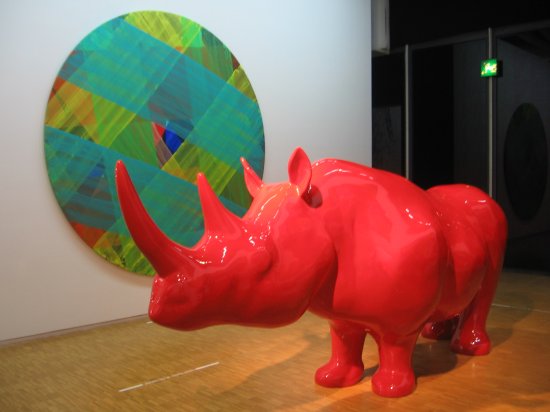 All in all, as the delays were not insurmountable and the Pompidou Center is worth even a longer wait. Admittedly, the first thing we did after getting our hard earned ticket was to head for the coffee shop. Like any national gallery, there is much more to see than can be appreciated in a single trip. We singled out a few exhibits for a detailed look followed by casual glances at many magnificent works by all the masters, including Kandinsky, Mattisse, Giocometti, Brancussi, Picasso, Braque, and many others with lesser names. And yes, we saw the famous urinal by Duschamp (although the original one was thrown out with the trash.) Some of this art is truly inspiring, and some of it is truly garbage, that should still be thrown out with the trash. One room was preceded by a warning that what one may see could be disturbing to children. Actually, anyone who is not disturbed by some of this stuff is a psycho. Apparently, the objective of some of these artists is to see how much he can gross us out. I will have to study art a lot longer before I will be able to call some of this stuff art. I still have to call some of it complete crapp, and I wish curators would stop wasting valuable gallery space with it.
Back in the Gare du Nord, our last task was simply to find Eurostar. Again we encountered a combination of the MANMAC problem additionally confounded by the MBurP process for Eurostar. The French side of Eurostar has tracks that can carry a 170 miles per hour train with a terminal that is completely dysfunctional, while the English side has a wonderful terminal and tracks that require the train to creep along. We encountered arrows pointing towards each other with confused crowds standing between wondering what to do next. Finally we concluded that a flight of stairs nearby was the only choice. The next obstacle is waiting room large enough to handle about 20 percent of the passengers. It is so small that most of the passengers are required to wait in the station entrance. When finally boarding the train the instructions for locating the correct car were upside down, leading travelers to walk in exactly opposite directions before discovering the correct way themselves. I really do hope that Eurostar finally becomes financially successful. Going to Paris in three hours is a fantastic thing to be able to do.