Paris with Katherine Patterson - Guest Entry
I spent two years saving up for and preparing for my first trip to Europe. Rather than sign up for a tour where I'd spend much time dashing about from sight to sight on a big bus with English-speaking people, I opted instead to visit one city and really spend some time getting to know it. Every minute spent preparing in terms of studying language, history, and culture ahead of time completely paid off. As it is, I did not know nearly as much language as I would have liked to know. For the first couple of days I used a little trick to communicate. I would first ask, "Parlez-vous un peu d'Anglais?" The person would make a fair-to-middling gesture with their hand, and then I'd ask them my question in French. Unfortunately, I got kind of paralyzed or lazy after a few days and skipped the initial question and instead speaking my French with an American accent. I do not recommend the latter approach. Then, they don't know what your native language is, nor can they understand your French.
Preparing as a traveler in general also was fairly new to me. I didn't even fly for the first time until a couple of weeks before my 24th birthday. I was able to pack all sorts of items that I have rarely used, my scarf, my Basque wool beret (purchased in Manhattan while it was snowing), my raincoat, my gloves (warm ones, not leather ones), and my money pouch. I also took photocopies of my passport and credit cards, spare batteries for my digital camera, and 40 euros that a friend had given my for my 40th birthday (which saved me when I got to Charles de Gaulle airport and needed bus fare).
As always, tour books have recommendations regarding money and the security of one's possessions and self. I carried one of those backpack-style purses, but all it had in it where a pencil, and my maps and Access Paris guide book…oh, and sometimes my camera, when I felt like carrying it, or my umbrella, which meant I wouldn't carry the camera that day. Many people carried similar bags, or satchel-style bags which they could wear over their shoulder and across their body (bag on opposing hip that strap would be on). I carried no wallet. I used the money pouch to carry my cash and credit cards under my topmost sweater and tucked into my slacks/skirt. The handiest thing of all was wearing one of my work blazers that had a chest pocket on the inside. In there I would carry my passport, my metro pass, and some cash. Change would just be kept handy in one of the outside blazer pockets. I didn't even carry my purse on New Year's Eve. That turned out to be a bit of a disappointment since it means I didn't have my camera with me when crossing a street at Charles de Gaulle Étoile right after midnight. From the middle island of that street hitting the traffic circle, I could see fireworks right through the Arc de Triomphe!
I found myself sitting on a bus from Charles de Gaulle Airport to Gare Montparnasse on the day after Christmas looking at the grey skies and all of a sudden wondering how the heck I was going to speak to people. There was so much I couldn't articulate in French. As I got off the bus at Gare Montparnasse and picked up my suitcases, I turned around to get my bearings. Gare Montparnasse is at least a ten-story building, surrounded by seven-story buildings. I couldn't see the sun, so I just followed the majority of the other passengers. Navigating, which is something I consider myself very good at, was not easy for me in Paris.
I can read maps quite well, but when given a choice between left and right on a street after coming above ground from a Metro stop, it seemed that I would choose the wrong direction. Fortunately, my schedule allowed for lots of time negotiating the streets of Paris, and Metro stops are prolific, so I could always get on the Metro when I'd gone too far out of the way amongst the seven-story buildings of Paris.
There are two things one should do as soon as possible upon arrival in Paris. I had gone on-line in October and booked a tour with Paris Vision. It consisted of a bus tour of the Paris night lights and a cruise on the Seine. It was a pleasant way to get acquainted with the city, and I didn't realize how lucky I was to have a tour with English as a language option. Another recommendation I have besides booking that first tour for the first night, is to visit the Carnavalent Museum as soon as possible. Take a copy of Rick Steves' "Paris" tourbook with you to help guide you through the museum. It is very helpful in understanding the history of Paris. I tore my book into pieces, tossing each piece as I finished each tour. The pieces also helped with the Musée d'Orsay, the Louvre, and the Musée Marmottan.
This trip was originally planned as a Venice trip for my birthday, which is often on the third Saturday of July, a holiday in Venice. Paris was added on since I was planning for three weeks and wanted a city easy to fly into and out of. So, it was ironic that on my first full day in Paris, I went to an art exhibit by Paolo Veronese, known as "Il Profaine". This artist's work would not have been in Venice for me to see if I had gone there instead of Paris. The reason he was known as "Il Profaine" (the Profane) is because most artists of his time were painting religious art, whereas Veronese painted Venice cityscapes and architecture. He painted portraits of nobility, and I think I only saw two religious pieces in the entire exhibit.
When people ask what my favorite Paris feature was, they are surprised that I declare, "The Metro!" I packed a passport photo so that I could easily get a Carte Orange as soon as I got to Paris. A Carte Orange for Monday through Sunday cost 15.40 euros, and I think my first Carte Orange may have paid for itself on the first day I used it. Even with the convenience of the Metro, there's no escaping the fact that playing tourist requires lots of walking. Adding the Metro into the mix adds stair climbing (as does visiting the Arc de Triomphe and using the stairs instead of the funicular to get up to Sacré Coeur). To best prepare for Paris, walk for at least an hour every day.
I did not get to really see each and every neighborhood, but I did stay at the edge of Montparnasse (right up against St-Germain and the Latin Quarter), made two visits to Montmartre, went to Le Marais a couple of times, visited stores on the Champs-Elysées (Virgin Megastore and Monoprix department store), and often went to St-Germain and the Latin Quarter). My Montparnasse location at Hotel Raspail Montparnasse was ideal. I was right near the Vavin Metro stop at Le Dôme and a block away from the Raspail Metro stop. Near my hotel were a Cuban bar, a dim sum eatery, a couple of wine shops, many creperies, a Leonidas chocolate shop, and many restaurants that used to be frequented by the likes of F. Scott Fitzgerald and Earnest Hemingway. My hotel was designed such that each room was named after an artist and had a framed print by the artist in the room. I felt very lucky to be in the Van Gogh room. He is my favorite.
I found Le Marais to be very trendy in a yuppie sort of way. I had two good meals there. I ate a nice paté fois gras lunch at Au Bourguignon de Marais one day and a nice leg of lamb lunch at L'Impasse the next. The food was good, but I found my dessert experiences to be overwhelming in terms of sweetness and size. I guess it's hard to eat more than two bits of anything that's super-sweet. What I loved most were the crepe stands. My first crepe was made with chestnut crème. Usually the crepes are already made. The chef just puts them back on the griddle to reheat them and spreads the requested filling on half the crepe. He quickly folds the crepe in half and then in quarters with his spatula, and the crepe is then handed over in a folded piece of paper with some napkins. It's very quick, and I tried cheese, Nutella, Grand Marnier, and Nutella and banana crepes as well.
Because I was alternating between being exhausted and intimidated from trying to speak French, I didn't eat in many restaurants. It saved me money and time as well. I had a fridge and mini-bar in my room, so I would just squeeze fruit, cheese, and wine into the fridge with the drinks and set red wine and bread on the desk in my room. I had packed my Swiss Army knife, which was very handy.
I had two really good French meals in Paris. One was on New Year's Day in the 2nd Arrondisement at Le Grapillon on rue Tiquetone. I'm embarrassed to say that I actually can't recall what I ate, but that the restaurant, the service, and the food were all perfect. The next day, I had a great Atlantic seafood feast at the restaurant next door to my hotel, "le bar à huîtres" (the oyster bar). I had some sort of sea snails, fresh oysters, and salted cod. This restaurant is actually a chain of three restaurants, so I was impressed with the quality of food and very friendly service.
Many people, knowing my love of wine, asked if I had some great wines while there. I did, but need to go back and try more. I brought home a couple of 1997 bordeaux to my hotel room and finally tried a Sancerre, a sauvignon blanc from the Sancerre region of France, which has a flavor imbued by the limestone in the region. I also had the most alcohol-laden Beaujolais of my life. I still need to try Morgan, Cohors, and Sauterne wines.
Speaking of friendly, I didn't seem to encounter much in the way of a snarky "French" attitude. Most people were very friendly when I told them where I was from, that it was my first trip to Europe and Paris, and that I thought Paris was the most beautiful city in the world. I had a run-in with a cashier Le Grand Epicerie where I bought groceries a couple of times (I avoided her the second time). She spoke no English, and thought I was a bit of a ding-dong, but even then she told me (in French) that at least the next time I was there, I'd understand about getting my produce priced before I came up to the register.
On Monday night of my last week in Paris, I was walking through the Parc du Champs de Mars from the Eiffel Tower towards Les Invalides. A little stocky man with dark curly hair dressed in a parka hoofed it past me saying how cold it was, and I agreed with him. I believe he had immigrated to France from one of the north African colonies, and now taught at a private school in Paris. He was probably a little over 50 years old. After a few sentences of conversation, I couldn't understand what he was saying and said, "Je ne comprends pas." He then asked where I was from, and I told him, and he immediately started speaking in English. He really wanted to stand and chat. I had to keep motioning that I needed to keep going through the park. I told him that my boyfriend has been napping when I took off to get some photos, and that I need to hurry up and get back to go out for drinks with said boyfriend. This little man wanted to take me and the imaginary boyfriend to the countryside and many other places…"perhaps on the next trip". We exchanged email addresses and phone numbers, with me being diplomatically dishonest and writing down my San Diego information. He even offered to drive me to Montparnasse. Instead, I had him walk me to the Invalides Metro stop, and I had my one experience of the French cheek kissing routine.
I had a little Franco-American surprise. When I got off at the Louvre-Palais Royal Metro stop to go to the Louvre, I found a display along the corridors that lead from the train platform to the museum. The display was a full wall of Huichol art panels. The Huichol Indians of Mexico will take a carving, such as that of a jaguar head, and coat it with beeswax. They will then press seed beads into the wax to make a pattern. My mother sells this kind of artwork at the museum gift shop that she manages, and I have a Huichol frog that I am quite fond of. What a small world.
Another surprise was the Christmas decorations. The department stores like Le Printemps and La Samaritaine set up adorable Christmas displays that must've been truly inspired by Walt Disney. There are little marionettes and moving trains and cars with them. People bring their children to line up and see the window displays. I took a couple of pictures of mice hocking shoes and books at La Samaritaine. My favorite store photo is the one where one of the mice puppets is reading "The Little Mouse that Lost a Tooth".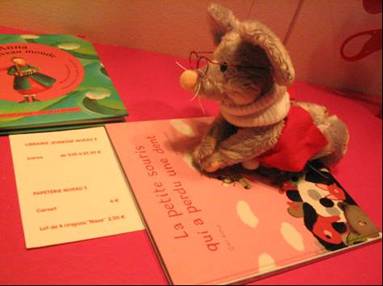 So, did I make any friends while there? Well, I had certainly hoped for more social encounters, but realized early on that most people were already talking to each other, and that they were in Paris, and not likely to linger in my hotel lobby's bar for drinks. However, the hotel staff had a couple of treats for their guests on New Year's Eve. They placed in each guest's room a wrapped box of candied chestnuts and a card wishing them a happy new year. They also were pouring a glass of champagne for each guest in the lobby from 6:00 to 8:00 in the evening. Tired of being alone, I settled in to ambush the first person or people that spoke English and were not romantically "coupled". I was hoping to tag along on future adventures with any friends I made that evening. After about ten minutes, a tall fellow with dark hair and a beard came into the lobby and was ambushed by the staff to come and drink champagne before he could escape up the stairs to his room. I watched as he picked up a copy of the International Herald-Tribune. I let him skim through one section of the paper and then asked him where he was from. It turns out that Sean was from Dublin and also rattling around Paris solo. We chatted for a bit, and when he invited me out to see what Paris was up to for New Year's Eve, I said yes.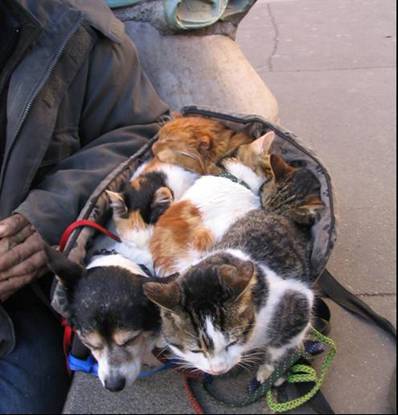 We ambled up towards St-Germain with Bastille as our goal. According to Sean's guidebook, it was one of the "happening places" for New Year's Eve. We ducked into a bar on Boulevard St-Germain for a drink and then hit the avenues again. We explored all sorts of little side streets reading posted restaurant menus and critiquing the restaurants as to whether they were Parisian enough. St-Germain is my favorite neighborhood. It has some very touristy areas, but the smaller side streets have some charming hotels and restaurants on them.
We got to Place Bastille and seeing that there was little happening, stopped into a bar for another drink before catching the Metro to the Champs-Elysées, which was the other place recommended by Sean's guidebook. The Champs-Elysées was very crowded as we approached the Arc de Triomphe. We went down one of the twelve streets that open on to Charles de Gaulle Étoile (the traffic circle around the Arc de Triomphe). We were trying to get into a restaurant with drinks in our hands before midnight, but didn't make it. Midnight tolled, Sean and I wished each other a bonne année, gave each other a peck on the mouth, and he actually knew the words to, and sang "Auld Lang Syne". Even though it's an American tradition, apparently the Irish know the words to this Scottish song sung by Americans. Go figure. We ate an unmemorable dinner at some restaurant and ambled back up the Seine towards Bastille. We wanted to get to Les Ducs de Lombard, a jazz club in St-Germain. We got there after most crowds had left and enjoyed a great jazz band.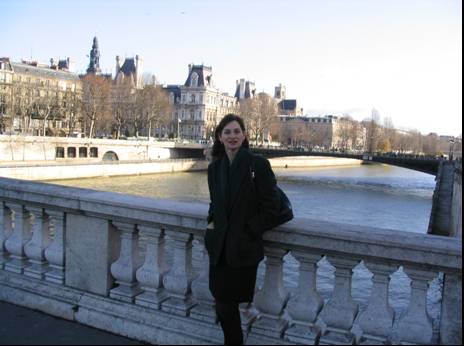 I am not a night person, but easily stayed up the night. Sean and I returned to the hotel at about 5:30 in the morning. What great fun it was to have a pal to play with. Unfortunately, Sean was heading back home on the 3rd of January. We spent all day New Year's together and enjoyed what may be an activity that we can share if we travel together in the future. We would spend at least an hour and a half looking (questing?) for a place to eat dinner. The restaurant had to be "just right". Our criteria were as follows: no English translations on the menus, nothing too well-lit, no plastic sheeting closing in the patio, no large dining area with large tables and sparkling white tablecloths, etc. We wanted a place with nice little wooden tables, not-too-bright lighting, and with French-style dishes on the menu.
On January 2nd, we had the most perfect day ever. We headed out of the hotel into bright sunshine and blue skies to catch the Sunday bird market at the Île de la Cité Metro stop. As we climbed up the many steps from the train platform up to the ground, we came upon a homeless man resting on the steps. Next to him in a gym bag were his "pets". On leashes, he had a dog and four or five kitties. They all looked like they'd had a tough night out and were sleeping. (see photo above) Then we looked at all the little brightly colored birds singing in their cages. I insisted we go into St Chapelle to enjoy the stained glass windows with their Bible story on this beautiful sunny day. We then caught the end of Mass at Notre-Dame. I found it very spiritual and soothing to be there as 2005 began. We left the island to head up to Montmartre. Upon getting there, we started the usual restaurant hunt, and stumbled across three unplanned sights. The first sight was one that Sean had wanted to see: a building built for the Romanian Dadaist poet Tristan Tzara by architect Adolph Loos. Then we came across a sight I had hoped to catch on my trip, but never written down on my itinerary, the last windmill left in Montmartre, le Moulin de la Galette (see photo below). Our third, unplanned stop was at the Dali Museum, a fun Sunday afternoon diversion. We actually couldn't find a non-touristy restaurant that was open, so we caught the Metro back "home" and enjoyed our good meal at the seafood restaurant next to our hotel. We then went out for a couple of drinks down a little street and then kicked back to relax and enjoy each other's company before Sean left the next day.
One great quality of Paris (and there are many) is the profusion and variety of its history. It is a wellspring of European history from the Parisii tribe that first settled there to the German invasion of World War II, world famous 19th- and 20th century art, grand city planning by Baron Haussman, and 20th century philosophy and literature. One unexpected treat was an address that Sean pointed out as we explored the streets of St-Germain, 56 Rue Jacob, where he told me that my "country had been born" and that someone "such as Ben Franklin" had been there. It turns out that this was where the Treaty of Paris was signed by representatives from the colonies and England in 1783 wherein England recognized the independence of the American colonies. The colonies were represented by John Jay, John Adams, and Ben Franklin. As a matter, of fact when Benjamin Franklin died in 1790, the French Assembly went into mourning for three days. I even recently found out since coming home that French funding of the American Revolution bankrupted the French government, fomenting rebellion there! Ah, the places you have to go to learn your country's history…
I spend the next few days walking around parts of Paris that I hadn't been to before, such as along the Seine from Île St-Louis to Gare d'Austerlitz, and looking for photo opportunities (and finding few in the drizzling rain). The trip home was long. I barely made it to the airline check-in counter on time, and then the departure flight was delayed by 40 minutes or more. The flight coming back is two hours longer than it is getting there, and I am convinced that we spent half the flight traversing Quebec (would we EVER get down to Michigan?!?). I missed my Houston connection and was put up at a hotel for the night.
By the time I rolled into Phoenix the next morning at 11:00, I was ready to never fly across an ocean and to never travel alone again. However, within days of my return I was starting to look on-line to see what there is to do in Scotland and Ireland.
I did not get enough photos of Paris, so I must go back to get more. Rereading my Paris Access guide, I see that I missed so much! I missed that the obelisk at Place de la Concorde is part of the world's largest sundial. The numbers are on the north side of the place. I missed the Statue of Liberty's "sister", L'Orangerie was closed for renovations, I saw little of the 7th arrondisement, and I didn't make it to Willi's Wine Bar, which I am sure is owned by the same bloke (Mark Williamson) as the Willi's Wine Bar that I went to (and LOVED) with my family in northern California. I also didn't make it to Harry's New York Bar and Grill. I had my first legal drink at Harry's in Century City, and had hoped to eventually have bellini cocktails in the Paris and Venice locations, as well. There are other locations in places such as La Jolla, but I don't think I need to go to the new ones. I hardly set foot in the ritzy St-Honoré distict, I missed seeing the platform for line 11 at the Arts et Metiers Metro station, and I tried no north African cuisine. I even missed one cheesy sight that I'd like to see: the Defender of Time, a brass kinetic sculpture, that send a warrior equipped with a sword to do battle with a bird, a cab, and a dragon, each representing a different element: air, water, and earth. At noon, 18:00 and 20:00 hours, he must take on all three creatures at once. Yes, he always wins. I am looking forward to more world travels soon!