Mystical and Strange Experiences and Insights
Rome
I had been painting along the Italian Riviera for nearly two weeks when our group ended up in Rome, a great place for touring but not so great for painting (too many tourists). The weather had been excellent until we arrived in Rome and then it rained us out the first day. I spent half of that day in Piazza Navona planning a painting that I would create when the sun shone. The next day brought blue skies and sunshine so I returned to Navona Square early in the morning while the tourists slept. The chosen scene was a pair of cupolas against a blue sky. Having done enough blues skies, I thought, "Let's get a bit wild", and began experimenting. One of the delights of watercolor being unpredictability, the paint began to run and spread producing a rather spectacular, but, I thought, also unnatural, effect. I considered washing it off and starting it over, but, Hey! I sorta liked the way it looked. By this time the tourist crowd began to arrive, and I could sense the gawkers looking with unusual interest and mostly favourable comments.
I rarely pay attention to gawkers and mentally block their comments, but this seemed different, especially when a cloud moved in and the real sky seemed to be imitating my painting. From behind Tim commented "Jim, that is the most spectacular sky I have seen you paint." Suddenly it rained for about thirty seconds, my painting took a few harmless hits, and then we had blue sky again. Onlookers who saw the painting seemed as amazed as I was, so I left it untouched, even though it looks rather unreal.
Finally I realized what is meant when artists say "paint the painting and not the scene." I figured someone besides Tim must be helping me with my art. The scene seemed to be imitating the painting.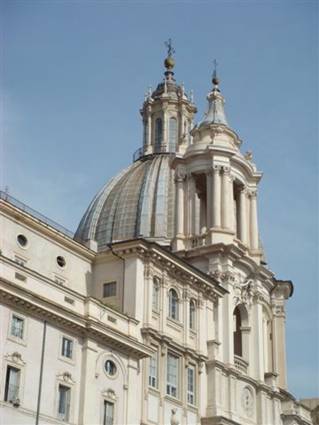 Cupola scene in Piazza Navona before and after the cloud came over. Painting below was completed before the cloud arrived.

Piazza Navona, 15x22", watercolour on paper, painted on location, Navona Square, Rome, Italy.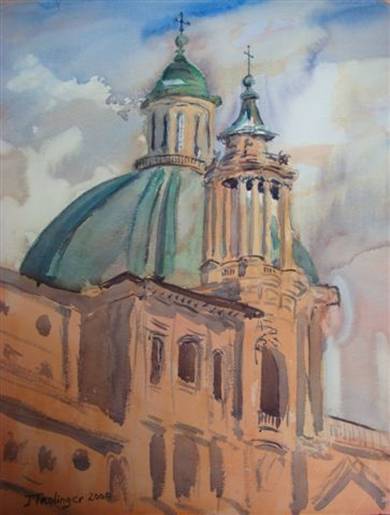 Piazza Navona, 15x22", watercolour on paper, painted on location, Navona Square, Rome, Italy.