A Few Magical Days in Kiev
May, 2004
We rose at 3:30 AM on Sunday to make the early flight at London Heathrow, where we left our little, one-liter Vauxhall with Purple Parking. Our destination was Kiev, Ukraine; my excuse was a holography conference I had helped to organize with Vladimir Markov.
Even though I have come to trust and appreciate the universe for providing unceasing magic for me, I still marvel at the wonderful, unlikely experiences, and I still wonder why I seem to have been chosen to receive such a gift. For this gift I gladly offer myself to do whatever the universe needs me to do. As always, I was amazed by the magic that the universe had cooked up for me in this wonderful city.
There seems no end to the different kinds of people, cultures, and experiences, perhaps because not only do people and cultures change in time but so do we who experience them, and we also change what we bring to the experience. Seven years ago I came to Kiev for the first time, and I was amazed and fascinated by the experience. During this trip I was amazed again by the experience and even more by the change in Kiev.
We landed at Kiev, Borispol International Airport and passed through customs in half the time it takes in London or Los Angeles. At this stage I always find myself a bit disoriented, not knowing what to expect at each new stage. Upon passing through the last point of Ukrainian customs into the greeting hall, an arm thrust from the crowd pushing a meeting announcement before my face, "International Symposium on the Applications of Holography". As always it was a delightful relief to be greeted by a familiar, friendly face, especially in a foreign airport. Professor Sergey Kostyukevych, Director of the Ukraine Branch of SPIE, The International Society for Optical Engineering, held the announcement. He first shook my hand and then kissed Pauline's.
Borispol is a small, almost country-like airport, where one still parks in a gravel-covered lot immediately in front of the terminal. Sergey had made the trip to the airport five times already that Sunday to pick up attendees to the conference. As he drove along the splendid new road connecting the airport and the city, Sergey was simultaneously directing base camp over his cell phone in Russian and describing the glories of the route to us in English such as giant cranes everywhere towering over identical square blocks of high-rise, thirty story apartments as far as the eye can see. The highway was lined with creamy white horse chestnut trees in full bloom with flowers that represent Kiev, and this was exactly the right time of year to appreciate them. The trip into town took about 20 minutes, crossing the Dnipro River and past the huge "Mother Ukraine" statue, constructed completely of titanium during Soviet times, and placed high on a hill top overlooking the city.
We arrived in Europa Square, one side of which is the Hotel Dnipro and another, the sprawling Central Park and the Arch of Friendship, which had been donated by Russia to Ukraine. Hotel Dnipro is a three or four-star $100 per night hotel, that is adequately international for any halfway hardy tourist. It sports English speaking clerks, internet services, bank machines, a magnificent buffet breakfast and everything one needs without having to feel too extravagant. I faced the common problem of having nothing to tip the bell boy with, but he smiled graciously anyway and wished us a good stay. I reminded myself to always carry a few US dollars for such a problem. To my surprise I found that many places in Kiev would accept U.S. dollars, though their usual currency in the hryvna (pronounced "grivna") and the tenth hryvna or the kopek.
Our first outing was across the street to the Friendship Arch in Central Park, which overlooks the Dnipro River to the North and the old city to the West. The park goes for miles along the river with statues, fountains, footpaths, and even a footbridge over the Dnipro, and spectacular views of the Oboln' (as the beer) valley to the left and Rusanovka and Darnitca to the center. Within these valleys lies a virtual sea of high rise apartments where most of the people live. Erected in 1982 to commemorate the 325th anniversary of the union of Ukraine and Russia, this gigantic steel rainbow remains even though the union is now over. At its base larger-than-life figures represent Russian-Ukrainian brotherhood. Several amusing juxtapositions caught our eyes here. It is possible, for instance, to photograph `the end of the rainbow' with a gleaming red Coca Cola tent in the place of the pot of gold. A silhouette of workers raising their hands in proud independence can be viewed in the same screen as real workers resting under that red symbol of subtle western imperialism.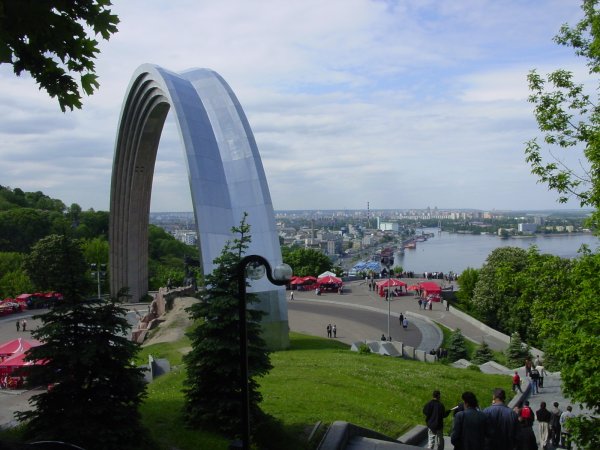 Friendship Arch and the Dnipro River
The Conference Center, where the meetings were held, occupies yet another side of Europa Square, so we could easily walk to the meetings each day. This center, which, in Soviet times, had been the Lenin museum, containing a huge statue of Lenin in its entry, had been converted to a conference center. One can easily guess what happened to the statue.
We had about 40 attendees from 10 different countries. Werner Juptner had come from Germany, Rudolf van Renesse from The Netherlands, Sean Johnston from Scotland, Malgorzata Kujuwinska from Poland, Rogier Lassard from Canada, Dmitry Staselko from Russia, Sergey Lyshevski from New York, and others from the U.S., Japan, Russia, Korea, and Bellarus. Interesting discussions during and between meetings were both technical and cultural. We had all lunches and most dinners together. I felt a little guilty in the meetings with the Ukrainians and Russians, who outnumbered the rest of us, struggling through talks in English, almost like placing them in shackles. Once again I made use of my discovery of and skills with USE (Universally Spoken English), a language that few Americans understand. Only one Russian insisted on giving his talk in Russian with an English interpreter.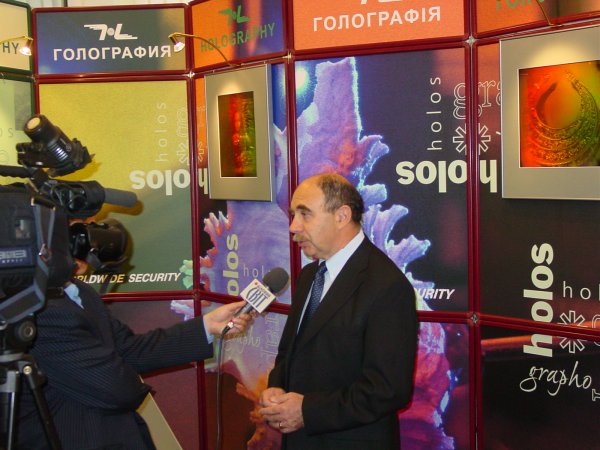 Vladimir being interviewed by local TV. Note hologram of the Pectoral in upper right.
(Malgorzata, who is president elect of SPIE, was so impressed with Kiev that she suggested we consider holding the International European Lasers and Optics Conference here in 2007. I totally agree.)
A local Company, "Holography", supported the meeting and provided an impressive display and hologram samples. During a meeting break, three gorgeous models strolled through the hall wearing holographic evening gowns, dresses made entirely from gleaming holographic foil. A few of us were given a tour of the company, which does embossed security holography. Our passes allowed us into various rooms where technicians were designing, preparing and printing many forms of hologram. Some were simply logos, advertising for one business or another. Others were commissioned as IDs, security devices, by banks, businesses, or the Ukraine government, hence the high security. The technicians had left their own clothes in lockers, and all wore similar green overalls and green slippers. We toured through various departments then, back in Andrei's office, were confronted with a delicious spread of hors d'oeuvres, wine and vodka. As we ate, we were told the company's success story. Beginning just four years ago, they had grown to a 25million dollar company last year, and had already surpassed that level of business this year. Vladimir's name came up as one of the original networkers who helped launch the company. When the Supreme Boss was brought in and introduced, we were surprised to find that she was a modest-looking young woman, though presumably very astute. All this confirmed the trend we had seen beginning on our visit seven years ago - the older, more resistant workforce suffered hardships, but the younger entrepreneurs were able to seize the opportunity to adopt capitalist methods.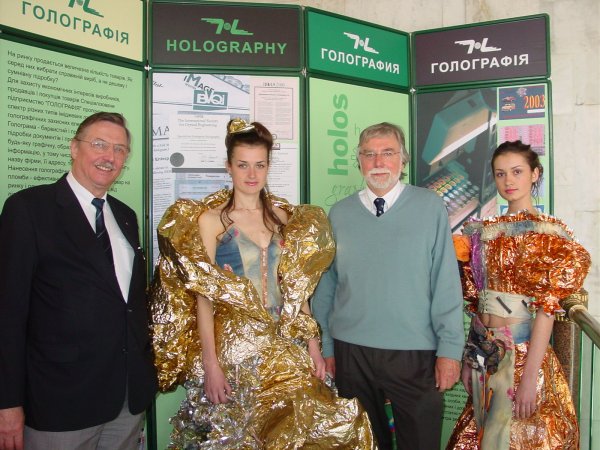 Werner Juptner and JT with Holo Models
Other highlights in the week included visits to the Lavra monastery and the Gold Museum, a guided walking tour around Kiev, visits to several of the gleaming gold capped cathedrals (St. Sophia, St. Michaels, St. Andrews), the Golden Gate, and a trip through the Kiev subway, which must be one of the deepest subways in the world.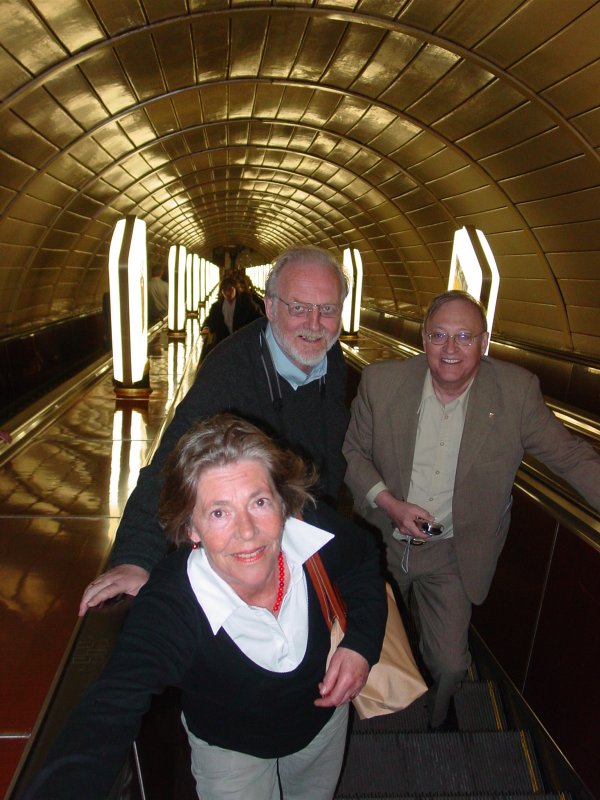 Kiev Subway-We went down two escalators like this which took us hundreds of feet below the surface. Rudolf, Rogier, and Thea
At the Lavra monastery we watched the workers applying gold leaf to the hand carved wooden altar in the main cathedral. The vast altar is 75 feet tall and will be covered with 8 kilograms of gold leaf. On our last visit here, this cathedral was just a pile of rubble left over from World War II. Because all of the architectural drawings had been preserved they were able to rebuild it exactly as it was before being destroyed by the Germans (or, as some believe, Russians who blamed it on the Germans to convince the Ukrainians to fight Germans). Other cathedrals in town, i.e. St. Michaels also have been rebuilt from the ground up. Hundreds of churches had been destroyed during the Soviet years.
Alter of the Dominion Cathedral at the Lavra Monastery
In the gold museum we saw the famous 300 BC gold pectoral. Now priceless and a national symbol, the pectoral was discovered in the 1980s by an extremely lucky archaeologist in a pillaged Scythian burial site, somehow having been overlooked by the grave robbers. The architect, who was leaving the dig for the day because rain had created so much mud, felt something unusual as his foot sunk deep into the mud. What he had stumbled onto was one of the greatest finds in Ukrainian history. The pectoral now shows up in many art books as one of the first examples of extremely intricate Greek gold carving and a seminal example of the animal style in art.
I learned a number of interesting stories associated with the pectoral. During Soviet times, Vladimir, being a member of the Academy of Arts, had commanded considerable authority at the museum and had been granted permission to produce holograms of the pectoral (and other gold pieces) in a special laboratory set up in the basement of the Gold Museum. (Copies of the hologram were presented to President Bill Clinton and also to Fidel Castro.) Even so, because the pectoral was so revered, a guard was instructed never to let it out of her sight or to allow anyone else to touch it. She placed her chair immediately next to the stable table on which the hologram was being made and could not be persuaded to move further away.
Noticing that the guard was pregnant Vladimir and his assistant dreamed up a ploy to get her out of the room. Pretending to talk quietly to each other, but loudly enough to make sure she could hear, they began a conversation that went something like this.
"Have you heard that exposure to laser light is any problem with people?"
"No, but I have heard that pregnant women exposed to laser light for long periods seem to always have girls."
The guard, overhearing these words, without comment, moved her chair to the opposite side of the wall. Before the operation was over Vladimir yielded to the temptation and had his photo made wearing the pectoral.
Two banquets during the week proved to be amazing culinary experiences, with fishes, cheeses, and some things I did not recognize. The first was a banquet for the Holography conference. Vladimir took charge of the social side of the banquet, proclaiming himself the tamada, the Ukrainian equivalent of master-of-ceremonies. He suggested that a representative from each nation or organization, plus anyone else who wished, should propose a toast. He set the tone by representing Ukraine and proposing a toast to Professor Soskin, who had taught many of the eminent scientists here today. Soskin toasted his pupils in return, I represented the USA and toasted our hosts, Roger represented Canada, Ruud represented the Netherlands, Werner represented Germany, Sean represented the UK, Dimitry represented Russia … and so it went on. When the nations were exhausted, organizations such as Holography took over … then we toasted ladies, families, Kiev, Werner toasted angels … wine flowed continuously to be swallowed with hearty agreement and much glass-clinking after each toast. During dessert, small glasses of vodka were brought to each guest, and eventually I had to solicit Pauline's help with the vodka.
There was considerable international and inter-generational goodwill. Ruud and Werner experimented with a conversation in German, to complement their Universal Spoken English. Some attendees reflected on having crossed paths in previous lives. Sean had met Roger years before through a holographic project in Canada. Andrei Timoshenko thanked Ruud for help he had given while scientists were in such distress just after Ukraine's split from Russia, without which he wouldn't be where he was today. Dmitry told me that he had read and appreciated my very first paper in holography in 1968. Ruud, Thea and Pauline exchanged views on angels, since Werner had reflected upon Pauline's Angel dinner talk in Balatanfurid. Sean was almost in overload collecting material for his research into the history of holography. In his talk he had commented that perhaps one of the greatest products of the field of holography was the formation of "brotherhoods", international bonds, lines of communication, and partnerships, just like what was continuing in this very meeting.
Eventually as everyone began to call it a night, Sergey Kostyukevychcornered some of us, poured some white wine, and insisted we drink yet another toast, which we all did, realizing that he deserved a huge amount of credit for successfully carrying off this meeting. Werner had produced a matrix equation which he again reviewed with the toast. In the equation, holography, as a matrix, is operated upon by another matrix that included Sergey and a few others, to produce yet a third matrix of international goodwill.
As Pauline, Werner and I entered the Dnipro hotel elevator Werner decided that we should all have one last nightcap while viewing the city from the top floor restaurant. Arriving at the top floor Werner banged on a locked door to the restaurant. Perhaps mercifully, it was closed for a private function, so we each staggered to our rooms.
The second banquet, especially scheduled so we could be there, was the 10th anniversary celebration for the Institute of Optics (Ukrainian Academy of Sciences) that Vladimir had started. (I was invited since Vladimir had placed me on the board of directors from the beginning.) Although Pauline and I understood little detail of the merriment, we could share the laughs, reminiscing, and fellowship and everyone went out of his way to incorporate us into the celebration. At one point everyone was dancing, and Pauline and I were hidden away to one side of the dance floor. She and I had recently taken dance classes in Costa Mesa, and I suggested we should practice some of our moves (for the first time ever in a public place). She hesitated at first until I convinced her that everyone was drunk and no one was looking, so we commenced. We were staring into each others eyes, carefully saying, in unison, the steps that we had memorized in class to stay in step, "Rock step, triple step, triple step, rock step, swing, rock step curl, rock step both swing…….." It was going fine when suddenly we realized that we were completely surrounded by revelers clapping and shouting us on. After that I swore off the vodka.
At one point I was urged to propose a toast, which Andre had agreed to translate. After proposing my toast, I realized that I had not divided the statement into small enough bits for Andre; after some hesitation he translated it into about half a dozen words! This gave rise to great hilarity among the audience, and a Ukrainian-American called Sergei, apparently just flown in from California where he is a venture capitalist investing in Ukraine, jumped up and re-translated in great detail. When he finished, I smiled and said, "YES! Exactly what I said." This, too, brought on considerable laughter.
We had taken a taxi to the restaurant. Vladimir commented that he had found taxis in Kiev to be incredibly cheap. This contrasted with stories Werner had related to us about friends of his being ripped off by the taxis. When it came time to leave, it was clear that getting the taxi for a return trip was not a trivial exercise. That was when we discovered that Kiev has its own underground taxi system that is widely used by the locals. I would not recommend this for the ordinary tourists, however. Natasha stood on the street corner and held out her hand, waving to cars that passed. In less than a minute, a passing car made a quick U-turn and pulled up to our curb. Vladimir conducted a few negotiations with the enterprising entrepreneur and we all piled in. Apparently many people cruise the streets of Kiev and make a few extra bucks providing this instant taxi service for the locals. It occurred to me that this is such a wonderful idea; everyone wins. How long will it take before some asshole messes up such a beautiful service by abusing it in some way?
On Friday I decided to exploit some of the experience Pauline had gained while I had been tied up in meetings. We decided to walk down the hill to a funicular, which would then take us to the top of the hill, where St. Michael's Cathedral is located. This allowed us to replace a significant climb with a down hill stroll and a nice funicular ride for 50 Kopeks ($0.10).
Every country offers its unique driving idiosyncrasies, and I have seen almost all of the possibilities.....I thought. At first, Kiev seemed to be more or less normal in the area of driving and I began to believe that I would have nothing unusual to say about Kievian drivers. This changed rather abruptly as Pauline and I walked down the hill. Kievian sidewalks are uncommonly wide and along this stretch of road they are a good 10 feet wide. Traffic was heavy with several lanes of cars pouring up the hill into Europa Square. Suddenly we realized that a car had crossed the curb and entered the sidewalk near the foot of the hill and was zooming up the sidewalk towards us at about 40 miles per hour. Dashing for cover, I commented that there is always some idiot who concludes that his need to get somewhere outweighs the rest of the world. Before long, we realized that Kiev had a lot more of such guys, since before we reached the bottom of the hill, we went through the same maneuver several times with vehicles swerving up over the curb, speeding for several yards, then swerving back onto the road to avoid hitting some impassable obstruction such as a concrete trash container, or a bus stop. Pedestrians were not classified as impassable - we were expected to jump out of the path of these invaders of our territory. In spite of all obstacles, we made it to the cable car entrance, paid our entrance fees, and were carried to the top of the grassy slope to emerge near St Michael's.
Several buildings occupy the complex. The first building is the Refectory, dating from the 18th century. Its stone walls are painted white, and it has a single wooden cupola. It was spared destruction in Soviet times, but was turned into a museum. Now it holds an exhibition of icons, and serves as a book store. The main church building, built originally in 1108, was destroyed by the Soviets in 1936, but since our last visit, seven years ago, has been magnificently rebuilt in its old image. Its walls are painted deep blue, and its cupolas are golden. The beauty of St. Michaels can be appreciated in several different lighting conditions, and its shadows, and atmosphere, change subtly. The blue walls can vary in different lights from deep blue to a kind of translucent lavender - all very beautiful.
Before we left, I sat on a perfectly placed bench a produced a watercolor of the Cathedral.
The interior, too, is magnificent. Newly painted icons are surrounded with gold-leaf frames and columns. The church was bustling - not with tourists, but with worshippers. Shoppers, business people, families walk through constantly, pausing to light a candle, cross themselves, or say a prayer. A team of little old ladies in headscarves ensure that everything is clean and spotless, constantly polishing brass, clearing spent candles, or sweeping dust from the steps.
A bell tower at the opposite end of the grounds leads out into Volodomirski Proizd, and only one street away lies the cathedral of St Sophia, whose own bell tower is at the distant end of this wide street. A huge building on the right was built by the Soviets in 1937 to house the Central Committee of the Communist Party. It became the Ministry of Foreign Affairs after Ukraine regained its sovereignty.
We had very nice shopping experiences in Kiev, a drastic change from before. A hryvna is worth about 20 cents and bank machines everywhere give you hyrvnas with a credit card. A meal in a good restaurant ran about a hundred hryvnas (20 dollars), roughly the same as in Los Angeles. A Coca Cola on the street cost about a dollar.
Anonyivskyl Uzviz Street winds down a steep hill west from St. Andrews Cathedral. This cobblestone street is a major tourist attraction, referred to as "souvenir street", and is not to be missed. On the weekends hundreds of artists and craftsmen display their goods here and along a trail that leaves from here and winds eastward through the park back past the funicular. I saw some paintings along this path that sell in US galleries for $2000 plus. Price here, about $200. Small, original paintings go for a few dollars.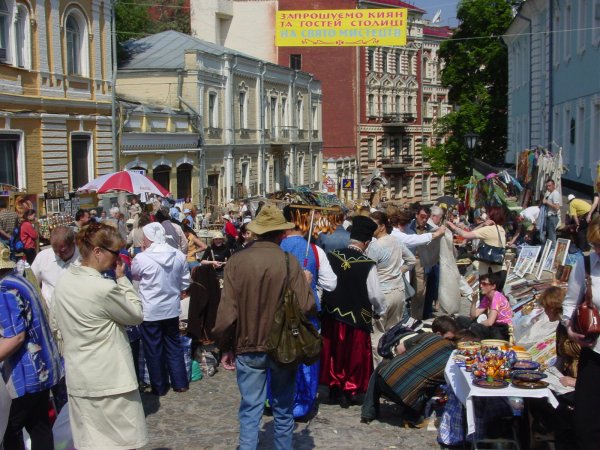 Souvenir Street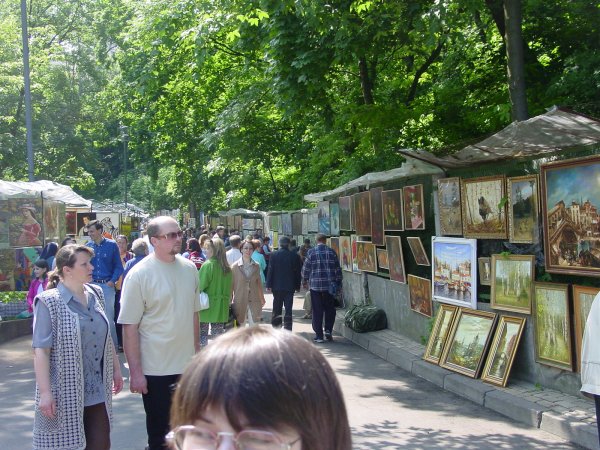 A mile of original Ukrainian art
The cathedrals are not the only interesting architecture. Almost everywhere one can see unusual and beautiful buildings. Unlike other streets in Europe, one rarely sees graffiti, and the streets are unusually clean. Overall, Kiev is one of the nicest, cleanest cities in Europe. One of the original Japanese conference attendees backed out because he had heard that Kiev may be unsafe. I told him that I imagined that it was safer than Los Angeles or Tokyo. Now I am sure of that more than ever.
Vladimirsky Street- Example of architecture in central Kiev
Back at our home square, we took a short walk in the opposite direction along the Kreshchatik, a main street of banks, offices, and large stores. At its other end is Independence Square, dominated by the Hotel Ukraine, its steps and fountains. Here we found the most startling changes in the city since our last visit. For some reason, the angel of Kiev has been moved from its previous dominant position, and now rests at almost eye level in the pedestrian area. A completely different angel looks down from atop a high post in front of the hotel. The fountains are still here, but moved around, and street traders and entertainers continue to draw interested crowds. However, somehow a huge two-storey underground shopping mall has been carved out underneath the square, without (as far as we know) toppling any of the buildings. Steps at each corner lead down into this temple of capitalism, its walks lined with familiar western `saints', like Tommy Hilfiger, Gap, Hallmark. Prices are high. Western muzak plays. The shoppers are ostentatiously fashion conscious. We could be in South Coast Plaza!
On Saturday, the day before we left Kiev, we witnessed the amazing Kiev Day, the "Birthday of Kiev". The main street of the city, Khreshchatik, which is about six lanes wide with 30 foot wide sidewalks on both sides, runs into Europa Square at the north end where our hotel was. The entire street and major squares were blocked off for pedestrians for all of Saturday. Beer and food stands were set up everywhere, and large stages were set up on both Independence and Europa Squares. A continuous show ran from six o'clock until midnight. Our seventh floor hotel room faced the stage, giving us a perfect ringside seat looking down on the crowd, which I estimated at about 50,000 in this square alone.
There had to be a million people in the streets, all ages, some in costumes, reveling, dancing, drinking, eating, singing, and blowing horns. Entertainers included dancers, beauty contestants, beer drinking contestants, singers, and comedians.
Before the show we elected to slip out and get something to eat and also mix in with the revelers at closer hand. At about six o'clock we walked out into the square and along the Kreshchatik as far as Independence Square. Both squares, and the main street, were closed to traffic, and filled with Kievians promenading, sitting around the fountains, buying flowers, pom poms, tinsel wigs, balloons, flags, horns, candy floss, beer … Many were in comic fancy dress, and even more were dressed in the height of fashion. We noticed particularly the long, pointed shoes and tiny heels the young women somehow manage to walk in. We photographed people and scenes - if we hadn't got pictures, we might not have believed this afterwards!
The Stradivari was our choice of restaurant, and we were delighted to secure a window table on their top floor from which we could watch the promenaders in the street below.
After dinner we returned to the comfort of our room and began enjoying the show. Around 9 o'clock we sensed something special with a caravan of cars inching up the hill behind the stage, through the hordes of people. We knew someone special had arrived from the announcer's tone of voice and the huge roar from the crowd. Suddenly a troop of singers ran onto the stage and the crowd went absolutely berserk. It was Ruslana, Ukraine's equivalent, I would guess, of Britney Spears. (The next day Vladimir explained that Ruslana had won this year's Eurovision Song Contest, and was apparently the pride of Ukraine).
Although we understood none of the language, the music was universal and we thoroughly enjoyed the whole show. Finally just before midnight a fireworks display began first on the hill across from the hotel and then in the Independence Square, which we watched from the other side of the hotel. We had fallen into what amounted to the perfect vantage point for Kiev Day. Watching the police clear the square after midnight so traffic could resume was a show in itself. At one point cars, police, and people were moving haphazardly all around the square. Finally, a water truck circled the square hosing down the streets and dowsing a few stubborn revelers. Amazingly, no one got run over.
On the last morning I took a final walk up to the Friendship Arch and looked over the city, which was now much more familiar to me than before. I could see the restaurants along the river where we had walked and eaten borsch, the funicular up to the St Michael's Cathedral, where I had painted, and the top of the St. Andrews along the Souvenir Street, where we had seen row after row of local artists' crafts and paintings. I was no longer lost in Kiev, so as one of the WWT rules requires, it was time to move on. On the other hand, I could also see a lot of other interesting things I had not done, so I will be ready to come back again.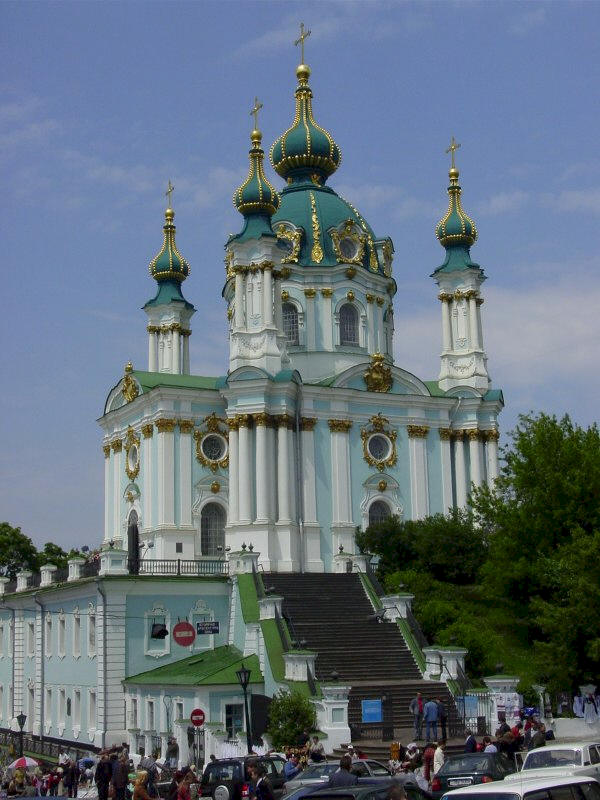 St. Andrews Cathedral and Souvenir Street to the left
Exercises in Communication
Since experiences in foreign countries sometimes make little sense, I describe here some Kievian experiences with great difficulty because it is not always clear what has happened. It is tempting to explain them in terms of the ignorance of others, but I admit that it could be my own ignorance at fault. A lot of this can be blamed on language difficulty, and who are we to say it is they whose ignorance in English causes us a problem? We are ever so lucky that others are willing to attempt English.
I had arranged to meet other English speaking attendees/friends for a dinner in the hotel restaurant. This turned out to be an experience that we will probably never forget. The Restaurant of the Dnipro lies on a second floor at the top of an elegant spiral staircase. We were greeted with the utmost hospitality into a large elaborately decorated room containing at least 30 tables, with ours containing the only customers. This seemed a little strange for such a large hotel on a Sunday night. During the course of the meal, we had three waiters attending the table, and confusion set in from the beginning, maybe because their English was not exactly useful to us. I had not had enough time to practice USE on this trip.
We asked for English menus. After some discussion, it became clear that we had at least three different menus between us having little in common. Rudolf and his wife, Thea, ordered salads and pepper steaks (not even on our menu), Jim Earthman chose chicken, Sean Johnston and I ordered a pot roast (which came in a real pot), and Pauline ordered veal. Pauline and I also ordered borsch. When we pointed out to the waiter that the menus were different, he suggested that we could order with which ever menu we wanted. Then he asked us how we wanted to pay, separately, with one check, or charge to the rooms. Since we were offered the option, we elected to pay separately and charge to our rooms.
When the two huge salads were delivered first, Rudolf commented that this would be a dinner by itself. A good twenty minutes passed before two bowls of soup arrived for Sean and Jim. After another 10 minutes came a plate that none of us, including the waiter, could identify, since the name meant nothing to us, and the appearance was little help either. Eventually we concluded that it was Jim's chicken. At this point the cashier came to the table to discuss payment again. He was attempting to figure out what each of us had ordered so he could work up the bills. We went through a half dozen different menus looking for the one we had ordered from before finally sorting out the billing. This was complicated especially by the fact that we had ordered with different menus. Even they seemed to be puzzled by the fact that little correlation existed between so many different menus.
About the time Jim had eaten the chicken, the largest piece of steak I have ever seen on a plate arrived for Thea; it must have weighed a good three pounds. Another half hour passed with Pauline and I still waiting on our first course of borsch. The one thing the waiters did really well was keep our wine glasses filled and we downed two bottles of wine while waiting on all the meals to arrive. Our borsch eventually arrived as did other plates spread out over nearly two hours. After all us, except for Rudolf had finished, I mentioned to him that I seriously doubted that he was going to get a steak.
He rose to get someone's attention and a waiter assured him that it would be arriving soon. After another fifteen minutes, Rudolf, whose patience had finally worn thin, cancelled the steak order. When finally the bill arrived and upon seeing that he was still being charged for the non existent steak, he commented, "Ik ga een geheel nieuwe betekenis geven aan het begrip 'de pest in hebben'", which translated into English is, "I'm going to give a whole new meaning to the notion 'being pissed off'".
We never quite figured out what really happened in that restaurant that night.
One of the problems with language is that one needs to know essentially all that is going to be said before it is said in order to really communicate. Then only that knowledge which is not known a priori is required from a statement. This, of course, presents a problem if one expects something to be said which is not said, and does not recognize his faulty assumption. Real communication requires extremely careful listening and filtering, without too much filtering. While true even in one's own language, it becomes much more obvious in a foreign language. Here are a few examples.
In the paper sessions we had a computer that speakers could use by inserting a CD. With it was a controller that allowed the speaker to change slides by pressing a button. The same controller had a laser pointer on it that the speaker could use to point to details on the screen. In one of the sessions that I chaired a Ukrainian speaker insisted on using his own computer, which was acceptable. This required that he change slides by reaching to a forward button on his computer. To point something out on the screen required him to walk back to the screen. I attempted to present him with the laser pointer and his response was, "It doesn't work". Realizing that he thought I was offering it to him as a slide changer, I tried again, by pointing to the laser pointer button and showing the spot on the screen. At this point he responded again by saying louder, "No, it doesn't work with my computer." I gave up with the communication and allowed him to struggle on without a pointer, since clearly he was not able to recognize his faulty assumption about what I was offering.
After a week in Kiev, my communication skills were improving. I was approached by a lady in the park who was clearly requesting something from me in Russian. I could only respond by saying "Sorry, English", to which she responded with a disappointed sigh. I looked closer and seeing a camera in her hand and a boyfriend close by, guessed that she was asking me if I would take a picture of her and her boyfriend. I was correct. I not only took her picture, but then got her to take mine.
A few minutes later I was approached by a seedy looking character, who was either asking for light, asking for a handout or trying to mug me. I threw up my hands and walked on not really wanting to respond to any of these possibilities.
If one knows the Cyrillian alphabet, one can actually read many of the signs, since the English and Russian/Ukrainian have many cognates. For example in the figure below, if you know that the Cyrillian letters C, Y, B, H, P are respectively, S, O, V, N, R, then you can read the sign without the accompanying translation. Signs like this with both languages are still rare in Kiev, and it would be extremely difficult to get around without knowing the Cyrillian alphabet. I believe that will change in the coming years.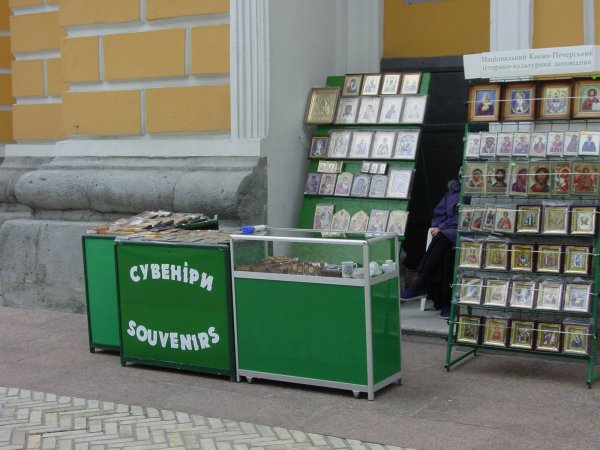 A Rosetta Stone in Kiev
Communication breakdowns are sometimes extremely complex, involving groups of people and varied cultures. On one occasion Pauline and I walked with Werner Juptner to a restaurant that lies on a boat on the Dnipro River about two miles from the hotel. After a nice dinner, as we were preparing to leave the hotel, Werner elected to visit the mens room. At the point, because we knew we had a rather long walk back, Pauline and I decided to do the same. Upon emerging from the rest room, Werner was no where to be found. The lady at the register told us in broken English that our "other man" had left already. This did not make sense to us. After searching the entire restaurant, we became concerned that something bad may have befallen him. The cashier then insisted that she had seen him going up the stairs leaving the boat. We had no explanation why he would have left us behind or that he might imagine that we would leave without him. Back at the hotel, I rang his room and was quite relieved when he answered. It seems that the lady at the register had told him that we had already left. He also was somewhat baffled, but when she insisted, he also left in puzzlement. We are not quite sure what happened.
Acknowledgement
A number of the descriptions included in this WWT report were extracted from Pauline's writeup of the trip.