Frankfurt, Goettingen, and Stuttgart

August 2003
We rose at the crack of dawn on Saturday, August 23 and headed for Heathrow Airport, which is exactly two hours away by train and tube. A few hours later we were in Frankfurt following arrows and signs to the train station until they run out in the middle of nowhere and arrows that point in a direction that is impossible to follow, leaving multiple options. There should be a special course in college to teach people how to give directions and not confuse with too little or too much information. Signs should not take for granted that a person looking for directions knows anything. If I followed some of the signs I would have to walk straight through a wall.
Pauline and I seem to have, between us, approximately one good brain for finding the way. Eventually we followed signs to a bus that dropped us at Terminal Two at which point nothing told us what to do as we left the bus. I was headed back into the airport when Pauline questioned my choice of directions, and suggested we try the two doors, which looked to me like somebody's office. She seems determined to make a good tourist out of me. The train station is the building that stands immediately beside you as you dismount the bus; how can a train station not have a sign?!
To find a reasonable hotel in Frankfurt, I had used the Internet, but this is not as straightforward as one might hope. When you enter a city into a search engine like Google and ask for hotels, you get a list of internet travel agencies, like Hotels.com, that begin with the ones who pay for their position. Regardless of the city you enter, you get the same agencies claiming they have a complete listing of all hotels and the cheapest rooms for that city. Reservations are rarely available in the hotel you ask for; they always suggest an alternative, the ones who pay them. Just for kicks I tried entering "Shit City Hotels" to see if the same travel agencies would emerge with the same message, saying "Best rates and most complete listing for Shit City". To my surprise, they ruled out Shit City, meaning their software has at least evolved to version 2.
The trick is to find a hotel you like, where you want to be, and then search for the hotel web page, since rates directly with the hotel are cheaper. Travel agents attempt to prevent this by clogging up the system, so finding what you want is not trivial, unless you have prior knowledge. I have used Ibis hotels all over Europe since it is a nice mid ranged hotel found by going to Ibishotels.com. Since there is an Ibis hotel within an easy walk from the Hauptbahnhof (main train station), and especially since it is located beside the river, I took it at a cost of about $150, including breakfast; the same room listed on Hotels.com came in at an astonishing $300 rate.
In addition to being a good place to start one's visit to Germany, since all the airlines go there, Frankfurt, "Europe's Manhattan", is a wonderful city to stroll around by foot, having beautiful tree lined paths along both sides of the river Main and several footbridges. One side is lined with galleries and museums and the other side is loaded with old churches and an old town. There is a museum for just about everyone including icons, plastics, architecture, modern art, and folk. We chose just to walk and enjoy the views, which include a magnificent skyline, big boats and barges moving along the river, and interesting plants and architecture. Unlike Berlin, the frauleins sunning along banks of the river Main were, to my dismay……………… wearing tops……...except for one in a poster advertising a Picasso exhibit.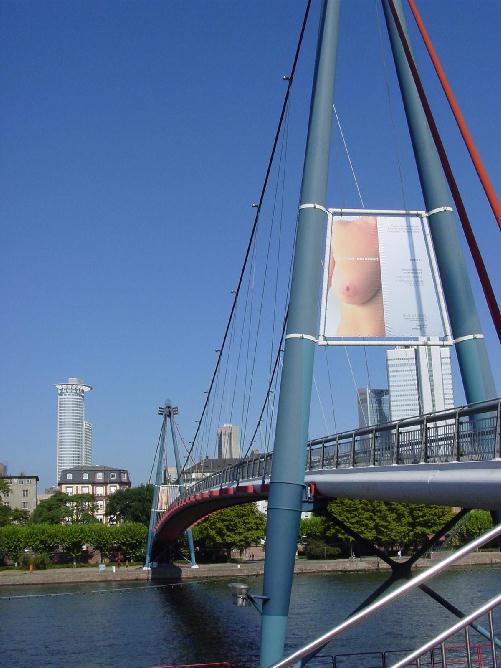 Footbridge Looking North over the River Main-Observe Poster Advertising a Picasso Exhibit
On the North side are several interesting churches, Goethe's house, the Bourse, the Opera House, and Romerplatz, which is an absolute must, all within an easy walk. One can sit around the old Romerplatz, drink beer, eat schnitzel, and watch the crowds for hours. The Dom, or cathedral, is, like many churches in Europe, still under reconstruction, but unlike most churches that are surrounded by scaffolding, this one is surrounded by a sort of box that is painted like it is supposed to appear when they finish it. Hiding the scaffolding like this is an abysmal failure, since the result makes one wonder if it really is a cathedral. It actually just looks like a big box. We did the North Side on Saturday and the South side on Sunday morning.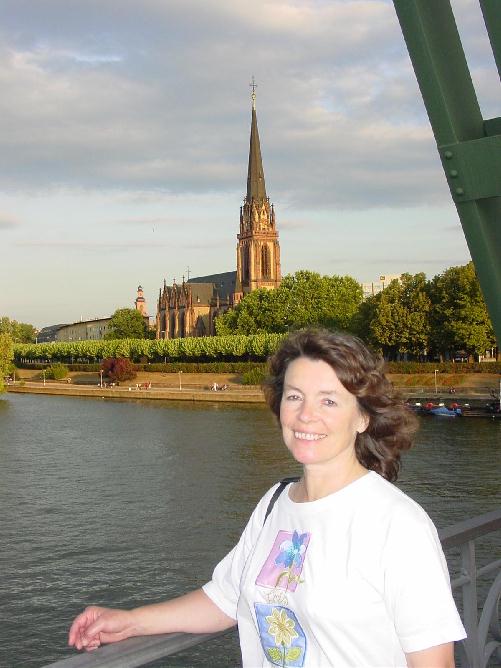 St. Peter's Church looking South across the Main River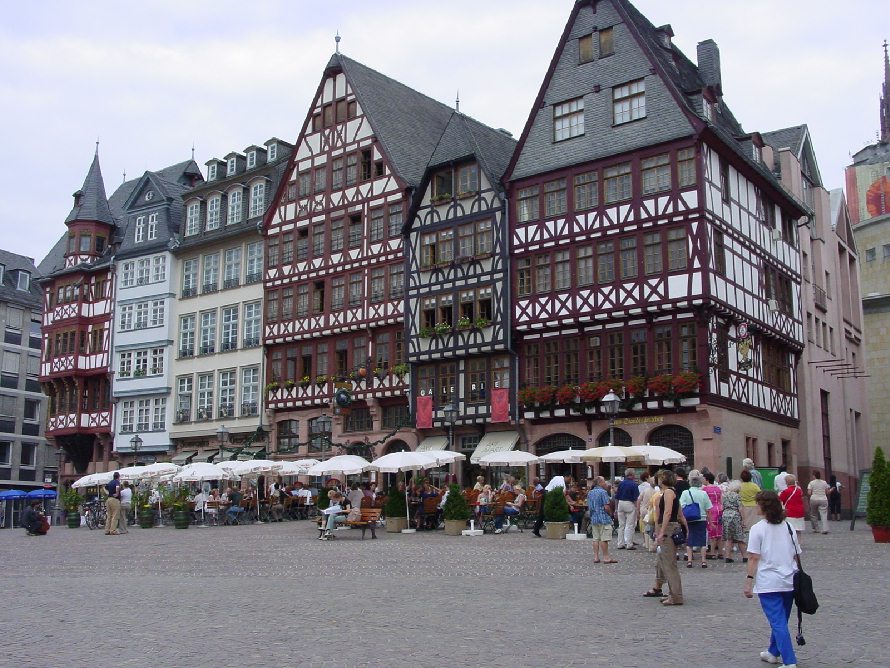 Romerplatz-Old Town Frankfurt
Goettingen
On the afternoon train, I wondered how we could get to Goettingen in 2 hours when we seemed to be going so slow; then I saw the speed displayed on a monitor (160 miles per hour). German trains are wonderful, and we arrived on schedule at 6PM. We stayed in the Romantik Gebhard Hotel, immediately across from the Hauptbahnhof (train station), which is extremely convenient when arriving by train; walk out the front of the station, cross the tram tracks, and you are home.
I came for The International Congress on Instrumentation in Aerospace Simulation Facilities (ICIASF), to give a talk and hear the latest developments, while Pauline played tourist. The ICIASF (Some of us fondly call it the I kissy Assuf meeting.) is an intense, international, five-day meeting, with heavy discussion between attendees, who also have most meals together. This meeting was held in the DLR facility (a German government research organization) on the South side of Goettingen. If you want to find out what is happening and what is going to happen in wind tunnel testing this is the meeting to attend. I have concluded that specialized conferences like ICIASF have learned from the Europeans how to run much better conferences as compared with the typical American conference organized by professional societies. For the same conference registration fee you get most meals and social activities provided with an environment that is truly conducive to information exchange and forming lasting relationships with fellow scientists.
Goettingen is known as a city of scientific knowledge with over 30 Nobel Prize winners associated with the city in some way. Prantl's original wind tunnel was sitting in the building next to our lecture hall. Many scientists whose names fill classical textbooks developed careers here.
Goettingen is small enough to walk in its entirety and we did so over the next five days. Like many ancient European cities, the city is surrounded by the remains of an ancient defense wall, which is now lined with trees and a path on which one can walk. I took this path each day to DLR, a 15 minutes walk. Within the wall are miles of interesting streets, houses, churches, shops, and an old town situated around the "Rathaus", or City Hall. You don't need a guidebook; just walk and gawk. We located the old town during the first night and had dinner in the Rathaus Restaurant, which is located beneath the Rathaus, the City Hall. The Germans do wonderful things with pork, and I found myself choosing a variety of them. They also know how to make good wine and beer.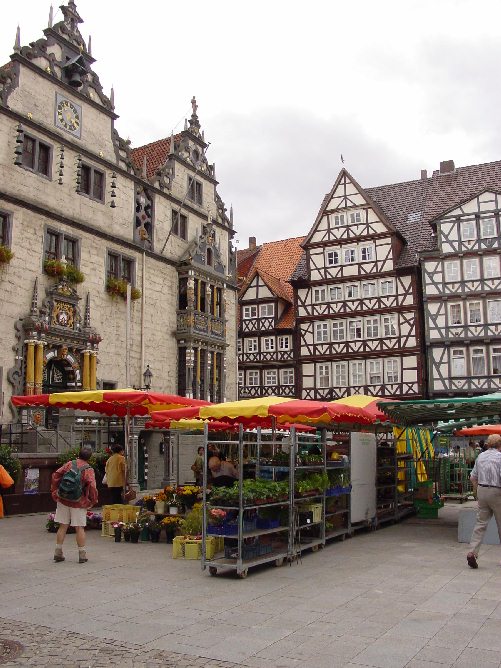 Goettingen Rathaus and Market Place
On Monday night I joined members of the Aerodynamic Measurement Techniques Technical Committee for dinner at the DLR dining hall. I was delighted to see that the wine choice of the center was no less than a "Trollinger", which has its origin in the Baden-Württemberg region (one state South) where my forefathers once lived. We drank a lot of it but saved one bottle, which all the members graciously signed for me to take home.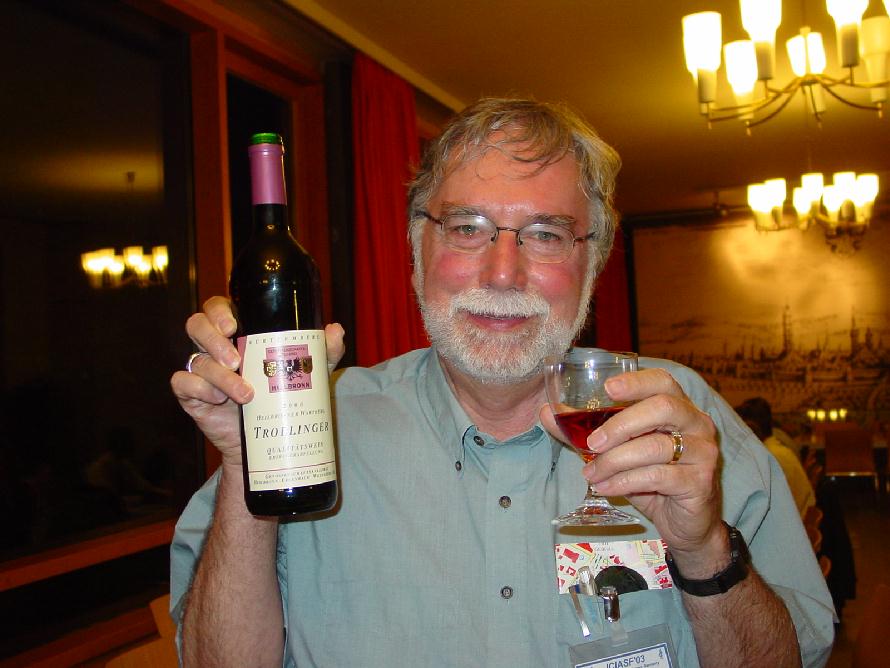 Enjoying a Trollinger Wine
Aerodynamic Measurement Techniques Technical Committee (AMT-TC) - Toasting with a Trollinger Wine
Later in the week we attended a reception given by the mayor of Goettingen in the old Rathaus; and behold, he served us hors de oeuvres with yet another "Trollinger". Before the week was over many of the members of the conference were stocking up on Trollinger to take home with them……..including me. The mayor gave us a personal tour of the Rathaus.
Goettingen would be an interesting city, even for a tourist, for a few days, and there are many villages in the immediate area worth a visit. We spent an afternoon excursion in the village of Goslar, a medieval town associated with what was once the largest copper mine in Europe; it has been a museum for the past 20 years. Someone had figured since we were scientists and engineers that we would be more interested in the mine than Goslar, itself, so they arranged a tour of the mine.
The mine provided a unique experience, although most of the attendees, especially the companions, would have chosen to tour Goslar, which is a widely acclaimed tourist attraction. I had mixed feelings. The mine has been used as a source of metals for over 1000 years, and it provides an interesting lesson in the evolution of technology and skills. In the beginning man most likely scraped metal from an exposed, rich vein near the surface with a rock. Today, a network of miles of tunnels going deep into the mountain eventually removed everything that was economically removable, millions of tons of copper, silver, lead, and gold. Long before the advent of electricity, mining methods evolved as needed for the next level of ore removal. Beginning with men pounding the rocks with hand drills, building fires inside to squeeze out the ore, then to dynamite, and eventually electrical drills. Removing the ore began on foot and after hundreds of years advanced to the use of water wheels that carried buckets of ore to a rail car, all of which can still be seen.
We went deep into the mine, down and down, passing four wooden water wheels on the way until we could go no further because of ground water, which is no longer economical to remove. As we inched along the dark wet tunnels, I could hear hard hats banging against the ceiling, and finally realized why they had insisted that everyone wear one. One cannot help but marvel at what the miners were able to do here. What possible incentive could make a man do this for a living, perhaps only hunger and the struggle to survive? I cannot imagine any job existing in the United States today that would be as difficult as carving rock out of these walls with a hammer and chisel.
To get out of the mine, everyone was expecting, I think, just to walk through a door. This fantasy quickly dissipated as we arrived at the steepest, highest set of stairs I had ever seen. The stairs were more like a ladder disappearing into the infinite darkness above. I was doubtful that some of the heavier people would ever reach the top. I think we may have left at least one really fat one down there.
Besides being interesting and enlightening the meetings allowed me to renew old acquaintances from various European organizations. I always learn as much during breaks as during the formal talks, but again I observed an unusual human practice, the logic of which escapes me. The experience prompted me to design an experiment that I hope some day to perform. The practice is the following: A large number of people crowd into a small room for an occasion, such as a conference coffee break, a dinner, or a reception. As they all begin conversations the volume of the din goes up. Soon one has to shout at the person with whom he converses. At some point a meaningful conversation becomes practically impossible or painful at best. In some events I have experienced this continuous, massive, almost intolerable cacophony for hours. And this is supposed to be enjoyable? At the end people have sore throats and lose their voices. Normally, I understand only bits and pieces of the conversations and only from the person immediately facing me.
At one point during a coffee break a young student approached me and shouted to me what I considered a serious question that deserved a complicated answer. He asked me if I could compare advantages of working in small and large companies. I suggested that we go outside. Just with a few steps into the outside of the building we found it amazingly quiet and pleasant, a much more user-friendly environment for serious communication. A few steps back into the room revealed the amazing contrast and choice that people make. I pondered the following experiment:
Assemble about 100 people in a room that allows a few feet between them and give them all coffee and cookies. Now ask all of them to conduct their conversations by whispering to each other. After a while evaluate the rate of information exchange taking place, then allow them to resume in their normal voices, which would, of course lead to the louder and louder conversation and finally to shouting. Once again evaluate the rate of information exchange. My theory is that if the whispering conversations could be maintained, then more information exchange could take place.
One can, if fact, observe a similar effect by comparing the noise level at a social party with that of a wake, where the people density may be just as high. I have conducted rather complex conversations, essentially whispering, at wakes and hardly even notice a background noise level. "John Doe was such a wonderful friend. I remember the times that …………"
I imagine this to be an important human exercise that could explain many of the problems in our society. Each individual is interested only in his own communication so he raises his voice to compete with his surroundings, even though it may not be absolutely necessary. Eventually, everyone has to follow suit creating what I believe to be an unfortunate waste of energy and the destruction of an environment simply because people are not naturally attuned to the needs of their neighbors. If we could solve this problem perhaps we could achieve world peace.
Stuttgart
On Friday morning we boarded the train for Stuttgart, which is three hours away to the South. Being greeted by a friend in a foreign station is a special experience I will always enjoy, and I experienced it again at the Stuttgart Hauptbahnhof, even as Wolfgang passed by me and gave Pauline a big hug first. Professor Wolfgang Osten, a fellow Holoknight and friend, holds a chair position (a special honorary department set up by the university to attract outstanding researchers) for applied optics at the University of Stuttgart. After a 10-minute ride on the local subway, which was also in the Hauptbahnhof, we arrived at the University Station, which lies immediately in front of the Science and Engineering building. Near the University Station also conveniently is the University Hotel, where he had arranged a room.
After a typical German meal of cheese pasta and a weissbier (white beer), we returned to his laboratory where I met with his staff to discuss our complementary work. The entire department had been undergoing a major renovation under Wolfgang's direction, and I had the honor of being the first guest to make a presentation in the new conference room for the chair.
Later we were met by yet another delightful surprise when Wolfgang revealed a professionally composed and edited video of our wedding (two years earlier) in which he had recorded images that we had never seen before, even footage that our professionally hired photographer had told us would not be allowed. He had taped it in several segments and finally finished editing and composing it long after the wedding. When I asked him how he managed to be in so many places at the wedding his response was " I am James Bond." I halfway believed him.
In the evening we all took the subway again to central Stuttgart, left the train at the Hauptbahnhof and walked along the main pedestrian street, which runs directly from the station. After a few blocks we came to a large square that contains fountains, statues, and a castle that is now used as a state building. Just beyond the square we entered a wine festival, the "Stuttgarter WeinDorf (Stuttgart Wine Village)". The Weindorf covered about 5 square city blocks and was packed with wine and food stands and more happy people than I have seen in one spot since Mardi Gras.
The village had four gates named after the regional wines. We entered through the West "Riesling Tor (Gate)". When we approached the East Gate I was delighted upon seeing its name- "Trollinger Tor". Once again I pondered what motivated my ancestors to leave this region in the early 1700's and head for a hostile, unknown new world in North Carolina. For the first time I began to feel a need to visit the place where they had once lived and see what it would feel like to be in a place where some of the people responsible for me being alive had lived.
We purchased a glass of "Trollinger", shared a variety of specialties of the region and wandered among the huge outdoor party. At one point I found myself packed shoulder to shoulder in a sea of people as far as I could see. It occurred to me at that moment that the slightest disturbance could bring on big trouble in such a crowd. Anything triggering instability would cause a stampede with frightening consequences. The effects of a bomb or even a big firecracker here would be hugely amplified. I thought of a similar not-well-explained phenomenon in aerodynamics where laminar flow is triggered by some means to go turbulent, and, like the movement within this crowd, major, unpredictable changes would take place. Fortunately we pressed our way to a lower people density near the edge of the festival before hitting a panic stage.
Once again I could observe the same phenomenon I had seen in Goettingen, where huge numbers of people seem to enjoy packing together, drinking something, and shouting conversations at each other.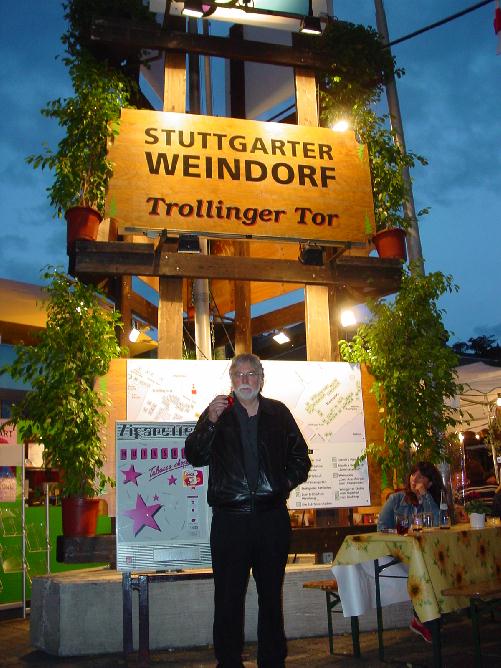 At the Trollinger Gate (Tor) of the Wine Village
The next day Wolfgang took us on a hike up to the medieval Schloss (castle) Hohenzollern, which was home of the last king of Prussia, Frederick der Grosse. We parked our car and walked a steep path for about a mile to reach the castle. At about the half way mark we stopped at a strategically located souvenir stand and had tea. The view of the countryside got better and better as we climbed. Our entrance fee into the castle included a tour inside where we could observe the furniture and artwork of the royal families. Our guide, a young lady who spoke in a yodel like delivery, was fun to listen to, although I could understand only about one percent of what she said. I felt a little better when Wolfgang commented that her dialect was so regional that even he had difficulty understanding her.
After doing the castle and its grounds thoroughly, we took the somewhat easier walk back to the car and headed for a local village for lunch. Soon we found ourselves distracted by the Roman ruins of Stein (Stone), and we elected to pay a visit while the weather still cooperated. Quite amazingly, Stein, a part of the network of Roman fortifications against the barbarian northerners, had gone undiscovered until 1973. The restoration has incorporated the latest computer graphics technology and one can witness computer simulations of the city and its original appearance. Within minutes of completing our visit to Stein, the rains began so we headed back to Stuttgart, where Wolfgang had promised to prepare a dinner.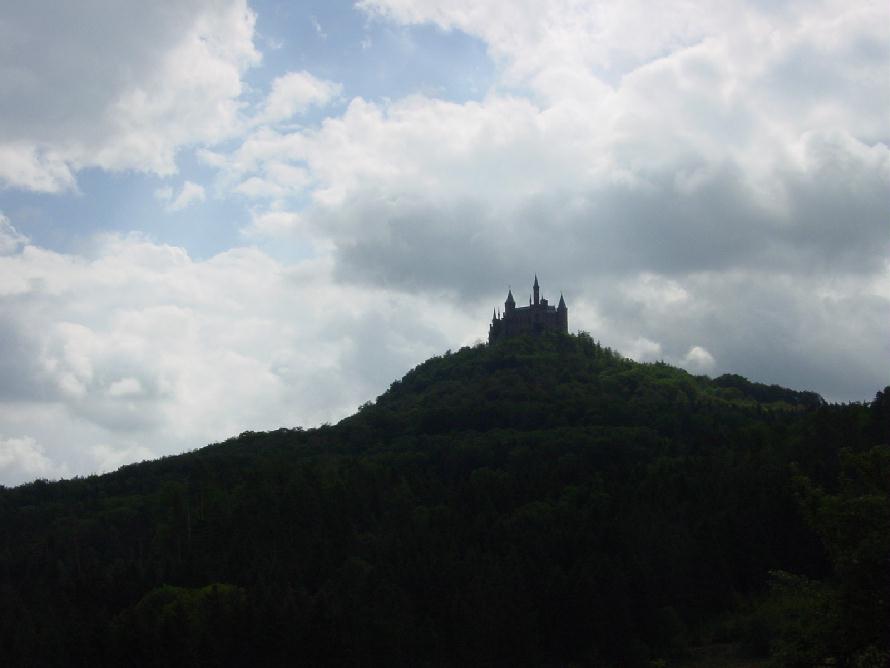 Castle Hohenzollern seen from the ruins of Stein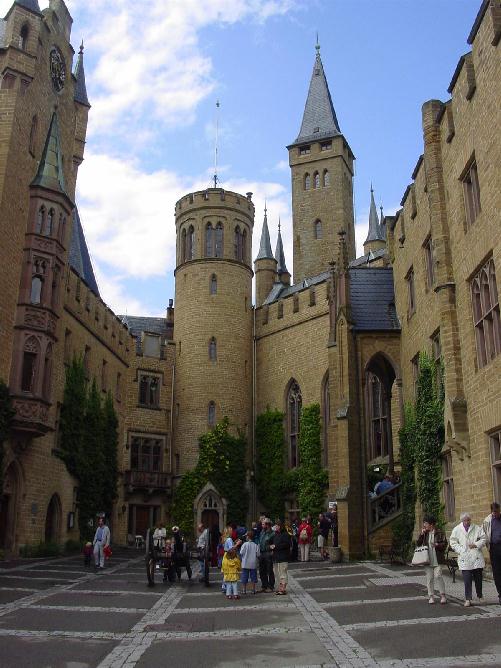 Courtyard of Castle Hohenzollern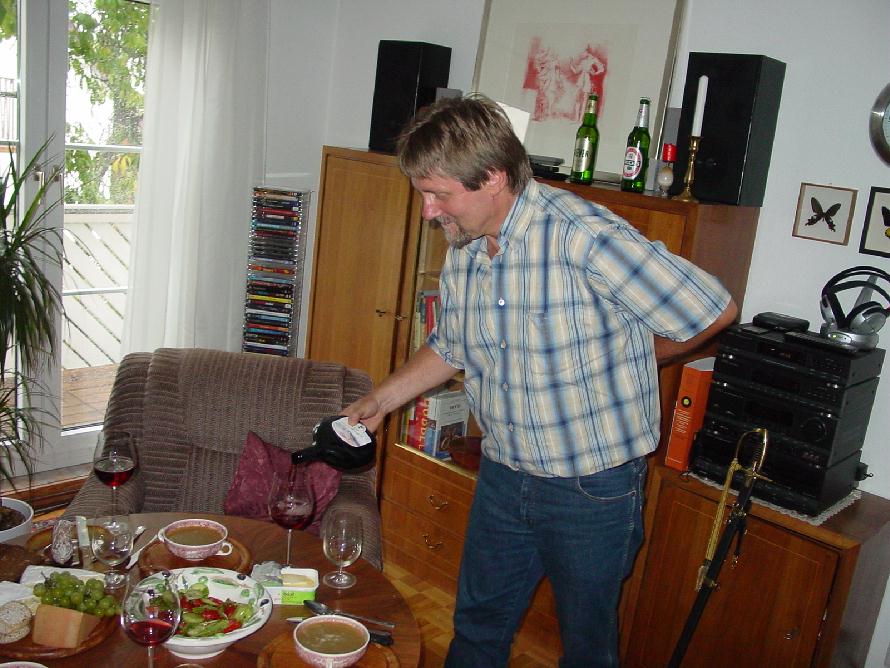 A German Dinner prepared and served by Sir Wolfgang of Berlin, Fellow Holoknight. Notice his Holoknight Sword leaning against the stereo.
Our dinner began with a special selection of German beers followed by onion soup, salad, cheeses, and a red wine. The longer I stayed the more German I felt. A few more beers and my German would have become fluent.

Wolfgang insisted on seeing us on the train in Stuttgart the next morning. With my reputation as the world's worst tourist he apparently considered this the most reliable way to get me out of Germany. After subway, train, airbus, tube, and train were back at home in England by 5PM.