Wes and Christian come to England
Summer, 2005
We began discussing it by the time they reached the age of ten. I had even used the idea in attempting to get them to behave a few times, by telling them that they could come to England when they had demonstrated that they had matured enough to handle such a trip. At 12 and 14 we concluded that the time had come, so we put together a plan for a seven-day adventure.
What would we show them? What do teenagers really like? I knew there was the danger of boring them with too many cathedrals, and yet, I wanted them to see some important things also, things that they, themselves, would probably not choose, but would come to appreciate years later. In addition, we wanted to show Kris a good time as well. When asked, Wesley commented that he liked castles and ruins, and Christian wanted to shop in Harrods because her friend had a neat bag with the Harrods label.
The first plan contained Stonehenge, until someone commented, "You don't want to show teenagers a bunch of rocks!". So we included some things that we almost certainly knew they would like, such as Warwick Castle and a long boat canal trip, as well as some things we wished they would like, such as a concert in Lichfield Cathedral, and some things we guessed that they probably would not like, but should see anyway, like the American Cemetery in Cambridge. The program contained what we believed to be a good cross section of England in a fully packed, seven-day program to begin on the 9th of July 2005.
If you mention the date, September 11, to any American, he immediately attaches a horrifying experience suffered by all Americans. Similarly, July 7 has a similar meaning in England. On the morning of July 7, 2005, Muslim extremist terrorists set off four bombs in the London transportation system killing 54 and maiming and terrifying thousands of people. In the first hours of the day, we waited with great anticipation on what would follow and we had little choice but to examine how it would affect our family's trip. It could very well shut the whole thing down.
For a while the entire transportation system was brought to a halt while officers searched for more bombs. One of the bombs had gone off near the King's Cross station through which we would pass to meet them at Gatwick Airport two days later. King's Cross was now cordoned off as a crime scene. The entire Piccadilly tube line, which we normally used to get around London and to Heathrow airport, was shut down, with heavy bomb damage that had killed over thirty people and created a hellhole for hundreds who barely escaped with their lives. The London public servants and Londoners themselves had trained for this day, anticipating that it would surely happen and hoping it wouldn't. The training had paid off well and they dealt with the situation brilliantly, many becoming heroes.
By the next day after no more attacks had occurred and promises that the rail line would open, we decided for sure to proceed with the trip. Pauline and I met Kris, Wesley, and Christian at Gatwick at 8:30 in the morning. They had been through their own ordeal, which included a flat tire on the way to the Atlanta Airport, which put them within fifteen minutes of missing the plane.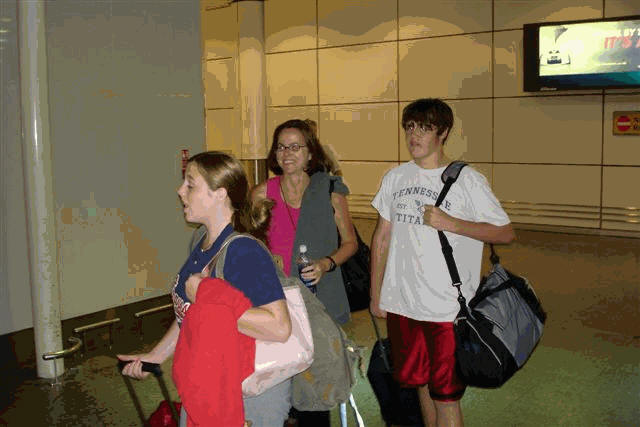 A Sleepy group arriving at London Gatwick Airport
Saturday, Day one- We planned this as a light day, mostly a day of rest. The day was gloomy and overcast, and cold with threats of rain. This was the first time either Wesley or Christian had been on a train. The Thameslink train passes over Blackfriar's Bridge, from which you can see the Tower Bridge to the North and the London Eye to the south, their first look at London. A few stops later we passed through Kings Cross, the station where hell had broken out two days earlier. The only sign of anything different was the fact that the train was practically empty. People were still squeamish about trains and were staying out of London. An hour later, Colin helped us welcome them to Bedfordshire by meeting us at the Flitwick Station taking the bags, while we all walked the short distance to our home. Heading down King Road, we assured them it was a short walk, just to the bottom of the hill. After about a hundred meters Christian commented, "This road has no end to it!"
We had planned to walk through my favorite place in our village, Flitwick Moor, to the Compass, a local pub, for lunch. Since it looked so much like rain and we could see their state of exhaustion, we changed the plan and drove to the Crosskeys, a favored pub in the nearby village of Pulloxhill, where they had their first pub meal. Kris had been there before when she came to our wedding four years earlier. It was probably a good decision, especially since the food at Crosskeys is much more exciting. Even so, after missing this chance to show them Flitwick Moor, only Kris would share my special place this trip, because we always seemed to have something else to do.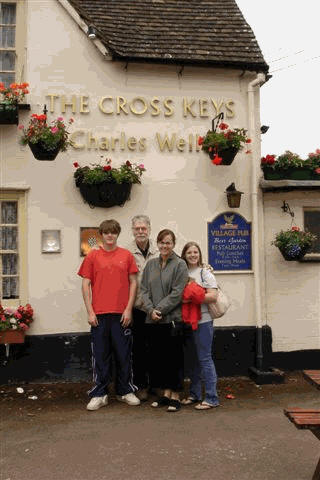 Our first pub meal in Puloxhill
After lunch we drove through a few villages with thatched roof homes to the nearby ruin of Houghton House, which overlooks Bedfordshire from a beautiful peaceful country hilltop near the town of Ampthill. This old ruin was once the home of royalty, including the relatives of Robert the Bruce, which we all knew from the film Braveheart. I was pleased to see that they all enjoyed visiting Houghton House. Kris even told me that it was her favorite place of all.
From there we drove through the Georgian town of Woburn and passed by Woburn Abbey, by which time most of our visitors were fast asleep. They woke for a few minutes when we waited on an entire herd of reindeer to cross the road in Woburn Abbey, near the home of the Duke of Bedford. These places are all rich with flower laden public footpaths, lakes, tea shops, market places, antique shops, old churches, and the Abbey itself, none of which we could fit into this trip.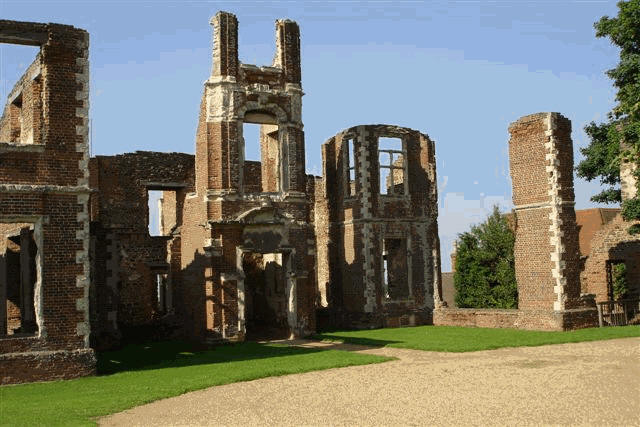 Houghton House
By the time we arrived back at home, I could see that Kris was in a state of exhaustion and I suggested she take a two-hour nap. Wesley was the only one left with enough energy to continue exploring, and he, Pauline and I walked along the River Flit to the local parish church where Pauline and I had been married. The River Flit is not exactly a major waterway at this location. Wes figured it as more like Flit Creek. He was a bit shaken by the graffiti on the tunnel under the railway, announcing the local gang activity.
On our return we woke Kris and Christian and managed to keep them awake for a few more hours by tempting them with email, tea, and cookies, but Wesley, having been nap less was the first to conk out for the night. At the end of the day, Kris was the only one left with energy to walk my favorite place, Flitwick Moor. We did my usual 45-minute walk through the woods and pastures before wrapping up another day.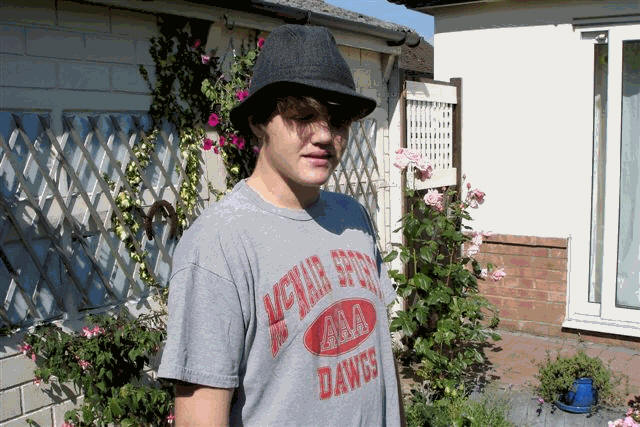 Wes goes British
Day 2-Sunday-A day in London-We were not sure what to expect in London after the previous few days of horror and chaos in the city. I knew that several tube routes were shut down, and I am not very adept with the bus system. I considered postponing the trip, but all indications seemed positive in addition to the fact that it was VE day and a lot of interesting events were scheduled that day. Veterans, fully dressed with polished medals proudly on display, ready for various ceremonies in the city, mounted the train at stops along the way. We were entertained by a noisy group who entered the train at Luton that had Kris and I laughing at the strange language. It was as if we had Hyacinth Buchet sitting right behind us. One of the ladies commented very loudly about her husband, " We brough' 'im 'ere with a bloody 'angover."
London is a wonderful walking city, and we could take the train right into the center of the action. Blackfriars station is next to St. Paul's cathedral on the North bank of the Thames near the Millennium Foot Bridge, a good place to start a walking tour.
Emerging from the train, I was stunned by the emptiness of the place; we were practically the only ones in the station. I wondered if all London was like this. Outside there was almost no traffic and very few people. What I did not know until later is that an hour earlier the station and surroundings had been evacuated for a bomb scare and we were among the first allowed into the station, since we had come by train. We had barely escaped the first fallout of the bombing.
As we left the station and headed up the hill to St. Paul's, things began to look more normal. Wesley and Christian were taking pictures of just about everything. A sidewalk artist worked away at drawings of the cathedral. I could imagine how strange this all looked to them. Inside the cathedral, a service was in progress so we remained at the back. I could hear the minister's words. "They just don't get it." He was referring to the terrorists and their plan to place a wedge between the various ethnic groups in England. On the contrary the bombings had an amazing unifying effect on the British citizenry.
At the back of the cathedral we found a new impressive art work, a set of large mirrors that allow viewing the cathedral vault by looking down. Realizing that its purpose was not obvious, I whispered to Wesley to view into the mirrors and study the ceiling. He then got quite caught up in the experience. We left the cathedral after just a cursory look with the possibility of returning after the service. Wesley was impressed by the very size of the structure. He commented that had wondered why they had placed a mirror on the floor. "Why do they want you to look at yourself?" Then when discovering that the vault is easily viewed in this way he was quite taken by all that was visible in the mirror. Christian was not ready to accept this as an artwork. "Art should have a meaning. Like the statue over there," she said, pointing to the sculpture on the front steps. I made some attempt to explain that in modern art, the viewer is expected to bring something to the art. One can extract many meanings from the mirror sculpture. Still unconvinced, she commented, "Whatever.", and made her way down the steps.
We ventured over the Millennium Foot Bridge and entered the Tate Modern. I figured that we would make a quick pass through the gallery just as a minor exposure to modern art. To my surprise, they got rather interested and spent some time looking at a scavenger hunt art project, a one day affair that had artists build up a work of art by scavenging pieces disclosed by clues provided to the artist. After that a quick pass through the works of Matisse, Picasso, Brach, and their contemporaries impressed them somewhat less, so I punctuated the experience with a cookie and drink on the balcony overlooking the Thames. This is my kind of touristing.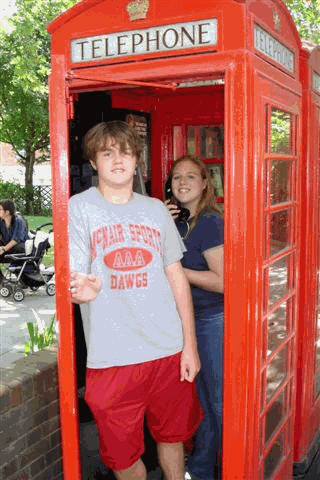 Testing the local facilities in London
The South bank of the Thames is a continuous variety show, with musicians, artists, mimes, magicians, and comedians. Some of these guys are really good. A magician with three cups on a table kept pulling things from beneath the cups that weren't there before. As a grand finale he raised each of the cups to show a full sized orange beneath each. I cannot imagine how he got the oranges under the cups without us seeing. We took our time, catching an odd act here and there until we reached the London Eye. The line for riding the London Eye was longer than I had ever seen it, I guessed at least a two or three hour wait. I did not want to spend our time standing in line so we moved on.
At this point, I introduced Wes and Christian to the WWT's concept of the MacD Free Pee. Christian asked if there was a restroom around somewhere, and I took her into the MacDonald's. I have almost forgiven MacDonald's for giving the world arterial sclerosis because they also provide a nice place to pee in cities the world over.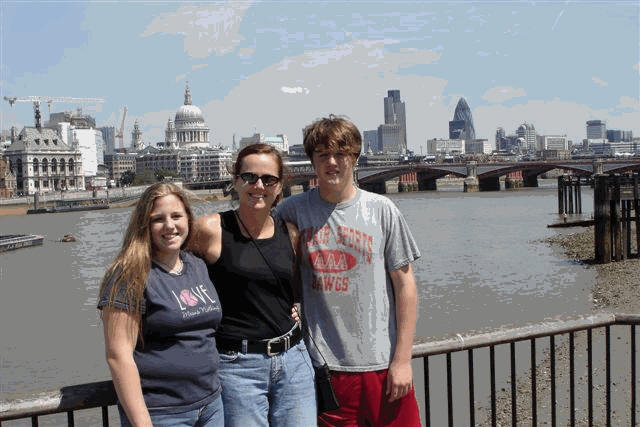 Over the Thames. St. Paul's Cathedral is in the background
We viewed the great array of architecture along the walk by Big Ben and the house of Parliament. In the park next to the House of Parliament, I explained the Rodin sculpture, The Burghers of Calais. They had not heard of Rodin or his "Burghers", but when I mentioned "The Thinker", their eyes lit up. Wesley took on the 'thinker" pose in front of the Burghers. (The Burghers made themselves famous by offering up their lives to a conquering, medieval king, who would have otherwise destroyed Calais. In the end, the king, heeding his wife's pleas, spared them after all. Rodin, unlike other sculptors, bidding on the job, chose to represent them more like they probably looked instead of in a glorious fashion. Castings of The Burghers can be seen in many places around the world.)
We viewed Westminster Abbey from outside, since it is not open for tourists on Sunday. A ceremony for veterans accompanied by the Queen had taken place here a few hours earlier. Next we headed up Whitehall Road by 10 Downing Street where the prime minister lives. The horse guards added some interest to the stroll, but clearly the troops were tiring, having walked a few miles by now. We were headed for Trafalgar Square. Christian was reporting pains in various walking muscles and asked if we could take a taxi because it is a "long way to Trafalgar Square." She relaxed a bit when I assured her that we would find some lunch.
This turned out to be a bit more difficult that I had planned. We walked into and left three pubs that failed to meet the standards of the group (no air conditioning, too smoky, no good tables) before selecting an Italian Bistro. I knew I was in trouble when a waiter with an Italian accent seated us at a table-clothed table. Pizza, Spaghetti, Rizzoli, macaroni, soup and salad, multiple rounds of diet cokes, and an Italian beer came to a total of $160. Once again I had experienced the CIM (cost of an Italian meal) phenomenon). I had already psyched myself up to enjoy this first ever visit by grandchildren in Europe by not even thinking about the incredible cost of things here as compared with the USA, so it phased me not in the least. When the waiter set an elaborate 12-inch pizza before Wesley, I was left wondering if he would make it through a single slice. He downed the entire pizza and commented that while he was not yet full, it was about the "right amount" since he didn't really want to be full.
After lunch we made a pass through the National Gallery where I attempted to expose them to a few classic art works in what has to be one of the best collections in the world. I knew that some day the names of Titian, Rembrandt, Donnatello, and El Greco would mean something more to them, even if not now.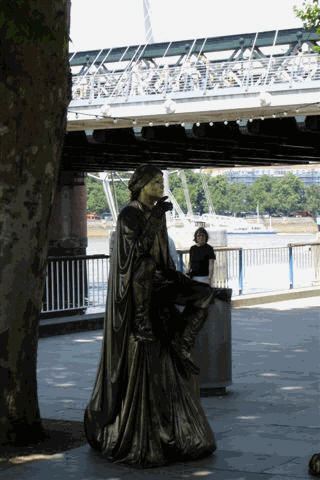 A mime on the Thames River Queens Walk. Notice the foot bridge and rail bridge inn the background.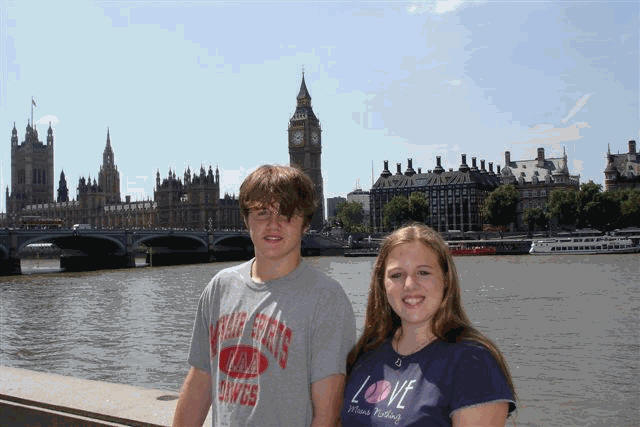 Big Ben and House of Parliment in the Background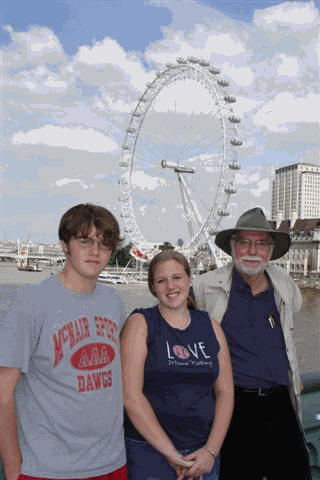 The London Eye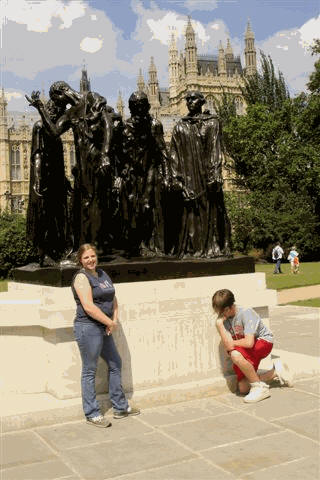 Rodin's "Burghers of Calais" and Wes, the Thinker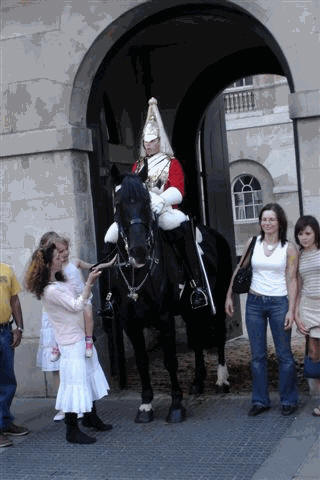 Horse Guards
Trafalgar Square is another place of continuous shows, and today we witnessed a very special event. At five o'clock waves of World War II vintage aircraft passed over Trafalgar square. At one point a bomber dropped a million red poppies over the city and onto millions of people gathered along the Mall that goes from Trafalgar Square to Buckingham Palace where the Queen observed from the balcony.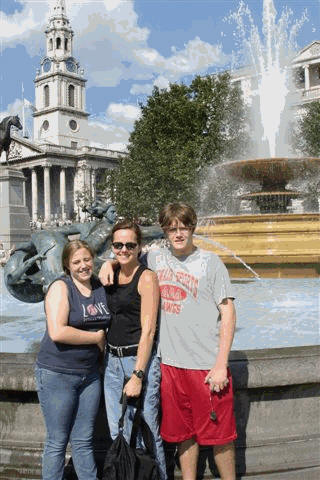 Trafalgar Square
After this ceremony we decided we had had enough for one day and made our way back to the station. Christian was game to hit the tubes, but I decided to avoid them since I was not sure which ones operated, and the last thing I wanted to do was to end my duties as a grand father in an underground London tube. Besides the walk along the Strand to Blackfriars is interesting, at least to me.
They made it with few complaints and with Wesley and Christian each drinking a two-liter bottle of water between Trafalgar Square and home. By this time they had become train veterans. Everyone slept well that night.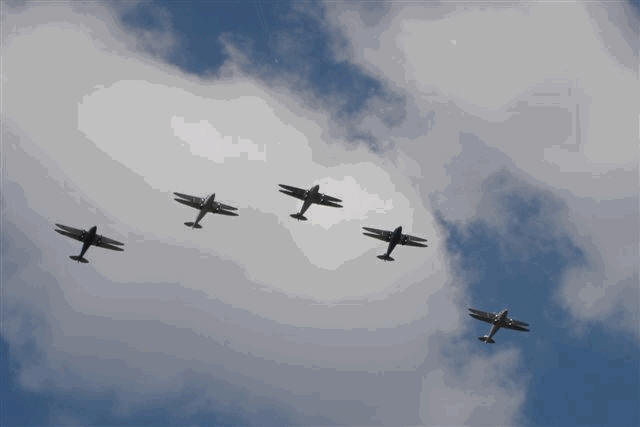 World War Two Vintage Aircraft Pass over Trafalgar Square on Victory Day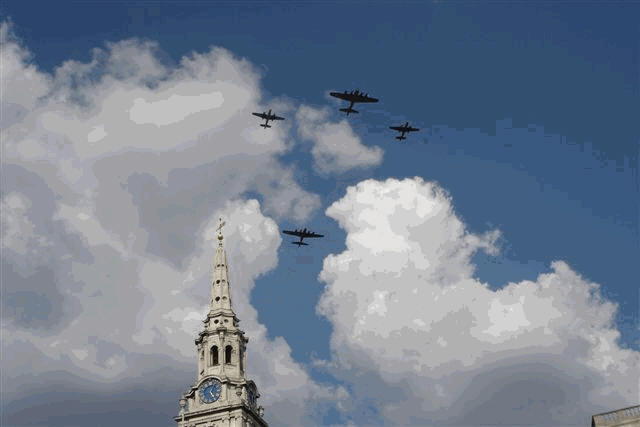 World War Two Fighters
Day3-Cambridge- We all packed into our little one liter Vauxhall Corsa and headed for Cambridge. On the way into Cambridge, just before the Park and Ride lot lays the American Cemetery. In this place, about 4000 soldiers who never made it back home lie surrounded by monuments, reflecting pools, flowers and sculptures. Crosses marking their graves form semi circles that radiate out from the American flag. A wall lists 1100 unknown and missing soldiers who either were never identified or found.
Among the crosses are various stories of bravery and sacrifice. In one grave are buried three soldiers whose identities were known but whose remains could not be identified independently, hinting at the horrors of war. As I walk among these crosses and think about the young men lying here, I find it difficult not to weep, and I usually choose to do this alone. I stand in awe with what these men faced and did. I cannot imagine going through such an experience. On that day I elected to view them from a distance, but I did notice that Christian took off on her own and walked among the crosses.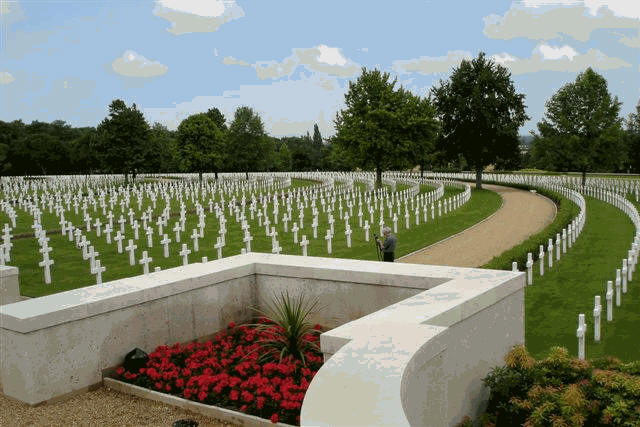 4000 Young Americans who gave their lives for their country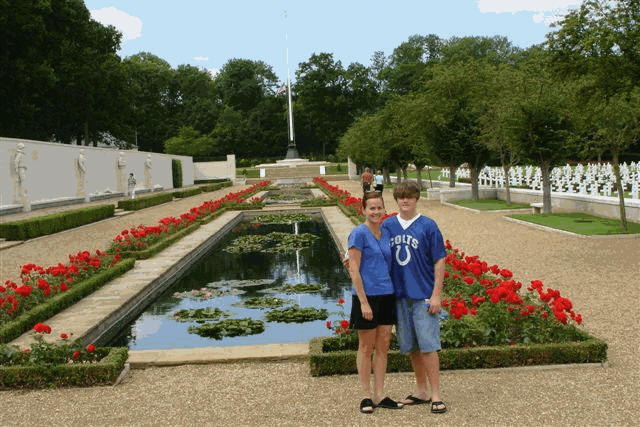 Reflecting Pool and The Wall of the Unknown Soldiers at the American Cemetery
A huge amount of information is contained within these walls. Maps inside and outside the chapel provide perspective to the huge scale of world war two. A large map of England locates all of the U.S. military bases in England during the war, literally sprinkled over the entire country, over 100 bases. I had some questions at how other American tourists would react to the American Cemetery, until ever single one rated their visit to the American Cemetery among the not-to-be-missed places.
Next stop was the Park and Ride lot. Cambridge is such an old city, it is impractical to deal with modern traffic. Like Oxford, they make it practically impossible to drive around in the city, so people park outside and take a shuttle in.
I give you here a warning about English buses. Near the front door is a button. It has a set of big letters above it saying "Push". It, however, is not like the button beside the door on a train. If you fail to push the train button door, it does not open and the train takes off without you in it.. The difference in the bus button is that just below it in microscopic letters are the words "Emergency Only". Usually this door is open and people are emerging from the bus. If the door is not open, DO NOT PUSH THE BUTTON. Depending upon the demeanor of the driver, you can get a range of reactions from yelling at you to beheading you. I received ribs for the remainder of the week imitating the bus driver's irate reaction to my pushing the button on the Park and Ride bus. But notice that such experiences that are rather unpleasant at the time are often ones we remember and enjoy relating and laughing at later.
Cambridge is good for at least one day. We gave it a half a day. Shortly after demounting the double decked bus, we discovered that it was market day in Cambridge so we checked out a few possible purchases. Christian had spotted a typical English dress that she was determined to buy and this could be the place to get a bargain. She wound up purchasing a sweatshirt with Cambridge insignias.
We decided to have lunch at Aunties Tea Shop, which lies just off the market square before visiting the colleges. Afterwards we dropped in on the Kings College Church, which sports one of the largest and most beautiful vaults in England. Next we did Trinity College where Isaac Newton reigned as denoted by his statue in the chapel. I could tell that the kids had grown a little weary of churches.
Aunties Tea shop in Cambridge
From the minute they had heard about punt boats they were foremost in their minds. I knew I would not get out of Cambridge without punting. I ask them "What would you rather do, have a cup of tea and a cake or go punting?" There was no delay in the answer.
For the sake of efficiency I hired a chauffeured punt, which turned out to be a smart move. It gave Pauline a sense of security, gave us a good tour, and gave both Wes a Christian a chance at the helm. Along the way we watched the amateurs clumsily banging into each other and even saw a couple of kids get dunked.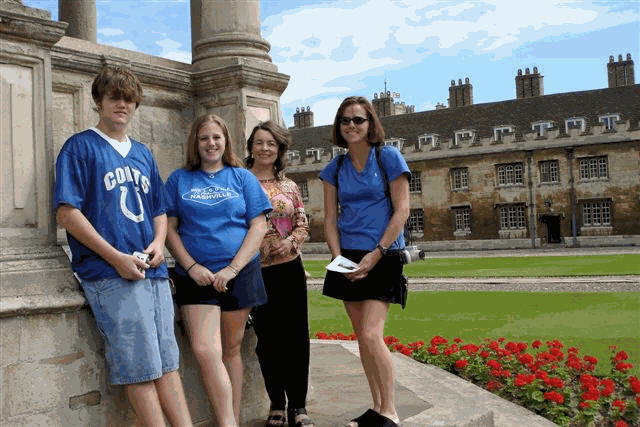 Courtyard of Trinity College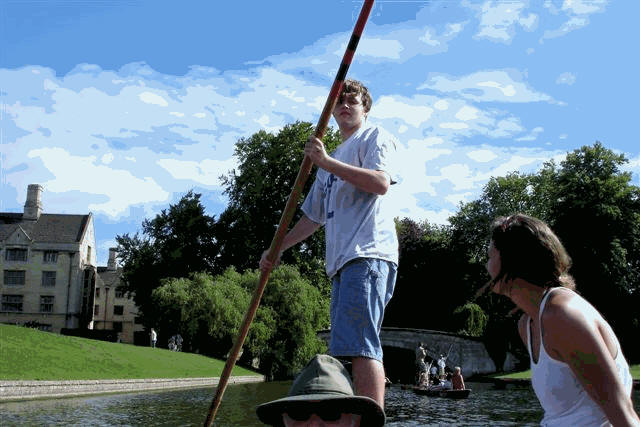 Wesley takes over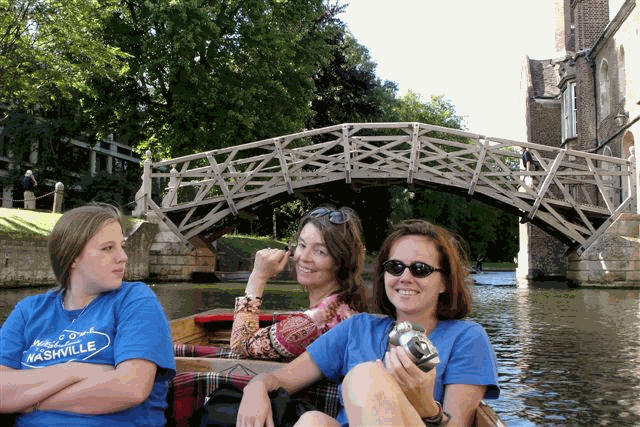 Punting on the River Cam-Mathematical Bridge in the Background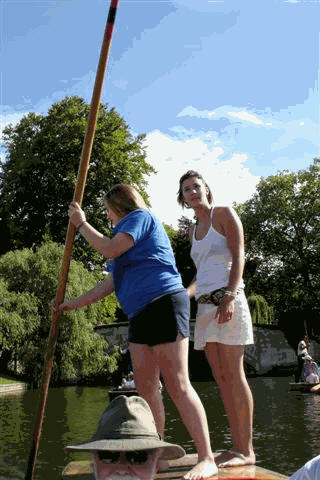 Christian, the Punter
Afterwards we had just enough time for a cup of tea, a little shopping, and back to the Park and Ride. One of the problems with Park and Ride is that you don't get back on the bus at the same place you got off. It took us a while to figure out how to get back, but shear ingenuity and team work prevailed.
Day 4-Lichfield-To accommodates everyone we rented a Vauxhall Vectra and headed for Lichfield with a full agenda. The first stop was Shardlow and the Malt Shovel, a pub on the banks of the Trent-Mersey canal where our friend John Rooks owns a long boat. John and his wife, Patty, treated us to a canal boat trip taking us through a range of locks into the River Trent and ultimately to the Trent Navigation pub for lunch.
Along the way we experienced a wide variety of wildlife, and had our turns at operating the locks, and John even allowed Wes to pilot the boat for a while. Christian took on the task of naming all of the geese on the canal. At one point we watched a mother swan and her family get accosted by a large male. Initially we thought he was fighting her, but his real intentions became all too clear. No one on the boat had ever seen swans doing it.
Returning back to the dock in the afternoon, we all then met at John's home in Ticknall where Patty served us a genuine English tea with freshly caught trout, cheese, and strawberries.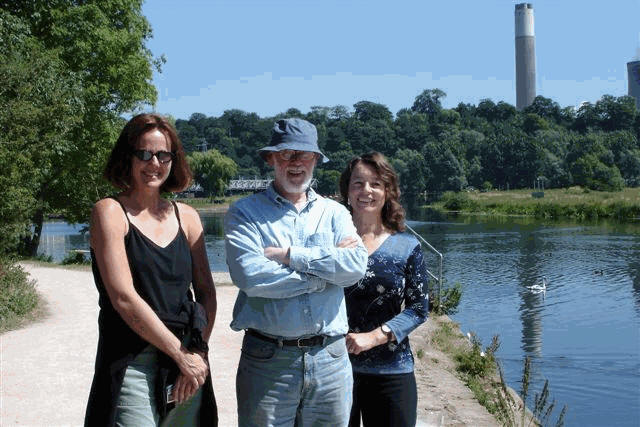 Kris, John, and Pauline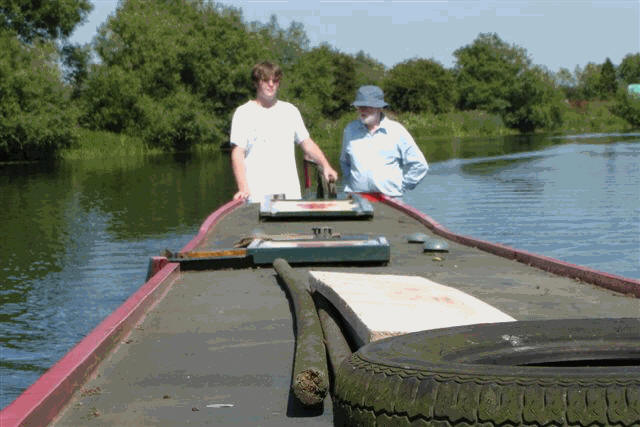 Wesley, the long boat pilot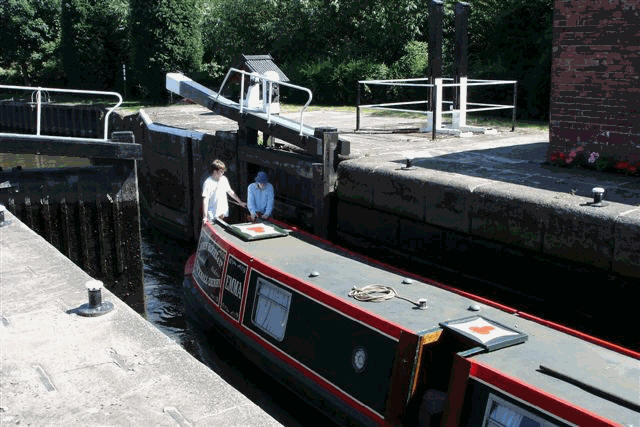 Wesley takes us through the lock
By this time we were running about an hour behind schedule since we still had to find and check in a hotel in Lichfield where we would attend a concert in the Lichfield Cathedral. To everyone's surprise I had managed to reserve rooms in the Angel Croft hotel, which is just across the street from Lichfield Cathedral. This was especially surprising since the ongoing music festival would normally have filled every hotel within driving range of Lichfield. It was my fifth try on the internet.
It was one of the hottest days of the summer and our rooms were like ovens. I could tell that the kids were a bit stunned by this 200-year-old hotel, and I overheard comparisons with a Holiday Inn. "The floors aren't even level! The shower just dribbles", and so on. I had been a bit blessed by my ignorance in thinking that the concert was to begin at 8 PM.
When we walked in the door at 7:20 I was ready to take someone exploring. Then I discovered that the start time was 7:30 and not 8. Finally I realized why Pauline had been panicking with each wrong turn we had made in finding our way through the one way system in Lichfield to our hotel. Fortunately, John had come earlier and saved us good seats near the front.
The Scottish Ensemble performed a piece known as "The Eight Seasons", which is a wonderful mix of Vivaldi's well-known piece with "The Four Seasons of Buenos Aires by Astor Piazzolla. This combination of traditional and modern music recognizes that at any time in the year two seasons are in progress in the world simultaneously. There is no better way to experience music than in the ambiance of a 600-year-old cathedral.
After the concert and a brief tour of the cathedral, I seemed to be the only one with energy left to walk the town.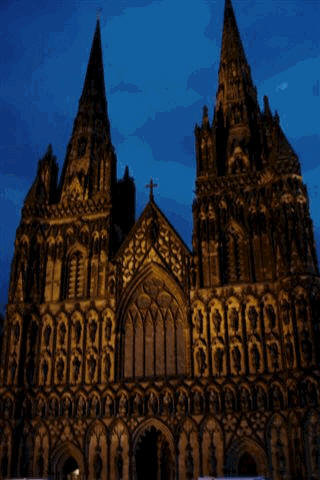 Lichfield Cathedral at night
Day 5-Warwick-It has been said (jokingly) that if you must eat in England, then try and eat breakfast three meals a day. We began the day with a full English breakfast, which includes toast, eggs, tomatoes, bacon, sausage, black (blood) pudding, cereal, fruit, coffee (or tea) and juice. Wes and Christian tried everything, and to my surprise seemed more or less to enjoy it all. Before heading on to Warwick, we took a quick walk around Lichfield, which is one of those many wonderful, old English towns with a lot of pedestrian streets. Everyone managed to do a little shopping and purchasing something.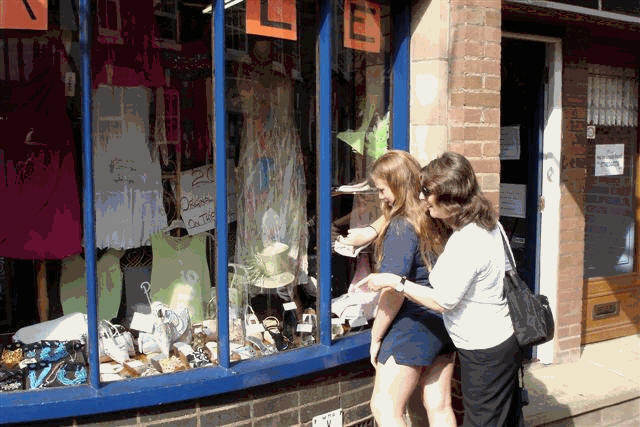 Pauline and Christian window-shopping in Lichfield
As we passed the lake near the cathedral we stopped to watch a mother duck teaching her children the art of swimming. There is nothing more touching or cuter than a family of ducks.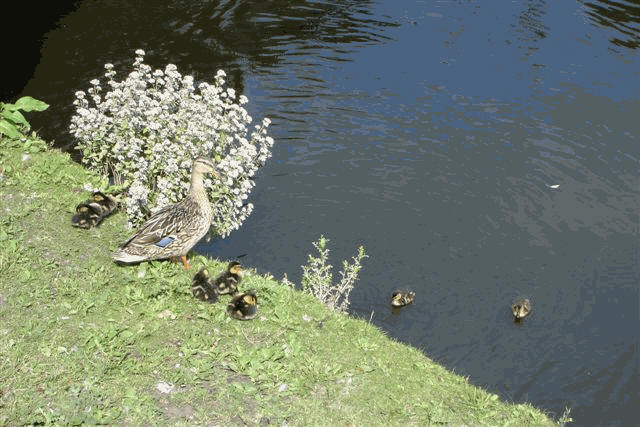 A family of ducks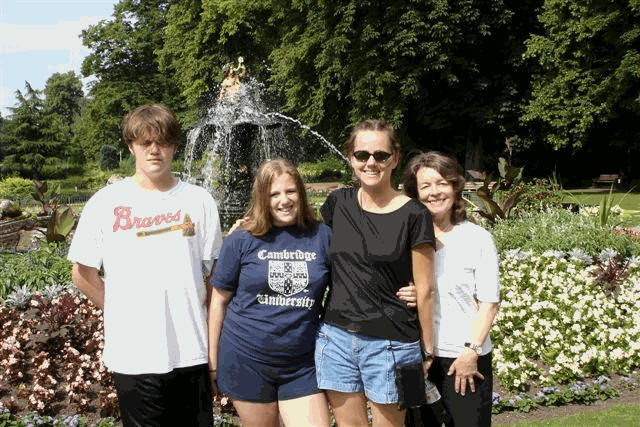 Flower garden in Lichfield
Warwick turned out to be the highlight of the trip for Wesley and Christian as one might guess. The castle is loaded with fun things to do and see. We did them all, including the dungeon, torture room, the castle, and a few shows. I sat on a bench and painted while the rest of the troops climbed the walls and tower. The shows included a trebuchet demonstration, in which a catapult like machine launched a large stone down a football field. These devices were used to launch everything from dead animals, fire, the heads of the enemy, and even an envoy who had carried a message that was rejected. We finished the day at a bow an arrow demonstration during which a bowman dressed in period attire told gory stories and explained the design of various arrow tips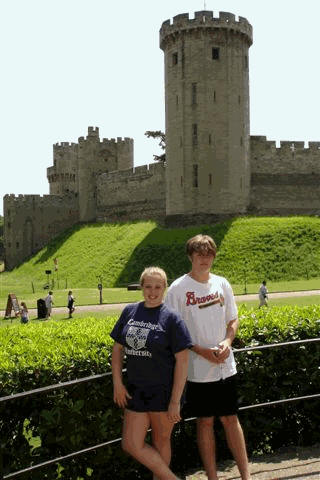 Warwick Castle. They climbed that tower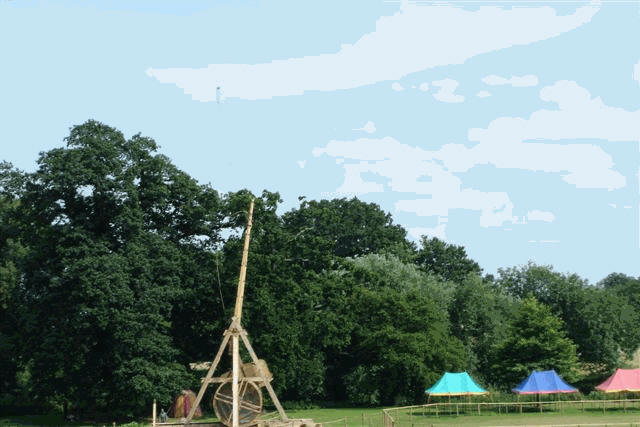 Demonstration of the trebuchet. See the rock being slung 200 meters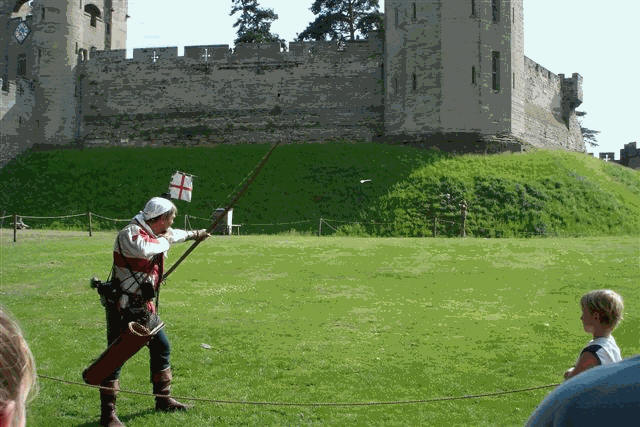 Bow and arrow demonstrations. See the arrow in flight.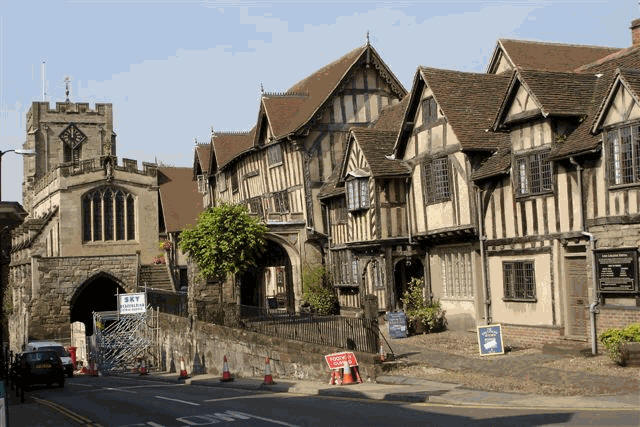 Down town Warwick
We spent the night in a local B&B, which was a little cooler than the Angel Croft Hotel.
Day 6-Stratford Upon Avon-We began our Stratford visit with a walk along the Avon, where we stopped for tea before heading on to the Parish Church where Shakespeare is buried. After a brief visit there we stopped off in the gardens along Street with the plan of being in this peaceful place at 1 PM. This hour had been set aside for the entire country to reflect in silence and pay homage to the victims of the 7 July bombing. It was a very special moment when the entire nation joined in a silent unity. The period began with church bells at 1 PM and ended with bells again.
Afterwards, we continued our walk to Shakespeare's birthplace, which is located along a pedestrian street. After lunch and a bit more shopping, we headed for home.
Shakespeare's Grave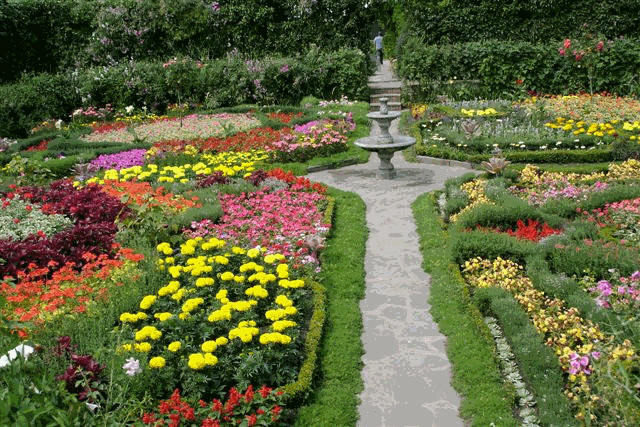 Flower garden in Stratford where we observed the two minute silence.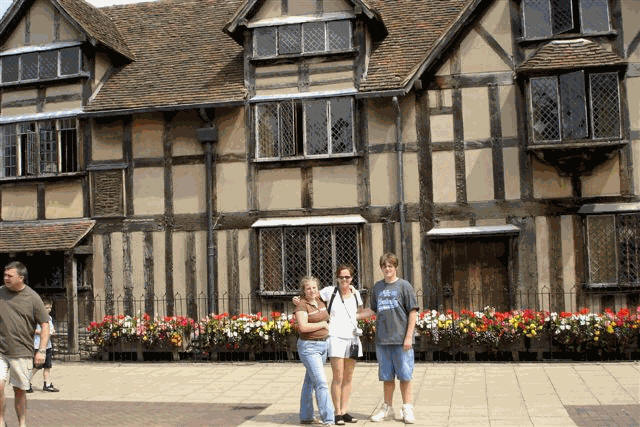 Shakespeare's birthplace
Day 7-Back to London-We had reserved the last day for a tour bus ride and a musical in London. My strategy was to spend a few hours with casual touring without wearing anyone out before winding up at the New London Theater, where we would see Joseph and His Technicolor Dreamcoat. This would be a bit of a challenge if we avoided tubes, but I reasoned that we could stay on the tour bus until it came close to the theatre at the appropriate time. I seriously misjudged the timing however and the plan failed to take into account several important factors. One must was a visit to Harrods. Using Google Maps, I located Harrods, or at least I thought I did. Later, I realized that Google Maps place arrows on their maps locating their sponsors. The arrow I was following was not the arrow locating Harrods, but a locator for Burger King, Boy was I surprised after we left the tour bus, walked half a mile and found instead of Harrod's, the Burger King. Finding the tour bus again and locating Harrods took time I had not accounted for. To make matters worse, the tour bus that went by Harrods was not a bus that would take us anywhere near the theater.
I was glad we worked in Harrods. Especially Christian had a total field day shopping in the "Arcade". We all bought something. Now we had to walk back to the correct tour bus. We were running out of time, and we had not eaten since breakfast. We took the tour bus as far as Trafalgar Square, where I realized that the only way we could make it would be to walk from here, about half a mile.
We arrived at the theatre with about 20 minutes to spare, with everyone exhausted. We ducked into a newsstand and bought sandwiches and drinks for everyone, and wolfed them down in ten minutes before entering the theatre.
Pauline had gotten us great seats. We noticed that the theatre was about half full, probably a result of people avoiding the city.
I had first seen Joseph about 15 years earlier in London. I was totally blown away by the production, especially the music. Since then I had seen it twice more and enjoyed it almost as much. I began to worry with the opening music, which sounded like a recording, not a live band. They had replaced the orchestra with a single keyboard. I must say that I did enjoy the musical again, but I have to add that I did not get the cold chills and thrills I had felt before. The singers and dancers were great; the children were great; the lyrics are great, replacing the orchestra with a keyboard totally sucks. I am very sad to know that people will no longer see the spectacular musical in London that I had so enjoyed before.
After the play, we had to get back to the Blackfriars station. Traveling in the city with many tube lines closed had become hectic because empty taxis were now rare. To my great surprise a taxi pulled up near the curb where Christian was standing. Various groups raced to see if they could capture this one, but Christian stood at the taxi window. The driver asked her if she wanted a taxis and she said yes. We all piled in and were at the station in minutes.
The last day had been a mixture of success and failures. The experiences were mostly good, but sadly, it was not our best day.
I made one more miscalculation with planning. A few years ago I had arrived at the London Airport only to discover that British Airlines had cancelled our flight, requiring us to wait seven hours in the airport for the next flight. I felt really ashamed of myself for not making a simple check before heading to the airport, which I usually do. Unfortunately, I made the same mistake again. After putting Kris and the kids on the train to the airport, I checked the British Airways web page and discovered that the flight had been cancelled. I could see that their only option would be to leave from Heathrow instead of Gatwick, which is an hour's bus ride. I knew then that they were in for a really trying trip. It turned out to be even worse than I had guessed and it took them until the next day to get home. But they made it like real troopers, with teamwork and persistence, and came out stronger travelers in the end.
I hope that I have learned my lesson about checking flights before heading to the airport. Not that it would have made it much easier, but it certainly would have removed some uncertainty from their return trip.