Inside England - Volume 2
2006
I enjoy showing visitors around England and observing their varying reactions to what they experience; Pauline and I are regularly blessed with visits from our USA friends and relatives each summer. I take a survey at the end of each visit to see what adventures really made a hit and which ones should be down rated. How differently people can see the same country and how their preferences differ from my own is surprising. One thing is for sure - no one finds in England what they had expected.
A few things are on the tourist must see list; London, cathedral cities, picturesque villages, the English countryside, stately homes, gardens, ancient and historical sites and ruins, castles and forts, pubs, university cities, and, of course the English people. Here is a thumbnail sketch of each of these.
1. London: The best way to explore London is on foot, but a bus tour ride on the upper deck is the lazy man's way to get an overview. Saint Paul's Cathedral, the London Eye, Big Ben, Houses of Parliament, Westminster Abbey, Ten Downing Street, the Horse Guards, Trafalgar Square, the National Gallery, the Tower of London, the British Museum, Buckingham Palace, and a visit to a London theatre comprise a brief list of must do's. So, even though a lot can be done in a day, a person really needs a few days in London. But the extra days should not be at the expense of missing the best part of England, which is outside of London.
2. Cathedral Cities: So far I have visited 25 cathedral cities and cathedrals in England, some of them many times, with nearly 25 left to go. They are all magnificent and all worth several days if one could swing it. You can spend an hour in a cathedral or a day or more if you climb the tower, absorb the exhibits, visit the treasury, and have tea in the teashop. All of the cities I have visited warrant another day just walking the streets and absorbing the history. Some of them, like York and Chichester have ancient walls surrounding the city that can be walked in an hour or less. In fact, you can walk all over most cathedral cities in an hour or so, not counting for time having a pint or two in one of the local pubs.
3. Ancient and historical sites and ruins: Stonehenge is the most famous, and there are hundreds more like it that get much less press. In fact, there are ancient stone circles all over England, some of which you can have all to yourself. Ruins of castles and abbeys can be found in all parts of the country, many of them worth a special visit. If anyone tells you he has seen all the ruins in England, he is lying.
4. Picturesque Villages, the country side, stately homes, gardens: These can be found sprinkled all over the country, and one would have no chance of even seeing a fraction of them in a lifetime. For the best of these you really need a car unless you are prepared to take one of the bus tours that hit the favorite tourist haunts.
5. Castles and forts: While there are many, some, like Warwick, have been restored and make great tourist attractions, like medieval Disneylands with people working away making pots, food, and, of course, weapons. On some days, some of these have an entire population with period people walking around interacting, and talking in the old English dialect.
6. Pubs: You haven't been to England until you have sampled a few pub meals and drunk a pint of English ale at the bar.
7. University Cities: While England has many university towns, Oxford and Cambridge are the best two to visit. Each is unique in its own way and requires at least a day or two for a decent visit.
5. Other: If you have read Inside England part I, you know that the above is just a beginning, and that some of my favorite things in England are not the usual tourist attractions. Examples are scarecrow contests, public footpaths, Morris dances, glow worm hunts, and open gardens. We usually manage to fit some of those in as well. These are discussed in more detail in Part I.
A really "good" tourist can probably sample this in a two weeks vacation, but I can't guarantee how much he could actually absorb. During a recent visit by our friend Ian Armstrong we relaxed and even violated some of the WWT rules to see how much we could fit in to Ian's 14 day visit and give him a good overall look at England. One of our first tasks was to convince him that there would not be enough time to also include Paris, Scotland, Ireland, and Wales during this visit. Using Ian's visit, mixed with some experiences of other visitors, I present a chronicle of sorts to describe our experience of sharing England with visitors.
Ian had expressed a strong interest in getting into the "soul" of England. He wanted to "become" English to whatever extent possible during his visit. More than simple pleasure, Ian wanted to take home knowledge, language, memories, and experience. He wanted to learn the language, walk to the local pub for a pint, drive the highways, meet the people, and feel confident on his own. I think that, short of learning the language, he got what he wanted out of his visit. See what you think.Thursday: Day One
We met a jet-lagged Ian at London's Heathrow airport just after noon after an eleven hour overnight flight; he had already lost a day in traveling and time zones. We had to partially disassemble our small car boot (i.e. trunk) just to fit in the large bag he had brought along. He must have barely made it under the new weight limits, thanks to a 10 pound laptop he had packed.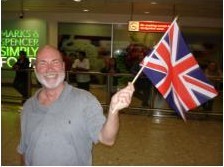 A jett-lagged Ian arrives at London Heathrow
During the first day a tourist will fall asleep any time he sits still for a while. Therefore, it is important to keep him moving and mostly awake until at least nine P.M., not place any energy demands on him, and not expose him to anything really too complicated. In other words, at this stage, he more like a zombie that a human. When handled properly, jet lag can be overcome and a person can feel almost normal on the second day. The first day is often accompanied by an unexplained depression. One asks, "Why the hell did I come here? Why on earth did I choose to make this trip?" Ian was no exception here and the knowledge that this is not unusual seemed to help.
After a cup of tea and a biscuit (cookie), we set out on foot, walking along the River Flitt to the parish church of St Peter and St Paul, which is about a mile away. The path passes through a forest of mayflowers, a horse pasture, under the railroad tracks, past a number of ancient homes, including Flitwick Manor, where Pauline and I were married, then to the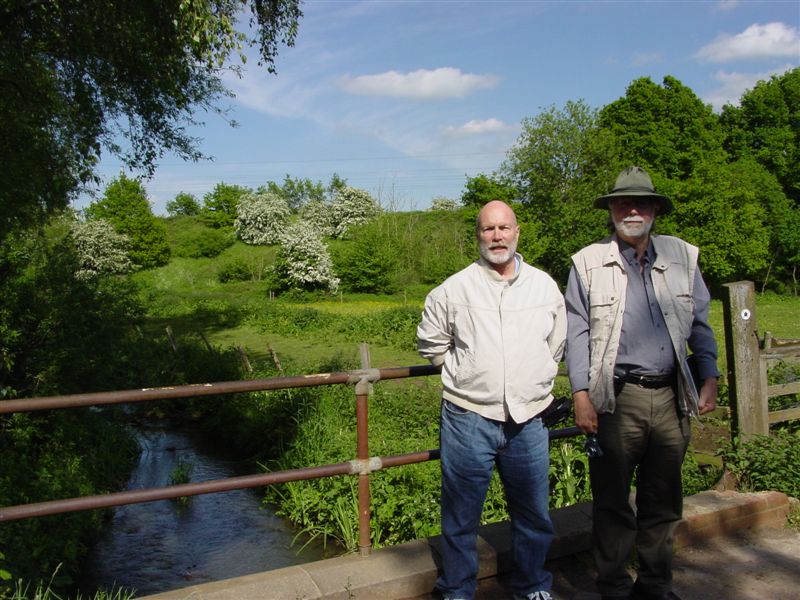 Walking the River Flit-Notice Mayflowers in the background
tiny l3th century church. A plaque on the wall inside names each of its vicars back to the year 1225. Pauline took the opportunity to visit relatives in the graveyard; we all marveled at the large holly tree growing right in the middle of Auntie Enid's grave. The English bury people without a protective vault, so caskets rot fast and cave in returning the people to the soil quickly. (Makes a lot of sense doesn't it?) We figured that the holly tree has a lot of Auntie Enid's DNA in it. While Ian and Pauline became engrossed in a conversation with a local historian, who was archiving the cemetery, I sketched Auntie Enid in her new form as a holly tree.
Ian's inquisitiveness was amazing, with questions and comments about so many things I had not even noticed; questions came without end. Since just about everything in England looks different than its counterpart in the U.S., questions are easy to come by. I am talking about things that run from the mundane to the magnificent.
"What is that thing?"
"A trashcan".
"How long does it take for you to get comfortable with driving on the left side of the road?"
"For Pauline, a few minutes; for me…….forever."
We picked up fish and chips at a local fish shop and Pauline's sister, Alison, and her husband, Colin joined us to add Englishness to the meal. "Great, I thought. Now they can deal with the questions for a while."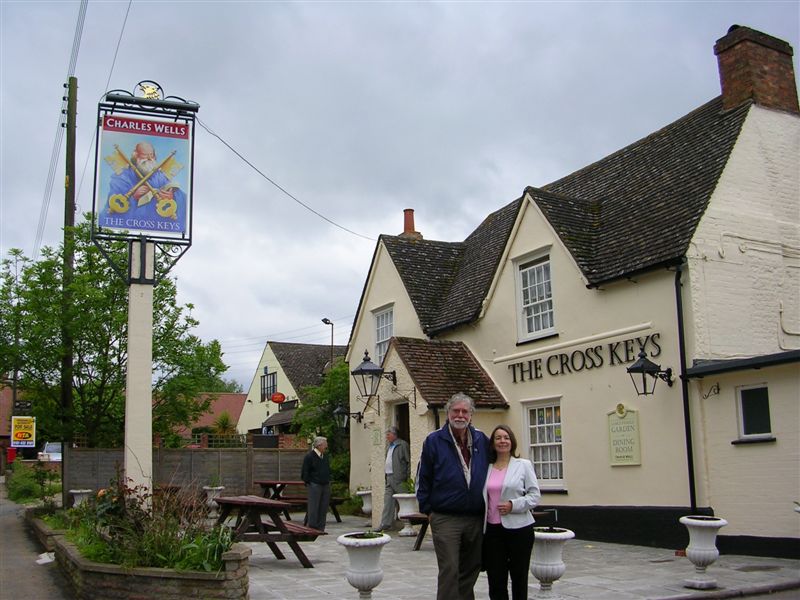 Our favorite local pub in Pulloxhill
Friday: Day Two
After the first near sleepless night, Ian took my advice and used Melatonin, which allowed him to sleep like a baby from then on.
We raised the energy level a bit beginning with a walk to the Flitwick market place and village stores, where we picked up fruit and vegetables for the week. Next was a visit to the local bank to get British pounds from a machine using a credit card, then off to a pub lunch at the Cross Keys in nearby Pulloxhill. The Cross Keys is one of our favorite lunch places, not only because they offer a "pensioners' lunch" and good food, but also because the owner, Peter, knows us well and adds to the experience. He loves to tell the history of his 500 year old pub. "My pub is older than your country." he comments. Occasionally he takes one of our visitors down into his cellar to show how he taps a new keg of beer.
People who complain about English food apparently haven't eaten at a good pub. It is more like eating in someone's home. We ordered pints of the stoutest English ale with lunch, and I could see Ian's shocked expression when he discovered the beer was not ice cold. It took him about a week to realize that it tastes better that way. People who talk about the English "warm" beer are exaggerating. The beer is the temperature of Peter's cellar, which is quite cool, but not so cold that it freezes the taste buds into oblivion. Apparently Americans prefer to feel the freezing liquid than to actually taste it. After a few months in England one can see why you need to drink a watery Budweiser ice cold, because it feels a lot better than it tastes.
Visitors are always amazed to discover what a real pub (short for public house) is like. Recent visitors, Mike and Joe, had been to England several times, but amazingly had never been in a pub. Peter's Cross Keys was one of the highlights of their visit. Peter welcomed us at the door with a friendly greeting. After ordering lamb and new potatoes from the specials blackboard, we sat in the bar next to a little old lady at the table next to us. Peter's wife, Sheila, joined her to discuss what she could fix her for lunch, totally disregarding the menu and treating her more like a family visitor than a customer. Joe was totally fascinated with the whole pub concept, which is like nothing that exists in the US.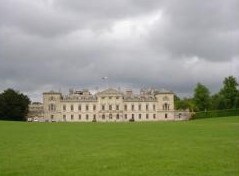 Woburn Abbey
From Pulloxhill we drove through Flitton, a quaint little village with a street of thatched roof houses looking more like a Hollywood movie set than a real country village. We s stopped long enough to take pictures and enjoy the old church. From there we drove around the walled estate of the Duke of Bedford through the Georgian town of Woburn and on to the 5000 acre Woburn Abbey estate, which is the home of the duke.

Rhododendron on Woburn Estate
Passing hundreds of deer and walls of rhododendron, which was in full bloom, we entered the drive to the abbey, which would qualify as Ian's stately home visit. Our first stop was in the tea shop, and then while Ian and Pauline toured the home, I painted. The home is huge. containing more classical paintings than many art galleries. In one room filled with Canalettos, Pauline commented to Ian that this was the Duke's Canaletto collection. A docent corrected her. "This is not actually a collection. The Duke commissioned these paintings from Canaletto himself." We had just time left for a quick visit to the local pottery and shops and then back to Flitwick.
We ended the day with a walk in Flitwick Moor, past the old Flitwick Mill and along the River Flitt. The moor was surrounded by walls of white of the mayflower, which was in full bloom. The grasslands were carpeted with buttercups, and a hundred varieties of wild flowers were sprinkled through the two mile walk. Ian was holding up well. He slept an interrupted eight hours that night.
Day three-Saturday
We boarded the train at Flitwick Station just after the reduced rates kicked in and took the 45 minute ride into London, emerging at the City Thameslink Station, which is adjacent to the towering St. Paul's Cathedral. There is a lot to see in the cathedral, not the least of which is to visit the tombs of many famous people in the crypt, such as Lord Nelson, Florence Nightingale, Lawrence of Arabia, and the artist, Turner. Ian spent an hour and a half in the Cathedral, while I painted it from the Millennium Bridge. We walked over the bridge and into the Tate Modern for a quick look at one of the best modern art galleries in the world. Just as we entered, a drizzling rain turned into a torrential downpour.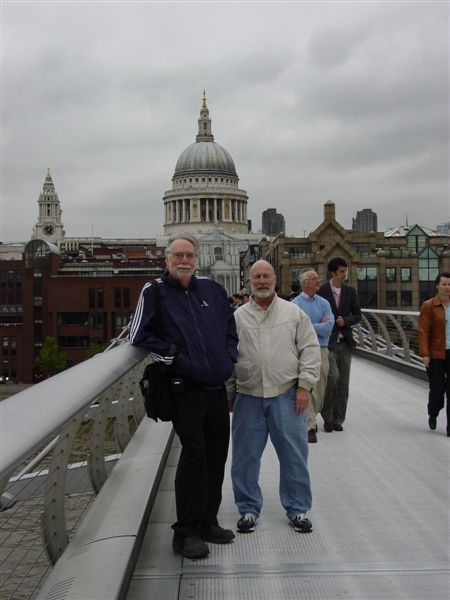 Crossing the Millenium Bridge-Notice St. Peters Cathedral in the background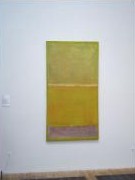 Mark Rothko Painting in the Tate Modern.
The Tate Modern always gets a high rating from tourists. As usual, a special show was being conducted in the large open area, and we could have spent a day just there. But we had allowed only for a quick walk through, and I wanted to show Ian some minimalism and some of the absurd work by the YBA's or Young British Artists. This is where art pushes our credibility to the limit. In this gallery, on more than one occasion, the janitors had swept an art exhibit into the trash bin simply because they were convinced it was trash. It is pretty obvious why they won't let you take photos of these paintings. If people saw photos of them, they wouldn't bother to come and look at them. How did I get the photo here? I'll never tell.
The Tate Modern also has an amazing collection of stuff by artists such as Picasso, Brach, Matisse, and Gauguin. We had planned to have lunch in the gallery cafe, but the rains had brought herds of people into the gallery and the restaurants were like zoos. Since we had scheduled a London Eye ride at 2:30 we moved on.
The 20 minute walk from The Tate to the London Eye along The Queen's Way is normally filled with entertainers of every variety, and one can spend hours strolling along and being entertained. Today, only a few hardcore mimes braved the rain, so we moved along quickly in the steady rain. Being a mime in the rain looks like really hard work.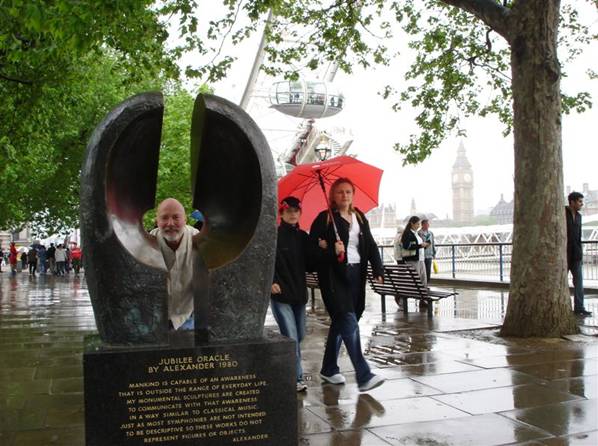 Walking along the Queens Way. Notice Big Ben and the London Eye in the background.
In addition to trash, the Tate Modern also has an amazing collection of more reasonable stuff by artists such as Picasso, Brach, Matisse, and Gaugin. We had planned to have lunch in the gallery cafe, but the rains had brought herds of people into the gallery and the restaurants were like zoos. Since we had scheduled a London Eye ride at 2:30 we moved on.
Droplets on the London Eye window. Each droplet contains an image of Big Ben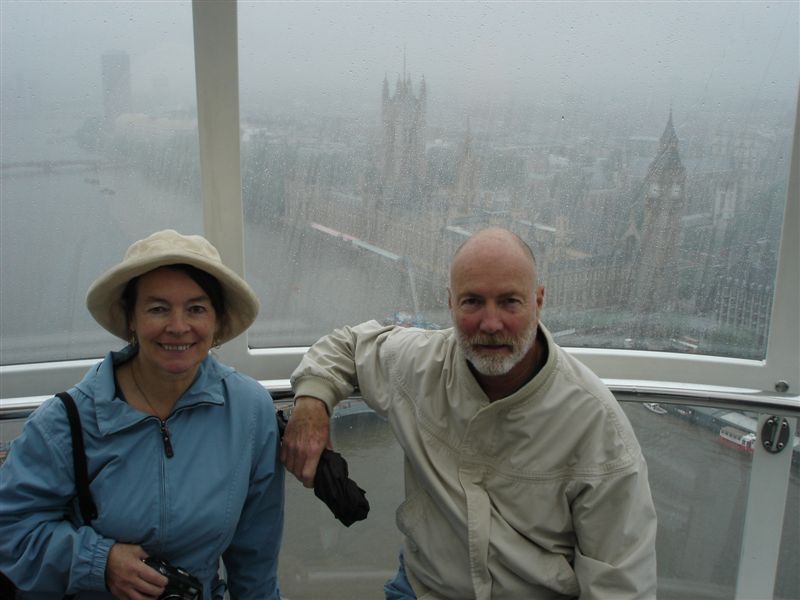 London Eye in the Rain
Images of Big Ben in the Raindrops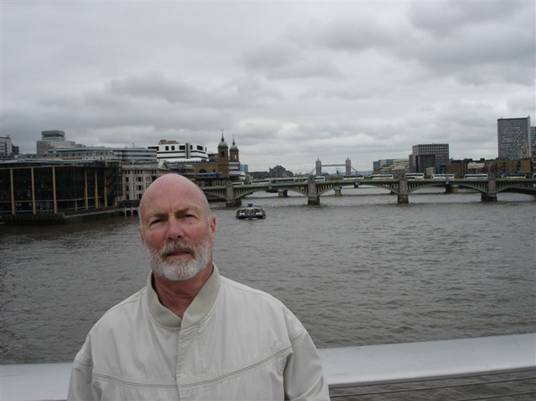 Crossing over to the House of Parliament-Notice the Tower Bridge in the background.
The 20 minute walk from The Tate to the London Eye along The Queen's Way is normally filled with entertainers of every variety, and one can spend hours strolling along and being entertained. Today, only a few hardcore mimes braved the rain, so we moved along quickly in the steady rain. Being a mime in the rain looks like really hard work.
I had barely allowed time to make our scheduled London Eye 'flight', so it was good thing that we had postponed lunch. We picked up the tickets, joined a fairly short line, and boarded our cabin on time. Doing the London Eye in the rain is a different experience. The transparent plastic cabins hold a dozen people and provide excellent views of London in every direction. The normal, extraordinary visibility was reduced so that we could not see much beyond Big Ben. Watching the water droplets sliding around the rounded plastic shell of our cabin added interest to the event, and Pauline produced a few good bubble photographs showing Big Ben imaged in raindrops on the window. The London Eye is fun even in a downpour.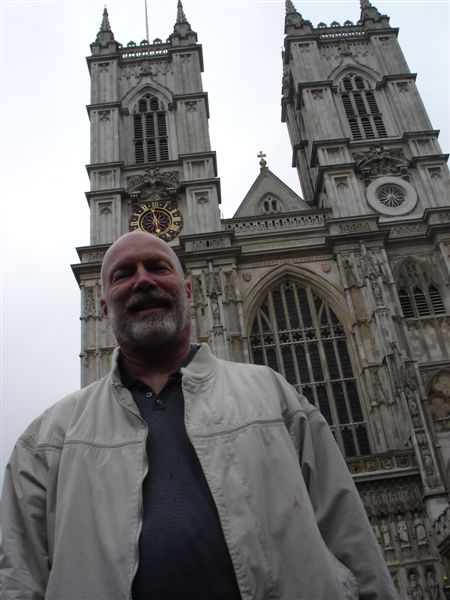 Westminster Abbey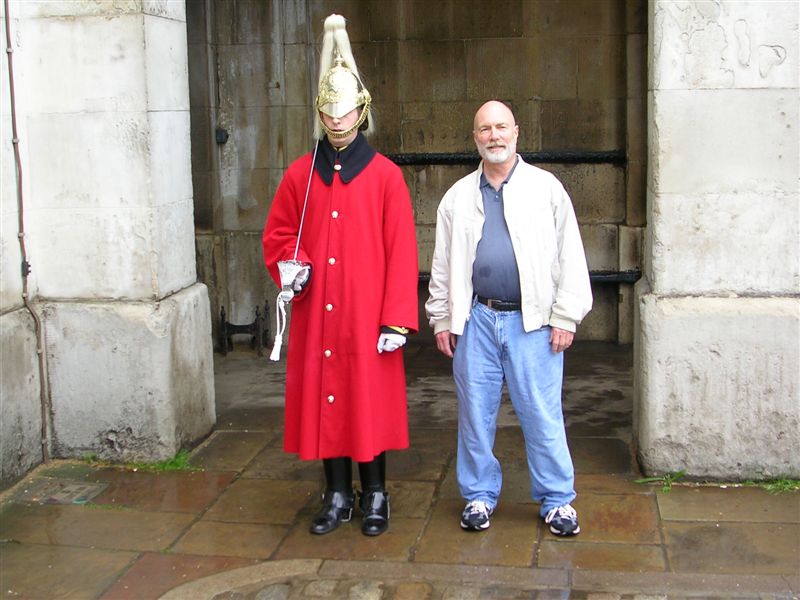 Horseguards
Westminster AbbeyBy now we were starving. I presented Ian with a choice of all the sandwich shops we could see from the London Eye or a good pub across the river that I had remembered from a previous rain filled trip. In characteristic fashion he wisely held out for the pub. We dismounted into even heavier rain, and fighting our way through a sea of umbrella wielding tourists, crossed the Thames.
By the time we had finished lunch, the rain had nearly stopped and we continued our walk past Big Ben, the Houses of Parliament, Westminster Abbey, 10 Downing Street, Horse guards and on to Trafalgar Square and the National Gallery. It was after six and the gallery had closed. I offered Ian a few options to head for our train home and he chose the one that included Piccadilly Circus, which is also usually a crowd pleaser because it gives one a good look at the British youth hanging out in that neighborhood. From Piccadilly Circus a short tube ride took us back to the Kings Cross station and our train to Flitwick. Kings Cross was one of the stations bombed on July 7 last year.
It had been a long day, and we squeezed in everything we had planned but the National Gallery. Ian had learned how to deal with all of the necessary transportation methods, and his plan was to return to London on his own the following day to spend more time at places we had pointed out.
Sunday-Day Four
On Sunday, with his new traveling skills and knowledge of London, Ian found it straightforward to return and hit the spots we had missed.using the train, tube and buses. He had London in the palm of his hand. In one day he successfully hit the rest of the spots on the list. The only thing he had missed was Harrod's, which was the highlight of my grand daughter's visit to London, and which I had conveniently left out of the suggested agenda. London turned out to be one of Ian's most prized experiences, not only because it has an amazing concentration of interesting sites, but because he mastered a completely new system of transportation and mapping.
Monday and Tuesday-Days Five and six
Enough big city, it was time to do more outside London. From a lot of options, Ian had selected Stratford on Avon, and to make the trip even better we got tickets to see Romeo and Juliet performed by the Royal Shakespeare Company. If you think you have seen Romeo and Juliet enough already and you haven't seen it in Stratford, then think again. The RSC provided a unique interpretation with such acting skills that made it an entirely new experience.
Stratford Upon Avon-Henley Street across from Shakespeares home.
Stratford gave us our first chance to share the English B&B experience with Ian. We booked a B&B just off the main intersection at Stratford at about half the cost of a hotel. Every thing else, including parking, was better than a three star hotel, including a home-cooked English breakfast. It is said that if you have to eat in England, you should try and have breakfast three meals a day. This is mostly just a "cute" comment, since a full English breakfast three times a day would leave you with clogged arteries in about three weeks. A full English breakfast includes sausage, ham, eggs, beans, tomatoes, potatoes, mushrooms, toast, jam, coffee, juice, cereal, fruit, and, black pudding (a sausage made from lambs blood). Ian ate one of these every chance he got. I was afraid to ask him how much weight he had gained.
We walked along the Avon to the church where Shakespeare is buried. This church is where I usually send tourists while I paint. It was raining so hard I sketched the inside of the church while Ian paid respects to Shakespeare.
Stratford has nice public gardens, canal locks, ancient streets, Shakespeare's Birthplace, Anne Hathaway's home, and even an American monument. We took in about half of it the first day and finished it off by noon the next day before heading to Hidcote Manor Gardens. After lunch at Hidcote Manor, we wandered the spectacular gardens for a few hours in the sunny periods between showers. Well, actually, Ian walked and I found a good spot and painted. We headed back to Flitwick by five o'clock.
Wednesday-Day Seven
Ian set out for Brighton, on the South Coast, on his own to test his newly learned traveling skills. A train leaves for London and on to Brighton every fifteen minutes from Flitwick, a rather strange phenomenon to an American. To our great surprise he was up and gone not far past the crack of dawn, arriving in Brighton by 8 A.M. in time for…………. a full English breakfast. His only slip up in the system came about because we forgot to tell him that a train day pass does not include travel beyond London. So when he tried to leave the station at Brighton the gate froze, bells rang, and he had to cough up the extra fare. At least they were nice enough not to fine him.
Brighton is a fascinating (especially to an American) beach town. It is not what I usually think of as a beach; Brighton's beach is covered with two-inch-sized rocks instead of sand. Except for that and the near hurricane winds, it is much like Santa Monica beach, with a pier, many tourist shops, and a lot of weirdos. Not far from the beach is the Royal Pavilion, a King's summer palace, that has been restored and opened to tourists. Ian pretty much knocked off Brighton, except for the palace, by noon and was on his way back to London. I think the most fascinating thing he found about Brighton was the rocks on the beach. With his knowledge of the layout and transportation in London, he had the place in his pocket, and spent the rest of the day just wandering and gawking. (He saw the Rosetta Stone)
Thursday-Day Eight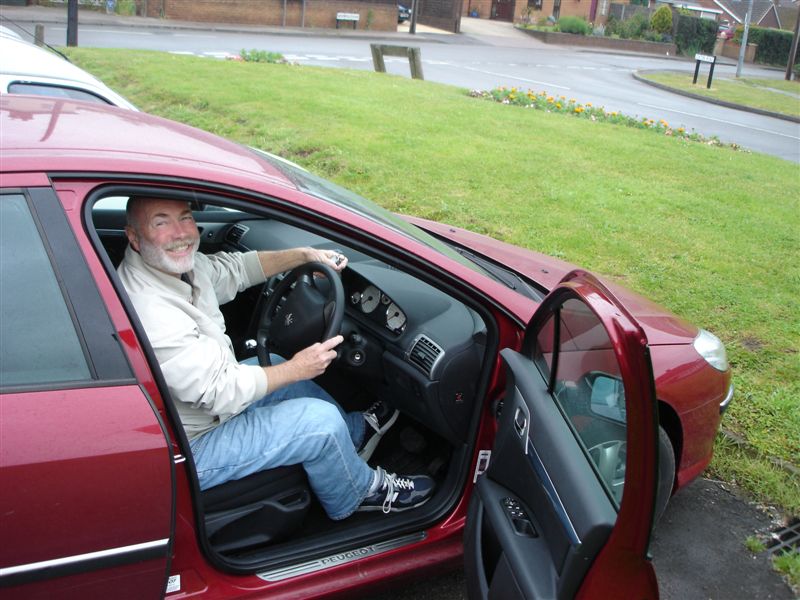 Driving on the Right?........Piece of Cake.................that is, upside down cake.
Ian wanted the experience of driving so he rented a car large enough for the three of us to travel comfortably. We picked up the car in nearby Bletchley, with Pauline driving us there and me risking my life on the way back riding with Ian.
Riding with a new driver in England is even more nerve wracking than driving in England for the first time. You never know quite how he will respond to the reversed world, but you can always expect something that makes you tighten your seat belt a notch or two tighter. One of my friends wrecked two rental cars in his first week in England. After that, for some reason they refused to rent him any more.
Ian's first problem was driving too close to the left curb. Roads are typically narrower in England, with not really enough room in places for two cars to fit. I kept warning him that he was too far to the left; I knew we would be in trouble when anything other than dirt and grass was on the left. And sure enough, the first time curbs appeared……..BAM! "What was that?"
"You are too far to the left; you are hitting the curbs."……..BAM !
I was relieved when we arrived home without taking out a pole, or worse yet, a car parked on the curb.
Ian took off the rest of the day to practice driving. We met for lunch at The Angel, a pub in Toddington. After lunch he followed a recommended scenic drive, where he could practice on his own. There he saw the more important sites around Flitwick, including a visit to the ruins of Houghton House in nearby Ampthill. Other than smashing over a few curbs he brought the car back without a scratch.
Friday-Day Nine
Armed with new driving skills, Ian headed off on his own for the day to visit Cambridge, which is about two hours drive away. We had made a list of possible, interesting things to do in Cambridge. Top attractions include:
1. The American Cemetery just East of Cambridge about a mile before the "Park and Ride" lot. Although cemeteries are not normally on my list of things one must do, this one is exceptional. Every one I have taken there was touched by the experience.
(A few old cities like Cambridge have set up a park and ride system whereby one can park outside the city and take a shuttle to the center of town. Because streets are so narrow, and traffic is such a mess, this is wise thing to do.)
2. Kings College Chapel; contains an amazing vault, a classic Titian and a good passage across the River Cam to "The Backs", a nice walk from which to view the colleges.
3. The Marketplace
4. Trinity College; with a chapel with classical paintings and sculptures, including life sized sculptures of Sir Isaac Newton, a past president of Trinity College and Francis Bacon.
5. Punting on the River Cam
6. Ancient streets lined with tea shops and pubs.
7. Interesting churches, galleries, and gardens.
A good tourist can do enough of these in a day's visit to feel like he is done with Cambridge. With a few exceptions, Ian came through with honors. One of the points of confusion for a new driver in England is that there are hundreds of ways to get somewhere, almost all of them full of cars. Road signs often say not only which town is next, but also, the main city after that. So many of the road signs along the main road to Cambridge might, for example, say turn here to get to Madingley and then Cambridge beyond that. Such a sign does not mean that you should turn here to get to Cambridge. It just means that Cambridge is still possible. Apparently Ian abandoned our directions after seeing a sign that included Cambridge and off he went, winding up in a completely different park and ride lot from the original plan. Other than missing the American Cemetery this was not a disaster. He made it into Cambridge and, with the exception of missing Isaac Newton's statue, which was just beyond a doorway that he did not know about and "The Backs", he covered the other sites, even including a visit to Auntie's Tea Shop.
Feeling good about his driving experiences, he would now be happy to let Pauline do most of the driving for a while.
Saturday-Day Ten
As a grand finale, we had planned a three and a half day sweep around South England. Fortunately, by now, the weather had started cooperating and we had continuous sunny days. We left for Oxford at "Crack of Dawn", which for me is about half past nine. We would allow about five hours for Oxford, just enough time for a visit to The Great Hall in Christchurch (of Harry Potter fame), a quick walk through the town, a visit to the Botanical Gardens, and a pub lunch. We were off to Lacock by three PM, which had us there by five.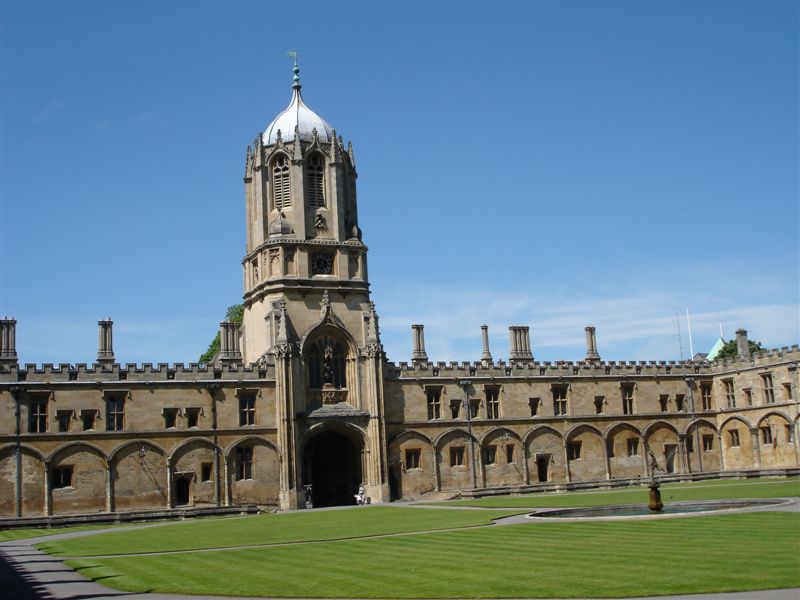 Christchurch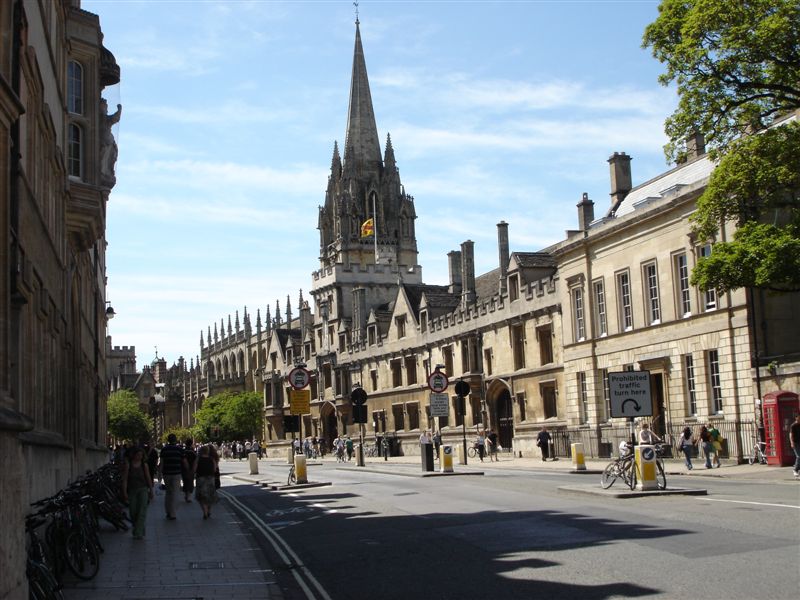 Oxford High Street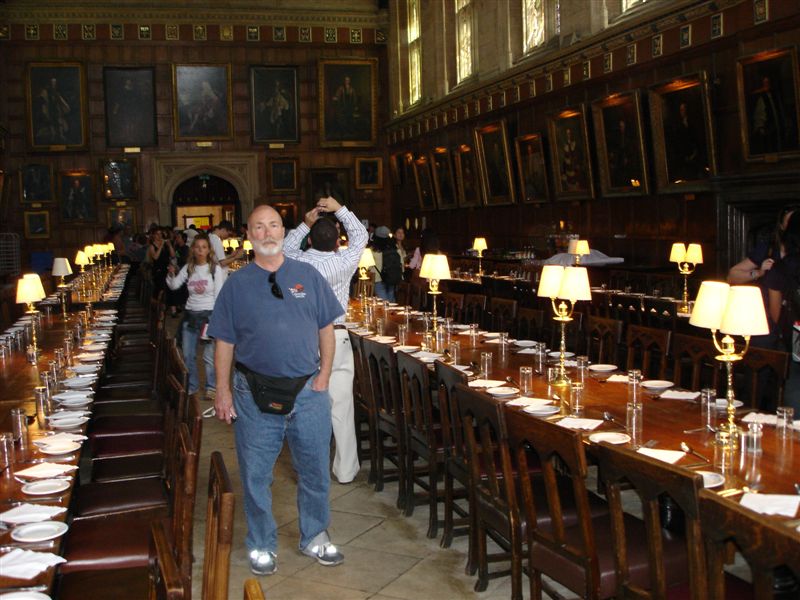 The Great Hall (Harry Potter)
We checked in at the Red Lion Inn, the main pub in Lacock, hit the streets, and made it just in time to see the ancient Lacock church before closing time. Our visiting window would prevent our seeing a few main features, Lacock Abbey, The Fox Talbot museum and the pottery shop, but the town itself, being a real working medieval village, offers a very special atmosphere in which to wander. We were able to show Ian the glass windows in Lacock Abbey where Henry Fox Talbot made the first ever photographic negative. We had scheduled dinner in the Red Lion pub, and it proved to be an excellent choice. By now Ian was swigging the "warm" British beer without comment. I could see that he would have trouble drinking the cold Bud back in the USA.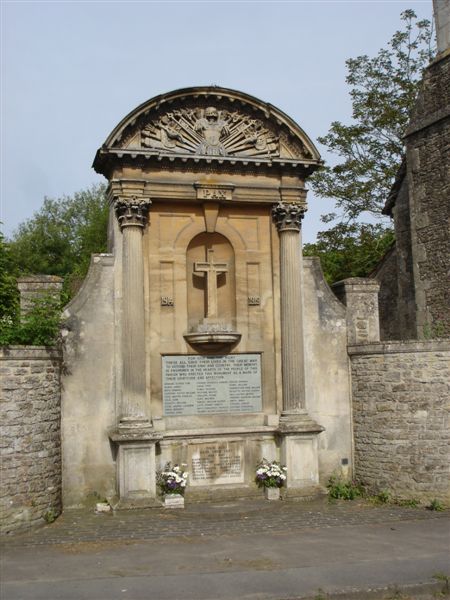 Monument listing the 30 men from Lacock who died in WWI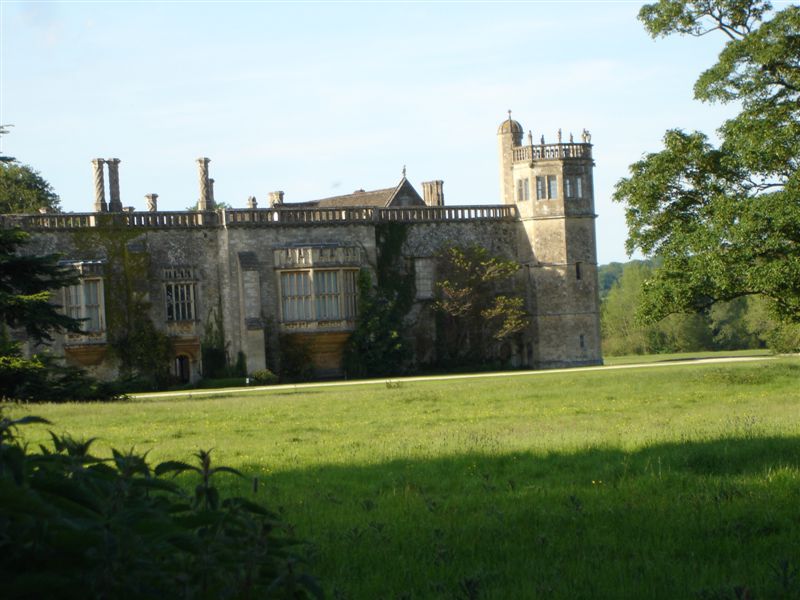 Lacock Abbey. The window in the center was the subject used by Henry Fox-Talbot to make the first photographic negative.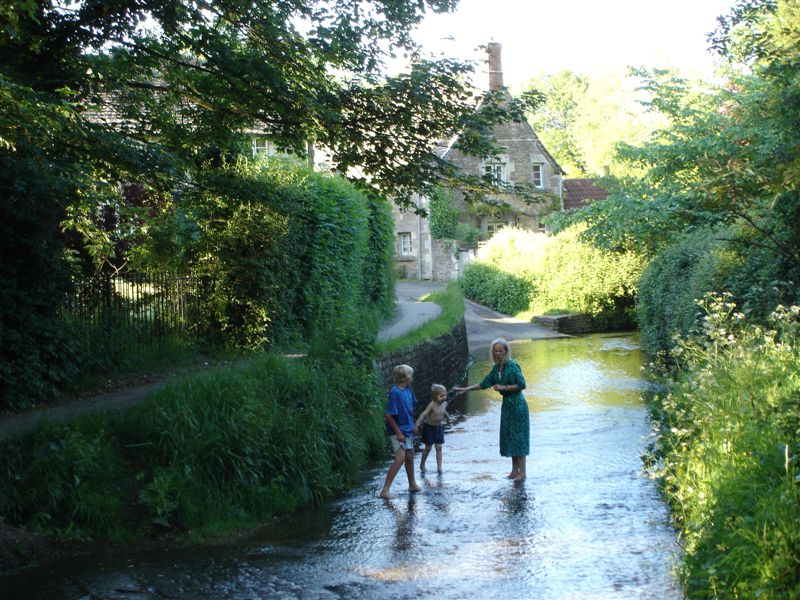 Ford across the stream in Lacock-I painted this scene.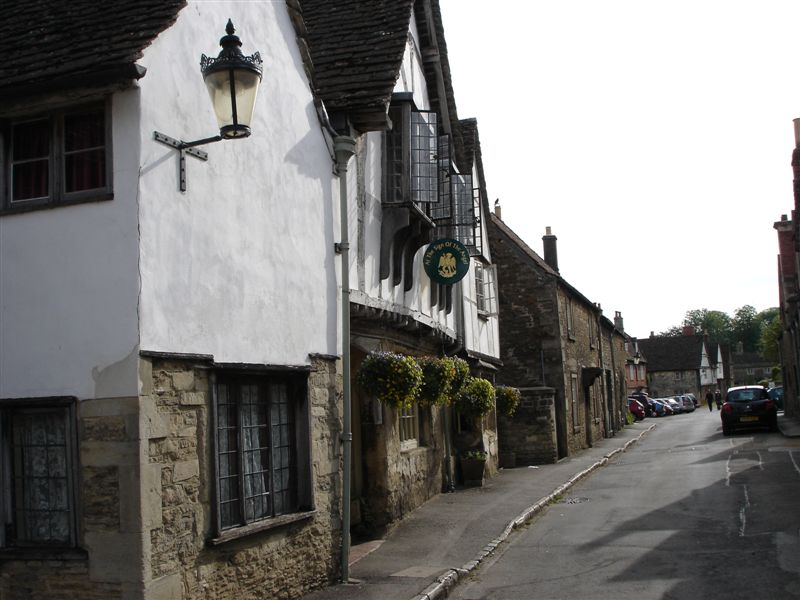 Lacock-The Sign of the Angel Inn
Sunday-Day Eleven
Our days on the road typically began with a full English breakfast at 8 AM; however, Ian, being an early riser, was usually up at 5 ready for a walk. During June, the sun rises at 5 AM and sets at 9:30, so this fit his schedule well. I couldn't resist an early morning walk in Lacock, myself, so I headed out around seven. The sun was in perfect position for photographing some of the ancient structures. One not so ancient monument, the World War I memorial, stood out for me that morning. I was stunned to see that 30 men from Lacock had died in that war. How could such a small village, whose population is less than 100, lose 30 men? After that I began to notice that every town had a similar monument showing a goodly percentage of the town population lost in World War I. Losses for World War II were always much smaller. Campaigns such as the Battle of the Somme, where the British lost 10, 000 men in a single charge partially explain this situation. Recognizing that World War I was brought on by not much more than a rather ridiculous family squabble makes this all the more tragic.
Arriving back at the hotel just before 8 AM, I passed Ian sitting outside that back entrance, which we had to use in off hours. He had emerged at five and locked himself outside the hotel, so he was glad to see someone who could get him back in.
One more full English breakfast and we were off to Bath. We took the narrow country roads passing through several small, picturesque villages. One of special note was called Box. We made a quick stop at a pub called The Bear at Box to photograph the pub sign.
We needed to finish off Bath by two PM so we could make Glastonbury before the Abbey closed. Parking the car on the north side of town we walked through the streets to the Roman baths, the cathedral, the river, and ended with a quick look at the Crescent. While Ian was spending an hour touring the baths, I sat in the quaint square in front of the baths and painted a violinist who entertained a small audience in the square. The beautiful cathedral, which is next door, has an unusual sculpture of angels climbing a ladder to heaven. I didn't need the ladder; I was already in heaven. Bath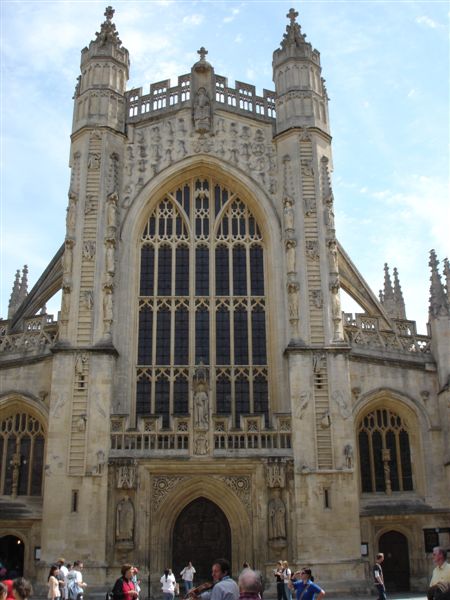 Bath Cathedral-Notice the angels climbing the ladders to heaven
Nearby we visited the most picturesque river scene in Bath where a dam has been constructed like an ellipse across the river and flower laden parks and gardens are open on both sides. For a few moments we watched a performance art group set up in the labyrinth that I had hoped we could walk. Such groups are rather commonplace fixtures in venues such as Bath. This group was tossing water-filled balloons high in the air and catching them in blankets, except of course when the occasional one would smash into the crowds or burst in the trees. This could have gotten interesting as it unfolded but our schedule told us to move on. Our last stop was the Crescent, an architectural marvel representing what is touted to be the most expensive real estate in England. We had done Bath in four hours.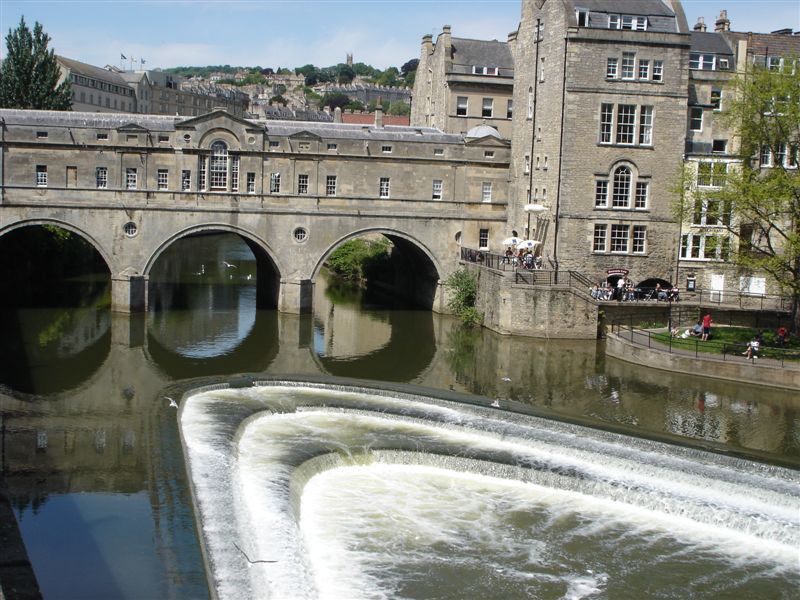 Bath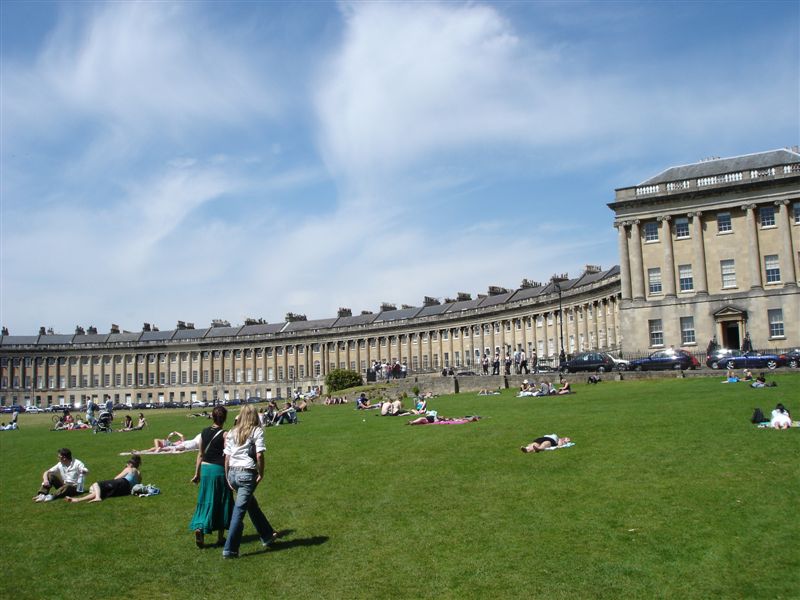 The Crescent at Bath, some of the most expensive real-estate in Europe expensive real-estate in Europe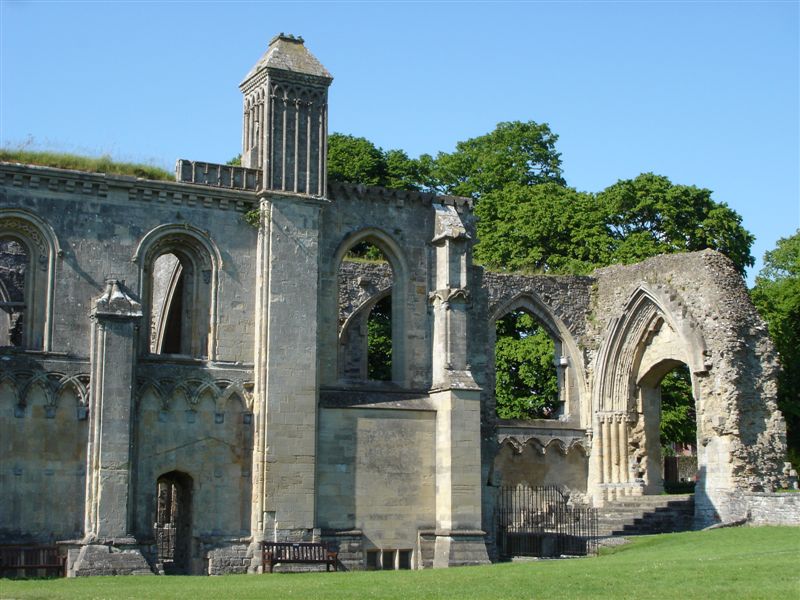 Glastonbury Abbey-I painted this scene while Ian was checking out King Author's grave.
We arrived in Glastonbury with time for tea and cake before heading into Glastonbury Abbey, which is a prime example of the legacy of Henry the Eighth. What was the longest and perhaps most spectacular cathedral in England is now in ruins, with the ghost of the abbot, who was hung on the front gate by good old Hank.
Glastonbury Abbey is a magical place, with many people sensing a special kind of time warp as they stroll about the ruins. One has the sensation that as you walk through some of the remaining arches, the world on the other side exists in a different time. I have heard many people express such feelings. I sat and painted as Pauline and Ian wandered around the grounds in awe until closing time. The grounds also feature the resting place of King Arthur. A disciple of King Arthur, dressed in a plain white robe, was performing some sort of ritual on his grave.
We would not have time to visit the famous Glastonbury Tor, which we could see, high on a hill side, but we made some more or less successful attempts at driving closer to get a better view before heading back to nearby Wells, where we had booked a B&B named Infield House on the edge of town. Since we had passed the B&B on the way to Glastonbury, we knew exactly where to find it, and we arrived there at 7PM. This gave us a time to do a quick walk around Wells and have a meal in a pub recommended to us by Mr. Infield.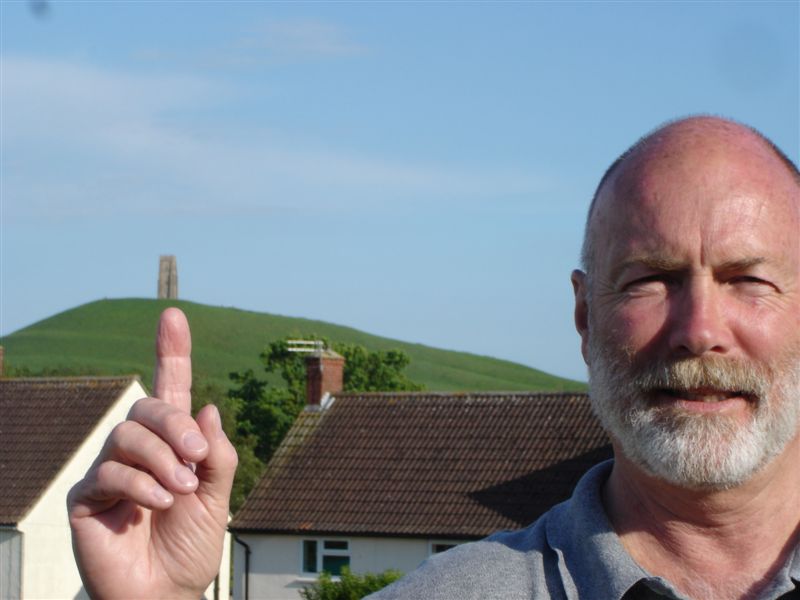 Ian points to the Glastonbury Tor
Monday-Day Twelve
As we met for breakfast, Ian was filled with excitement as he urged us to come to his room. From his bathroom window, through a wide gap between two houses across the street lay a perfect view of Glastonbury Tor. Wells Cathedral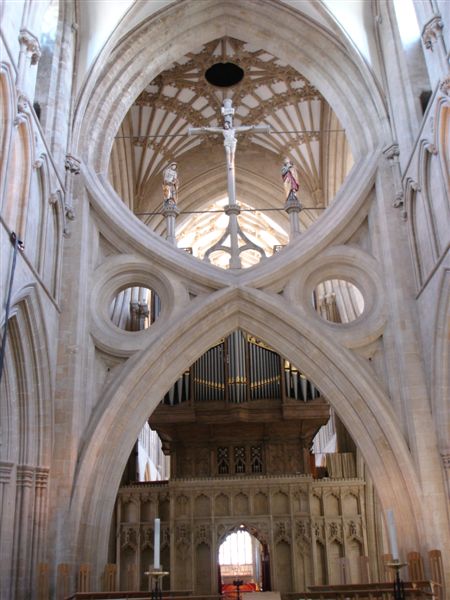 Scissors arch in Wells Cathedral
This day would be so busy that we had left open where we would spend the night. Our hope was to do Wells, Stonehenge, Salisbury, and Winchester before heading home the next day to return the car by 4PM on Day 13.
After a full English breakfast we visited Wells Cathedral, one of my favorites, and were strolling around Stonehenge by noon. Stonehenge is another one of those very mystical places, which unfortunately is now so over run with tourists that one really has to use imagination to properly experience this 5000 year-old marvel. I have read that the only good time to visit Stonehenge is at daybreak before the tourists arrive.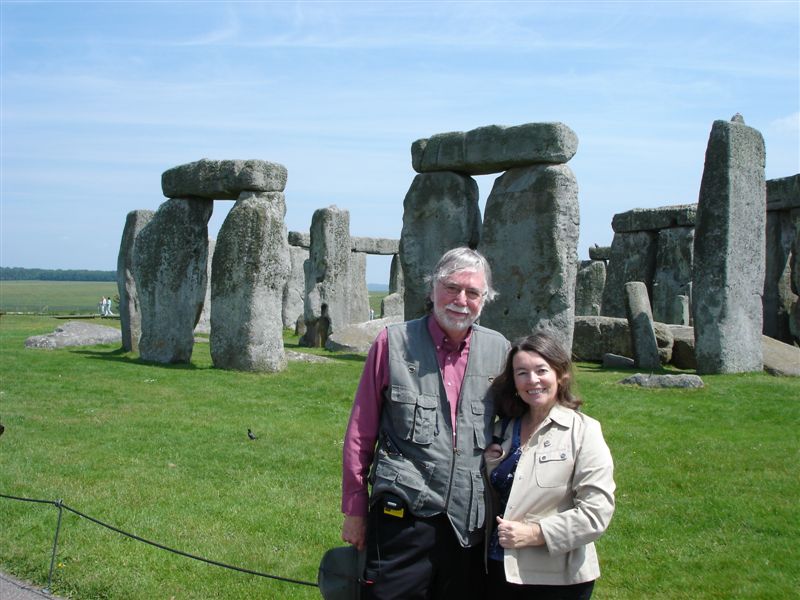 Stonehenge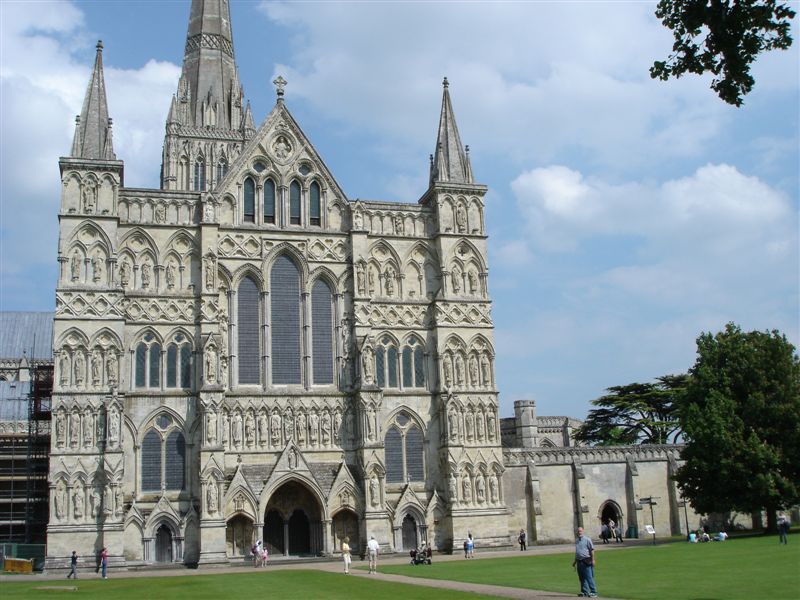 Salisbury Cathedral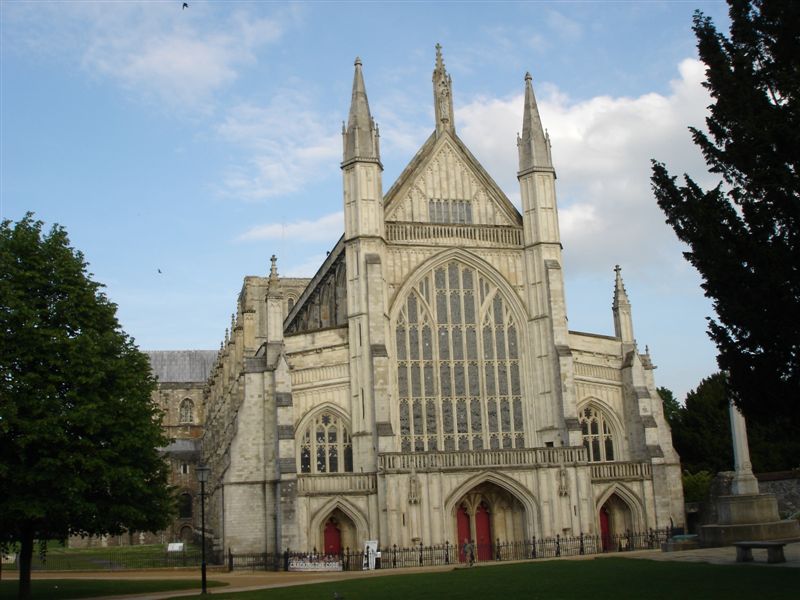 Winchester Cathedral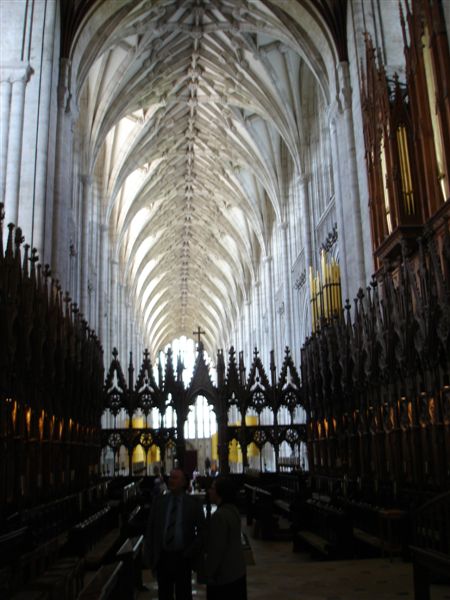 Vault in Winchester Cathedral
We then drove into Salisbury parking in the first large parking area that we encountered and walked through the town to the cathedral. I was tempted to stay outside and paint while Ian did the tour, but I am always seduced by the opportunity to see the best original copy of the Magna Carta in existence, which is located here. The cathedral is an architectural marvel itself. Like many churches in Europe, much of it is surrounded by scaffolding, with a 30 year renovation program now in its 7th year. Thirty years is not so bad when you realize that it took a couple of hundred years to build it in the first place.
A couple of hours in the cathedral gave us time for tea and then on to Winchester, which our careful time management had convinced us we could make in daylight. Anyone who is not familiar with cathedrals may wonder what one does in a cathedral that takes so much time. Each cathedral is unique. Salisbury cathedral has great sculptures, paintings, memorials, tombs, a tower tour, the Magna Carta, wonderful stained glass, great cloisters, and many chapels. It takes an hour just to walk through it without pausing to meditate anywhere.
We arrived in Winchester before six PM.
One has to be a bit gutsy to drive into and English town and just start looking for B&B's. I had given myself a little advantage by printing up a list of Winchester B&B's that I had found on 4Hotels.co.uk, one of the most useful web sites I have found in England. And I am quite familiar with Winchester so I knew when we were close enough to begin looking for B&B signs. Any B&B within sight of the cathedral would do. I began taking note of the names of side streets along the way in and correlated them with my list just in case we failed to see a B&B along the main route.
To my great surprise, we did not see a single B&B sign before being tangled in the one way traffic system in Winchester. We had to change our strategy. We followed the one way streets all the way around and back to where we had entered and where I had identified a few relevant streets. The last street I had correlated with my list was Clifton Terrace, just up the hill from the cathedral. Turning on Clifton Terrace, we parked in front of 5 Clifton Terrace, which, strangely enough, was the name of one of the B&B's on my list. There was no sign! Was the list out of date? We called the number on the cell phone; it was busy, so I walked up to the door of the flat, which looked like any other flat in a large building. Not knowing what to expect, I should not have been surprised to be greeted by a woman talking on her phone, which explained the busy line. She was not surprised by my appearance and was very friendly, which was a good sign.
She hung up the phone and asked me how she could help. When I told her that I needed two rooms, her response was that she had only one room and that I may have trouble finding two rooms this late in the afternoon. After discussing the situation with her further, she explained that most of the B&B's immediately in Winchester were very small and did not put out signs. She then offered a solution. We could use her son's room as a second room if we would give her time to clean it up. After looking at it, and realizing that we may have a problem finding something else we accepted her offer. It turned out to be a great find.
Accepting the lady's advice on a pub for dinner we walked down the hill through the cathedral grounds to the pub, which must have been good because it was totally packed. We could have a table only if it we would agree to eat in the bar. Normally, eating in the bar is fine; this almost became an exception to the rule. Not long after we placed our order, a gentleman at the next table began smoking, a problem that the British have not completely worked out in restaurants. We were fortunate in that he finished his pint fairly soon and left. Walking back to the B&B gave us a good look at the cathedral in the evening light.
Ian entertaining the B&B cat
Tuesday-Day Thirteen
After a full English breakfast at 8 AM, we set out for the town hall for a quick look at King Arthur's round table, a medieval table mounted on the wall. Everyone realizes that the table is probably not King Arthur's round table, but that doesn't seem to bother anyone. To our disappointment, the hall was closed "for a special event"; however, just as we were leaving, a lorry backed up to the hall to unload some chairs for "the event". Pauline asked the gentleman unloading the chairs if we could have a quick look at the round table. He was happy to accommodate us for pictures as he explained that "royalty" would be using the hall today. That was fine with us, since we only had time for the table anyway.
From there we went on the cathedral with only the minor distractions of Pauline's photographing pub signs and my ducking into art shops. Many of the best watercolors are made in England and I often find great bargains and unusual colors here.
Winchester Cathedral always has something new to discover with each visit, and this time was no exception; we were able to tour the crypt for the first time, since it is often filled with water. Like several other English cathedrals, Winchester Cathedral has been used in movies, being, for example, the primary site for the Da Vinci Code, where it had been dressed up to be Westminster Abbey (Westminster Abbey had refused the offer.) Not only is Winchester one of my favorite cathedrals (Didn't I say that about Wells Cathedral also?), it has one of the best tea shops. We saved time for tea before heading back to the car and off to Flitwick.
We made it back to Flitwick just in time to return the rental car.
Wednesday-Day Fourteen
Ian's flight was at 15:25, so he would have to leave Flitwick on the train before eleven AM for the two hour trip to Heathrow. By now he was a pro on the trains so we had full confidence in him to make it without a hitch. At 15:00 the phone rang; Ian was sitting on the plane ready to head off on schedule. His two weeks in England had come to a glorious end with all of us satisfied that his visit had been efficient, valuable, and best of all fun for all of us. Sometimes even the world's worst tourist enjoys touristing.