Bulgaria
2005
Heading for London's Gatwick Airport left me with that same feeling of uncertainty about my travel decisions that I had felt many times before. What on earth had possessed me to agree to go to Bulgaria? The conference was called Holography 2005, organized by the Bulgarian Academy of Sciences. I had almost no knowledge of Bulgaria, but I quickly surmised that this would not be a simple, straightforward trip. Even so, it was one of those rare opportunities offering insider help with travel planning. Otherwise, putting together such a trip would be extremely difficult without a travel agent, and, as I don't have to tell you, I am not that kind of traveler.
Attempting to arrange a Bulgarian trip on the internet in the usual WWT way leads one to conclude that it is practically impossible. Flight connections look unreal with seven hour layovers in Budapest and five AM departure times from Varna. Eventually, through some obscure website, I discovered the existence of Bulgaria Airlines and much better schedules. Then it became apparent that bookings cannot be made directly with the airline, and agencies like Travelocity can't help. The Bulgaria Airlines web site is like an advertisement for used cars with no way to actually contact the airlines. An email to the given address dissapeared into cyberspace with no response. A charter agency that that offered flights is indistinguishable from a scam site. An attempt at calling Bulgaria Airlines at Gatwick Airport led us to a number in Spain.
Eventually, searches for Bulgarian travel agencies proved to be the key and I picked one that sounded the most authentic. Extensive exercises that are too boring to repeat netted me tickets. The real breakthrough came when Professor Elena Stoykova of the Bulgarian Academy of Sciences and her assistant, seeing that I was struggling, came to the rescue and helped me piece together a meaningful route to Varna through Sofia, which also gave us the chance to see the capitol. Elena even purchased my tickets between Sofia and Varna and had someone deliver them to us and walk us through the airport in Sofia. Eventually, I discovered that I could have flown directly to Varna, but seeing Sofia was an added, fortunate accident.
Upon arriving at Gatwick we were relieved to discover that Bulgarian Airlines did, indeed, exist. To our pleasant surprise Bulgarian Airlines provided the kind of great service that one once received on American Airlines. In a three-hour, on-time flight we had a nice breakfast and free drinks, including free wine and beer. Why American Airlines charges for a glass of wine and gives you Coke is beyond me.
It is always nice to be met in an airport, especially one in a foreign country, and especially in Bulgaria, where the alphabet is Cyrillic and the language has few helpful cognates to provide clues. We were met by Krassi , an academy member, who gave us our next set of tickets and guided us through the airport, getting us over our initial shock by reassuring us that this was all indeed possible. Krassi, himself, would take a train later, an eight hour trip compared to an hour for us. He told me that "Bulgarians travel by train".
Varna lies on the Eastern Bulgaria Black Sea Coast. We stayed in the International House of Scientists, a lay over from Soviet days, which has been renovated and modernized to act more as an international conference center. The hotel lies on the sea, near the beach, on the site of an old monastery, in the heart of a tourist resort surrounded by large hotels. Pauline and I had a corner room on the fifth floor with our own balcony that wrapped all the way around providing an amazing panoramic view of the sea and the mountains. The hotel people told us it was the best room in the hotel. The hotel was surrounded by a horse chestnut forest and local vendors had set up an avenue of shops and eating places to service the various hotels.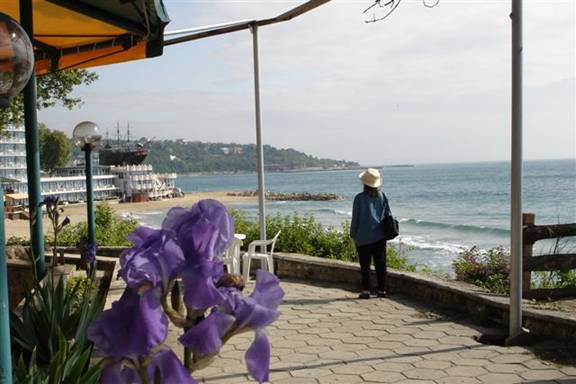 Footpath behind our hotel in Varna. The tall ship in the background is a seafood restaurant.
The Holography 2005 conference started Saturday morning and went on until Wednesday, bringing together the top holography scientists, especially from the Eastern block. I would guess that about 25 countries were represented. This was the first time I had been to a conference that began on a Saturday.
I learned a lot from two full days of papers on digital holography with sessions running from early morning into the evening. I found the work of the theoreticians especially useful and challenging, since I am an experimentalist. I felt some degree of humility with my own presentation, which was designed to be a plenary (tutorial) discussion of the basics of experimental digital holography at least until a few people, including the session chair, came to me afterwards and thanked me for providing a clear, simple, and easy to understand foundation for the other, much more complicated, papers. For a while I wasn't sure if that was a compliment or a jibe until one of the guys told me it was one of the best papers of the conference. I listened to him with some degree of relief, especially since I consider myself more of a novice digital holographer. In fact digital holography is so new that every digital holographer is a novice. One of the speakers who impressed me most was Professor Levent Onural from Turkey, whose work opened a few doors for me. Then later, to my delight, he came to me and told me that my early papers were useful to him in his PhD work and were part of his first exposure to holography. Later, he graciously emailed me copies of his current papers that I am still attempting to digest.
The conference was set up to provide a good amount of socializing and discussion time allowing for one on one exchanges of ideas and information. As always, this is where the true value of such a conference occurs. This is where you learn what you cannot learn from the published literature. I met a number of new researchers in the field and ran across old acquaintances, including Prof. Bert Hesselink, the only other American; we exchanged ideas about optical data storage and where the field should go next.
I had good discussions with other attendees at the various breakfasts, lunches, and dinners. One of these was Prof. John Watson from Aberdeen University, whose work in underwater holography I had followed for years, without having met. By the end of the meeting we agreed to meet again in Aberdeen later in the summer. Others included Profs. Mitsuo Takeda and Pierre Boone (fellow holoknights from Japan and Belgium, respectively), Hans Bjelkhagen (Wales), Profs. Yuri Denisyuk, Joseph Shamir from Israel and Ventsi Sainov (Bulgaria), who led the conference, and Kaveh Bazargan, the founder of the Holography Magazine.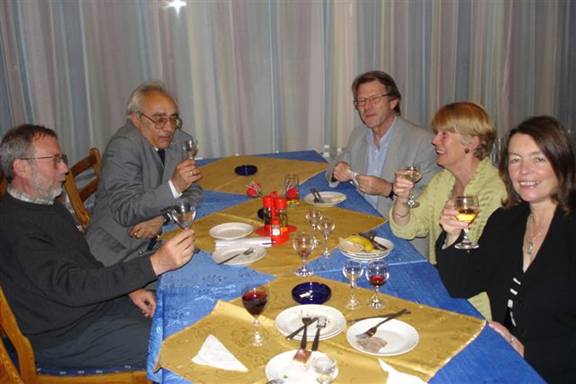 LtoR-Prof. Pierre Boone, Prof. Ventsi Sainov, Prof. Pierre Jacquot, Bridget Boone, Pauline Abbott. Bulgarian wines are very nice.
Ventsi had organized an excellent hologram exhibit that included holograms produced by the Bulgarian Academy of Science that Prof. Denisyuk claimed were "the best holograms in the world." Also in the exhibit were holograms by Profs. Bjelkhagen and Kubota, who are widely known for some of the best color work, Pierre Boone, known for his artistic work, and 3D Print, a Lithuanian company that produces large foremat display holograms.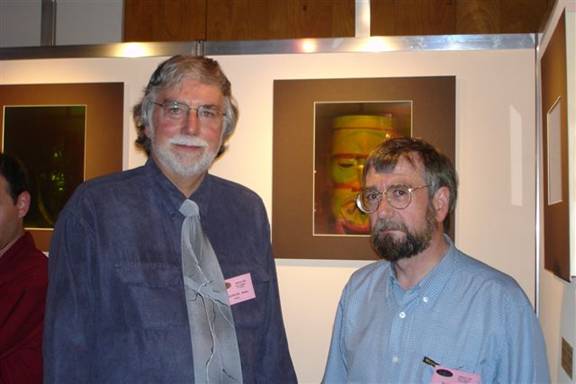 WWT and Prof. John Watson at Holography exhibit
I explained to Prof. Sainov that I am a collector and would like to purchase one of his best pieces. The next day, he honored me with a wonderful surprise. During a coffee break he approached me in his usual enthusiastic manner with a extra gleam in his eye and ask me to join he and Prof. Denisyuk in the hologram display room. Inside the room he pulled a hologram from its place, turned it over and proceeded in ceremonial fashion to read a presentation letter which, in effect, thanked me for helping with the conference and also thanking the USA for helping Russia win Bulgaria's independence from Turkey. Then he handed me a beautiful 30 X 40 centimeter Denisyuk hologram of two antique pistols to add to my collection. He cleverly surmised that the pistols were Smith and Wessons and of USA origin. (I am not sure about the validity of this, but, under the circumstances I was not about to question it.) This excellent piece was produced at the Bulgarian Academy of Science in 1982.
The next day I purchased a special traveling case in the bazaar behind our hotel to get it back home. Eventually I made it through three plane changes, a train trip, the London Tube, an airport shuttle, and three customs inspections without breaking it or having it confiscated. I was imagining what would happen if the airport security guards took a look at it and saw the pistols inside. Fortunately, xrays aren't diffracted by this kind of hologram, so I think they did not see it going through the xray machine.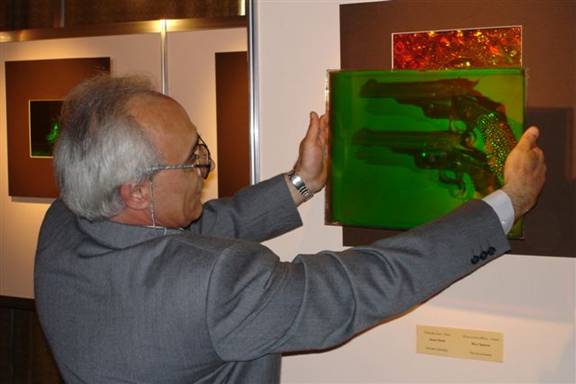 Prof. Ventsi Sainov, showing a Denisyuk hologram of a pair of 19th Century pistols used by the Russian Army. The hologram was produced by his institute in 1982 on some of the finest Russian emulsions, making it a fine collectible piece.
LtoR-Prof. Ventsi Sainov, Prof Yuri Denisyuk, presenting pistol hologram shown above for WWT collection acknowledging WWT contribution to Holo 2005 and US contribution to Bulgarian freedom (Pistols were Smith and Wesson). Prof. Denisyuk, who was the inventor of this type of holography, stated that the holograms in this room were the best in the world.
I played hookey on one of the conference days and went on a special excursion that Ventsi arranged for five of us to visit the Island of Nesebar, about 60 kilometers north of Varna. Nesebar was said at one time to have 44 churches, about a dozen of which still exist in various states of ruin and a few that still function as churches. These were early Christian and Byzantine churches, small, but intricately constructed with many beautiful arches and arched, stone vaults. They date from around 100 AD. The island had been conquered about every 100 years by various Thracian, Greek, Roman, Byzantine, and religious groups, and it always seemed to thrive, regardless of who captured it.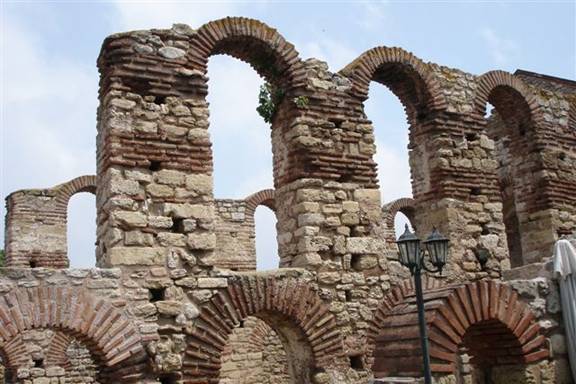 St. Sofia Church, Nesebar, Bulgaria
Interestingly, on the way to Nesebar we passed through one of the of the several resorts set up to fence off the German, British, and Dutch tourists who flock to soak up the sun. The one near Nesebar is fortuitously named "Sunny Beach", which I thought really appropriate. I doubt if anyone knows that this name is the punch line to many American jokes. Sunny Beach has about 70 high rise hotels and many condominium high rises with apartments for sale. These places reminded me a lot of Cancun. They are about as un-Bulgarian as you can get. The one good thing Bulgaria has done is to isolate them so that they don't screw up the entire coastline………at least not yet.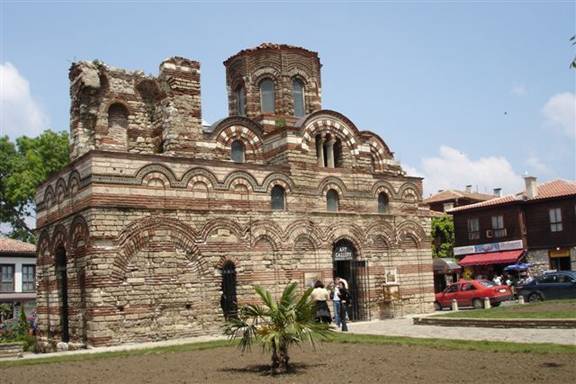 Church in Nesebar-This one had an art gallery in it.
On Tuesday the entire symposium group was treated to a half-day excursion to the royal palace and gardens of Queen Marie of Romania. On the way back we stopped in Albania, another of the sea side resort towns. We had tea, took a look at the beaches, and got accosted by prostitutes.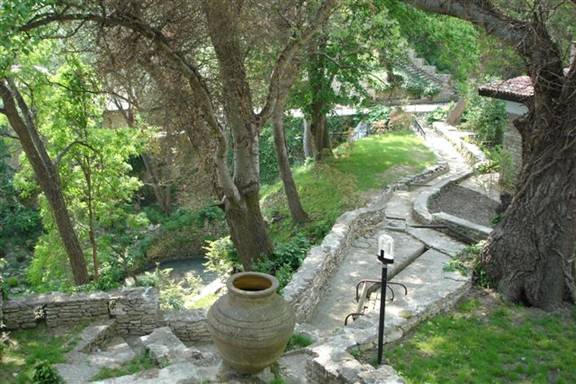 Garden in Queen Elania of Romania Palace grounds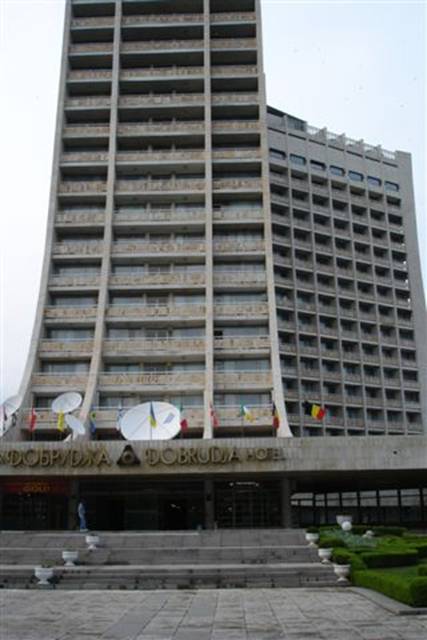 One of the many high rise hotels in Albania, another sea side resort
On Wednesday we flew back to the Sofia and spent the afternoon wandering around, looking at the churches, architecture, gardens, and sculptures that are to be found everywhere. We rode the trams all over the town and covered the entire city before collapsing at the Home of Scientists, which is on the campus of the Bulgarian Academy of Science.
Bulgaria is a real tourist bargain, one of the few places in the world where you can get a taxi from the airport to your hotel for five dollars and a good meal with drinks for under ten. This is apparently one of the reasons so many Europeans come here for holidays. Still, like most European cities, the twenty five cent tram fare is the best bargain in town.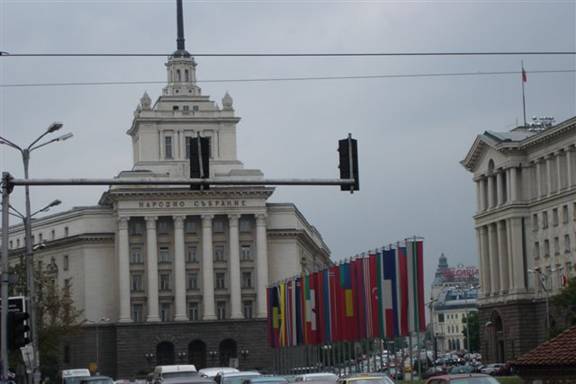 The Party Building in Sofia, Bulgaria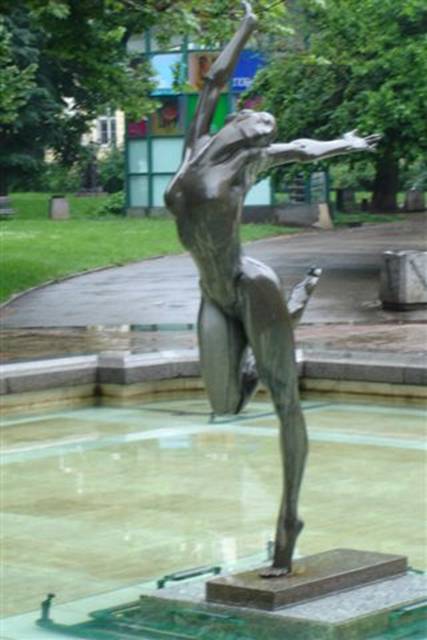 One of the many sculptures in the city. This one in the city garden in front of the performing arts center. I was amazed by the energy and movement in this piece.
Performing Arts Center, Sofia, Bulgaria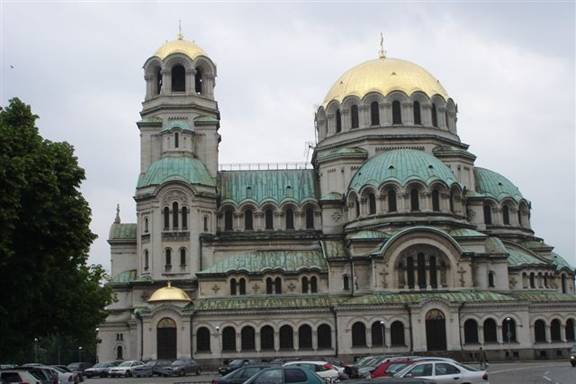 Church of St. Augustine in Sofia, Bulgaria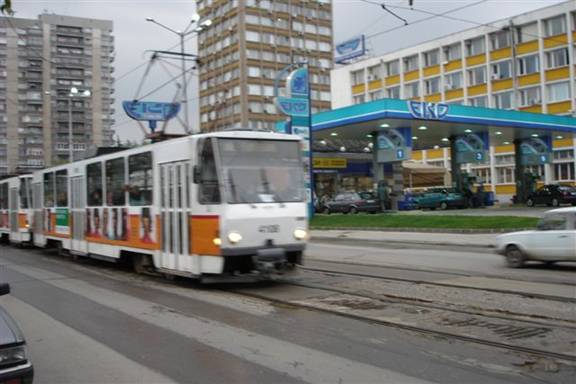 The best tourist bargain in town, No. 20 took us from the Bulgarian Academy of Sciences to down town in 12 stops for a quarter.
We rose at 4:30 AM on Thursday and took an early morning flight back to London, which put us home in time for lunch. I spent the rest of the day attempting to understand all I had learned at the conference.