Bremen, Germany
2006
Unlike Americans, who would rather conceal their 65th birthday, Germans celebrate it with great gusto. Having the opportunity to participate in such a celebration is one good reason for having German friends. Their professional life changes drastically at that magical age. A university professor, regardless of how much power and authority, or energy and ambition he has or even how well he is doing his job, is moved out of his job and replaced. Apparently, in lieu of interpreting this as a bad event, they have learned to celebrate the occasion as the beginning of new freedom that they would never have given themselves.
In December, 2006 my friend, Werner Juptner, a professor at the University of Bremen, Germany, reached the magic age. Werner and I had discussed this phenomenon for several years, and after his coming from Germany to be at my wedding, I had promised him that Pauline and I would attend his retirement celebration. I was delighted to receive a formal invitation, even though, as always, I faced a million reasons why I should be somewhere else doing something else. At some point in life one finally learns to choose hat things really are important, so I chose to keep my promise.
The celebration began on a December Friday with a one day workshop, "Optical Metrology-New Ways into the Future" including a workshop banquet. Then on Saturday evening we attended Werner's birthday celebration. Even though December is not the greatest time to visit the Northern Germany city of Bremen, I knew that Werner would create an event that would far overshadow any inconvenience like weather. Now if, in addition, the weather would cooperate, I also knew that the lovely city of Bremen would be delightful at Christmas. I was not disappointed on either account. However, if you think that a workshop and birthday write up would be boring you would best skip to the section on Bremen.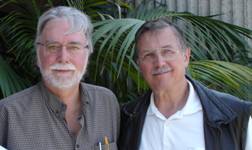 Werner and WWT during a visit in Irvine
Although a bit of a stretch, Pauline and I combined this with a Christmas visit to our home, relatives, and friends in England. We gave ourselves three days to overcome jet lag at our home in England and took advantage of non stop EasyJet flights to Bremen from nearby Luton airport.
EasyJet, to be sure, is a misnomer; it should be called "DifficultJet". If you take EasyJet for any reason other than the wonderfully low prices, you are probably on the wrong plane. There are few "easy" things about EasyJet. This is mass production travel. They brought European air travel to the masses combined with the disadvantages that make cut rates feasible.
Arriving in Bremen
I can always tell when I am in harmony with the universe. Unexpected and often highly unlikely, pleasant events, present themselves one after the other, unusual synchronicity and serendipity. Such things happened all during this trip. Our flight was 45 minutes late, and on first leaving the arrival hall, our contact, Ms Ina Sander, who would carry a red umbrella as a signal, was nowhere in sight. Had we missed her? We stood there for a few minutes hoping someone would recognize how lost we looked, when a young lady carrying a red umbrella hurried through the front door. She immediately recognized us and apologized for being late, explaining that she had just picked up another attendee, Dr. Gert Hausler, at the train station. She was relieved upon finding that we also had just arrived.
One more passenger, Dr. John Watson, was expected, and Ina had no idea on which airline. Looking at the monitors and knowing that he was coming from Scotland led us to guess that, if we were lucky, he would be on the plane from Amsterdam that had just landed. It was a good guess; John emerged from the arrival hall, appearing quite happy to see some familiar faces. The synchronicity of three of us being late by exactly the right amount to have us come together almost simultaneously was a good sign for me.
With baggage loaded in the Mercedes van we headed for Worpswede, a small artist village north of Bremen. We arrived at the Hotel Eichenhof, a small luxurious hotel located in a wooded area, at about 11 PM. Entering the reception hall, I could hear revelers in a nearby room and immediately was greeted by Werner, who, as always, pushed me aside to hug Pauline first. It seems all of my German friends do this. I don't blame them; I prefer hugging Pauline, also. But then Werner, who seemed earnestly glad to see me, gave me the warmest hug I had ever got from a German.
With the time approaching midnight, we were neither planning nor expecting another meal; however, I found myself mulling over a menu at Werner's insistence. Werner is one of the few people who, not only would think of keeping a hotel kitchen open for late guests, but would also be able to pull it off. Before we had time to resist we found ourselves feasting on a very elegant five course meal including a bottomless glass of wine, a hot pumpkin drink, a curry soup, duck breast in a sauce to kill for, and a sumptuous dessert accompanied by a brandy. Now full of duck and wine, too late and too cold to walk it off, I prepared for bed, at 2 AM and set the alarm for 7. This was just a sign of what was to come.
Optics Metrology Workshop: New Ways into the Future
Morning came early and we rose to a beautiful sunrise and joined others for a typical German buffet breakfast of meats, cheeses, eggs and the most fantastic fresh breads. I was still too full of duck breast to eat much. Shortly afterwards the technical sessions began, presented by dozen of the best scientists in the optics business. Each had been assigned a special topic in different areas of optics. This is a very good way to discover in one day how far behind you are in optics. I felt a bit like my first day in college calculu when the professor covered, in 50 minutes, everything I had learned in two years of high school.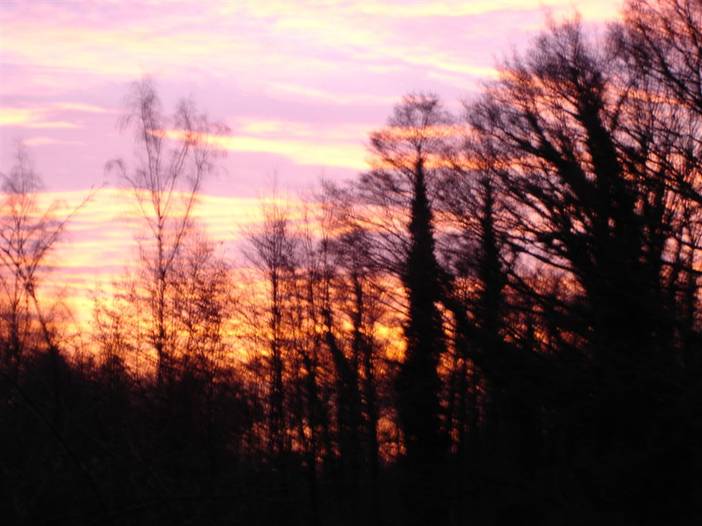 Sunrise at the Eichenhof Hotel
As much as I was captivated and interested by the talks, I found myself occasionally dozing, still feeling the effects of jet lag and too little sleep the night before. My own talk was scheduled at noon, just before the lunch break. By now, because of the highly energetic discussions and questions, we were almost an hour behind schedule. I took this as an opportunity to breeze through my talk at lightning speed. No one complained, and we broke for a lunch that featured, of all things, duck breast. Even though I felt like I still had some left over from last night, I still enjoyed the meal.
I am always amazed and always grateful for a particular phenomenon that I experience at almost all meetings such as this. I meet people at every turn who have something valuable to give me, knowledge, answers, solutions and questions. I wind up sitting beside people who are working on exactly the same problems I face in my own work, usually with different approaches that are truly enlightening. This kind of serendipity is a key to many things I have achieved in life. I find it extremely important to be on the lookout for such things, because they are so easy to miss if one fails to interact with the universe with a quest in mind. At this meeting I found valuable questions and answers around every corner.
By now I was encountering the language difficulty I often speak of, the problem I call "Universal Spoken English" or "USE". Sometimes I wish I had never discovered this phenomenon, that foreigners who speak a version English that I can understand will not be able to understand my American English. USE is not as easy for a native English speaker as one may think. I can speak USE as long as I remain conscious of my speech; however, I do have difficulty thinking in USE. Consequently, it is unnatural to give a lecture or even carry on a conversation in USE. After discovering the USE phenomenon, I learned to recognize when my foreign friends were not understanding me. A common experience is to be in a crowd with everyone understanding everyone else but me. They all understand USE but few of them understand American English. This can really be frustrating.
USE is a language that should be taught, especially to English speaking people who want to be understood by foreigners who speak English, i.e. USE. It would have been much easier for me if I had learned about USE many years ago. Sometimes, however, I think life would be easier for me now if I had remained in ignorant bliss, never realizing that foreigners do not understand my English. I often observe Americans talking away to foreigners totally unaware the foreigners have not the foggiest idea what they are saying, but are either too polite or too vain to admit it. Learning and using USE, like any other language, is hard and frustrating work.
The recognition of the need for USE is finally becoming more widespread. More Americans are realizing that they don't even understand British English, and now, with many telephone help lines being served by Indians speaking their version of unintelligible English, the problem is becoming even more obvious. I recently watched an interview between an English newscaster and a Scottish interviewee. They needed subtitles, even though both people were speaking (his version of) British English.
The meetings continued up until time for the banquet. I must have gotten enough sleep catnapping, because I now had a second wind.
The reception for the banquet was held in the Worpswede Roselius Museum of Art, where we all toasted Werner with champagne. To give some idea of the importance of this night, various University officials worked their way up to introducing Senator Rowekamp, who had also been the vice governor of the State of Bremen. He gave a speech about Werner's work at the Bremen Institute, giving Werner credit for rescuing (in no small way) the economy of the state through his relationships with industry.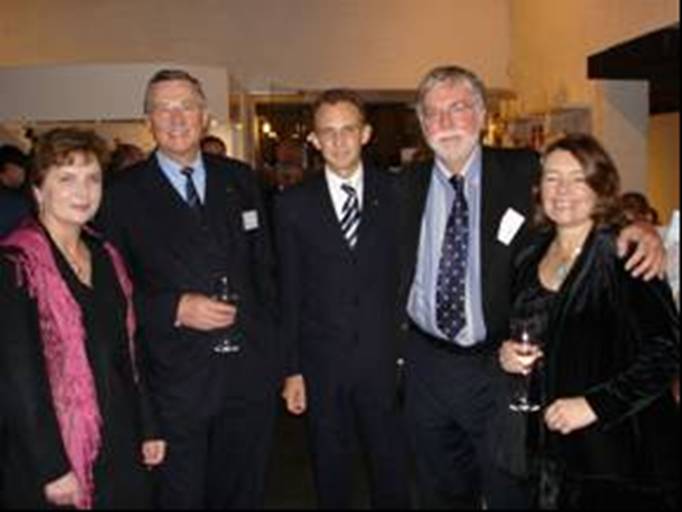 From Left, Prof. Malgorsha Kujuwinska (Poland), Werner Juptner, Senator Rowekamp, Jim (WWT), Pauline (WWWT).
Soon after, this the party moved to Kaffee Worpswede, next door to the gallery. Speeches for such events are challenging not only to the speaker, but to listeners as well. Speeches were given by four different friends of Werner. I knew we were in trouble when one of them started by saying he would be very brief. He spent about 10 minutes telling us how brief he would be so as not to delay dinner, after which he pulled a hand full of note pages from his coat and went on for another half an hour. For better or for worse, it was in English so I could follow it. The next night he gave what appeared to be the same speech in German at the birthday banquet.
The meal was outstanding, featuring "Barbarie Entenbrust mit gebratenen Waldpilzen aur Petersilienwurzefragout und Kartoffelkuchen". In case you haven't guessed what this is, let's just say it is a good thing I love duck.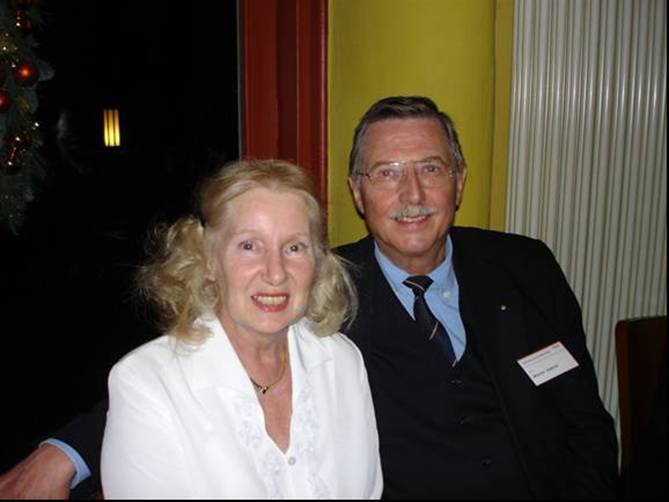 Werner and his wife, Renata, at the workshop banquet.
Saturday morning gave us some time to catch up on sleep so we headed for breakfast in the late morning. Since the local shops opened at 10 AM we had another good excuse to sleep late. It was a cold and beautiful, sunny day, perfect for walking around the village. We returned to the Art Museum to recover an angel Pauline had spotted in the Museum shop and admired the outdoor sculptures.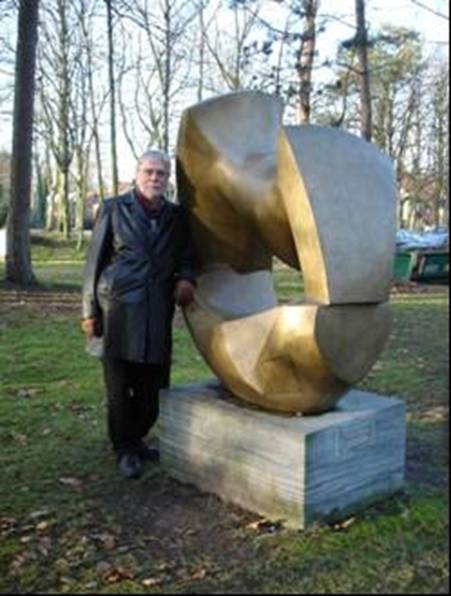 At the Worpswede Art Museum. Worpswede artists are as crazy as California artists.
After visiting almost every store in the village we made it back to the Eichenhof to meet up with Wolfgang Osten, another German friend who lives in the nearby town of Lilienthal. Wolfgang had invited a few close friends to have afternoon tea and desserts in his home. Five of us squeezed into his car for the short trip. Since I have the longest legs I was assigned to the front seat, leaving Pauline, the shortest, to be squeezed between Gert and Ichirou. I don't think they were able to get into seatbelts, but they would not have moved much in a crash, anyway.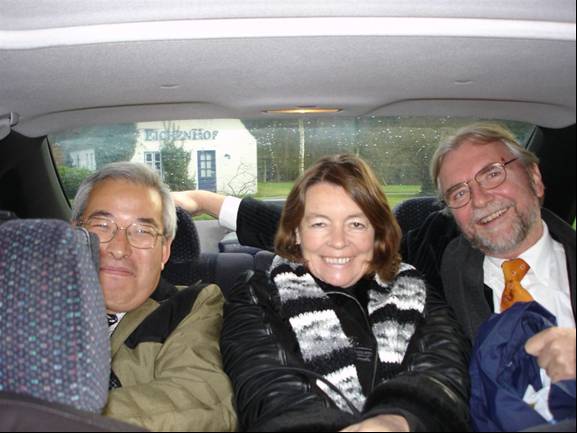 From Left, Ichirou, Pauline, and Gert squeezed into the back of Wolfgang's car on the way to Lilienthal.
The five of us know each other well enough to argue politics and we often do. Between Germany, Japan, England, and USA, there is plenty to discuss; however at the moment none of us are particularly enamored with the actions of our own governments. Angelika's homemade cakes and sweets diverted our attention, and our arguments stayed pretty calm.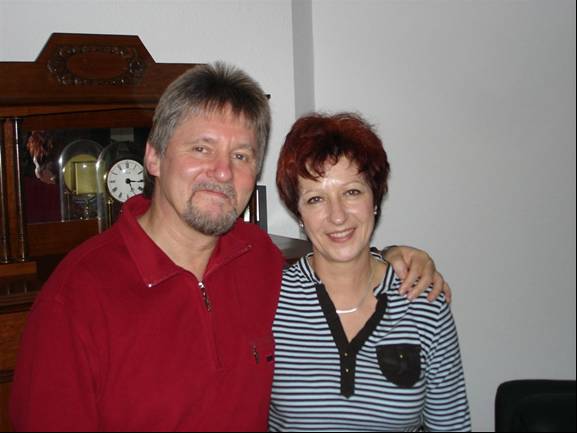 Wolfgang and Angelika Östen at their home in Lilienthal
The banquet was held in the Kreative Haus in Worpswede, a former home of a famous Worpswede artist. From the shape of the doors to the interior décor, one could observe the signature of the artist; there was not a straight line in the entire house. It looked like a cross between Gaudi and Disneyland.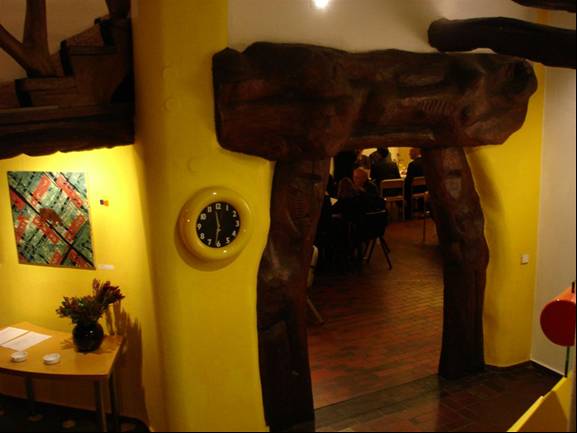 One of the doorways in the Kreative Haus
The hosts assisted seating us at a table where English would be the common language, i.e. USE, which turned out to be a very pleasant experience for a change. At some point during the dinner someone made the observation that the seven people sitting at the table were from seven different countries, Germany, USA, England, Poland, Turkey, Hungary, and Japan. By now my USE was good enough that I could almost understand the conversations above the noise.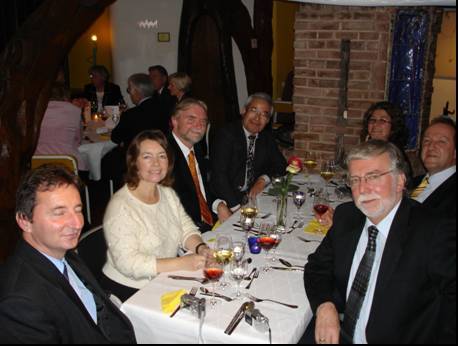 Our table represented seven different countries. From left, Ferenc (Hungary), Pauline (England), Gert (Germany), Ichirou (Japan), Joanna (Poland), Levent (Turkey), and WWT (USA).
Wolfgang, who had worked with Werner for many years, before assuming a position at the University of Stuttgart, had created a special slide show of Werner's career. That one kept my attention, not only because my own picture showed up in it off an on, but also because Wolfgang is legendary in his creation of slide shows. Being from Bremen, home of the Grimms Brothers fairy tales, he always incorporates a fairy tale into his talks.
I have learned to study the menu before such dinners in order to survive. This was the classic German six course meal, beginning with wine, breads, olives, and spreads, followed by a big bowl of delicious soup and then a large salad. Next comes fish. At this point, if you have eaten everything, you are wondering if you have any room left for dessert. That is when they bring out a slab of meat and vegetables, the main course. Our meat was an amazing lamb dish. To my great surprise, two of the guests asked for a second helping of lamb. I don't understand why there are not more fat Germans.
Between the meal and dessert more presentations were made with Werner receiving mementos from his friends and colleagues.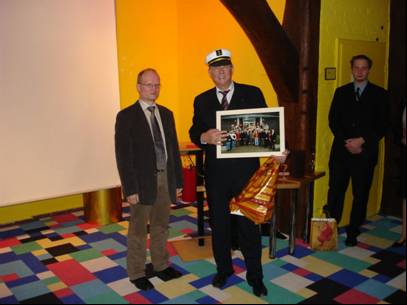 Werner receiving one of many mementos celebrating his birthday and retirement ( a sailing cap for his favorite hobby and a picture of his team.)
We left the party soon after dessert, arriving back at the hotel at 2 AM.
A Walking Tour of Bremen
We were tempted to stay in bed most of Sunday, and I secretly hoped for bad weather to provide a good excuse. However, we woke at 8 AM with the sun rising in a clear blue sky, so we bluffed each other into packing and headed into Bremen for the day.
I had run a pretty loose plan for Bremen by a few Bremeners who rated it feasible and added recommendations, which I incorporated into the plan. We would leave our bags at the train station, walk around Bremen all day, return to the station by 7PM and take a tram to the airport for a 10 PM flight. With one small exception it came off with out a hitch. Travel has become so much easier in much of Europe. The station provides a room full of lockers of all sizes, and a change machine to get the necessary coins. Now that the Euro is widespread money handling has become much more practical. The machines will take any size note or coin. One minor inconvenience is the sliding dollar. Shortly after the euro first went into circulation its value declined to about 75 cents. Today a Euro is worth $1.40. Nevertheless, you do save a lot since Euros are good in many countries and you don't have to keep trading one currency for another. It cost us 4 euros to store all of our bags for the day.
Bremen has a great tram system, so one is never forced to walk, and almost any tram leaving the station towards downtown goes near the Altestadt (old town), where we were headed. Nevertheless, the city is small enough that walking is the best way to see it. A short 15 minute scenic walk takes you from the station to the Altestadt, passing by the wall windmill and the wall moat. The city wall was removed years ago and replaced by a park, which seems like a good idea now. From this point on I began seeing one scene after another where I wished I could sit for a while and paint.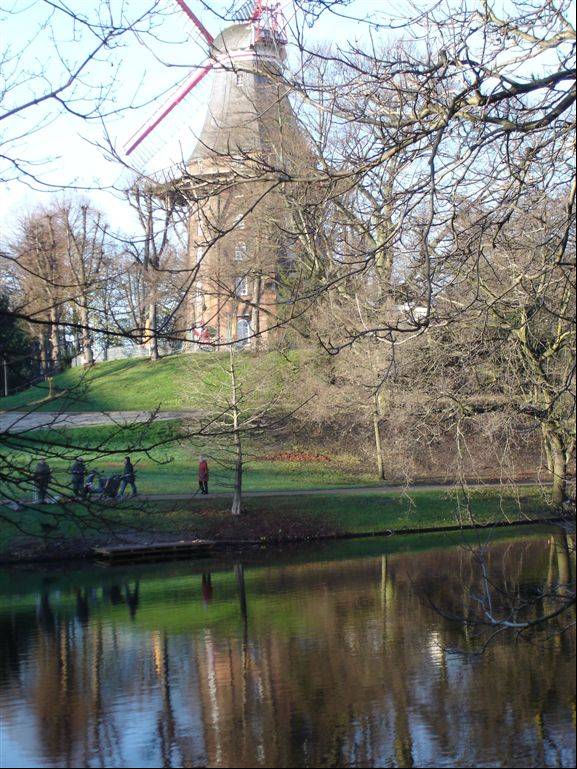 The Wall Windmill seen across the moat
Not far past the windmill is the Altestadt, which contains some magnificent old buildings and the cathedral. Bremen is one of the fortunate cities that was not leveled by bombing in World War II and the old town is intact and original.
Our timing was perfect. The entire city was decorated for Christmas and a large Christmas market occupied the town marketplace. We arrived just as the market was opening and, with so few people, we practically had the shops to ourselves for about an hour. We took turns taking credit for getting here early. Even so, it was nice to see the market both with and without the crowds of people, and it was also nice to see the city both in daylight and darkness.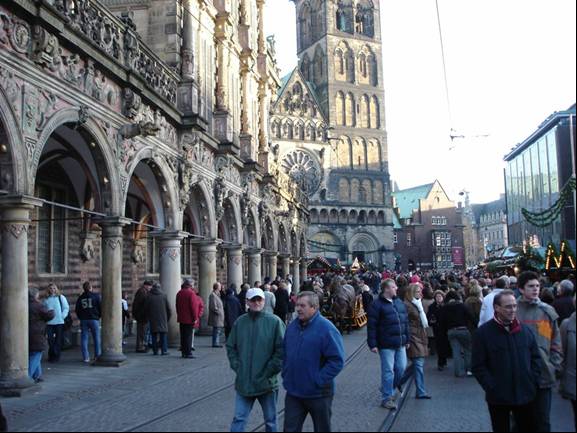 Bremen Altestadt, Market Square. Town hall on the left and the cathedral in the center.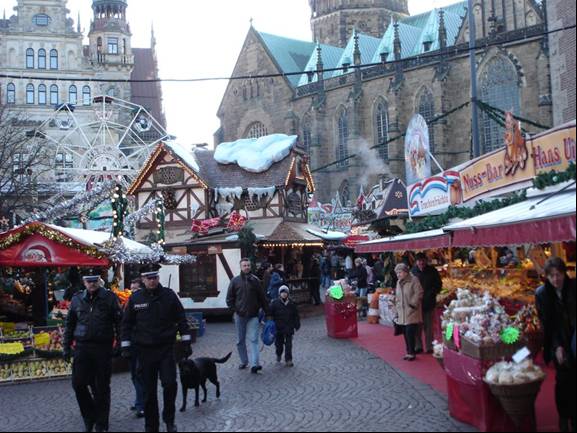 The Christmas Market at Altestadt Square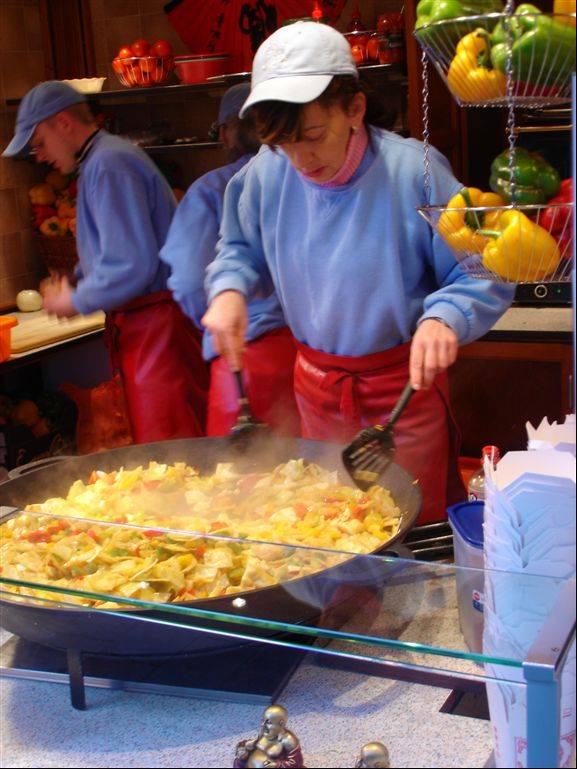 Tons of good food for everyone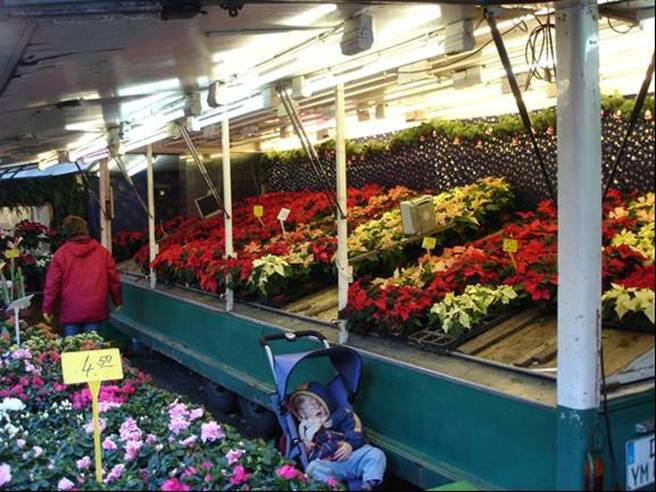 Flowers in the Christmas Market
Bremen and the surrounding area are famous for fairytales, especially those of the Grimm brothers. The Grimms Brothers trail passes through many of the sites where famous fairy tales are based. Bremen's favorite fairy tale is, of course, "The Four Musicians of Bremen", a tale about a donkey, dog, cat, and rooster who demonstrate what teamwork can accomplish, when each is spurned by his owner after reaching old age. You can read the story at:
http://www.nationalgeographic.com/grimm/bremen.html
It is impossible to walk around Bremen without seeing these four characters, usually standing on top of each other in every conceivable form and in all styles. An absolute must for a visitor to Bremen is to read the story before going. I could not leave Bremen without a glass sculpture, a bookmark, and a booklet depicting these four characters. One of the favorite public sculptures, a brass sculpture, is at the rear corner of the town hall. Variations of this statue are seen everywhere in the downtown in windows, fountains, flags, and paintings. The Grimms Brother's created many such characters who will live forever, but few with this great of representation in a city.
When public sculptures like this become famous, many of them develop folklore that encourages interaction with them, making them legendary tourist attractions. With this statue it is said that one can hold the two front legs of the donkey and have a wish fulfilled. So people stand in line at this statue to have their pictures taken while making a wish. From the looks of it, people have tried both the front and rear legs and end up rubbing the nose for extra luck. Ever since hitting pay dirt with such a brass sculpture in the Brussels Grande Place, I am always a sucker for these things.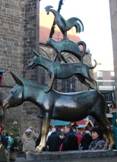 The Four Musicians of Bremen. Hold the legs and make a wish.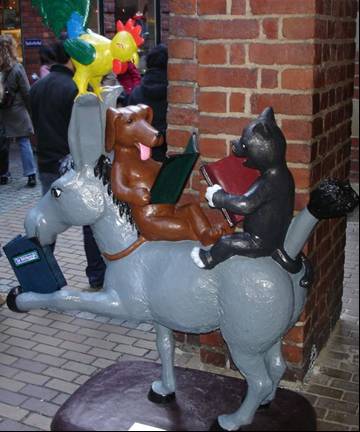 Another variation of the Four Musicians
Other sculptures have other parts that beg to be rubbed. I didn't discover the folklore behind rubbing the sculpture of a nude just off the square. Maybe guys just like rubbing breasts.
Rub this sculpture's breasts and who knows what will happen.
As the square became really crowded, we left to explore three other recommended areas, and headed down the famous, narrow Bottcherstrasse.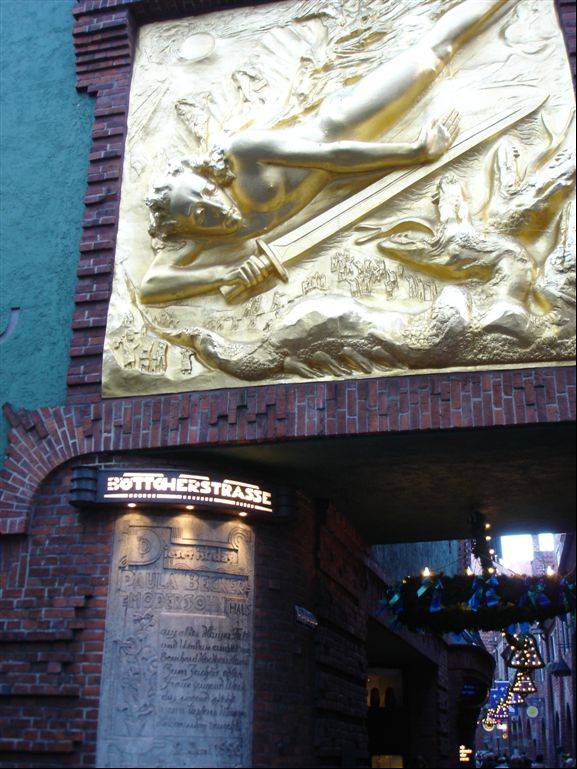 Entrance to Bottcherstrasse
Bottcherstrasse contains a wide range of historical buildings and unusual architecture, galleries, museums, restaurants, and shops. A map at the beginning gives the details of the homes and architects, most of which were remodeled in the 1920's and '30's over much older foundations. The first home on the left is the Paula Becker Modersohn Home, home of a famous Worpswede artist. One could spend hours here, but we had time only for a cursory look. About half way down the Bottcherstrasse we encountered a gathering of people standing around drinking warm wine and looking up at the building. Wondering why they had gathered here and using WWT rules of travel, I concluded that there was probably a good reason to hang our here to see what was coming down.
Just as we heard the cathedral bells ringing twelve noon, one of the walls came alive, and I realized that we were standing in front of a famous glockenspiel, concealed behind a rotating brick facade. The façade moved, uncovering a string of sculptures that appeared in a sequence and bells at the top of the building began playing songs. The show lasted a good 15 minutes. I gave us extra WWT points for stumbling into a major tourist attraction without following a guidebook.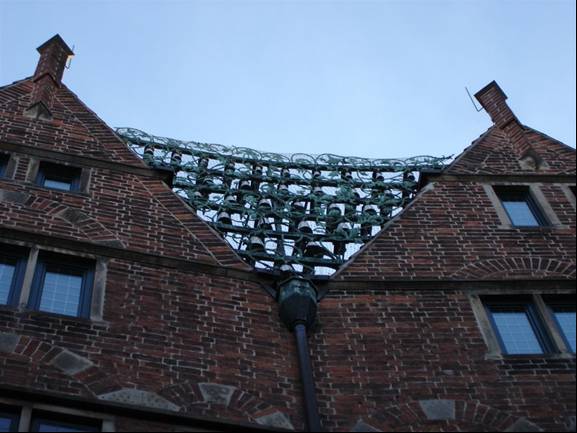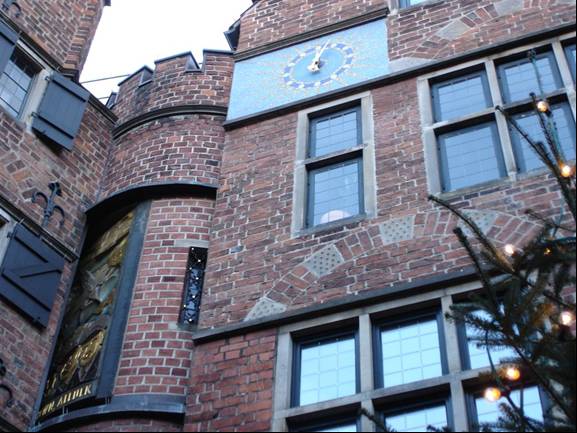 The Glockenspiel in motion
From here we continued following recommendations and walked a few blocks to an area known as the Schnoor, a village near the river that once was the living quarters for the sailors. Today the Schnoor is a collection of homes restaurants, shops, and churches connected by tiny streets. We spent a couple of hours wandering around the Schnoor stopping in several of the shops and warming up in a bakery over coffee and pastries.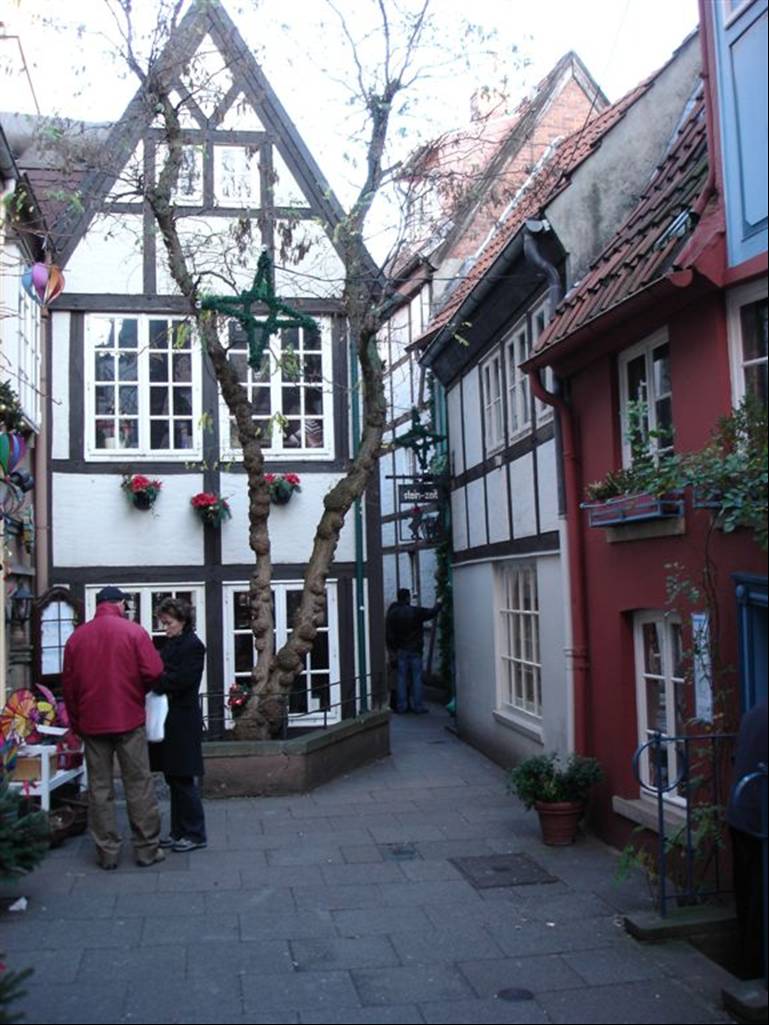 Small Court in the Schnoor where residents once got married.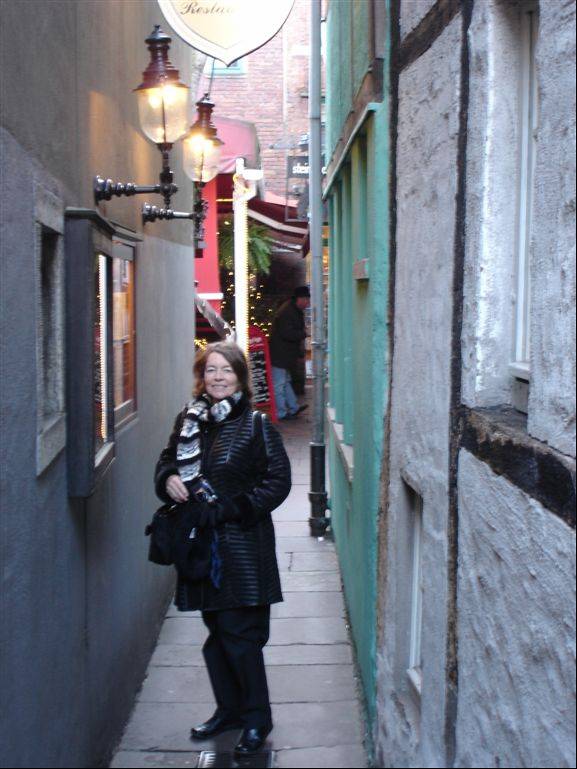 One of the many narrow streets in the Schnoor. The restaurant of the Cats is behind Pauline
Checking our time, we begin to eliminate options. Not far from the Schnoor is the Bremen Museum of Art, which has an impressive collection of German art. We had passed at least three major churches which deserve a visit. We promised ourselves to come back again some other day for these and spend more time in the cathedral. Leaving the Schnoor, we diverted briefly along the river walk, which we found crowded with Germans. Because of the layout of the city, this is one of the few places in the city where one could walk for a long time in the sun at this time of the year, explaining why so many people had come here today.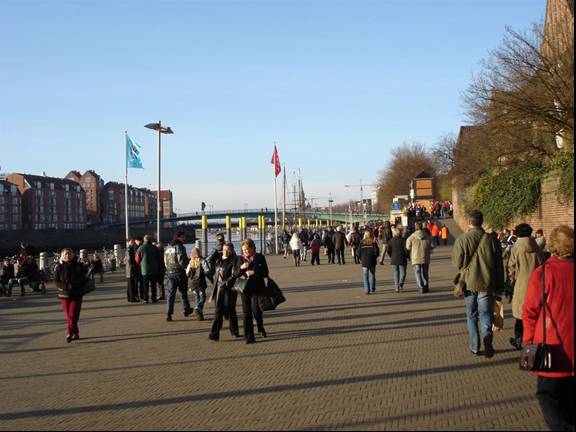 River Walk-This once was a major sea harbor in Germany
< We backtracked along the Bottcherstrasse, through old town to the cathedral. Again our timing was perfect. Shortly after entering the cathedral a local choir group gathered in the choir and sang Christmas songs. The acoustics in the cathedral were made for this group and the reverberations of the sound left me with chills of joy. By the time we left the cathedral it was dark, giving us an excellent evening view of the city. We had not eaten since breakfast and now seemed a good time. Walking along the main pedestrian street towards the station, we began our restaurant search. Our first two attempts ended with packed restaurants. We hoped that moving further from the market place would offer more options, but as we began seeing MacDonalds, Subway, and similar places our hopes began to fall. Then out of no where appeared an Argentinean restaurant which showed pictures of the meals, always a help when choosing what to eat in a foreign country. It happened to be a perfect choice for us.
We arrived back at the station with time to spare, picked up our bags and began looking for tram number 6, which goes to the airport every 20 minutes. The ticket office had closed, but we soon determined that ticket machines are on board. The machines even offer an English option. It took me only three attempts to get tickets. Using local transportation modes is one of the great pleasures of being the WWT, and usually the challenge is not severe. The problem comes when something goes wrong and you have to guess how to react. The best way is to do whatever the locals do and hope for the best.
This brings us to the one hitch I mentioned earlier. Half way to the train station the tram driver made an announcement, in German. All we could make out of the announcement was that the tram was not going to the airport; Not good. Then the tram stopped and everyone began bailing out. Following the WWT DoWhaLDo (Do what locals do) principle we followed everyone else. Pretty soon we found ourselves on a bus that took us the rest of the way to the airport. I will never know exactly what went wrong on the number 6 tram.
All that remained was to go through the crazy EasyJet routine. Easyjet never runs out of dumb ways to board airplanes. I was pleased to see that we would be able to walk from the gate to the plane, making our "A" boarding passes more meaningful. Just as the plane arrived, the preboarders and the "A's" were asked to come ahead. We formed a line that wound through the boarding ramp down four flights of a refrigerated stairwell ending at a locked door. We stood freezing on the stairway for 20 minutes while the plane was readied for us. For a moment I thought, "It must be an audition for a reality version of Monty Python."
At least they got us back to England and almost on schedule.