A November Day in Boston: Remembering Steve Benton (1942-2003)
Among my first thoughts upon walking out of Logan Airport into the bone- chilling, wind was "I may not have brought enough weather equipment for this." Our first attempt at dinner was delayed by wind blowing so hard I could not force the restaurant door open; it took the help of a waiter just to get us in the building. Finally a brief walk along the Charles River convinced us to find a shortcut back to the hotel through the MIT campus, taking us by the Media Lab where the Seminar, Benton Vision, honoring Steve, would be held on Tuesday 11 November. We had booked into the Kendall Hotel in Cambridge, just on the eastern outskirts of the MIT campus. Returning to the hotel we noticed the final minutes of a lunar eclipse - one astronomical event, Saturday, November 8, 2003, bracketing our visit. The M.I.T. Henge phenomenon came a few days later, on November 10. These astronomical events bracketed the unexpected death of Steve Benton the day before Benton Vision took place.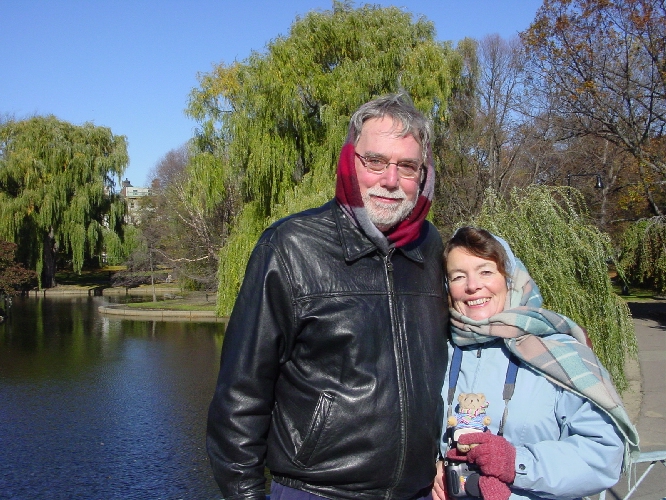 Cold Sunday on the Boston Commons


The symposium had been created by friends and MIT staff as a tribute to honor Professor Steve Benton, who was the founder and director of the Visual Media Laboratory at M.I.T. The attendee list could have been used as a virtual "Who's Who" in the world of holography.
I had known Steve for over thirty years, and had worked with him on several occasions, so when I received an invitation to his tribute Pauline and I decided to make a long weekend out of it and visit Boston. I realized this may be the last chance I would have to say goodbye to Steve, who had been fighting terminal cancer for some time. Since twenty five years had passed since my last visit to Boston, this would be like a new visit, and especially Pauline was excited to anticipate visits to the "Freedom Trail", and the first ever cemetery-garden, Mount Auburn. I imagined also that I could reeducate her on how my rag tag farmer ancestors had had given a dose of whip ass to her British ancestors. Then she informed me that some of her earliest known ancestors, the Dudleys, may have actually been in charge of the guys on our side, one having been the first governor of Massachussetts. So much for that bit of teasing.
The Hotel Kendal serves a breakfast on the largest plates I have ever used, brimming over with eggs, bacon, and potatoes. I had seven strips of bacon and enough cholesterol to meet my annual quota. We met up with other holographers who had also arrived, including Nick Phillips, Hans Bjelkhagen, and Dr Jean Marc Fournier. Jean Marc and Nick, who were invited speakers at the seminar, discussed their proposed tributes, as well as catching up on personal and professional news with us. Nick and Hans had their own agenda for the day, which included a visit to the local Best Buy to stock up on items found there much more cheaply than in England. Pauline and I had a simple tourist intention - to travel into Boston on the subway - the T - and from there to walk the Freedom Trail. It was a cloudless, freezing day, a perfect day to walk the Freedom Trail.
The Freedom Trail is set up as a walking tour of the historic sites of Boston where important events of the Revolutionary War took place. The Boston Tea Party happened in Boston Harbor. Paul Revere's house is in the city, plus his statue, the church where he hung his warning lantern, and his grave.
Another area of interest was Landscape Architecture, a study of how and when various kinds of land use came into existence. Boston is one of the first American cities to plan an area of open public land in its center, now called the Boston Common, and to extend this, under the guidance of Frederick Law Olmsted, to form the `emerald necklace', or a string of green open spaces, walkable out to the suburbs.
On a viewpoint above Boston is the Monument to the Battle of Bunker Hill. Graveyards containing the graves of Patriots are in several places.
Here came a foretaste of the puzzles that were to confront us this weekend. History books describe the Battle of Bunker Hill as a (questionable) victory for the Loyalists, the British and those loyal to King George, and they say that the Patriots were routed. They also give credit to George Washington for gathering together the discomfited troops, rallying them with the pep talk of a wise and skilful coach, so that from then on they never looked back, but went on to fight successfully for independence. One gets a slightly different story at Bunker Hill.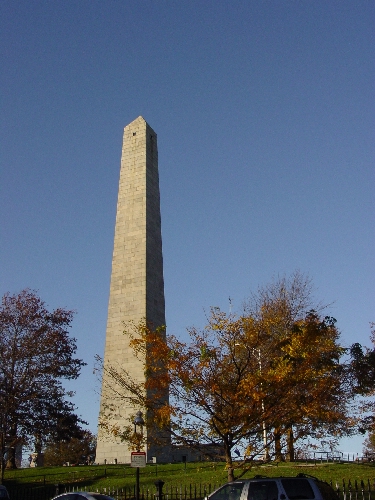 Bunker Hill Monument


Pauline and I indulge from time to time in friendly banter about the relative contributions of the UK and the US to World History. We can discuss, happily, events from the arrival of the Mayflower, through World War II, to the present situation in Iraq. So now, as we approach Bunker Hill, we have a few comments to make.
`This is where we routed you guys.'
`No, this is where we first pitted our small numbers against your imperial machine and realized we could win.'
Several revelations awaited us at the top of the hill. First, the monument is placed here somewhat arbitrarily, as no-one knows for sure exactly where the Battle of Bunker Hill took place. About the only thing everyone agrees upon is that the battle did not take place on Bunker Hill. Second, yes, the Loyalists took the hill. But third, no, they didn't exactly win, because they fought on despite the loss of many lives to the point of exhaustion, and the Patriots had the strength to run away and fight another day. A Patriot quote on the wall says `I would we could give them another hill at the same price.'
What is `the truth' about the Battle of Bunker Hill? The truths in the history books and on the walls of the monument are subjective truths. Everyone sees history from his own perspective.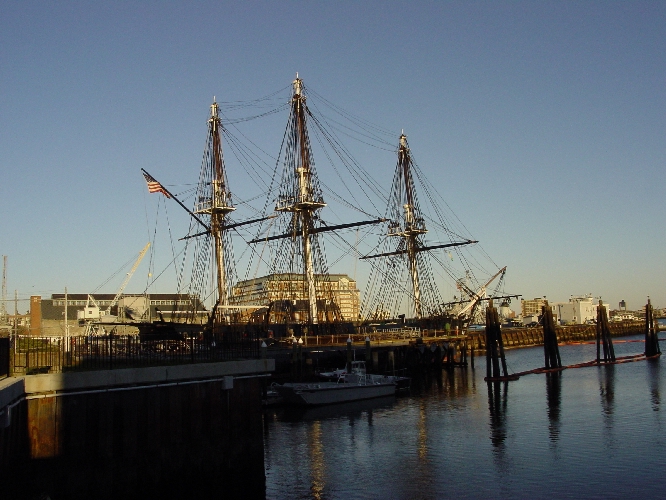 Old Ironsides


On Monday at breakfast we were joined by Jean Marc Fournier, who told us the shocking and sad news that Steve had made the final journey during the night; he would not be attending the seminar, at least in body. He had lost his year long battle with cancer. The combination of events made this one of the most unique and unusual seminars I had ever attended. He had been in the hospital this week because he had developed an infection, and an emerging plan had been to broadcast the event to his hospital room if he was not strong enough to attend in person. Now, however, even that possibility was over.
Jean Marc went on to say that Jeanne, Steve's wife, was anxious the event should go on as planned. Participants were already here, or en route, from all over the world. The tone of the event might change, but still, if we could, she would like us all to continue to see this as a celebration of Steve's life and achievements, and not an unhappy event. Needless to say, speakers began scrambling to reexamine their talks and revise them according to the new situation.
The sobering news obviously changed our moods and made the excursion we had planned for this morning doubly poignant. We had decided to walk in Mount Auburn, the cemetery. We had researched our route, using the T and a local bus, and navigated the transitions successfully. Mount Auburn has been said to possess the most spectacular panorama on the Eastern seaboard. It is the first place in America to be called a cemetery (Greek for place of rest). We found it to be as spectacular as some of the write ups had promised. We finished the day with a visit to Harvard and the Harvard Commons, a collection of stores well worth a visit.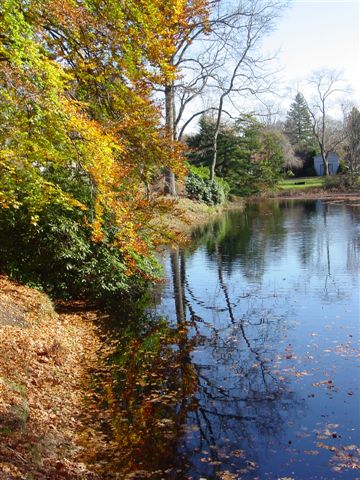 Mount Auburn-I later painted this scene as a watercolor.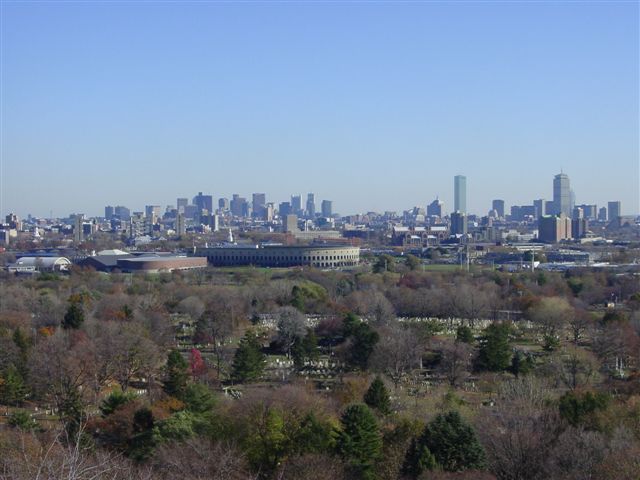 Boston Skyline from Mount Auburn


Many of Steve's friends came together in a reception that Monday night, an event arranged by Media Lab staff as a casual BYOB event and an informal precursor to the more formal seminar. We had originally imagined that Steve would, as a minimum, drop in on this event. The reception was held on the top floor of a local office building overlooking the Charles River. We had all furnished JPG images which provided a continuous backdrop of touching experiences of Steve which now took on even more meaning than originally planned.
Tuesday morning greeted us with a pleasant surprise. Sitting around the hotel breakfast table was one of the highest concentrations of holography expertise I had ever witnessed around a single table. The breakfast group included Yuri Denisyuk, Emmett Leith, Jean-Mark Fournier, Vladimir Markov, Nick Phillips, and Hans Bjelkhagen. Soon Joe Goodman joined the group. Only a holographer could fully appreciate such an assembly. Pauline could not resist getting everyone's autograph on a single page.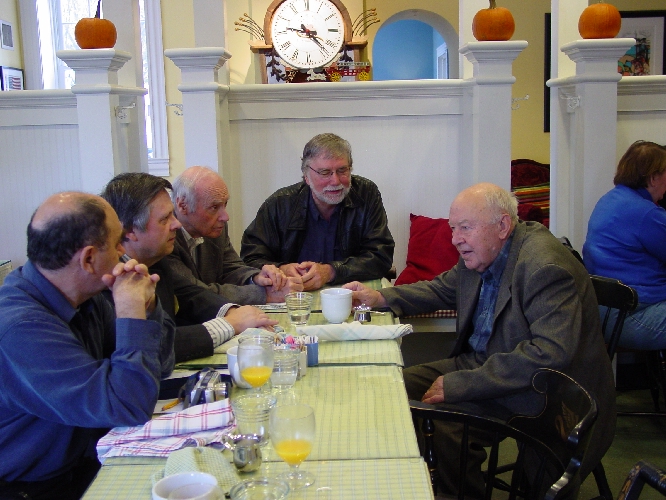 Breakfast on Tuesday


Emmett Leith was the first scientist in America to produce a hologram and had it not been for independent workers in England and the Soviet Union, he would have full credit for creating holography.
Independently, and apparently earlier, in the Soviet Union, Yuri Denisyuk came up with his own, different system for recording three-dimensional images, which ultimately became lumped into the same genus as what Leith had done, both of which wound up being lumped in with yet a different procedure concocted by Dennis Gabor 15 years earlier. Unfortunately, Gabor wound up getting all the credit for inventing holography, unfairly in most scientists' eyes. Again, history will depend on who tells it.
As people began individual conversations, Yuri introduced himself to Pauline.
`I know everyone at this table but you,' he smiled. `May I have the pleasure of knowing your name?'
She introduced herself, and explained that she was my wife.
`And I'm Yuri Denisyuk,' he said, politely.
`I know,' she responded, `and I'm honored to meet you.'
Later, a few of us visited the Holography gallery in the M.I.T. Museum, which is, unfortunately, all that is left on display of the once famous New York Museum of Holography. Steve's influence had led to MIT's acquisition of the entire stock as a single package when that establishment went bankrupt many years earlier. The holography community had cheered Steve's achievement of keeping the collection together. We were all excited to see what had been done with so many important historic and artistic treasures, and how they were displayed.
The holography display was disappointing, containing a dozen not so impressive holograms selected for display. Most of the original pieces are apparently in storage somewhere. If we had not been looking for it, we certainly would not have discovered it by its signs nor its advertising. It was tucked away in a small gallery within other `quirky' media. A curator had been expecting us, and rather sheepishly suggested we might like to see these other exhibits on our way to the holograms.
We were in fact intrigued by an exhibit of robots, including the famous Kismet, who is programmed to respond with expressions and body language to human tones of voice and body language. We also admired the gestural engineering art of Arthur Ganson - weird interactive machines that change form. For instance, a winch would spill out a chain from a spout, the chain would fall in a constantly moving coil on a table, then quietly tip over the edge to recycle through and out of the spout again.
Only after we had run the gauntlet of these exhibits did we come to the holography. A few of Steve's holograms were there, one of Nick's, Ken Haines National Geographic cover, a reflective hologram of Denisyuk - but, on the whole, it was a sparse selection, without order, and not well presented. One hopes more effort will eventually be put into restoring the superb New York collection, but wonders if this will now happen, without Steve.
We walked back to our hotel via a `streetscape' in the process of being constructed by MIT architects. The new buildings look already as if they are falling down, with sections of the building built to look as if they are sliding off into the street.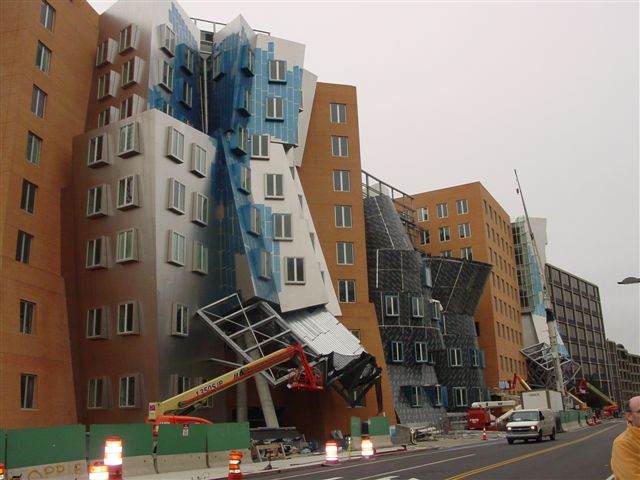 Streetscape at MIT


The time came for the memorial event. We walked there with Vladimir and registered, and received our name tags, information packets and brochures detailing Steve's achievements, a hologram portrait of him, and an event poster. Upon entering the lobby, I noticed that Yuri Denisyuk had not received his name tag and seminar package so I suggested that we go to the front desk and get it. As we walked toward the front desk, we passed a number of holograms on exhibit. Yuri stopped before a holographic portrait of Harold Edgerton. Yuri asked me, "Who is this man?" I responded that it was Harold Edgerton. His reply to me was, "I don't know him." Edgerton was one of MIT's most famous former professors, who had invented strobe photography.
The auditorium was to be too small to hold all attendees, and the proceedings were to be broadcast to other rooms. Being forewarned we selected seats a few minutes early before the auditorium was filled.
The faces at the reception were a reminder of the many diverse people whose lives had been touched by Steve. They included scientists, artists, professors, and business persons, all of whom were pioneers of sorts with the various aspects of holography. For most this served as both a reunion as well as a union of people from diverse fields who may not have known how many people's lives Steve had profoundly touched. Steve had acted as a true bridge between the scientific and art worlds. I could see my own friends, heroes, and heroines from the various cultures sharing wine, cheese, and experiences together. The mood was a mixture of sadness and joy with both tears and laughter.
Charles Vest, M.I.T. president, opened the seminar, which comprised speakers who had come from England, Switzerland, and Russia for the event. He began by introducing Steve's wife, Jeanne, who opened the proceedings with a speech delivered with great grace and courage and humor. Her bravery, her resolution that this event should still go forward as a celebration, her upbeat tone, set the scene for others. She spoke movingly of her husband, his career, his love for his friends, his pride in knowing that this occasion was coming up, his pleasure in looking forward to it. She said it had given them both a bright hope and anticipation in times his illness could have darkened. She ended, amazingly, with an appropriate joke, that set a lighter mood for the audience. She quoted a motto of her husband's media lab - `demo or die', and expressed her admiration `It was typical of Steve that with this event, he managed to pull off both at the same time.' !!
Hearing Steve Benton's curriculum vitae read to an auditorium full of admirers and mourners left me with a wide range of emotions, from sadness that he had moved on to another world just yesterday to pride and joy to have known him. It was a very emotional event, with most emotions represented at one time or another.
Denisyuk was the first speaker, Leith was second, and the tide of eminent and less eminent speakers continued. Other speakers included Joe Goodman, Nick Phillips, Andy Pepper and Betsy Conner (reading a tribute from Margaret Benyon, a holographic artist from England who could not attend), Jean-Marc Fournier, and Rich Rallison. A break half way through gave us a chance to mingle and chat.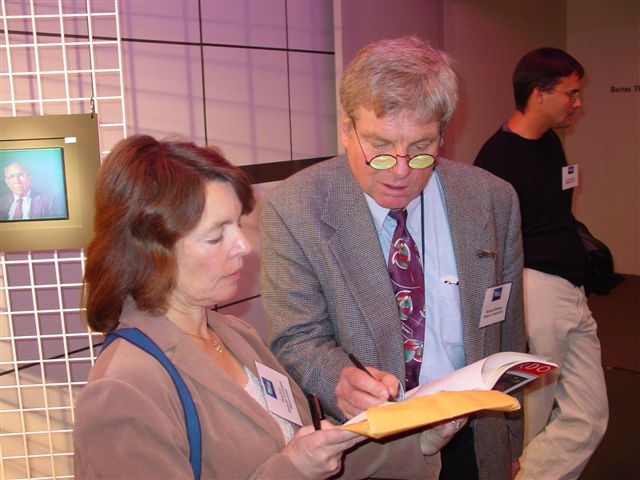 Pauline adding Rich Rallison to her autograph book.
Note Rich's holographic glasses and hologram of Edgerton on the left.


Steve was an enthusiastic organizer in international societies, a bridge between worlds, is known to generations of students, invented a process that came to be known as rainbow holography, and has become widely associated, incorrectly, with embossed holography. He is, deservedly, a famous holographic luminary, an inspiration to many.
It is quite likely that the history of holography will be strongly affected by the series of events that took place in these few days. In several tributes he was placed alongside Gabor, Leith, and Denisyuk as founders of the field. His tragic early death was reported around the world. The obituaries largely took as their source the Benton Vision literature and the MIT News. The Boston Globe passed on its account to international news services. From here history was created. Steve's ability and personality now combine in this legend that lives on after him.
Steve had discovered sushi in one of his visits to Japan and was legendary as a sushi lover and promoter. Appropriately, sushi was served at the reception. Steve's students had planned a special hologram award to present to Steve, a hologram of a Bento Box, containing sushi. Only the plan was described during the event.
The closing astronomical `bracket' to our visit, The MITHenge phenomenon, was first observed and described by Thomas K. Morton, an MIT student in the 1970s. On a few afternoons each year the corridors of buildings 7,3,10,4 and 8 line up to capture the rays of the setting sun. This week four such moments occur, the first on Tuesday, November 11 at 4:18pm. (It happened again three days in January 2004.
Acknowledgement
Some of the descriptions were extracted from Pauline Abbott's Boston trip report.
A few years earlier, I had written about visits to Bogotá, Columbia, during which Steve and I worked together for a few days, presenting seminars on holography to faculty members of a Columbian organization, Colciencia, (The WWT Visits Colombia). I extracted bits from the story that included experiences with Steve to share at the Benton Vision. These follow here.
Adventures in and around Bogotá, Colombia
In 1992 an institute of optics was planned on the campus of the National University of Colombia, Bogotá. The concept was to bring in visiting faculty and advisors from around the world who would help the faculty of various Colombian Universities, and industrial sponsors, to jump start the institute. The initial thrust would be in applied holography. The first foreign advisors and visiting lecturers were Steve Benton, Vladimir Markov, Jim Trolinger, Fred Unterseher, and Bill McGowen. Vladimir became the first director of the Institute.
Steve on an outing to Bogota Falls and the Colombian countryside
Photo by Jim Trolinger


The initial lectures were given to audiences that included professors and students from several Colombian Universities, local artists, and industrial representatives. In 1994, Steve, Vladimir, and Jim teamed up to present a week-long lecture series in applied holography. The following snapshots documented some of the many adventures of this visit.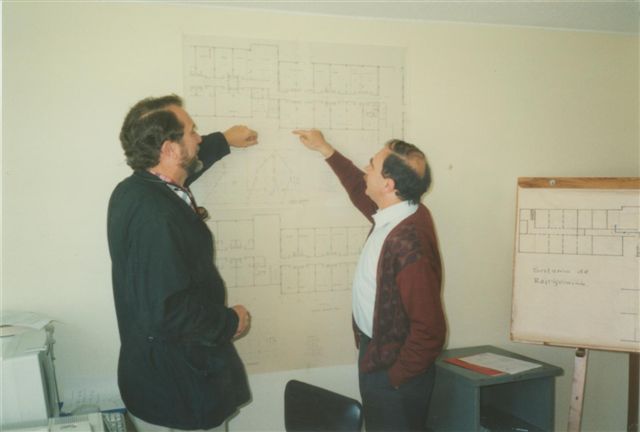 Steve and Vladimir discussing the Institute of Optics of Bogota building plan- Photo by Jim Trolinger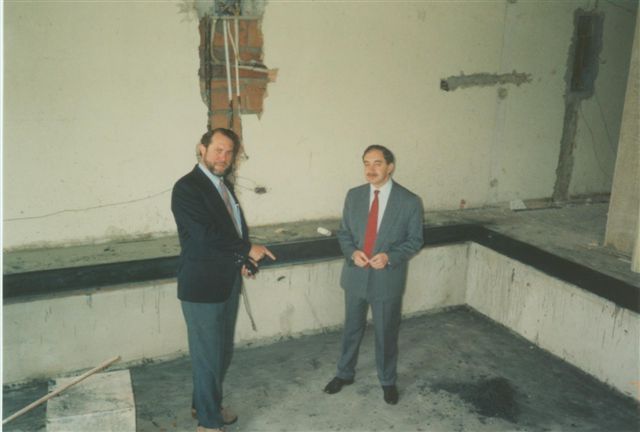 Steve and Vladimir inspecting the site of the new stable table of the Institute of Optics of Bogota-Photo by Jim Trolinger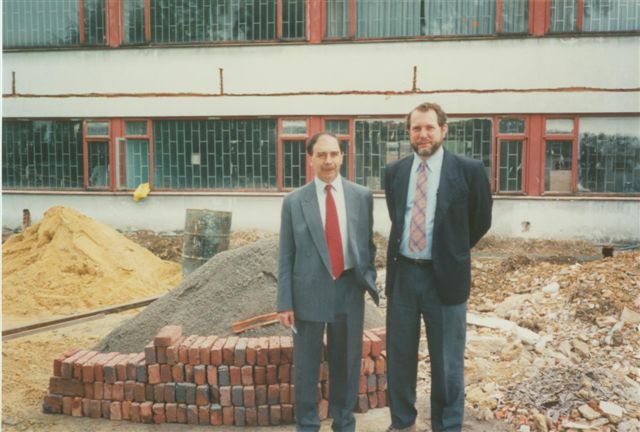 Steve and Vladimir at the building site of the Institute of Optics of Bogota-Photo by Jim Trolinger
Bogota Countryside
The locals arranged several outings for us. On one of these Professor Efram Barbosa, of the Department of Physics at the National University, took Steve and me to his farm which is about 40 miles South of Bogota. On the way we made several stops, including Bogota Falls, several small villages, and the town of Pasco.
On the way out, noticing how poor the road was, I asked Efram if this was the best road out of Bogota. He replied, "It is not only the best, but also the ONLY road out of Bogota to the South."
Steve, becoming somewhat nervous with Efram's driving when he kept passing on hills and curves even into heavy oncoming traffic, politely asked Efram if the double yellow line was advisory or mandatory. Efram replied that if he paid any attention to it he would never get anywhere in this traffic. Driving in Colombia is about as bizarre as it gets.
The falls drop nearly 300 feet at this point. The beauty of the falls was almost overwhelmed by the odor because the river served as a sewer for a large part of Bogota.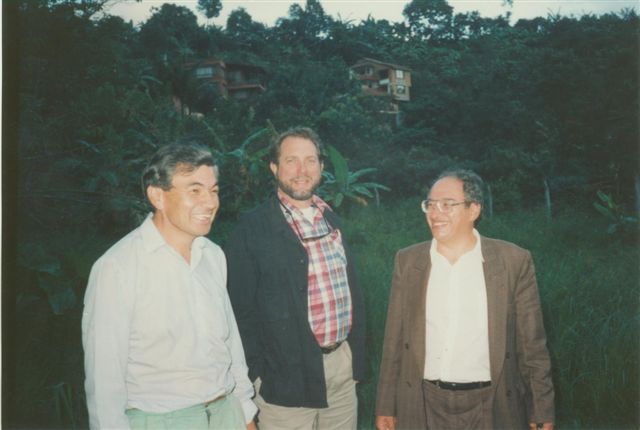 Steve, Efram, and caretaker for Efram's farmland near Pasco.
Photos by Jim Trolinger


Town of Pasco-
We had some concerns because the guerillas were known to operate in some of the villages.
Efram was attempting to convince Steve and me that we were safe here. He said, "This town is really a safe and honest place." Then he added, "as long as they don't find out that you are Americans."
We went to a museum near Pasco only to find it closed for siesta. Efram banged on the door until someone finally came, let us in, and gave us a special tour.
As we were leaving Pasco, Efram commented, that the guerillas did not operate much in this town. Then he added as an after thought, "Though they did kill the mayor two weeks ago."
Steve and I discovered that taxis in Bogota were really cheap and a great way to get around the sprawling city. Some of the best shopping centers were on the North side of town, while the University where we were lecturing was on the South. We took several trips to do shopping during our stay. On the way back to the USA I was discussing the safety issue about Bogota with the man sitting next to me on the plane, and asked him what his advice about Bogota would be. He told me some of the same things others had about staying in large groups and not wandering around alone at night. Then he dropped the bomb. "One thing for sure," he said. Stay away from taxis, since a lot of these guys work for the kidnappers."