Touring Alaska in Disguise…..as a Legitimate Tourist
May, 2010
Occasionally, I break with the usual WWT tradition and do a full-blown tourist gig just to make sure I know what I am missing with my normal modus operandi. (See, for example "Disguised on a Bus Tour in France"). Having done neither Alaska nor cruise ships, the Holland America "inside-passage, Alaskan cruise-tour" looked like a good way to check off two items on my bucket list. We selected an eleven day trip that included 3 nights on a cruise ship and convinced my sister Martha and her husband Wallace to join us. Although the cruise ship concept does not fit my own travel preferences, I imagined (erroneously) that the "inner passage" cruise would provide a way to view glaciers, and geology throughout the cruise without too much emphasis on the cruise itself.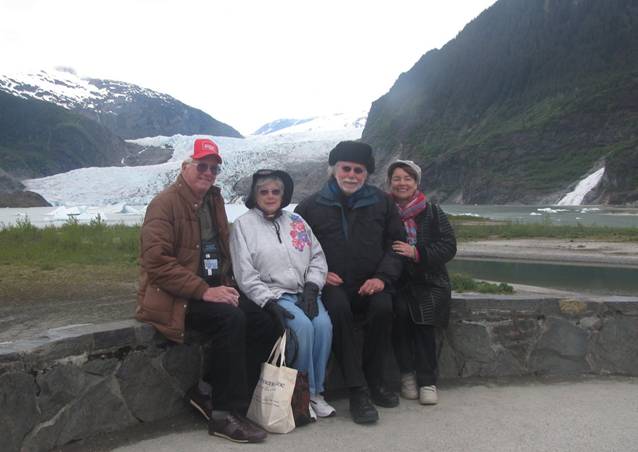 Wallace, Martha Gene, Pauline, and Jim at the Mendenhall Glacier, Alaska
Moreover, I was intrigued by the variety of transportation employed to access the places visited. The tour included (of course) the cruise ship (three and one half days), a narrow gauge train up a mountain (three hours), various types of buses and vehicles, a river boat (four hours), and a dome topped train (12 hours). Other outstanding features were the experience and competence of the staff, who were all incredibly well-informed about the history and details of each place we visited, and were excellent speakers. They all seemed to love their jobs.
We boarded the cruise ship Volendam in Vancouver on May 18 at 1 PM (the first cruise-tour of the season), checked out our rooms, and proceeded immediately to Deck 8 where lunch was being served. Thus began the confirmation of a widely advertised feature of cruising, namely, if your life is about eating, then a cruise is perfect for you.
Everywhere we turned was another place to eat. Since it is mostly all included in the price, people seem to be in a struggle to get their money's worth. You can schedule yourself for fine dining in one of the ship's dining rooms, choose a lavish buffet almost anytime, and snacks, desserts, and drinks are always available somewhere, including free 24/7 room service.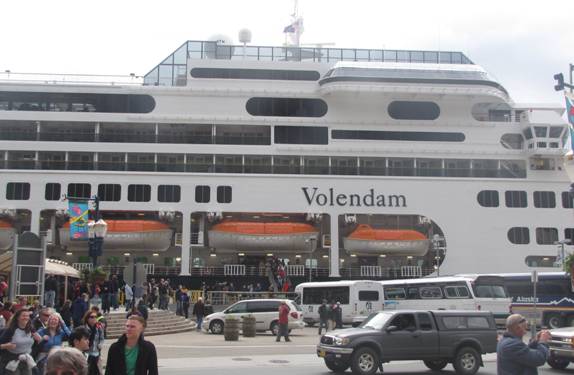 Cruise ship Volendam docked at Juneau, Alaska
By evening I had explored most of the ship, beginning with Decks 8 and 9, the upper decks including two pools, volleyball and shuffle board courts, an outside promenade, and Decks 3 and 4, where the shops, casino, galleries, bars, stages, movies, and entertainment were concentrated. There were jewelry stores, spas, gift shops, an art gallery, two or three piano bars, a small casino, and a clothing store. This was sort of like being locked up in a small Las Vegas casino where the food is free. That said, I was pleasantly surprised at the relatively low cost of everything, like five buck cocktails and wine. Even jewelry and gift store prices seemed low. A self service laundry allowed me to wash a few day's clothes for two bucks.
We had a verandah suite on Deck 6 with a glass door onto a private balcony where we could sit and view the scenery. I had imagined myself sitting on the balcony and watching beautiful glaciers go by. But on our first night we passed through the Seymour Narrows during the dark hours, providing us only an outline of the nearby mountains and an occasional view of lights along the shore. By morning we were at sea with land barely in sight, and stayed that way until the third day.
Wandering around the ship was both novel and fun for a while, and the food was outstanding. Even in the buffets, which were the most convenient, gourmet food was served. With a wave of the cruise identity card and I could have anything I wanted at any time, served with a smile. Combining my own real time weight gain feeling with the observation of the other passengers lead me to imagine that cruise ships could be some sort of conspiracy to fatten up seniors like me. To a large extent we were an aging, overweight herd waddling between entertainments and feedings with plates piled high with elegant food. The experience triggered an age old guilt response that some poor slob somewhere may be laboring at starvation wages to produce such luxuries.
By the end of the second day I found myself becoming a bit bored and signed up for a class in Microsoft Windows 7 offered on Deck 3.
The morning of May 21was highlighted with a trip into the Fjord Tracy Arm where we had our first close up view of a major glacier, icebergs, waterfalls, and beautiful scenery. This was what I had come to see, and it is something that can be seen only by ship.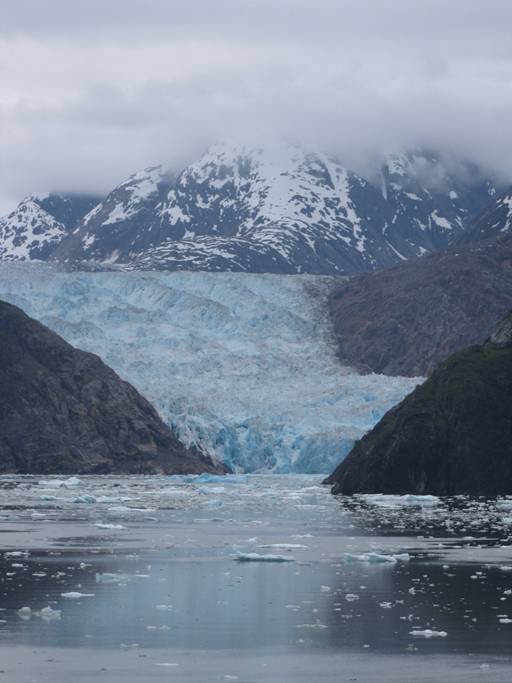 Glacier in Tracy Arm Fjord viewed from our verandah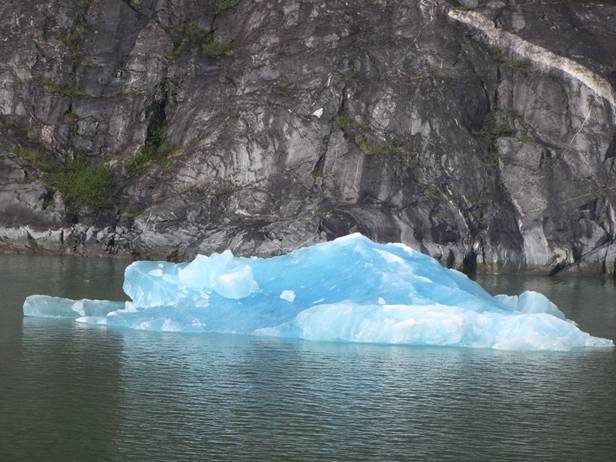 Blue Glacier Ice. The high density and crystalline structure cause the blue color.
We pulled into port in Juneau shortly after noon on the third day and wandered through a maze of gift shops for an hour before taking a side tour of Juneau and a nearby garden. I have heard some of the statistics of Alaska but it takes a visit to digest the fact that while the state is huge (several times as big as Texas), there are not a lot of people living there. Juneau, the capital and third largest city, has about 20,000 residents and not even a highway to reach it from outside. No one ever steals a car in Juneau. You can only get in and out by boat or plane. It was not difficult to see why Sarah Palin was not too fond of living in the governor's mansion in Juneau.
A universal misjudgement in our group was the climate. Everyone had come prepared for cold. Starting with Juneau, we never needed coats, and 70 to 85 degree weather in some spots had people purchasing short sleeved shirts and shorts.
We arrived and left the ship at the town of Skagway at 9 AM on the fourth day. Although cruising was a unique and pleasure filled experience, it is not a life style I could embrace, and I was happy to leave the ship. I would choose a cruise in the future if it can get me to places I cannot get to otherwise.
In Skagway, as in other towns we visited, Eagle, Chicken, Dawson, and White Horse we saw and heard variations of the gold rush theme. Being in such places makes the stories of the "stampede" and the personal stories much more interesting. A hundred years ago people came through Skagway on their way to Dawson City to get rich quick. They sure were in for a shock.
Today people come through Skagway to see the scenery and to learn about the people who went there to get rich quick, people who, struggling just to stay alive, could not have enjoyed the scenery as much as we can, people who learned what we all have been taught so well. "If it sounds too good to be true, then …….".
It is hard to imagine that 100,000 poorly prepared people set out to make what would become a nearly impossible mountain climb, hundreds of miles trek over icy rivers, in 70 below zero weather, that would take over a year. Less than 10,000 made it and most of them arrived too late to get in on a worthwhile claim. The gold was not on the surface to be picked up; you had to dig through 30 feet of icy permafrost to even have a chance. Only a handful of the first ones made the millions all had imagined as easy money.
Today, the tourist season extends from May until September, and the towns go into hibernation between cruise ship/bus visits. When a ship or bus arrives the streets fill with tourists taking photos of the period buildings, having drinks in the Red Dog saloon, and have their pictures made dressed in furs and snow shoes or with caribou antlers sitting on their heads.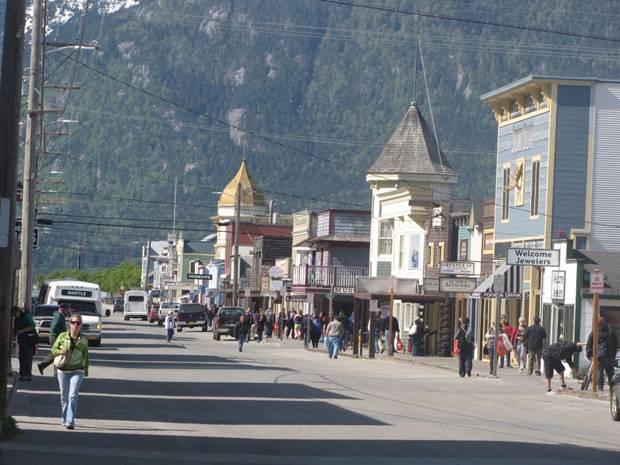 Skagway
The train trip from Skagway up the mountain to Fraser, where we crossed back into Canada, provided marvelous views of the mountain scenery. I spent most of the time standing on the platform between cars to get an unobstructed view. The cold wind reminded me of how lucky I am to be able to enjoy the smells of the forest while looking over a hundred miles across snow capped mountains and a valley lying a thousand feet below. The stories of people who spent over a year traveling on foot the distance I would travel in a day somehow intensified the experience.
At Fraser a friendly customs agent greeted us on the train and checked our passports as we left Alaska and entered Canada.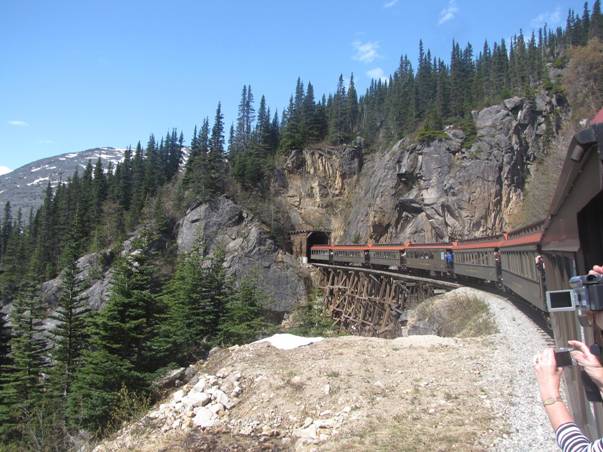 Train from Skagway, Alaska to Fraser, Canada
Back on the buses we arrived in Whitehorse in time for Gertie's Follies, a vaudeville show that had us all in tears. The cast sang, played various musical instruments, danced, put on funny skits, and recited the poetry of Robert Service, who resided in Dawson City in the early part of the 20th century. It is nice to discover that great talent exists everywhere.
After the show, Wallace and I took a stroll around town along deserted streets with all stores closed and no cars in broad daylight. We photographed a street clock that was reading 11:35 PM against a beautiful sunset. That day provided us nearly 20 hours of daylight.
Among the various problems with touring with a group like this is maintaining a grueling schedule, bags out at five or six AM, on the bus at 7 or 8 AM. With nearly 20 hours of daylight, I found myself exploring until midnight while others were sleeping. This gave me 4 or 5 hours of sleep each night. I made up for some of this by dozing on long bus rides when the scenery was not at a level to keep my adrenalin flowing.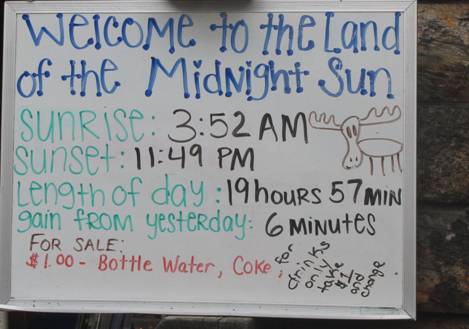 Sign in Fairbanks
We arrived by bus at Dawson City, the king of gold mining towns turned tourist attraction. Dawson was the only town where we stayed more than one night, but even there we had only one full day to take it all in. Dawson, which lies near the conjunction of the Yukon and Klondike rivers was the very heart of the Klondike gold rush of 1898, with over 30,000 residents at its peak. Today there are less than 2000, most of whom handle the tourists, and many who leave during the winters to avoid the 70 degrees below zero weather. One local told me that "cold" is not a meaningful word to describe how such temperatures feel.
Gold is still mined on an industrial scale where big machinery squeezes out the gold that remains in ways not available to the individual prospector. Even so, a few prospectors scratch out a living and occasionally find valuable nuggets.
Our guided tour of Dawson included a tour of the gold fields where we stood on the historical "Discovery" spot at Bonanza Creek that made a few guys rich.
After a few years when Dawson became more accessible, a few great people settled here, including Robert Service and Jack London, both well known poets and writers. We visited the cabins of these writers, which are now preserved for tourists. A gentleman dressed in period costume recited poetry of Service with such vigor that we all laughed with pleasure. These included "The Ballad of Blasphemous Bill" and "The Three Bares". We had heard his most famous poem, "The Cremation of Sam McGee" and others the night before at Gertie's show.
Without the enthusiasm of the locals, Dawson would take a lot of imagination. The attempts to maintain the character of the town and yet provide for tourist needs has led to a mixture of sparkling new buildings, with unconvincing facades, with some of the authentic ones slowly being destroyed by the shifting of the permafrost beneath. Buildings cannot successfully be placed directly on the ground because of the permafrost, which would melt into a boggy slush, so they are placed on platforms that rise and fall. Each building must be jacked up and leveled periodically to keep it level and intact.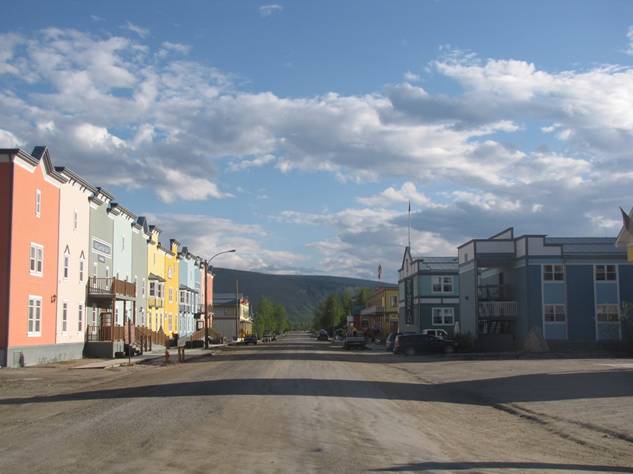 Dawson City- Buildings with facades, wooden sidewalks and dirt roads keep the period look of the early twentieth century. Because of permafrost, ground that stays permanently frozen, buildings and paved roads require special methods and maintenance, so these are also practical solutions.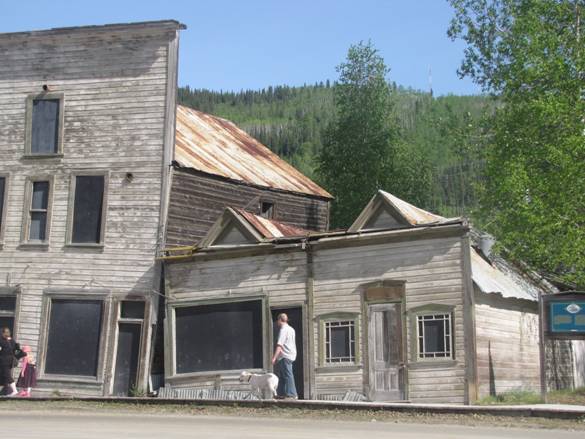 The Tilted Sisters-Authentic buildings allowed to sink with the changes of the permafrost. Buildings must be placed on piers and releveled periodically or they will suffer the fate of these. I painted this scene.
I managed one afternoon of painting. I would have enjoyed hanging out in Dawson a few more days.
One of the true highlights of the trip was a four-hour boat ride from Dawson to Eagle down the Yukon River on the Yukon Queen. Every instant was filled with beauty and interest, including the sighting of eagles, bears, and a moose swimming across the river. I could spend weeks on the Yukon Queen painting a new scene with every turn.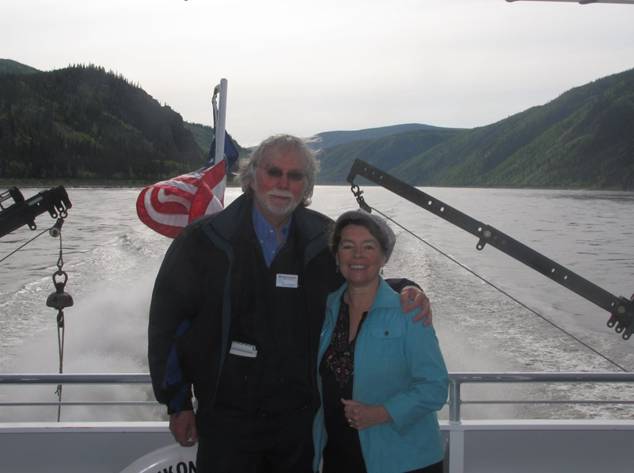 A stunning four hour boat ride down the Yukon River from Dawson City to Eagle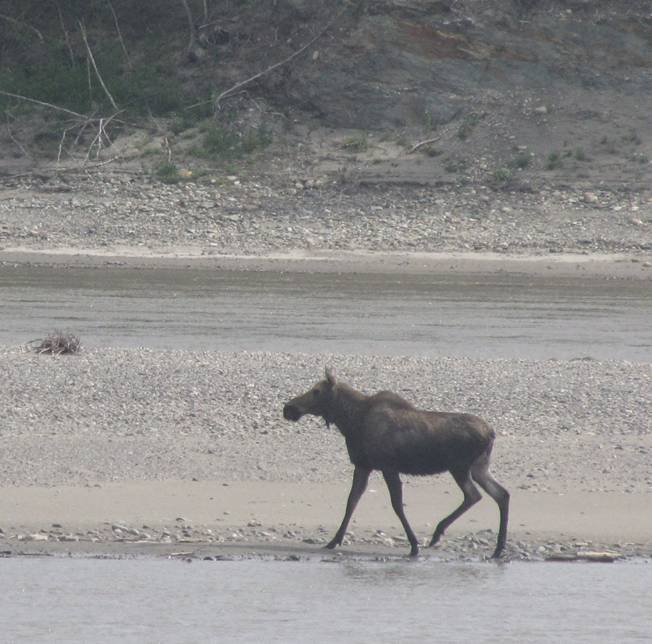 We watched this moose swim across the Yukon River
A customs agent came on the boat at Eagle and checked our passports as we reentered the United States. Eagle is a small riverside village and home of the Han Hwechi'in, a Yukon River First Nation. They put on their own unique form of entertainment and offer crafts for the tourists who pass through.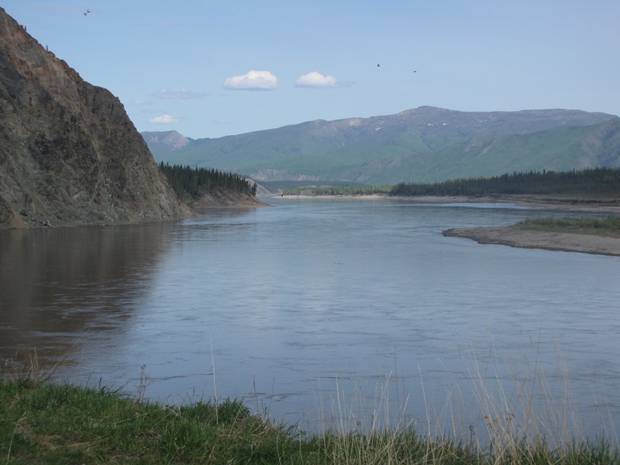 One of the scenes I sketched while standing on the banks of the Yukon River at Eagle
From Eagle we moved by bus along 60 miles of dirt road with views almost as striking as those we saw from the boat. During this drive, some of the weaker souls moved to the opposite side of the bus rather than view over a shear cliff that dropped a thousand feet to the river below. We stopped briefly in Chicken so everyone could photograph himself heading into the "Chicken Poop", the local outhouse, and hit the gift shop and restaurant that offers "the best chicken soup you ever ate".
By now the buses weighed a lot more than they did at the start and were still gaining, assuming money weighs less than souvenirs. I bought a magnet that says, "What happens in Chicken, stays in Chicken." Everyone on the buses had purchased an Alaskan Ulu, a stuffed moose, a totem pole, or something from a vast array of crafts.
After Chicken, we stopped at Tok for the night. It was already time for a late dinner, so the four of us checked our rooms quickly and walked to the hotel restaurant. We had already been impressed by the friendliness of the Canadians and Alaskans, but people at Tok were over the top. Clearly, it was early in the tourist season, so some of the places were still training staff, but if these people could only survive the onslaught of the occasional nasty tourist, they would rise to the top. Amongst a few confusions with the menu and the reputation of the restaurant for large margaritas, Pauline and I wound up with 45 ounce margaritas, which ended up "on the house". By the time we had downed a goodly portion of the icy drink the waiter showed up with a wheel chair to help Pauline back to her room.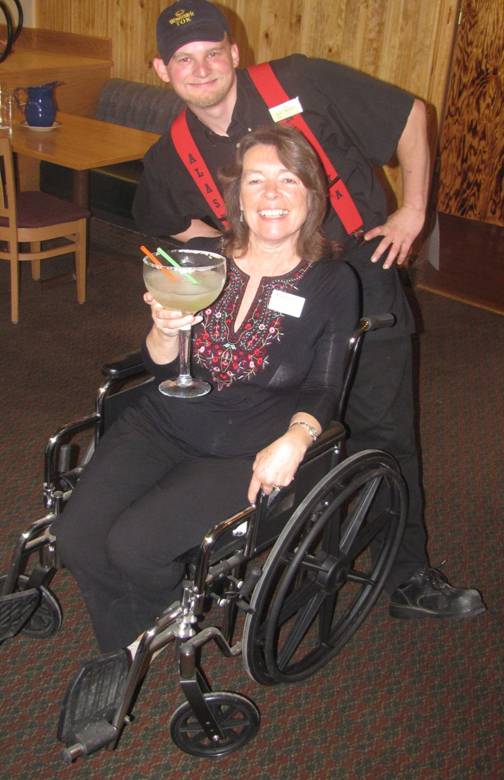 Pauline gets a wheel chair to help her back to the room after nearly conquering one of the famous margaritas served us by mistake.
By 8 AM the next day we were on our way to Fairbanks, which included side trips to the El Dorado Gold Mine and to the Alaskan pipeline. The entire group panned for gold and not surprisingly everyone wound up with enough flakes to be weighed in at 20 to 40 dollars, just enough to mount in a locket sold in the gift store.
The Alaskan pipeline carries over 20 per cent of the nations crude oil across Alaska. Alaskans individually receive a small piece of the action ($1000 to $2000 each per year) depending on how much is pumped.
Fairbanks, Alaska's second largest city, complete with a Home Depot and a Walmart, today largely supports nearby military operations with 60% of residents being associated in some way with the military. A friendly hotel staff greeted us with a wine and cheese reception. While most of our group went directly to dinner and bed Pauline and I braved a walk into town in 85 degree hot sun at seven PM. By the time we had downloaded photos, and watched the news it was midnight.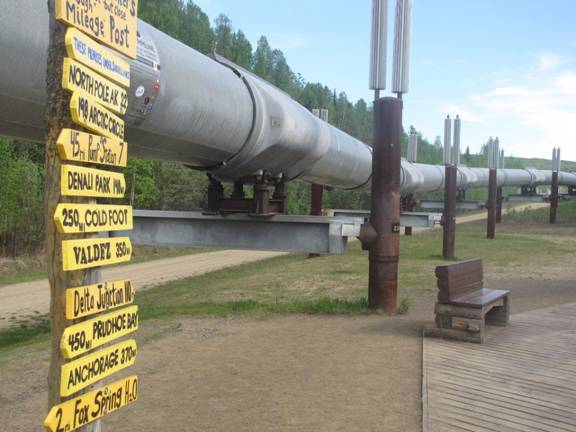 The Alaska pipeline near Fairbanks
Bags out at 7, on the buses at 8, and off to the train station at 8:30, we began a four hour journey to Denali on a dome topped train. The views during this leg of the train trip were partially hidden by the large spruce trees that line the tracks. Occasionally when we crossed a river or hit an opening the view became more interesting. I used a lot of this time catching up on sleep, while others chose to have breakfast in the dining car below. Later as we approached Denali, views became more and more spectacular with mountains on both sides of the train. As we pulled into Denali we could see rafters negotiating the rapids in the river below.
We arrived in the village of Denali, just outside of Denali National Park, at noon, and settled in at the main lodge for one night. But first, in less than an hour, we boarded the National Park bus for an 8 hour tour of the park.
Denali National Park is larger than any other national park not in Alaska. (Alaska has two others that are larger). This is the only park I have visited where protecting the animals and environment has the highest priority and is not compromised for tourist comfort. Relatively few people are allowed in the park privately. There are no hotels or stores or even paved roads in the park. Tour groups travel into the park on packed, buses with a guide. Absolutely no food is allowed outside a bus. The animals have not learned the taste of twinkies. Incredibly, they still eat roots, berries, and each other.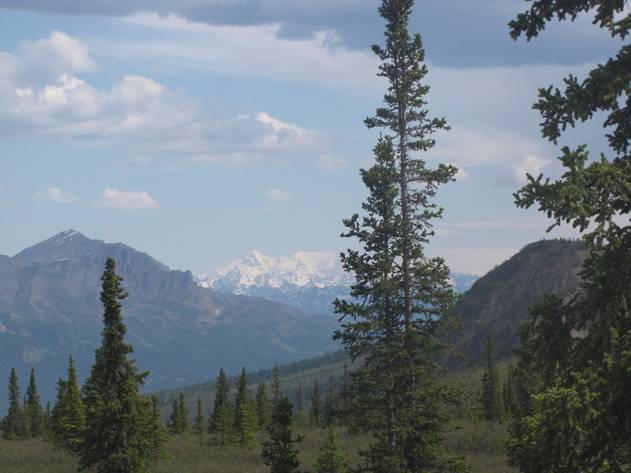 Denali National Park
Our guide was remarkably informed and he spoke eloquently and continuously about everything from bear sex to moose shit. He seemed to know personally each and every animal in the park. We spent nearly four hours driving 40 miles into the park, stopping for animal sightings and views of Mt. McKinley. Most of the people had eaten their boxed lunches provided on the tour before we were halfway to the turnaround. Pauline and I saved our boxes and had them instead of dinner when we arrived back at the hotel at 10 PM.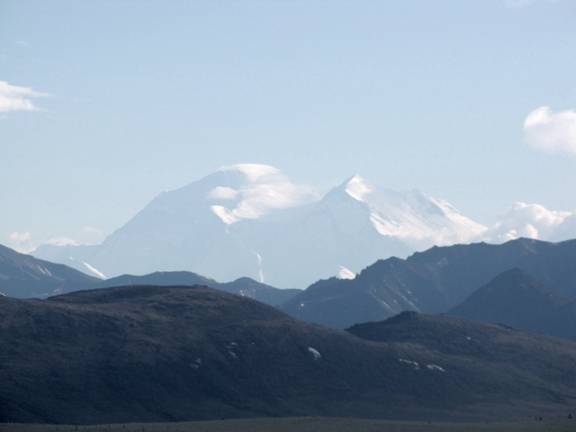 View of Mount McKinley in Denali National Park. The mountain is about 40 miles away at this location.
<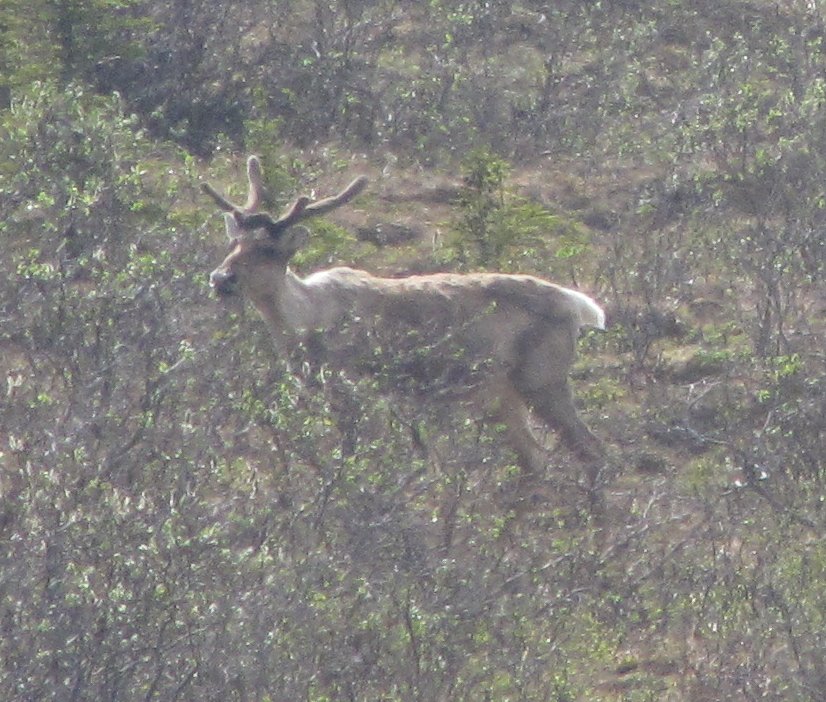 Caribou in Denali National Park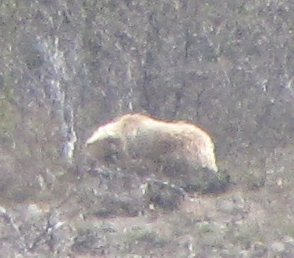 A Grizzly Bear in Denali National Park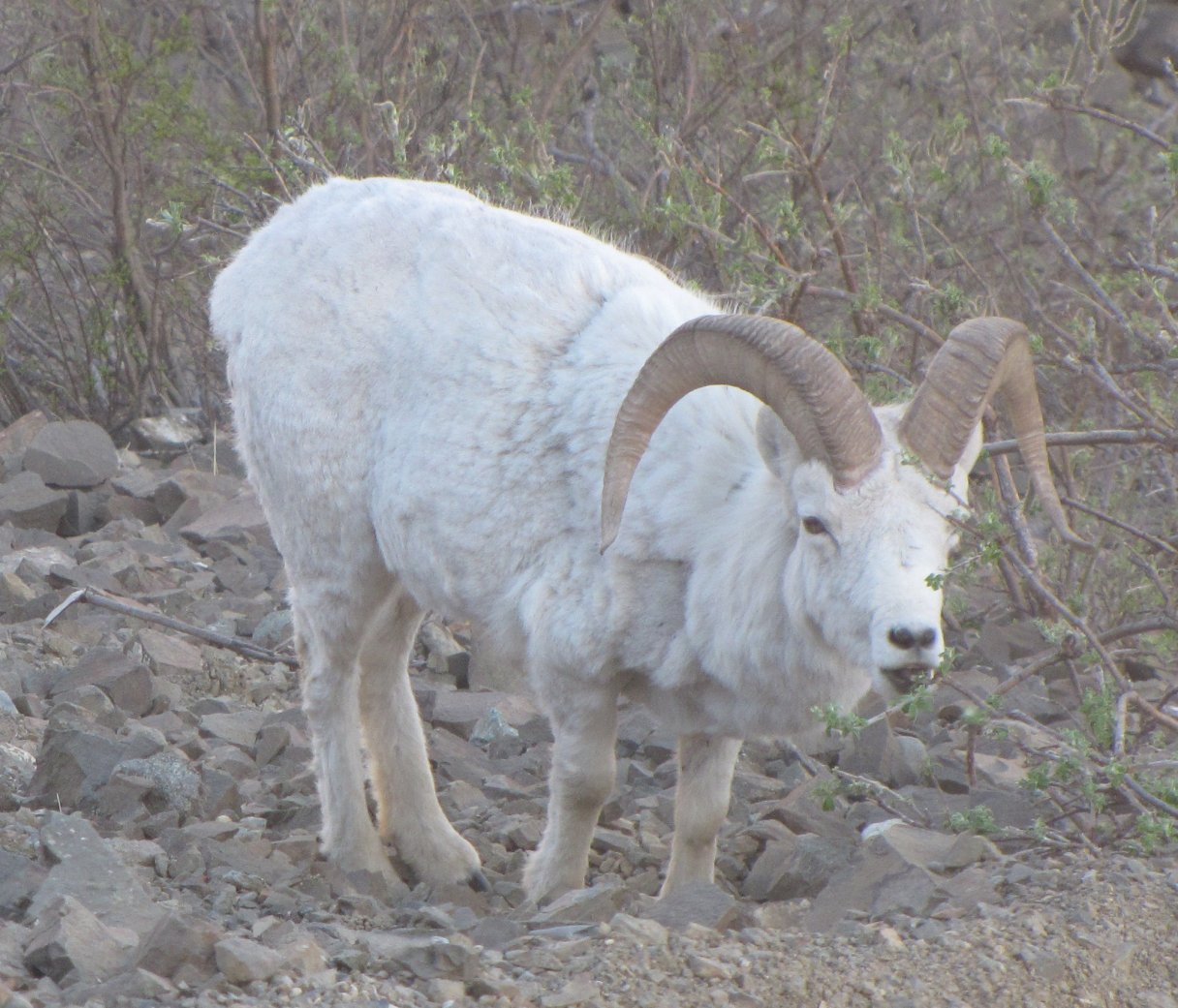 Dall Sheep in Denali National Park
We remounted the trains at noon the next day for an 8 hour trip to Anchorage. The first few hours of the trip included a continuous panorama of amazing views until we again arrived at the dense spruce trees that blocked the views.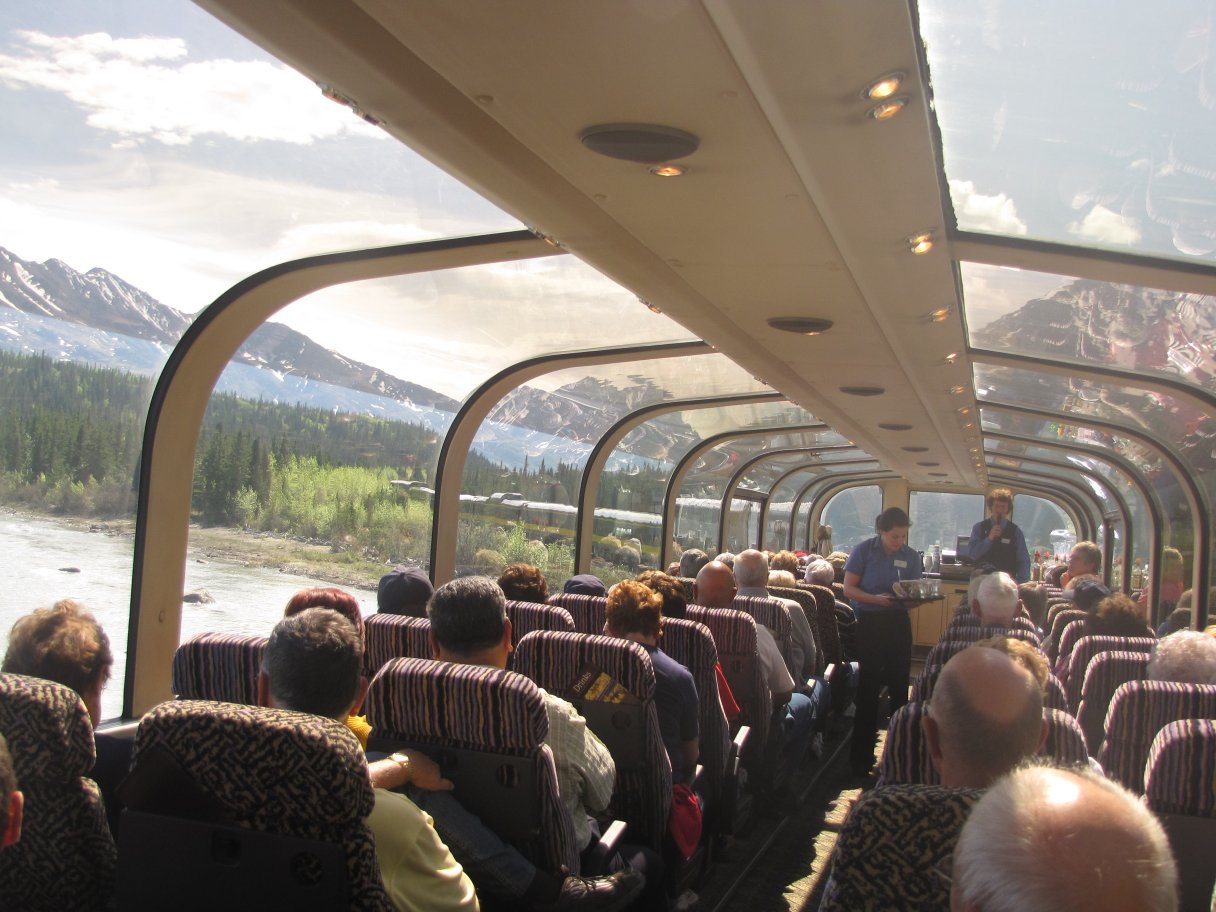 View in the dome topped train. The seats on the right are actually in Denali National Park. The trip from Fairbanks to Anchorage took 12 hours with an overnight stop in Denali.
After a night in Anchorage we finished the routine with a 3 AM arising, bags out at 4, bus to the airport at five. By 7:15 I was sound asleep on the plane. Legitimate touristing is really hard work.