New Zealand Southern Adventures
By Robert Nichols
July, 2008
New Zealand is far from the ordinary when it comes to vacation travel. It has a great deal of diversity for a place the size of California and the population of Colorado. It was the last place on earth to be populated, around 1000 AD, and the first place to give women the right to vote. Modern settlement occurred in the mid nineteenth century. If New Zealand were in the northern hemisphere the latitudes would span Monterey, California to Vancouver Island. A lot of that diversity comes because it is surrounded and moderated by ocean…you are never more than 100 miles from a coast, and some of the glacial peaks reach far into the sky. The Southern Alps rival their Swiss counterparts, the beaches have a pristine beauty without hordes of tourists as in Hawaii, the geysers and boiling mud features are as impressive as those found in Yellowstone, big cities and quaint villages both have staffed touring information sites at the town center, wineries are plentiful, and adventure possibilities unlimited.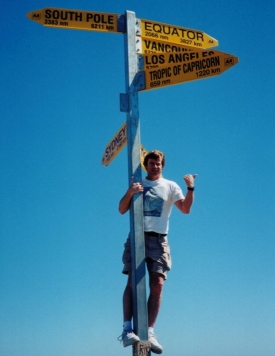 Pt Regina, farthest northern point in NZ.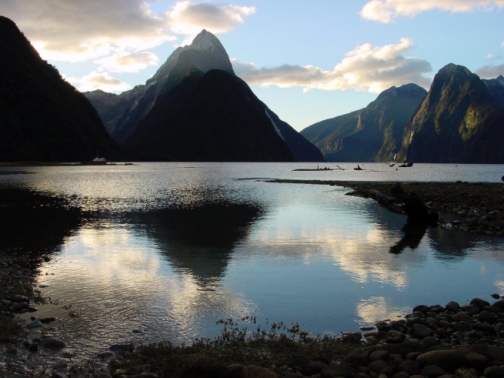 Mitre Peak in Milford Sound
My wife Mary and I have always dreamed of visiting New Zealand, it seemed an exotic place filled with adventure opportunities and they spoke a mostly discernable dialect of English. Just days before we left we learned that a friend of ours had worked on a farm there a long time ago. He gave us contact information of the family he worked for so we could get some info from a local on best place to sea kayak, best wineries, what to be sure not to miss. One thing the Mackenzie's said not to miss was a visit to their farm. We have been good friends ever since and have had the opportunity to take them to a Dodger baseball game on the 4th of July weekend and now, living in Boulder, CO, to some of the front range of the Rockies as well.
Our plan was to hike the Milford track, described as "the finest walk in the world" 1. It is a jewel in the Fiordlands World Heritage Park tucked into the southwest corner of the south island. This hike is a 4 day hut-to-hut hike so the packs were relatively light; Mary could fit all of her essentials in a large daypack. The trail starts on the shore of a massive lake, a remnant of glaciers gone by, and goes through all of the climate zones from temperate rain forest to alpine. We were lucky, it had snowed in the higher elevations the day before so the 2,000' U-shaped glacially valleys were all showering down cascades and waterfalls, more than just the usual, although you can argue in that corner of the world wet may be the usual. Somehow we managed to have fine weather throughout the hike, maybe we just brought a little of California karma with us. A highlight is Sutherland Falls at over 1,900'. One of the pleasures was all the countries represented when socializing at the hut after a days' hike (it sleeps 40 so maybe hut is a bit of a romanticized word). There were Germans, English, Japanese, Israeli, Canadians, South Africans, Aussies, one couple from New Zealand, and we were the only Yanks. It was interesting to converse on cultures and see peoples hut styles. I think we got points for bringing a nalgene bottle full of white wine and having a happy hour with cheese and crackers on the community porch. At the end of the trail a water taxi took us to a wharf in the fiord proper where we were treated to an overnight sailboat journey. We sailed to the mouth of the fiord and got to kayak beneath towering walls with the impressive Miter Peak at the far end, looking like, well … a bishop's mitre I guess. At this point I wasn't exactly sure where we were, it seemed a lot like Switzerland, but also like the Olympic Peninsula, but more tropical, could these fiords be Norwegian?, but the majority of the accents are British and Scottish. All I know is that a few days ago a 12 hour flight brought us through 3 time zones2 out of a life of routine and into a place where fresh discoveries continued to unfold.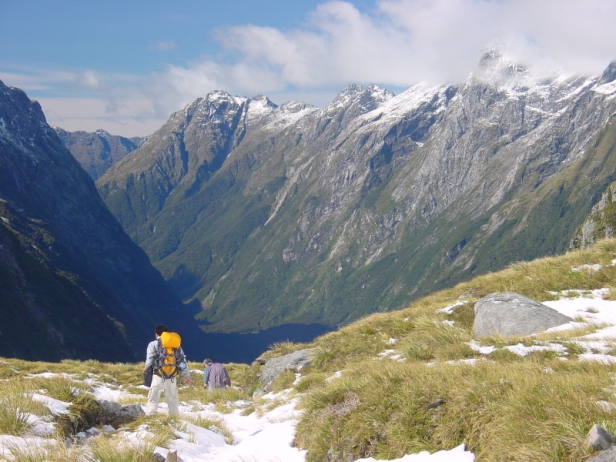 Heading over McKinnon Pass to Milford Sound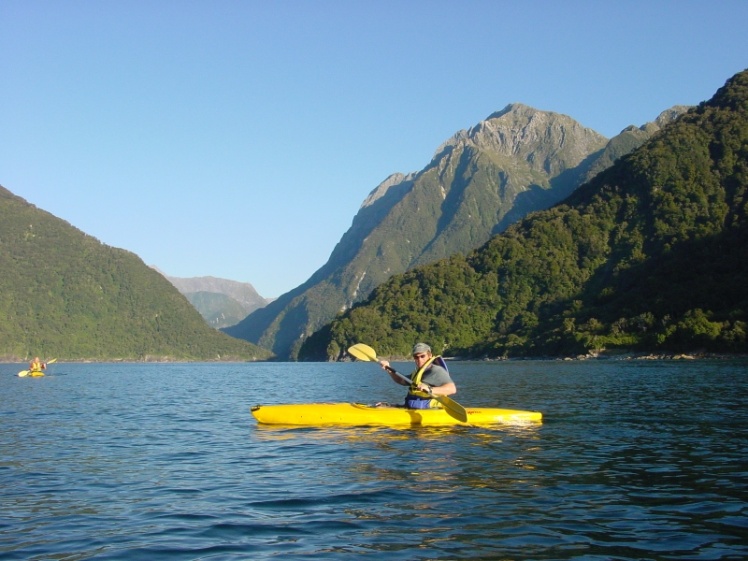 Kayaking in Milford Sound
The flight to New Zealand is fairly easy compared to Europe. The fare itself, while slightly north of a kilobuck, is made up once in NZ since the Kiwi dollar is half of the euro. As an aside the word kiwi refers to a native bird or a colloquialism for New Zealander. Kiwifruit is an edible delight invented in the 1970's by a Kiwi farmer. If a tourist in NZ tells a waitress he would like a kiwi to eat, he would get a strange look. (Kiwis are an endangered species) Anyways, flights take off about 9pm from LAX, and after a nice dinner, a movie, a little nap, I woke up to the beginning of sunrise in Auckland. A tip to those who may be planning a trip there for the first time…THEY DRIVE ON THE WRONG SIDE OF THE ROAD! I knew this prior to leaving but when the guy from AutoRents car rental came to pick us up I headed for what I thought was the passenger side only to be told in mumbling accent "I'll drive her to the rental office. " Once at the rental office he proceeded to go through the details, asking what kind of car we had reserved. I told him a Camry wagon to which he replied "Brilliant!" I'm not sure if he was a good judge of character or just patronizing me, but for my own ego's sake I hoped for the former. My ego deflated a wee bit when after he asked "Surname?", he again replied "yes, brilliant" when I replied with Nichols. Then he asked "Christian?" to which I hesitantly replied "ummm, yeah" (I didn't know if they had some kind of policy if you died in an auto accident if they needed that info to bury you in the proper plot or what. I'm pretty sure I had to be alive to use my return ticket though) After an awkward silence, a jab from my embarrassed wife, and clarification of "given name, sir" I gave him the answer he was looking for.

Half of the country lives in the greater Auckland area so getting out of town required a little bit of attention. Like I said, the good news is that the signs are in English; the bad news is that everyone is driving on the wrong side of the road, one of the unfortunate relics from their monarchy. Once we quickly left the city, navigating was a relative breeze and driving on left side of the road became more natural, if not for the sake of survival. Since I excelled at map and compass in boy scouts and Mary could consider a second career in long-haul trucking those duties fell that way after I made the mistake of asking her which way to go while I was driving.


Deciphering highway signs

Purchasing power of NZD
The most beautiful beach that I have visited in the world is Cathedral Cove at Hot Water Beach, NZ. Just south of a beach with hot water springing from the sandy shore a short walk through the bush leads to cliff with a staircase spilling down to a sandy cove. Just off the beach, in emerald green waters are sandstone-like towers taller than they are wide. To the left is an arch in the point, which, as its name implies, looks like a vaulted cathedral ceiling. At low tide you can pass through this arch without getting wet. It is like a gateway to an even more impressive beach. A perfect sandy cove with high cliffs and sea stacks in the surf zone looking like chess rooks awaiting a mating move. The refreshing water is perfect for swimming on a late summer day in March. It is not as cold as summer Laguna Beach but cooler than the bathwater of Ft. Walton Bch. The most peculiar thing about this beach is the lack of people. There were literally only about 10 other people on this perfect beach on a sun-drenched day. As another aside, in the movie "Chronicles of Narnia – Prince Caspian" this arched cove is the gateway to Narnia for them.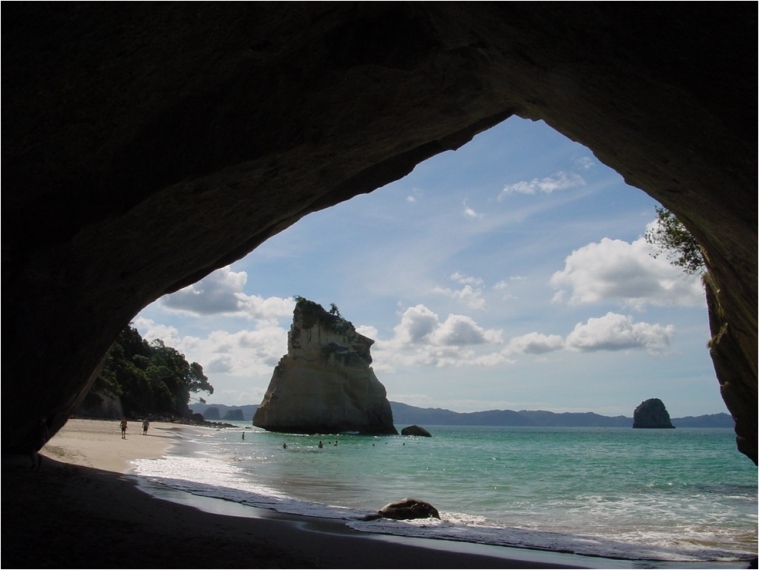 Cathedral Cove on the Coromandel Peninsula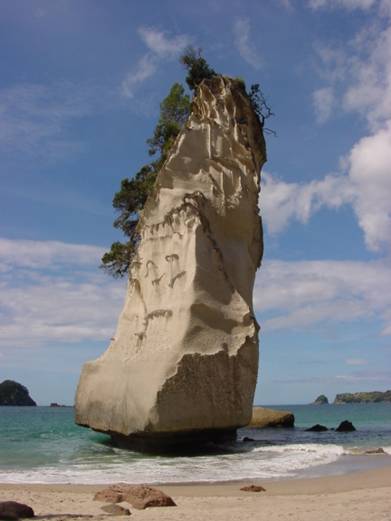 Sea stack, Cathedral Cove
Christchurch has been described as being more British than any city in Great Britain. It is the largest city on the South Island with a population of about 300,000 folks. The river Avon meanders through the heart of town. A pleasant outing includes punting on the river Avon, strolling through the impressive botanic gardens with lunch at the Curator's House, a hop-on / hop-off trolley ride to Cathedral Square where shops and street performers abound, a visit to the Arts Center, and a ride out to the banks Peninsula where steep winding roads quickly give vistas of the entirety of Christchurch and the Canterbury Plains behind.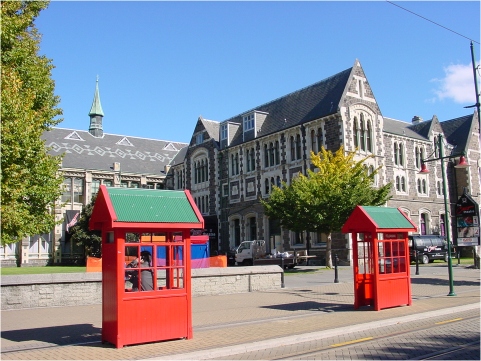 The Arts Center in Christchurch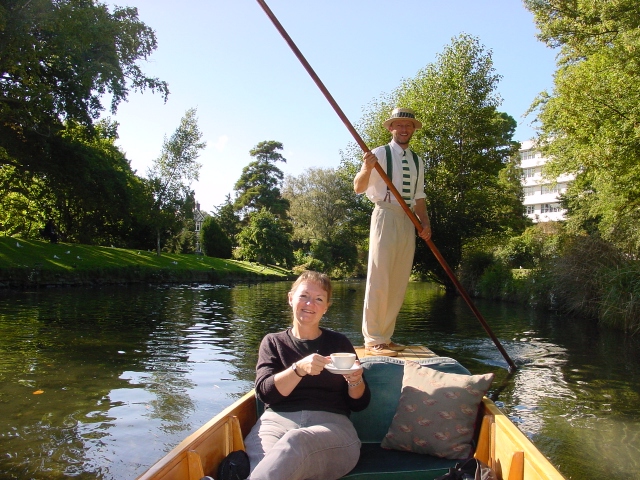 Punting on the Avon through the botanical garden
About an hour south of Christchurch and at the base of Mt Hutt in the Southern Alps is the little farming village of Methven3.   While quiet in the late spring, summer and fall, in the winter it swells with skiers from all over the southern hemisphere and for serious skiers in the northern hemisphere who need to ski year-round.  It often is the first ski field to open in the southern hemisphere.  Summer activities include hot air ballooning over a patchwork of farmland below with the Southern Alps as a backdrop, jet boating on the Rakia River on boats that have an 8" draft by pilots (not captains) who like to push the limits, and fly fishing for famously ginormous4 trout that live in the glacial rivers.  A great place to make base camp in Canterbury is at Brinkley Resort5, apartment style condos a 200 meter walk past a pasture of sheep (they love to be hand fed) to the pubs in the town center.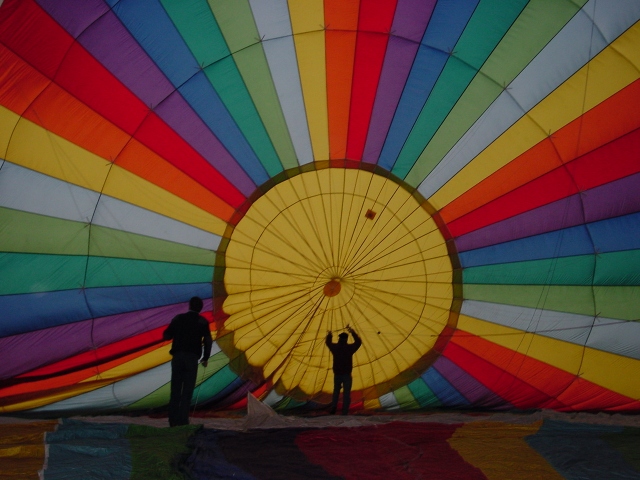 Filling the hot air balloon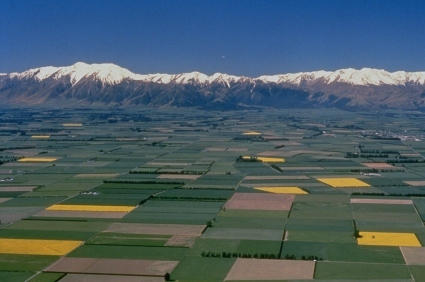 Methven from the vantage of a balloon ride
We drove along the inland scenic drive then cut back to the coast at the Moeraki Boulders. These are 1-3 meter round boulders with seam-like cracks resembling giant soccer balls (footballs to the rest of the world).  Local Maori Legends explained the boulders as the remains of eel baskets washed ashore from the wreck of a large sailing canoe and turned to stone.  Geologists suggest that these may be calcite concretions in mudstone that have since been eroded by the pounding surf.   Farther down the coast is the Scottish settled town of Dunedin on the Otago Peninsula.   Here we found the rare yellow eyed penguins.  They nest right on the sandy shores in bushes and are vulnerable to predatory species such as stoats, cats and rats.  There are no native land mammals to NZ, nor any snakes.  This is one reason why there is a panoply of flightless birds, there is no need to fly.  As species were introduced or snuck in by ship, many native birds instantly had to contend with predators faster than they could evolve defensively.  The Dept of Conservation works hard to ensure survival of native species.  Often peninsulas and islets are more defensible from predators. 

  
Mary and me at Moeraki Boulders                                     Yellow-eyed penguin

Inland from Dunedin is Queenstown, adventure capital of the world.  It is here in this Wild West town equidistant from the equator and the South Pole where bungee jumping was invented.  It sounds easy enough, jumping off a perfectly sound bridge with a rubber band-like rope attached to your ankles.  The guide assured me that they are good for probably at least 100 jumps.  I was a little nervous when he told me I was the 99th jumper on that one and he best retire it after my jump.  Actually it is a pretty cool feeling of swan-diving off a 40 meter bridge, accelerating, and watching the river below get bigger.  I must point out that after not hitting the water I was catapulted back up toward the bridge.  My mind was quickly racing through some back of the envelope calculations…I thought I heard the bungee had an 80% recoil efficiency, and what was the jump platform… some 10 feet above the bottom of the bridge.  Was I going to bang into one of the bridge bottom trusses?   Let's see 40 meters is about 140 feet, right??  80% would be about 110' plus the 10' is about 120' plus a 10% safety margin is 142'… oh crap, better make that a 5% safety margin… braaaace…  But by the time I had finished this calculation I was safely on my second trip down toward the river.  Even if it did break, 99th jumper and all that rot, better to get wet than smattered against a bridge truss. 

    
Me Bungee!!                                    Whangarei, North Island

We made our way through wineries, me with a renewed vow to appreciate the fragility of life after that bungee episode.   Savoring the delicious and distinctive herbal New Zealand sauvignon blancs6 and other varietals was a perfect antidote for that.  At one winery at Kaikoura which overlooks the Pacific we saw the perfect trifecta of marine mammals.  On shore were sea lions, a little farther out we saw dolphin dorsal fins slicing thorough the deep blue water and farther out still were whales spouting their presence.    

 
A delicious spread at a winery north of Christchurch

Extreme picnicking in Mackenzie Country

At Kaikoura we went on a dolphin encounter7.  Dusky dolphins live year-round in that area and are some of the most acrobatic in the world.  They do jumps and back flips because they can.  And it helps the other sex notice them as well.   We boated out to a pod of about 200, got in position and, with snorkel gear, jumped out in front of this swimming stampede.  They are actually skilled swimmers J  and managed not to crash into us.  Diving down into their midst I could see them eye to eye, and they were as curious as we were.  It was really fascinating to be amongst a pod of dolphins, in their turf (surf?) on their terms, without enticing them in any way except by our presence. 

 
Dusky dolphins showing off

Snorkeling off the Kaikoura Coast
New Zealand is an amazing place to visit and is geared to provide visitors experiences that match their desires.  Even after six fortnight trips there we still find new discoveries each time and continue to add to our list of things we want to see and do for the next trip.   Late summer (late Feb-early April) is a great time to go.  The weather is more settled, there are some off-peak discounts, and a lot of the northern hemisphere snowbirds have migrated back home. 
1. http://en.wikipedia.org/wiki/Milford_Track
2. In the austral hemisphere, New Zealand is in the same time zone (plus one day) as Hawaii before their            Autumn and 5 time zones different than LAX in their Spring
3. http://images.google.com/
4. http://www.msnbc.msn.com/id/19698856/
5. http://www.brinkley.co.nz/
6. http://www.cellarnotes.net/sauvignon_blanc_grape.html
7. http://www.dolphin.co.nz/kaikoura/