The World's Worst Tourist Visits Brussels and Brugge-2012
The Grand Place or Grote Mart is possibly the most striking square in all of Europe. My first sighting of Grand Place was more like a religious experience. I had seen pictures of it, of course, but one cannot really make a picture of a square since it has four different views. Moreover, the details in the architecture will overwhelm any photograph.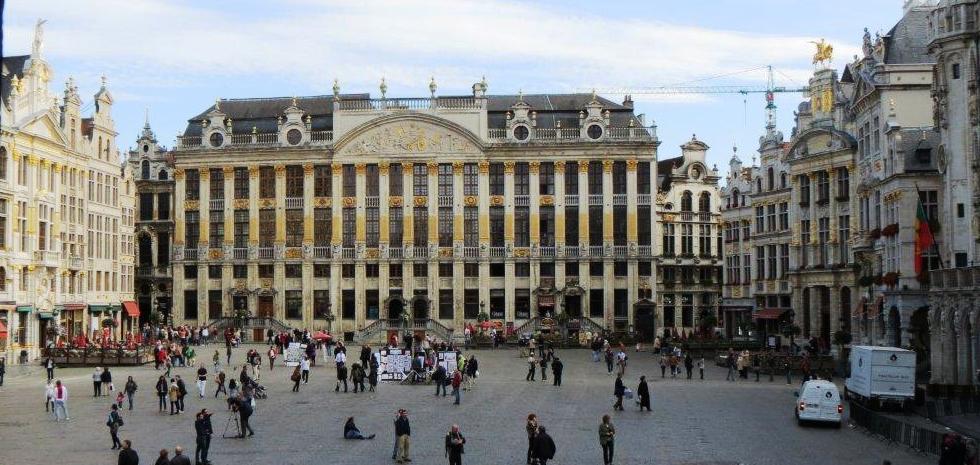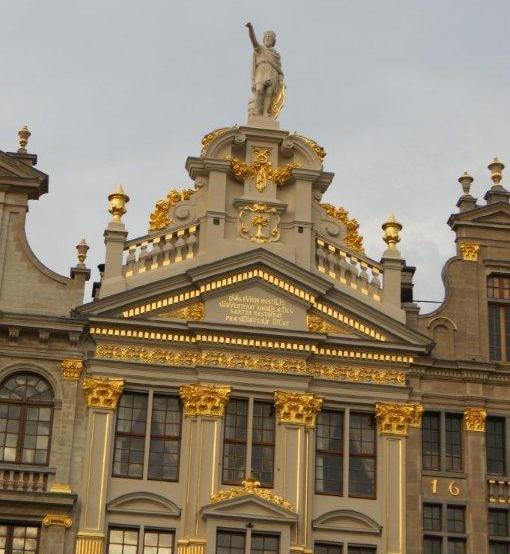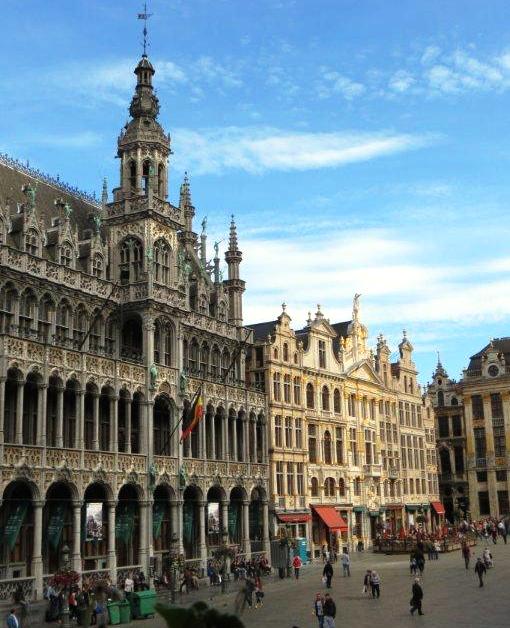 Grand Place (Grot Mart) with close-ups to show detail. In Brussels all public names are required by law to be posted in French and Flemish, i.e. Grand Place/Grot Mart, Brussels/Bruxelles, Bruges/ Brugge
I apologize to those who have never seen The Grand Place for how poorly photographs come even close to representing this amazing square. The ones who have seen it will know that almost everyone who walks into this square for the first time feels a kind of staggering shock of disbelief. I thought I had seen it several times until eventually I painted it.
I began my first trip to Brussels many years ago with very little touristic preparation, planning, or knowledge of the layout of Brussels. Taking the Brussels airport train to Gare Central (Central Train Station) and exiting the front entrance, I, unwittingly, walked down a grassy hill directly into Grand Place. "MY GOD!", I thought, "Brussels is AMAZING!"  naively imagining that all of Brussels was like Grand Place, Eventually, I learned that Brussels, while not all as striking as Grand Place, is a beautiful and interesting city to experience.
Grand Place is one of those places that is hard to describe, except to say that every square inch of it contains over-the-top architecture and sculpture from past centuries. It is so detailed and complex, one cannot comprehend it with one stare, and everywhere you look has the same feel, a scene that you just can't stop looking at. When I lived in Brussels for a month, I walked to this square almost every evening. I never wanted to leave it.  Some of the finest restaurants in the world can be found on and around the square, and the Belgians and tourists fill the narrow streets day and night to eat mussels as well as other fine cuisine, to photograph, paint, gawk, and visit many of the famous sculptures.  The Belgians create the finest cuisine and beer in the world, and a good evening meal in one of these restaurants, starting with wine and crawfish and ending with beer and cheese, can easily last five hours.
The streets and walls are filled with interesting sculptures. Just off the square lies the Mannequin Piss, one of most recognized sculptures in the world, and millions of tourists visit it each year to be photographed in front of it.  Most people are surprised at how small it is. It has been copied in every form imaginable from corkscrews to topiary and would have made a copyright worth a gazillion dollars.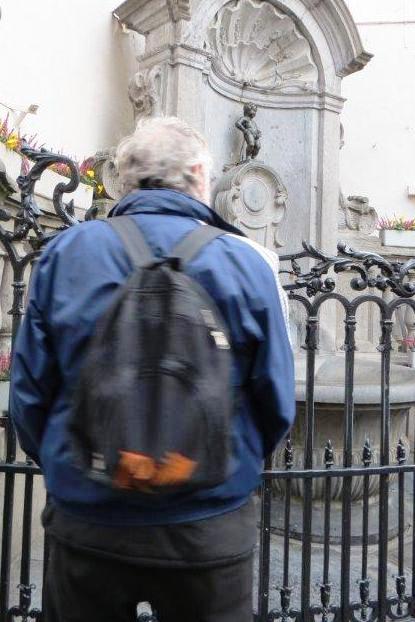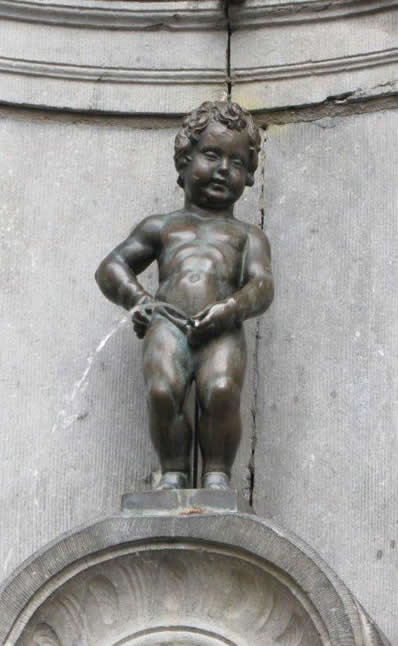 The Worlds Worst Tourist making a pit stop at the Mannequin Piss sculpture. (Not Really) As much fun as it would be to take a whiz here, I was sketching the sculpture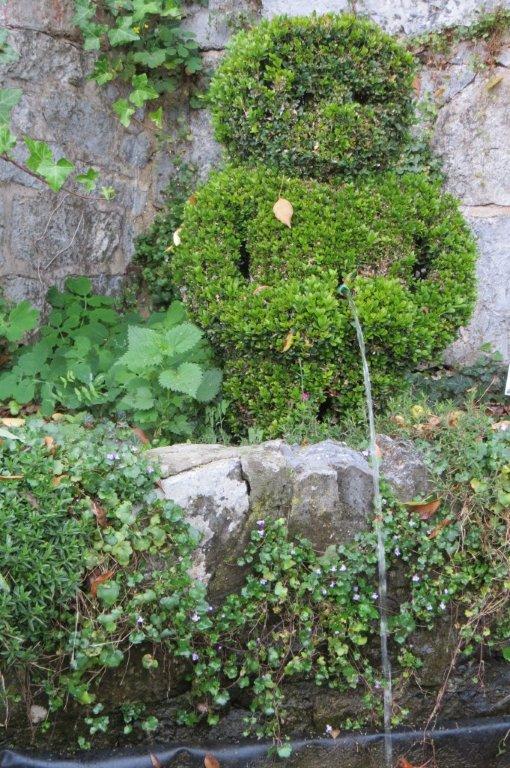 Mannequin Piss Topiary
Since I have gotten ahead of myself, please allow me to back up a bit.  The trip surrounded the annual meeting of the Aeroballistics Range Association, (ARA, the bombs, bullets and armor guys). Pauline handled most of the touristing, except for three days at the end when we would move on to Brugge. For more details on Brussels read Pauline's account of the companion's program. I spent most of my time with the ARA guys, and even though we did some touristing, half of the ARA guys described better ways to blow up the other half's stuff, while the other half described ways to prevent the first half from blowing up their stuff.  Curiously each half assists the other half with his mission. By measuring and understanding the physics of damage mechanisms I provide the information needed by both sides to stay ahead of each other. (Is that possible?) Strange situation, this; I hope I don't ever have to choose sides
The trip began with a two hour trip on Eurostar from the London St. Pancras train station to Brussels Gare Midi, the Brussels south train station. Next to establishment of the Euro, Eurostar is one of the few good things to happen to tourists in Europe in recent years. Several trains leave central London each day, pass under the English Channel and on, at 190 miles per hour to points in Europe. While flying is actually cheaper from England to Brussels or Paris, airport security, delays, and transportation fiascos make Eurostar the much preferred and faster way. (Eurostar security is like what airport security was many years ago, relatively unobtrusive and quick.) The train ride is smooth and enjoyable with good views except for the 20 minutes underwater.
Our friends Larry and his wife, Jo, had joined us in London and entrusted body and soul to our street knowledge of this part of Europe. They were both aware of the reputation of the WWT and chose to join us in spite of or maybe because of that. We could have taken a taxi from Gare Midi to our hotel on the eastern side of Brussels; I even suggested it. Apparently, Larry and Jo had come with an enthusiasm to accept the WWT challenge, indeed, the game, of navigating the Brussels subway system, i.e. following the advice of the WWT to learn the public transportation systems in each country as soon as possible. Between the four of us, we managed to figure out the Brussels mass transit system well enough to move around and stay alive. It  had changed so much since my previous days in Brussels that my knowledge was far outdated. In those days I loved to ride the trams. Today, subways dominate.
Most subway systems have adopted universal procedures and symbols that should be interchangeable between different countries, so they should be easy to use, right? Wrong. What normally is trivial to those in the know can be impossible for those not in the know. The subtleties, inconsistancies, and malfunctions can create the most baffling situations that make the game more challenging than simply knowing the rules. It seems that rules can never completely cover real systems because real systems always contain discrepancies, inconsistencies, malfunctions, and special situations. It would be impossible to put all these into usable instructions. This game is much more challenging and fun than any video game I have played.
Our trip from Gare Midi to the Morode subway station required one transfer. It was easy enough to purchase tickets from a machine, although each machine has many different kinds of tickets. Even the locals never quite know if they are using the right ticket.  We figured if the ticket gets us inside the gate we are home free. The first error put us on the correct track going the wrong direction. The two destination points read "Simone Elizabeth" and "Simone Fredrico". I failed to read both words and just followed the nearest escalator to something that said "Simone" givng me a 50/50 chance of being right, and it was not my lucky day. That would be a serious mistake except getting across the track is not always trivial. It took the wits of all four of us, three false starts, climbing three flights of stairs, and going through some puzzling gate maneuvers, including an elevator that didn't seem to work. It is frustrating to look all around for escalators without success before climbing steep stairways only to find an obvious escalator or lift after arriving at the top. Except for negotiating stairways instead of the elusive escalators, we made it to Morode without additional problems. Now what can go wrong?
One of the Murphy laws states that if there are four choices to exit the subway, the one chosen is always the furthest away from one's desired destination. Also, when you emerge from the subway onto a busy street you have no clue of which way is north.  Another Murphy law states that each city works out a flawless way to hide their street names from unwitting tourists. Nevertheless we all breathed a sigh of relief upon finding the hotel, within a rock's throw from the Morode station, after searching for half an hour,.
Our hotel was a refurbished old palace with lots of charm as well as modern facilities such as free internet and an included full English breakfast, extremely unusual for the Brussels I knew, which served only bread, Jam, and coffee for breakfast.  As we settled in our room, I made cups of tea with my portable kitchen. The hotel had left a nice Belgian chocolate bar on the bedside table, so we had it with our tea.  I thought that was really nice of them until later discovering that the chocolate bar was part of the in room bar and came with a whopping five euro price tag. A worldsworsttourist rule is "Never purchase anything from the room bar even if you are starving."
We agreed to meet to look for a good place to eat, after unpacking and freshening up. The hotel clerk had suggested a place a few blocks away, so we used local knowledge and discovered a small, elegant, local kind of place, Auxarmesdebruxelles (In the Arms of Brussels) with a menu as confusing as the subway system. One of the problems with going local is the language, since none of us were that great with French. If anyone tells you that everyone in Brussels speaks English, you can quickly conclude that he spent most of his time in the tourist traps. To our good fortune, a local patron, by the name of Lewis, who was originally from England came to our rescue and helped us order. Apparently, Lewis lived around the corner and had most of his meals in this restaurant.  He even suggested Leffe, a good local beer. By the time we had finished, I ordered him a coniac and he joined us and swapped a few stories and suggestions.
The ARA meeting was held at the Belgian Royal Military Academy, where all Belgian military officers are trained. We began with a reception on Sunday evening at the academy and I was able to renew old acquaintances from a twenty different countries who would be speaking during the week.
On Monday morning, Pauline and Jo set out with the companion tours, while Larry and I went to hear about the latest in bombs and bullets.
Waterloo
We rejoined the companions in the afternoon at Waterloo, the place where Napoleon "met his Waterloo". The site is commemorated with a large mound on which a lion, produced from melted down weapons, stands. Our guide then took us to several locations around the battlefield giving a blow by blow description of the battle that made Wellington a hero and Napoleon a has-been. Early stages of the battle centered around a farmhouse commanded by Napoleon's brother-in-law, who wasn't very good at war and got his butt kicked. Overall, Waterloo was a pretty nasty battle, and it appears that the aftermath was even nastier, with live and dead bodies of men and animals scattered over hundreds of acres of blood soaked land for days, while the locals scavenged for shoes, clothes and anything else of value.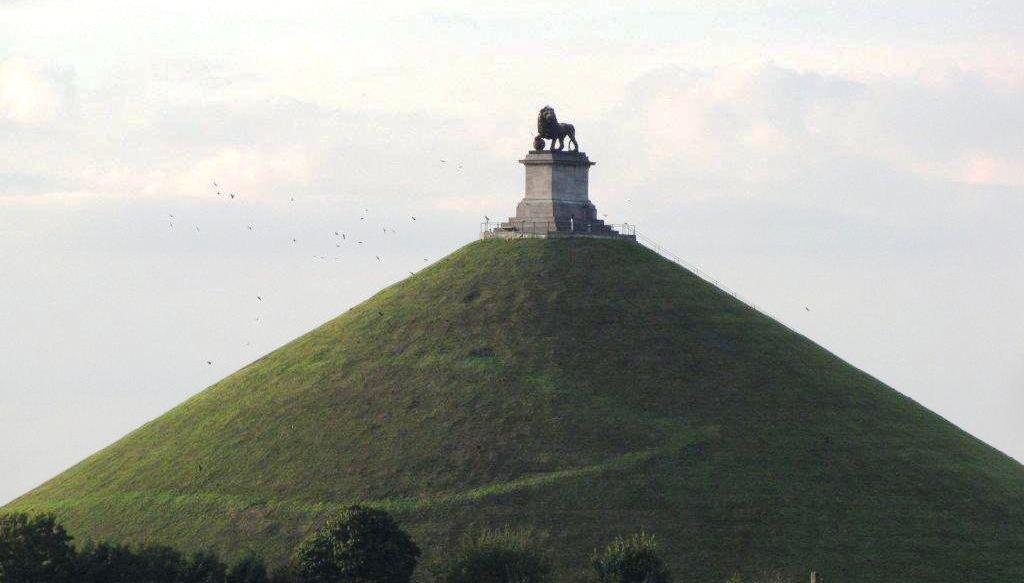 Mound at Waterloo, where a lion sculpture, produced from melted weapons stands.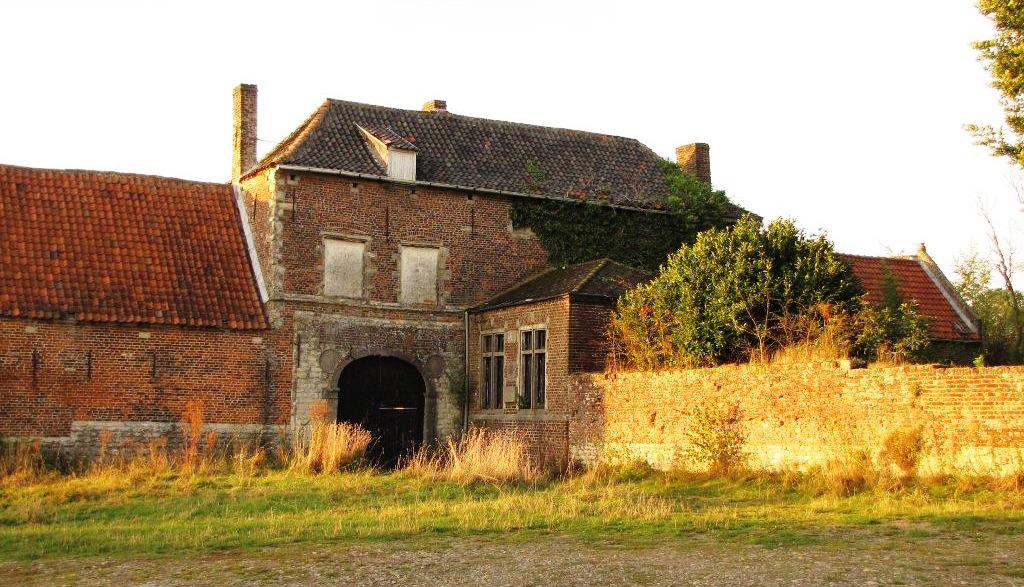 Farmhouse that held off initial attacks by Napoleon's brother-in-law, wasn't very good at his job and got his butt kicked.
From Waterloo, we moved on to the tiny village of Pecrot for a beer and cheese tasting event in that had been organized by the conference leader, Mark and his brother-in-law, who was a bit better at his job than Napoleon's brother-in-law. We were a bit stunned as we approached the bar, a tiny yellow building that turned out to be larger on the inside than it looked on the outside.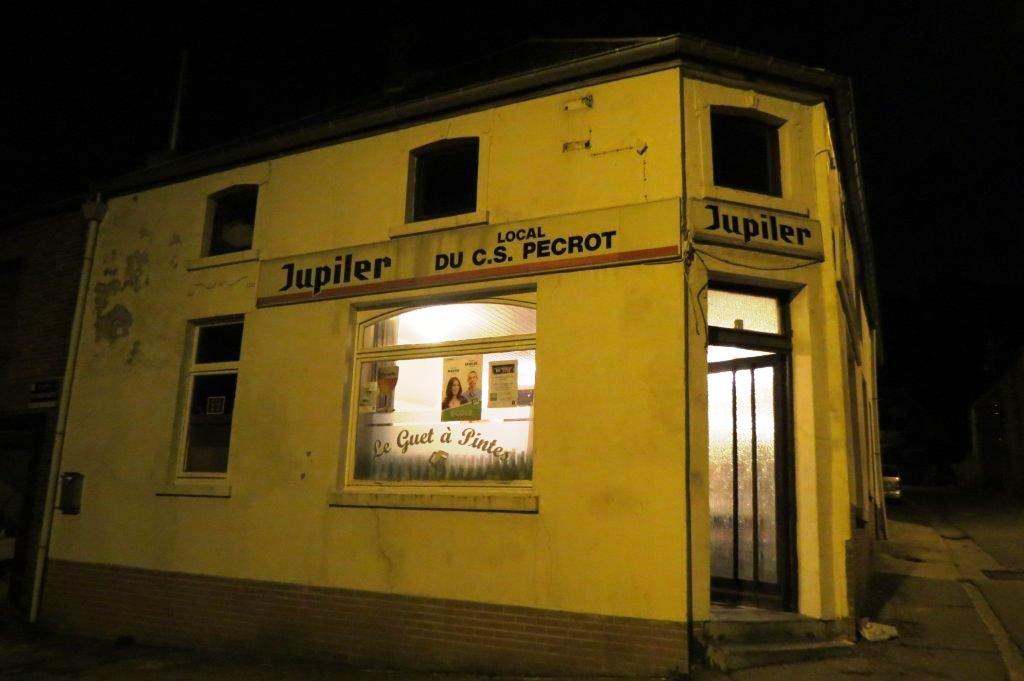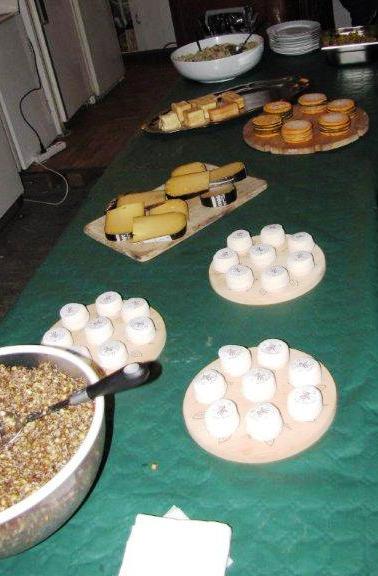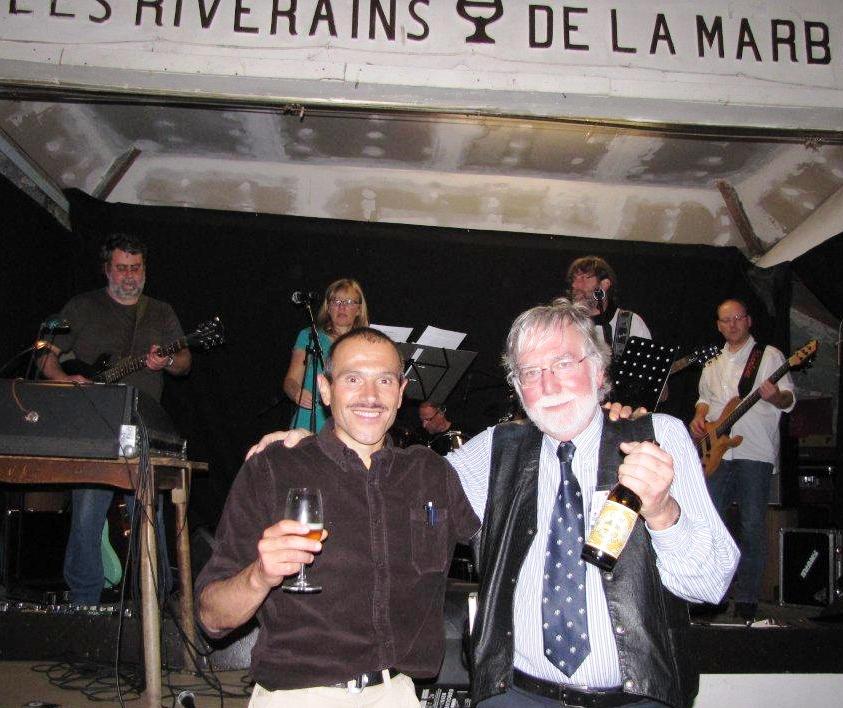 Beer and Cheese party in this little bar that was run by conference organizer's brother-in-law in the village of Pecrot. Like Dr. Who's Tardis, it is larger on the inside than on the outside.
We began downing the beers and sampling the cheese and had a few interesting conversations going until the band started. The band was so loud, it was no longer possible to converse, so I just ate and drank until somehow the band magically sounded really great. Some of the American songs they played were excellent imitations of the originals, and I just leaned back and enjoyed listening. Mark seemed to be having more fun than anyone. Ultimately, the local police showed up and shut the party down, because the band was much too loud for a sleepy little town like Pecrot. Pauline and I were grateful for the police, since the party had already continued long past our usual bedtime, had no signs of ending, and the mornings began really early at these conferences.
On Tuesday morning we continued discussing the latest in bombs and bullets, and I gave a presentation on watching such things in flight.  In the afternoon, the conference hosts took us to the Herstal gun range for hands on demonstrations of the latest in firearms.  This company owns both Winchester and Browning, two of the most recognizable gun companies in the world, and we witnessed demonstrations of a lot of fire power on three different gun ranges. The first was a large machine gun, the type that are mounted on helicopters, trucks, and tanks. Between four different guns, we shot up a few thousand bullets and shot the hell out of a pile of dirt at the end of the range. The most vicious thing I have seen in a while was a helicopter machine gun pair that fires 50 mm rounds at 4000 rounds a minute and it made a noise like nothing I had  ever heard. I had to push my earplugs in a bit harder as this thing ran through a full cannistor of bullets. I could only feel sorry for anything on the receiving end of this screaming death machine.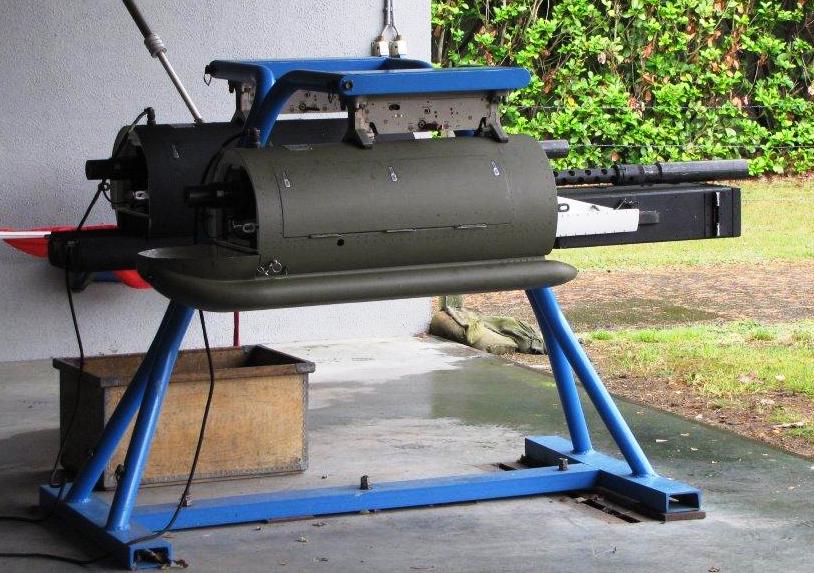 This two barreled 50 mm cannon fires 4000 rounds a minute. I felt sorry, even for that helpless mound of dirt on the receiving end.
We moved on the smaller machine guns and assault weapons, where each of us tried our hands at killing a dummy on the target end. These guns have become so high tech, it makes killing people much too easy. They are designed to have very low recoil allowing one to sight through a scope when firing. The machine guns had such a minor kick you could fire it with one hand without a problem. With one of these weapons and eight year old could nail a man at 100 meters.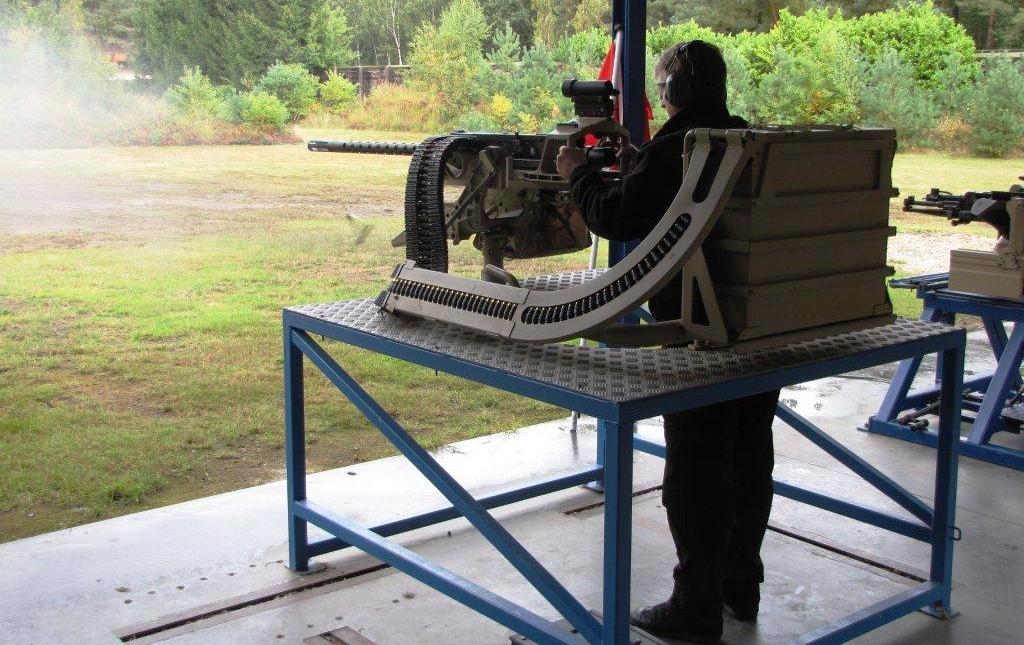 A staff member demonstrating one of several machine guns. This 50 caliber machine gun seemed rather mild after witnessing the first gun.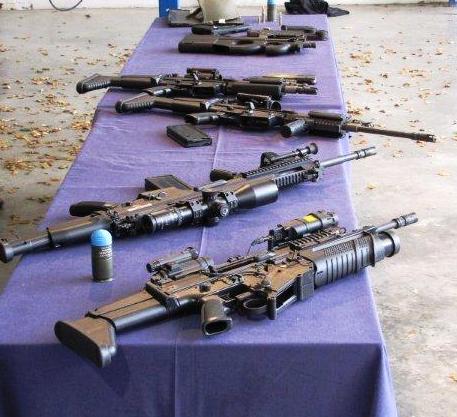 Some of the weapons we tried. A few of these would seem to make killing someone almost too easy. They cover just about every scenario in war anyone could imagine.  The ones on the far end are designed for riots and are supposedly non lethal.
We ended the day firing Browning shotguns. One of these, was an over/under anniversary model with gold engraving, gold trigger, and the works, selling for a cool 2000 Euros. When I was in high school, I worked for a hardware store that had a Browning franchise. Except for owning a car, owning one of these babies was one of my life's great desires. It was nice, after all these years to have the opportunity to shoot one.
One evening the entire group strolled around Brussels and through Grand Place, where our guide pointed out and explained some of the great Murals by Hergé that describe the adventures of Tintin, who is almost as famous in Belgium as the Mannequin Piss. After the tour everyone in the group feasted on mussels (or moules) at one of the great restaurants.
A Brussels Mural. Look carefully, and you will notice that the mural is  kind of extension of the street. Notice the cupola in the upper right of the mural and its matching cupola down the street.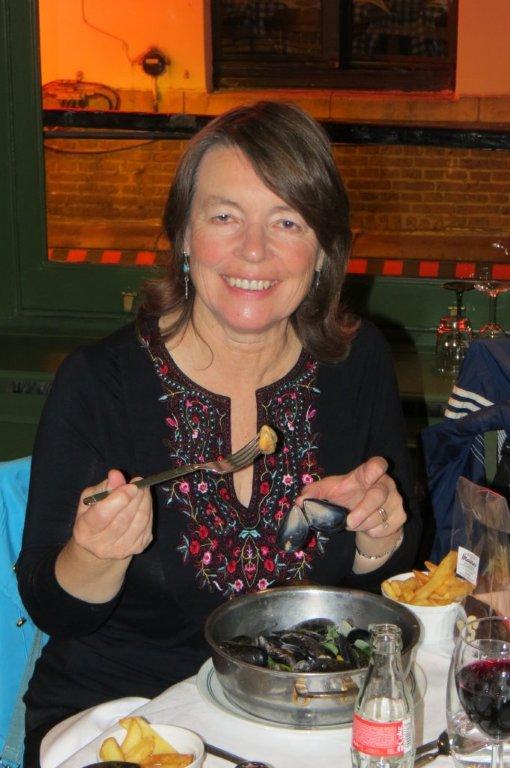 Pauline dining on the best of Brussels. The "French" fries helped her get the mussels down. French fries were invented in Brussels one year when there was fish shortage and attempts at making potatoes taste more like fish were made. (So our guide told us.)
The next day included the final lectures, tours, and demonstrations in the facilities of the Royal Academy. Unlike the USA, where separate schools exist for each of the services; Belgium has just one for all services. It is an impressive facility surpassing all of our expectations with classrooms, laboratories, gun ranges, a football field and several floors underground housing swimming pools, basketball and handball courts, and fitness rooms, all in central Brussels. One of the demonstrations showed what happens to a high tech bullet when it passes through a person's body. You don't really want to know what happens. Bottom line is that it leaves a big hole when it comes out the back.  The nearby complex of European Union facilities would love to acquire this facility for their own use, but the Belgians claim there are not enough Euros in existence to make that happen.
The conference ended with a Banquet that was held in a local castle. The meal was the most impressive yet, following the European tradition of serving a great fish dish, which would normally make a meal for me, before serving the main course of a steak, that one eats, not because one is hungry, but because it is so delicious.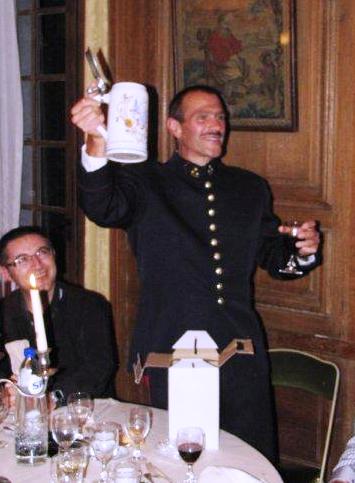 Conference leader, Mark, toasting the ARA at the banquet
At the end of the week, we moved on to Brugge, where, once again I took on the full role of the World's Worst Tourist. For more details on Brussels read Pauline's account of the companions program.
Brugge
Just a one hour's train ride from Brussels, Brugge is one of my favorite cities in the world. If you are a typical tourist, you must make a stop in Gent, Brugge, Rotterdam, and Antwerp. I have spent a few hours in each town, but Brugge is the one I go back to over and over again and stay for a few days each time. I never get tired of Brugge.  It's a friendly town in which you can walk everywhere, eat every possible kind of food, devour the best chocolate in the world, drink great beer, take a few side canal trips, even jump over to Gent to see Van Eyck's famous Gent Alterpiece. Everywhere you look is a painting scene, and the city has several outstanding galleries and churches including art by the masters still hanging in places for which it was painted. You can even see one of Michelangelo's more famous sculptures in the Church of our Lady with other masterpieces by Memling, Pousain, and Van Eyck.
If you have a good map, know on it where your hotel is, and don't have a lot of baggage, consider walking from the train station to your hotel, which, most likely is within a mile of the station. Everywhere you walk, starting at the station is surrounded by great scenery. Two other options are a bus to the town center, the cheapest (except for walking), or, if you have a lot of baggage, and especially if you don't know where your hotel is, take a taxi, which  cost about 10 euros.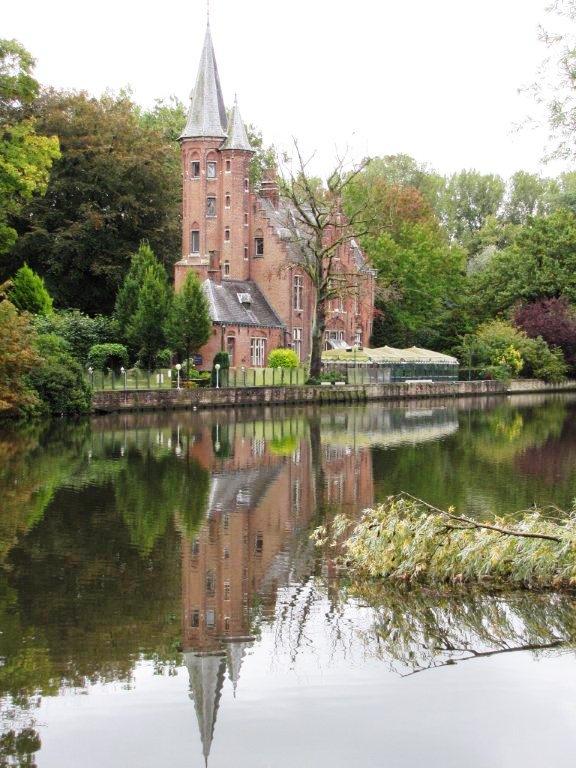 One of the first churches encountered after leaving the station on the way to the town center.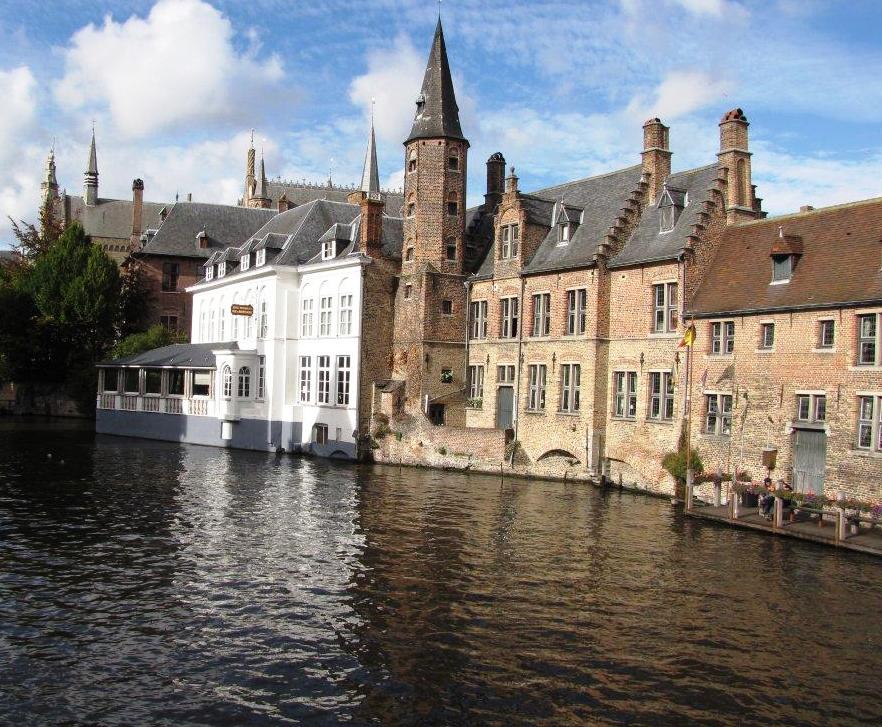 Street scenes between the station and the Brugge town center on a walk around Brugge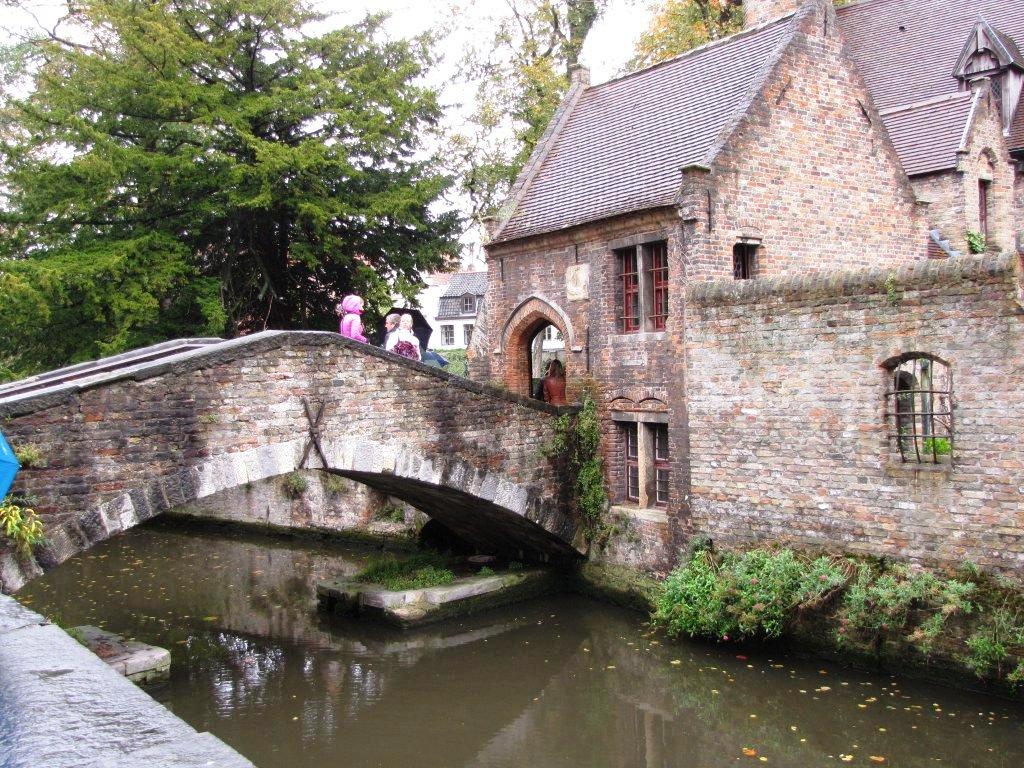 One of the many scenes I painted on various visits to Brugge, a favorite tourist path behind the Church of Our Lady. This vantage point is a corner that is isolated from the many tourists who pose on the bridge for pictures. I usually add one or two of them into my painting.
Brugge has a fantastic town square and I like having a hotel near it. We stayed at the Best Western Hotel Accacia one block off the square.
After unpacking we set out for a lunch on the square. The square is a  great place for drinks, snacks, and full meals. Some of the restaurants that are off the square are a bit cozier and usually easier to get into. I have never been disappointed by any of them.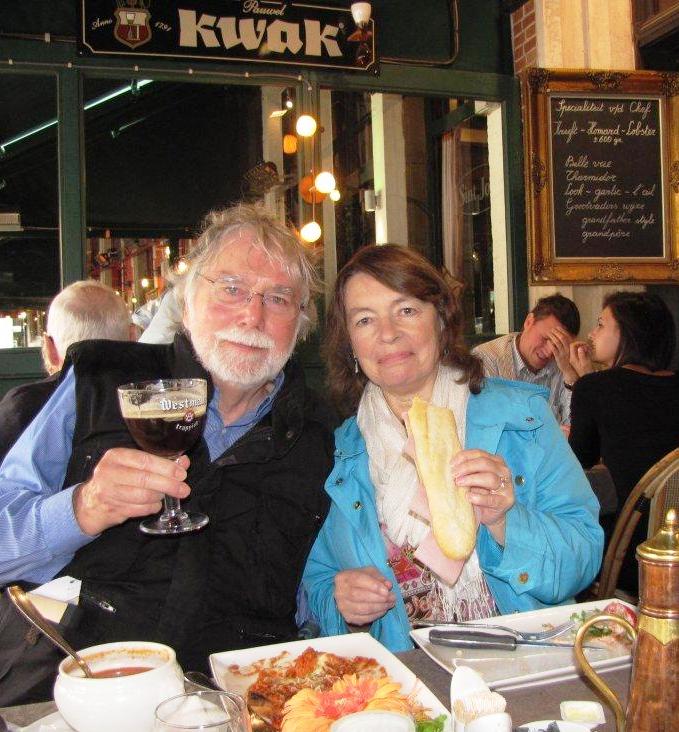 Lunch in one of the many fine cafes surrounding the square. Here I sample one of the six trappist beers produced in the monasteries of Belgium.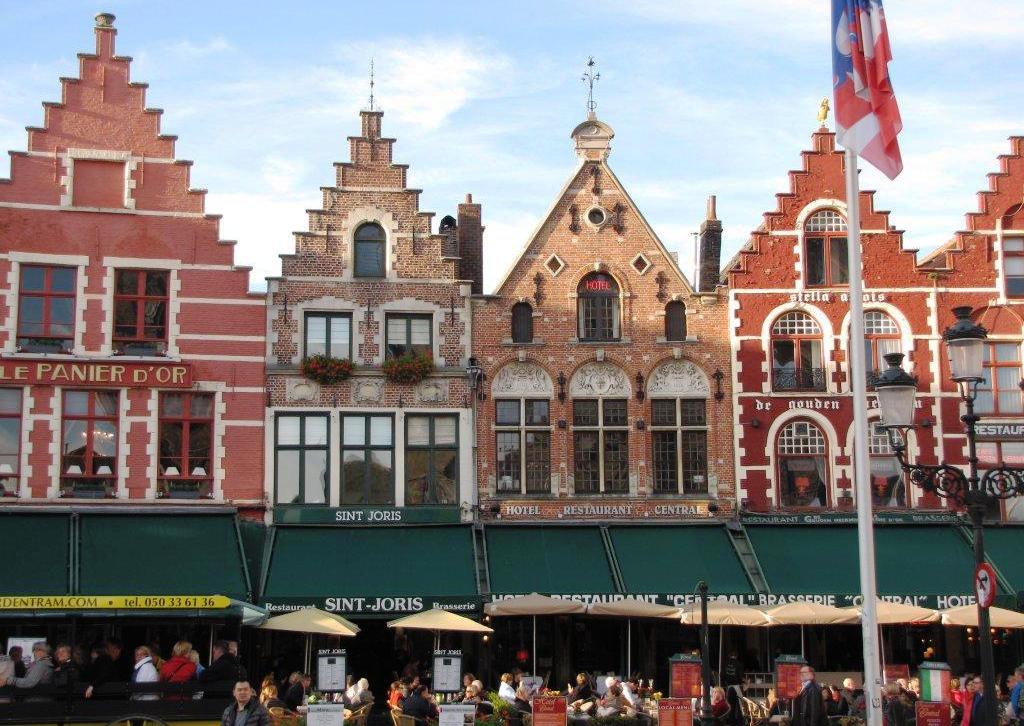 View from the fountain in the center of the square. We had lunch in the Sint Joris, and I painted this scene while sitting on the fountain.
There are a million things to do in Brugge, some right around the square, which contains several art galleries, a church that presumably contains some of Christ's bones, and best of all, a clock tower that you can climb. I have painted it several times. I climbed it once. The clock tower is best painted early in the day, while the row of restaurants have nice shadows in the late afternoon. The square is even more beautiful at night. On our first day in Brugge we walked the outer canal and took in the never ending scenery, including the Church of Our Lady, which houses the Michelangelo, and the Art League, where stands the Van Eyke statue.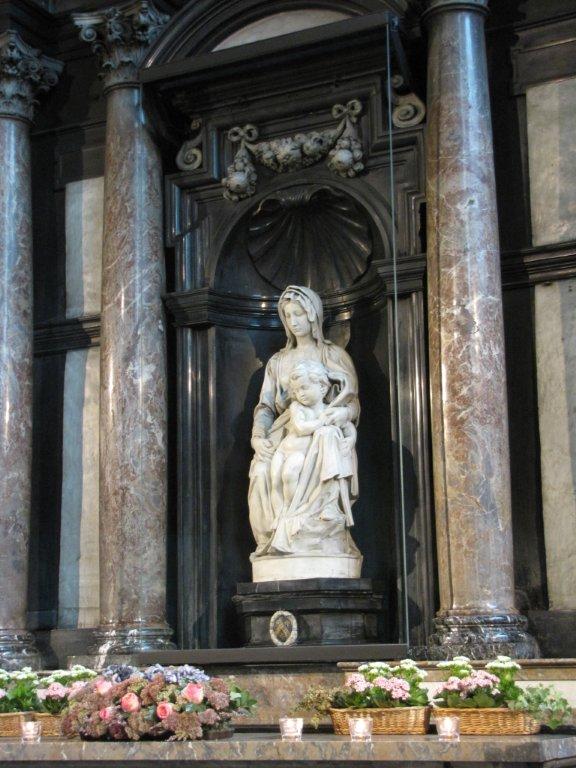 Michelangelo's Madonna and Child in the Church of Our Lady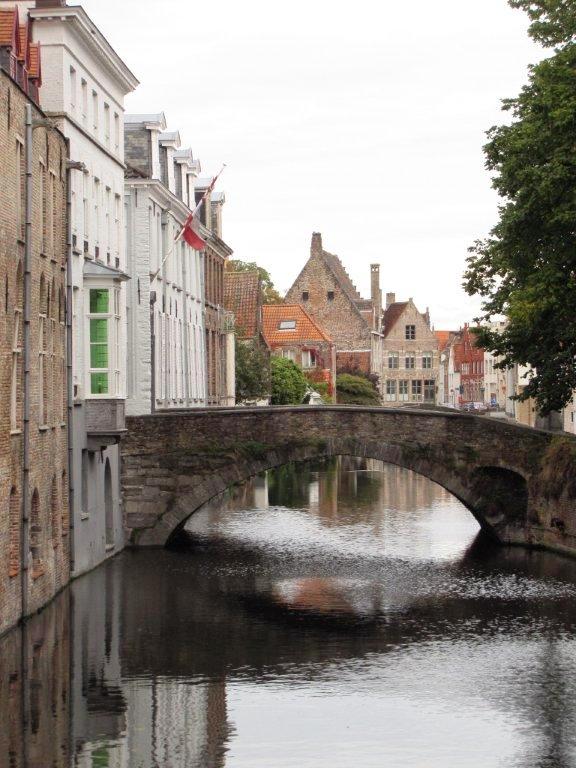 Sometimes referred to as the Venice of the North, Brugge has many bridge scenes like this one.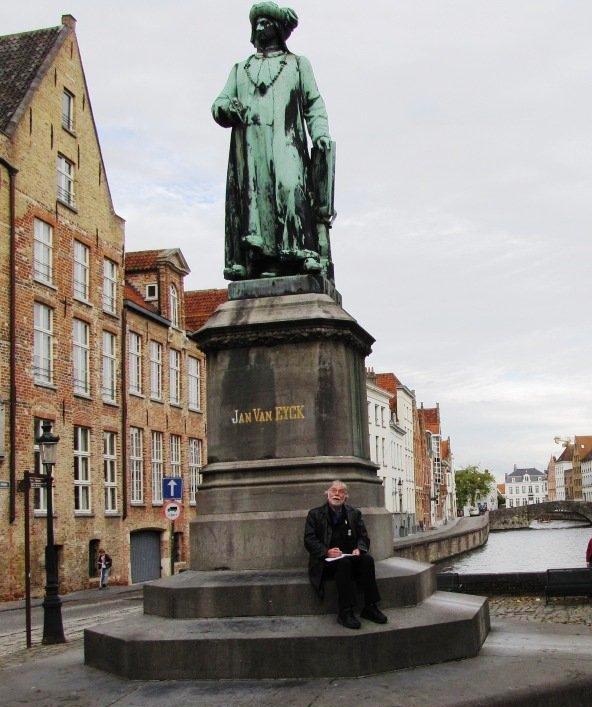 Van Eyck was head of the art league in Brugge, which met in the building I am sketching here while sitting on the statue of the master.
During the second day, since I wanted to paint, we gave Larry and Jo a few suggestions, and they set out on their own to do what tourists do in Brugge, while Pauline and I took a more leisurely pace, searching out good scenery to paint and photograph.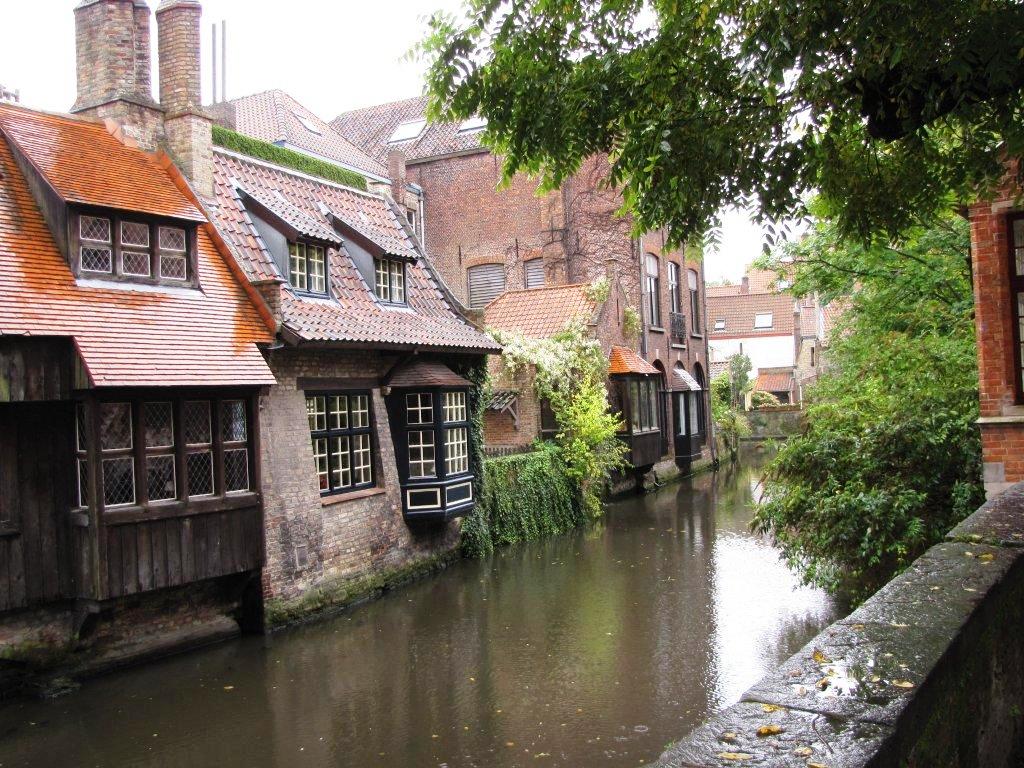 A path following the outer canal offers many great views of the city.
On our third day, we returned to Brussels for the Eurostar trip back to London. By now we had learned the Belgian system and layout so well there was no more getting lost. One Worldworsttourist saying is "when you stop getting lost in a place, it is time to leave."  But in the case of Brugge, I know I will return.