Chasing Eclipses Down Under
Australia-The Total Eclipse, Rain Forests, The Bush, The Great Barrier Reef
Sydney
November 2012


What began as a quest to experience my third total eclipse of the sun quickly expanded to become one of the most diverse and fun filled adventures of my traveling career. After 15 hours of flying that included two movies and a few hours of sleep and losing an entire day to the international date line, Robin and Lyndall, our Australian friends met Pauline and I at Sydney Terminal 1. Nothing is more reassuring than being met by local friends in a foreign airport. Instead of wandering around in a daze in a strange place, you see a smile, get a hug, and turn yourself over to an expert who you can trust to provide the most enjoyable first looks at a new world possible.

We loaded bags into Robin's car and headed for our first look at Sydney, a city of four million spread along one of the most beautiful harbors in the world. Our first stop overlooked the Bay Bridge and the famous opera house.
Robin, Pauline, and Lyndall in Sydney on our first day.
After a brief introduction to Sydney, we moved on to the Cox home where we would stay the next three days and be shown a view of Sydney that few tourists will ever see. Our first outing began immediately with a walk in the bush that started directly behind their home. The walk took us through Bushlands Park to a marina where Robin puts in his sailboat. This was a nice mild introduction that prepared us for an early night to attempt recovering some of the sleep we had sacrificed to get come to the down under part of the world. Walking along the path in the Bush, we were surrounded by the sounds of exotic birds, examined wide range of strange plants and flowers and even encountered a surrealistic tree that seemed to be happy to see us.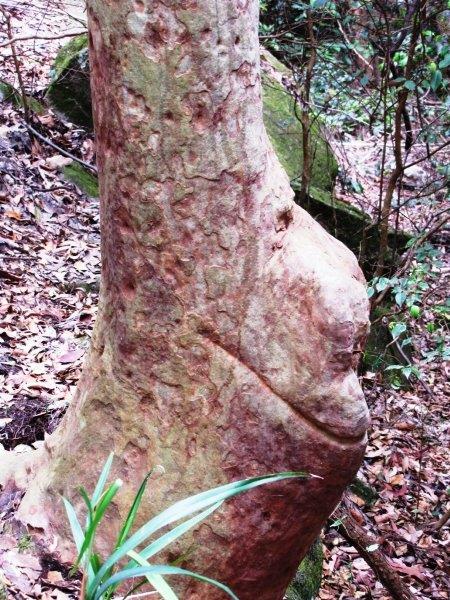 A smiling tree on our first introduction to the bush.
Robin had a full spread sheet of activities for us to choose from, which remained dynamic throughout our stay as we began to explore the possibilities. We began the next day with a ferry boat cruise around the harbor, which eventually took us to Circular Quay, which lies near the city center, next to the opera house.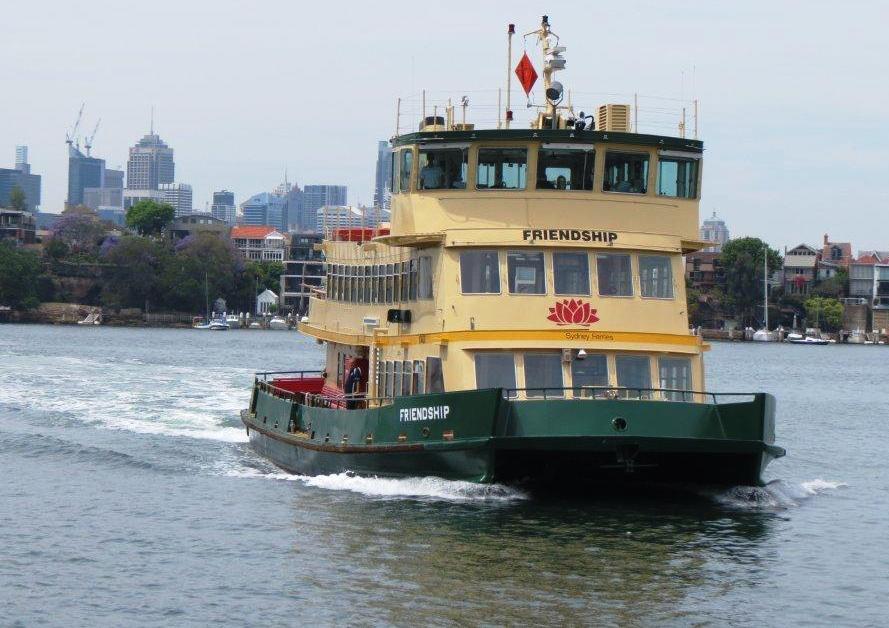 A ferry boat named Friendship took us around the Sydney Bay.

The ferry boat trip provided us some amazing views of the Sydney skyline, the Bay Bridge, and the Opera House.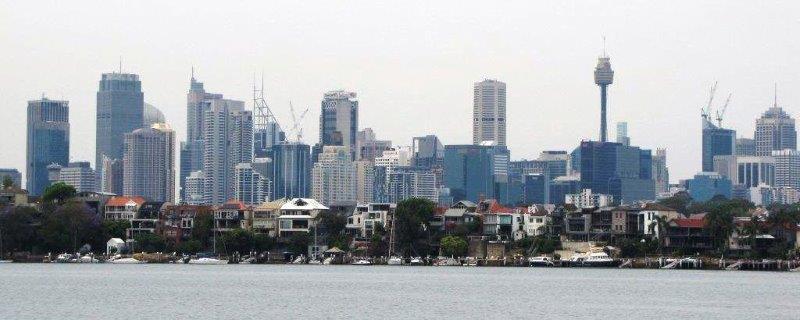 Sidney skyline from the Ferry Boat Friendship.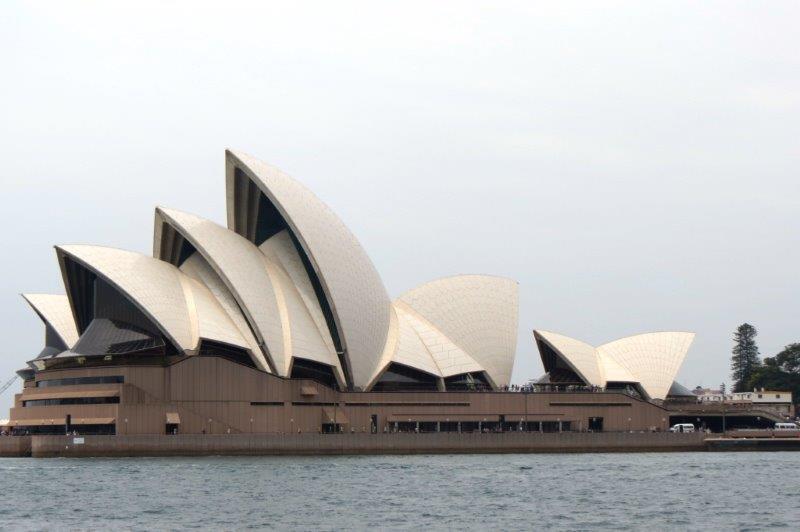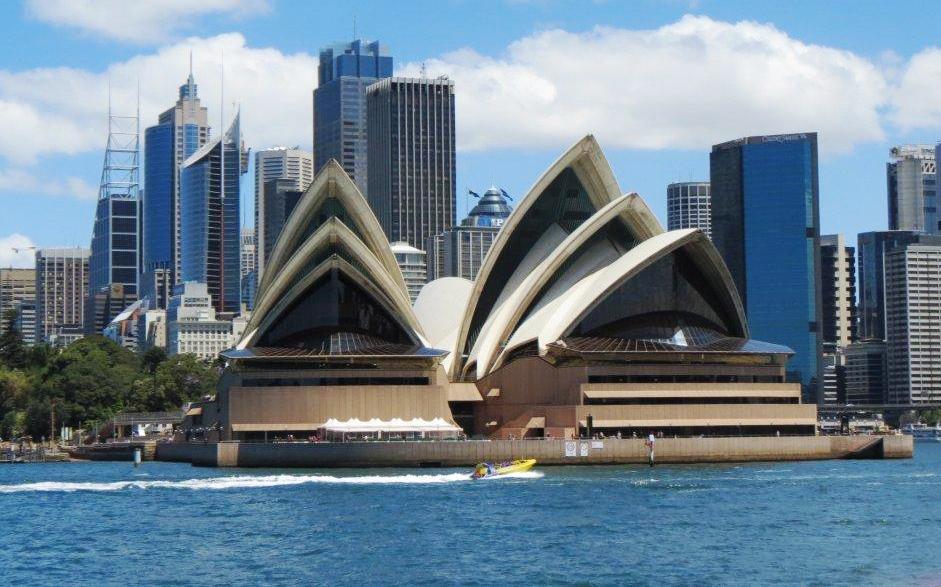 Various views of the Famous Sydney Opera House.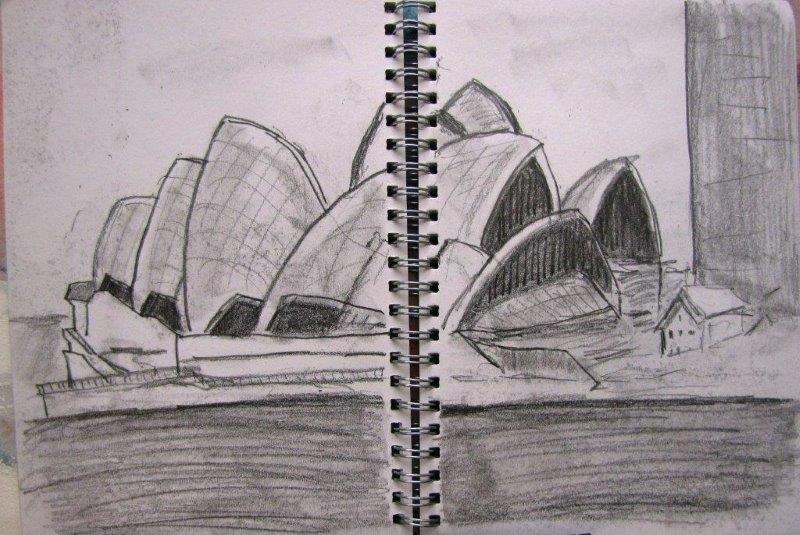 As soon as we dismounted the ferry boat at the Circular Key, Pauline and I were captivated by a local hat shop. I had heard many stories about the problem with flies in Australia, and I had seen a particular kind of hat designed to solve that problem. The hat has corks dangling from the rim that are supposed to scare all the flies away. Robin explained that those hats don't actually achieve anything useful, and you would never catch an Australian wearing one; however, tourists somehow associate them with Australia and buy them like hotcakes. "Therefore, we sell them to tourists," he laughed.

I had read a similar story about sombreros in Mexico. Tourists buy them so the Mexicans oblige by providing them. They are fun to have in Mexico, but when you get them home, there is not much you can do with them. A saying "Don't buy a sombrero," has been generalized to mean don't buy things in foreign countries that really have no other use than to satisfy tourists. So I concluded that the cork laden hat was an "Australian Sombrero." It turns out that the only way to keep flies off is to fit a fly net over your face, and that is what I eventually did. To my surprise I encountered no real insect problem until I arrived in the outback. Eventually, I did purchase a kangaroo leather hat, which now is a prized option for local wear in California. Australians do actually wear these.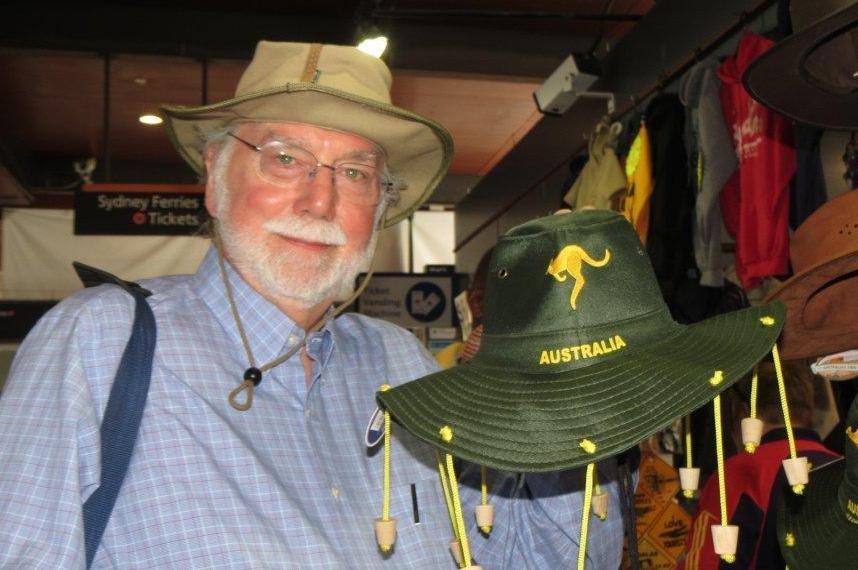 An Australian Sombrero.

From here we strolled leisurely along Poets Walk, by the opera house, and through the National Botanical Garden, an amazing array of plants, sculptures and exotic birds overlooking the harbor. As Pauline focused on photographing various birds and plants, I did a sketch of an amazing view of the opera house through the trees, noticing how the sails of the opera house seemed to mimic the shapes of tree leaves and branches that framed the scene. From the garden we could see the Intercontinental Hotel, where we would join our eclipse tour group on Sunday.

Our timing could not have been better, as we approached the tea shop when a few drops of rain began to fall. By the time we had ordered tea and a little something to go with it, the bottom fell out, and the pathways flowed with water. By the time we had enjoyed tea and interesting conversation the rains had withdrawn.
We could have stayed in the Garden for hours, but we chose to move on to the nearby National Art Gallery where we enjoyed a great collection of Australian paintings and sculptures. Walking back by the library, through the city, we arrived back at Circular Quay, where we could hear the enticing sound of a didgeridoo that we could not resist. A street musician was entertaining an audience and selling his album. I love the didgeridoo and made my first purchase in Australia. I vowed to find a didgeridoo and ship it back to the USA and learn to play it.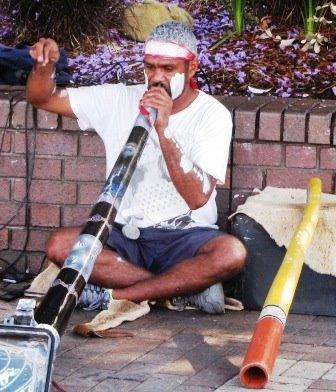 A local Aboriginean playing the didgeridoo at the Circular Key.

As we waited for our ferry home, I did yet another sketch of the opera. Sooner or later I figured I would get this right then do a painting. Just as delightful as the sights Robin and Lyndall provided were the widely ranging discussions that included not only details of country cultures and features, but also politics and religion. Robin and Lyndall are one of the very few couples I have experienced who can manage a two way discussion of religion and politics that stays rational, logical, interesting, and useful to everyone in the discussion. In our entire visit we were never lacking for an interesting discussion.

The next day provided an even more unique set of Australian experiences, beginning with a visit to an open garden where we added to our array of unusual plant sightings and discussion with the locals. In the process of our discussions Pauline had related the fact that her genealogical studies had uncovered a branch of her family tree, including her great, great uncle, George Kingham. As chance would have it, he had named his home "Flitwick", after Pauline's birthplace, and an even greater coincidence was that he had lived not far from Robin and Lyndall So after our visit to the open garden, Robin took us to the very cemetery in which he had been buried, we located his grave site in the cemetery office and visited his grave. Finding his homesite was a bit more complicated since all houses had been replaced by commercial buildings for many  years.
Next we drove to West End state park, which provides magnificent viewpoints of the Sydney Harbor. After a picnic in the park we moved to the end of the peninsula and stopped at a viewpoint where I could not resist producing several sketches of the harbor, birds in the trees, and a wedding as the others strolled and photographed the changing scene.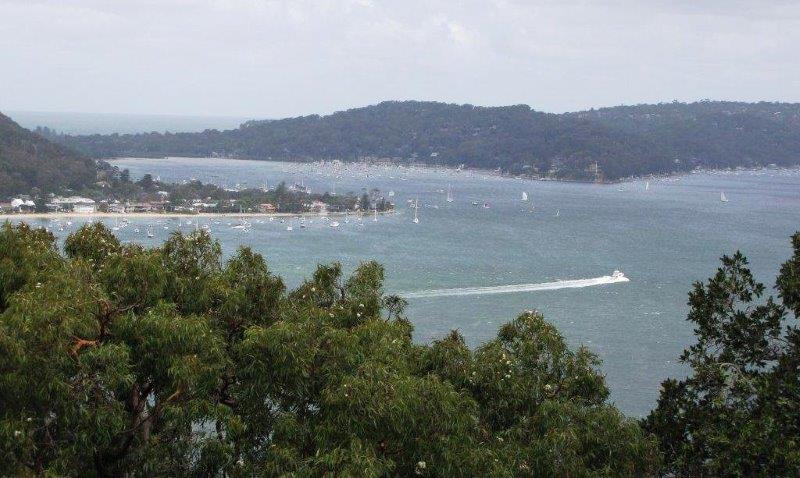 West End Park overlooking Sydney Harbor
In the evening we walked along the beach and had dinner at the harbor side.
Sunday arrived all too soon and Robin  drove us to the hotel where we joined our tour group at 8 AM for another day of local sights. For the next week our tours would all begin by loading onto a large bus with about 30 others. Since it was too early to check into a room, we stashed our bags, mounted the bus and left for Bondi Beach about 9 AM where we watched swimmers, joggers, and surfers, all who became subjects of a few sketches made as we sat in a beach side coffee shop.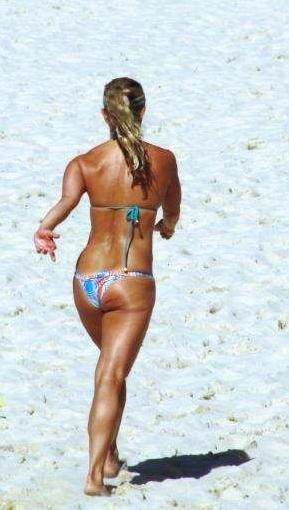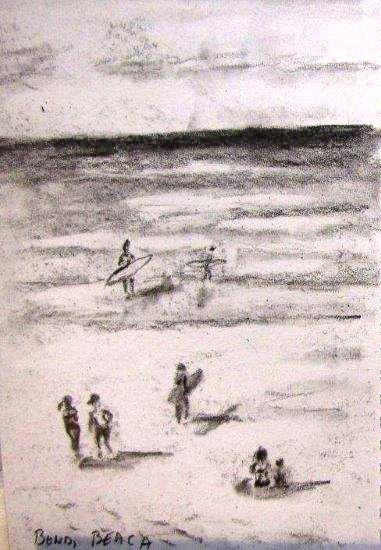 Bondi Beach scene. With a few more years of Australian ultraviolet these people's skin can replace the kangaroo leather in hats like the one I bought.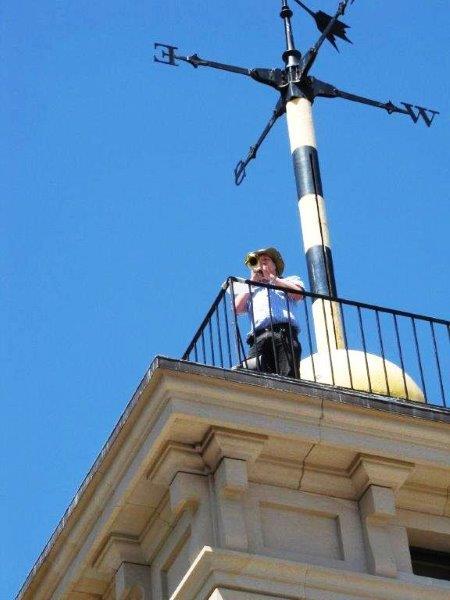 Special moment of silence followed by bugler at 11:11 on 11/11/12.

Our next stop was the Sydney Observatory overlooking the bay bridge where fortuitously we happened to be on 11/11/12 at 11:11 AM, the time of national recognition of veterans. A bugler appeared at the top of the observatory and played a national song as everyone stopped for a minutes silence in remembrance. And the day was just beginning. After a quick sketch of the Harbor Bridge we descended to visit the local church, where a remembrance service was in progress. Our bus took us next to Watson's Bay where we took a lunch cruise back around the harbor leaving us once again at Circular Quay. Pauline and I spent the next two hours strolling through "The Rocks", a market place that covers several blocks near the bridge. I made my first major purchase, a kangaroo leather hat. I also began shopping for a didgeridoo as we worked our way back to the hotel.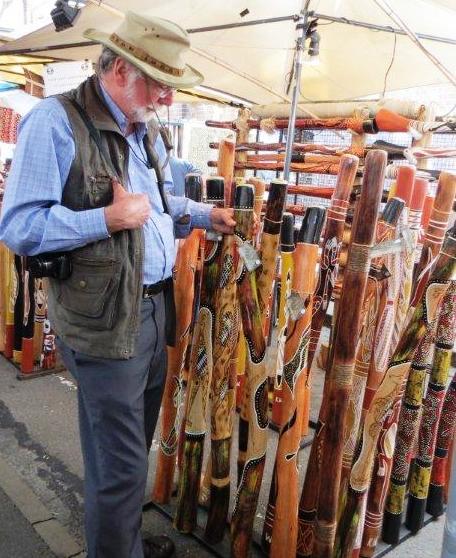 So many didgeridoos, so little time. The typical cost for one of these is 2-4 hundred dollars. A didgeridoo is a eucalyptus tree limb with a hole through it eaten out by ants. The best ones that are long and flared at the end run well over $1000.
Finally we checked into our hotel room, made a cup of tea and relaxed. To our pleasant surprise we had a great view of the harbor, the botanical gardens, and could even see the opera house with a bit of stretching.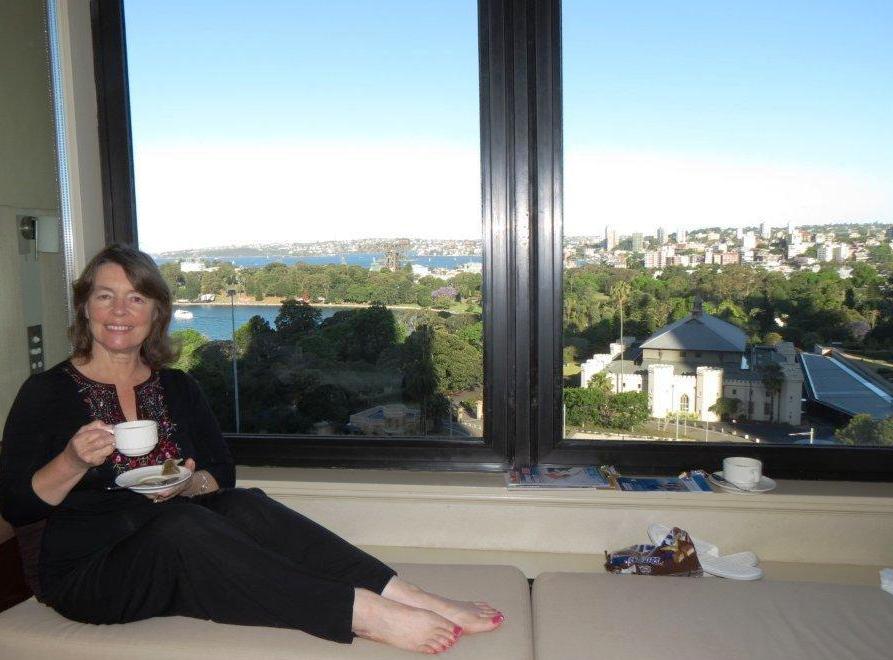 Afternoon tea in our hotel room overlooking the botanical gardens and the Sydney Harbor. The opera house is to the far left, visible with some calisthenics.
In the evening we attended a ceremony in the Australian Museum, where we walked among a great collection of dinosaurs while feasting on drinks and canapés. One thing for sure about tourist packages is they always feed the tourists.
We were up again early the next day for a trip to the Blue Mountains. The day featured a cable car ride to the coal mines and a visit to a visitor's center that include an Aborigines show and more didgeridoo music.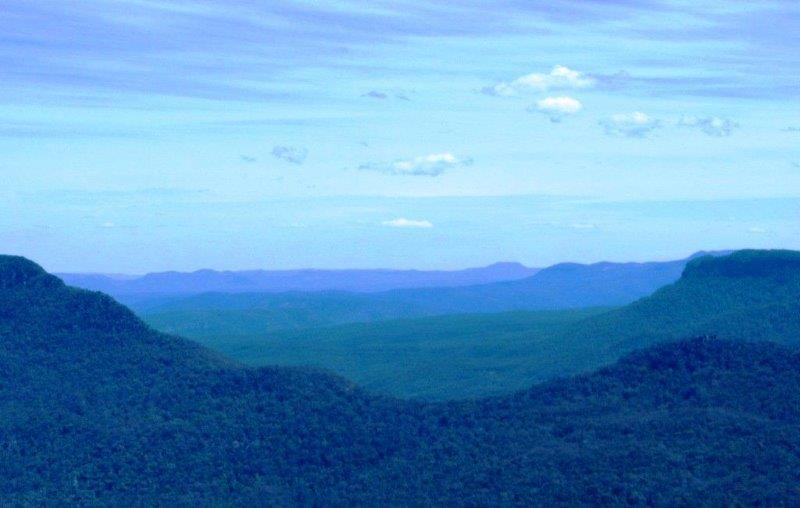 The Blue Mountains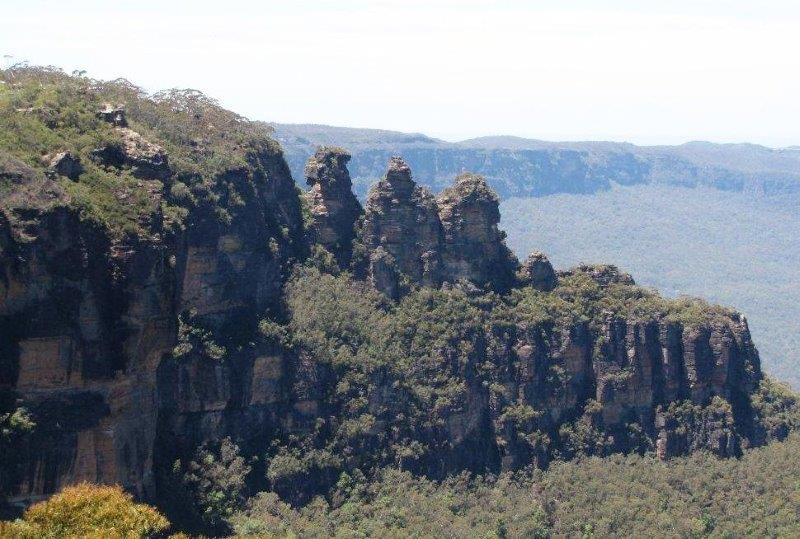 The Three Sisters in the Blue Mountains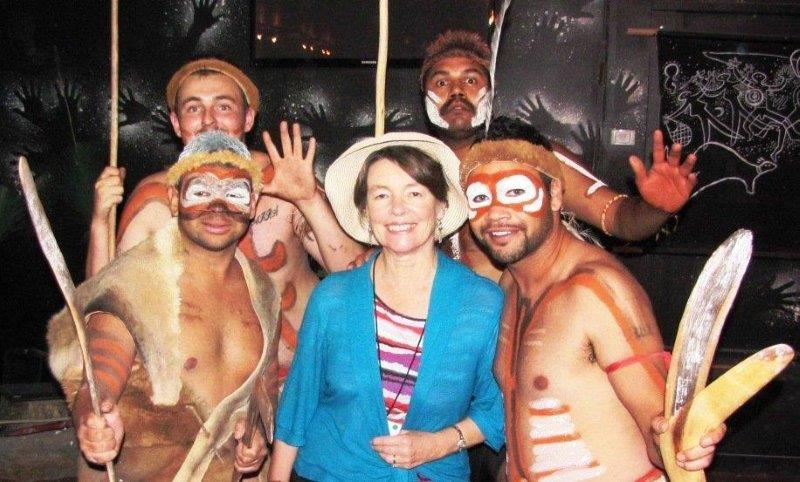 Pauline participating in the aborigines show.

On Tuesday we flew to Cairns and bused on to Port Douglas to sites that would lie in the moon's shadow path. The flight from Sydney to Cairns took almost 3 hours, and a one hour bus ride took us along scenic the seaside highway to Port Douglas where we would stay until the following Sunday. The eclipse was to take place on Wednesday, 12 November.

Our hotel was the Sea Palace, a rather luxurious resort on a beach of the Coral Sea. Each room had a patio that opened onto a large swimming pool that took the form of a lagoon, sprawling over an acre of land.

Pauline and I wasted no time. We quickly unpacked and began to explore.  We had heard of a nearby animal habitat where we could see a variety of exotic Australian animals. We imagined that it was a zoo of sorts, and I felt a bit hesitant, visiting a zoo on a once of a lifetime trip like this. But this turned out to be much more than a zoo. The habitat covered several acres and was completely sealed off by fences and screens so that we could actually walk amongst most of the animals. It was expansive to give the feeling of actually being in the wild. You didn't notice that  there was  a screen somewhere above or that fences surrounded the place.  There were snakes and crocodiles that obviously require a bit more separation from us, but many other animals walked along the same paths with us and in some cases we were allowed to  hold them. This took us completely by surprise and provided a delightful experience. The highlight came as we approached a guide who was holding a koala bear and offered the bear to Pauline. It looked like the bear wanted to go home  with us. He must know about Barnaby.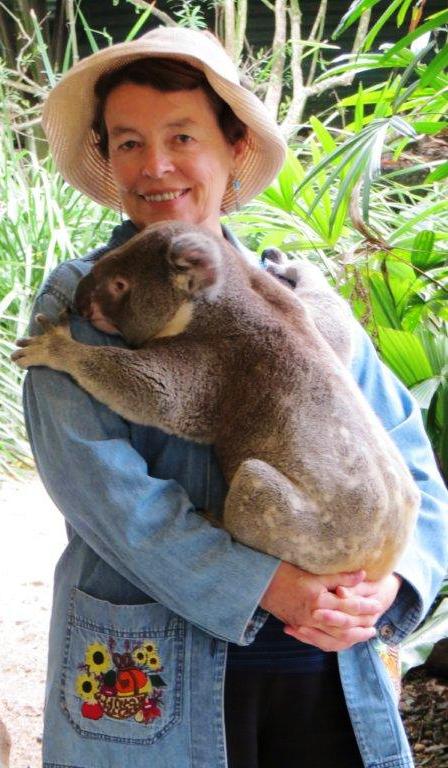 Pauline holding a koala bear at the animal habitat.

We found ourselves walking within inches of some of the most exotic birds and other animals I have seen. Apparently they were used to tourists by now and essentially ignored us. The habitat even provided food that you could give any of the animals who were interested, and some would eat from ones hands. We used up a lot of megabytes on our cameras with  the endless display of wildlife.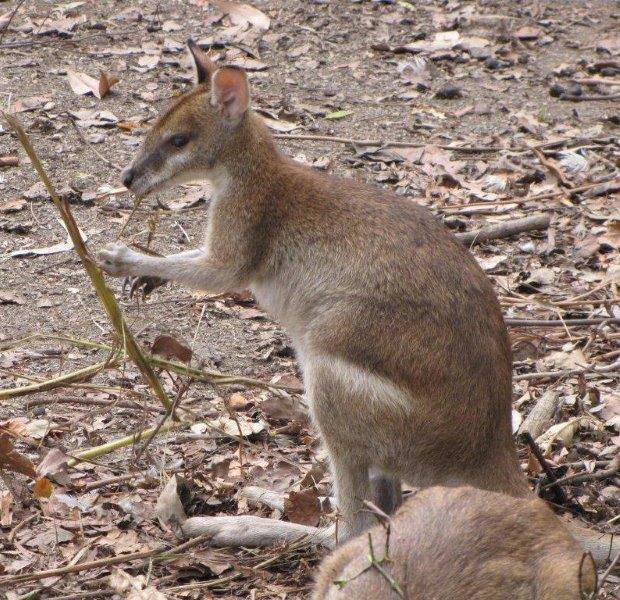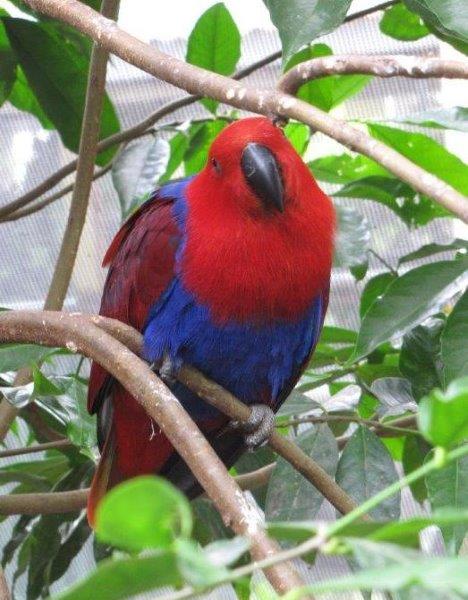 Birds like this sat comfortably a few feet away from us. Kangaroos and wallabies were busy doing their usual things. This wallaby was having an afternoon snack.
What we had originally thought would be a quick visit kept us engrossed for about three hours.

Arriving back at the hotel, I took a quick look and made some sketches of the scenery behind the hotel with a plan to  paint  something when time permitted. The path leading to the beach was lined with exotic plants.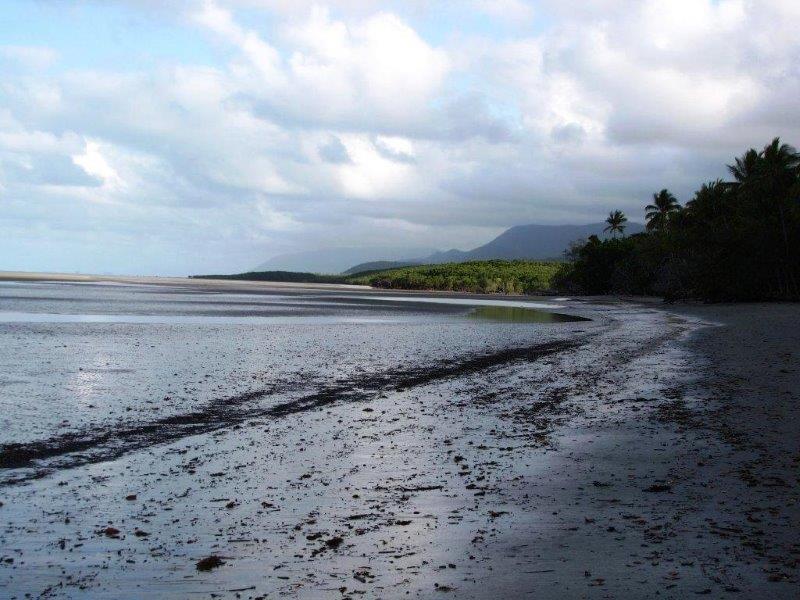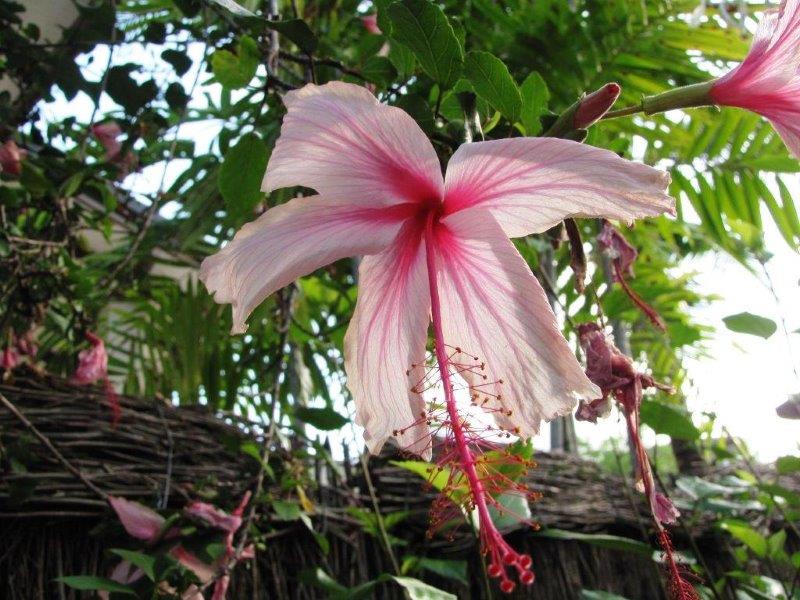 View from the beach behind the The Sea Palace.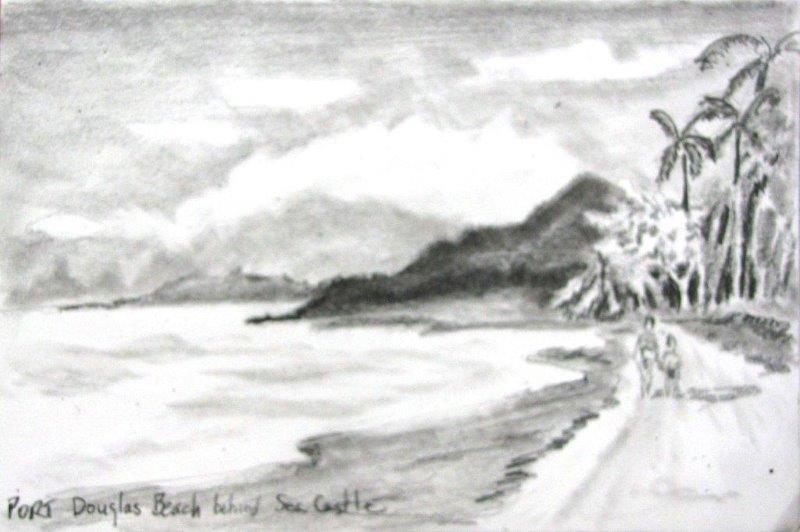 Beach on the Coral Sea

We joined the group for dinner and preparation for the early morning eclipse. The buffet contained every kind of food known to man and a dessert table fit for a king, including a chocolate fountain with fruit. I was already regretting eating so much, knowing how difficult it is to sleep after a meal like this, but who can turn down such a spread? After dinner we met for instructions and tutorials about eclipses.  One has to prepare for an eclipse, because it lasts only minutes, and one needs to train to get the  most out of those minutes.

Pauline and I were both excited and woke up even before the 4 AM wake up call. The lobby was already filled with anxious eclipse chasers when we arrived and we collected our sack breakfast, downed a cup of coffee and boarded the bus at 5 AM. The drive to the viewing site at Wetherby Station Cattle Ranch took about an hour, and I dozed along the way, saving the breakfast for later. I am always amazed at the typical tourist reaction to food. Food is like a huge magnet for tourists.  I heard someone tell his wife, "I'm sure there are enough bags to go around, but you never can tell, so I quickly grabbed two for us just to be on the safe side." On the bus, the people were tearing into these bags and stuffing down the contents as if they hadn't eaten in days. I was still struggling with the feast we had eaten a few hours ago at dinner, and trying to make up for the lost sleep by closing my eyes. How can anyone be interested in  food at 4 AM?

There was just enough light to avoid the many cow piles in the pasture for us as a viewing site. We rounded u chairs and established a good spot between two cow piles and near a large ant hill.  At 6:30 the  sun rose above the trees, with the moon already blocking a small segment out of one side. We immediately began to be concerned at a large bank of clouds that were moving in the direction of the sun.

By the time the sun was half covered by the moon, it was almost totally covered by clouds. My heart began to sink. Then within a few minutes before totality the universe offered up magic  and moved the clouds out of the way.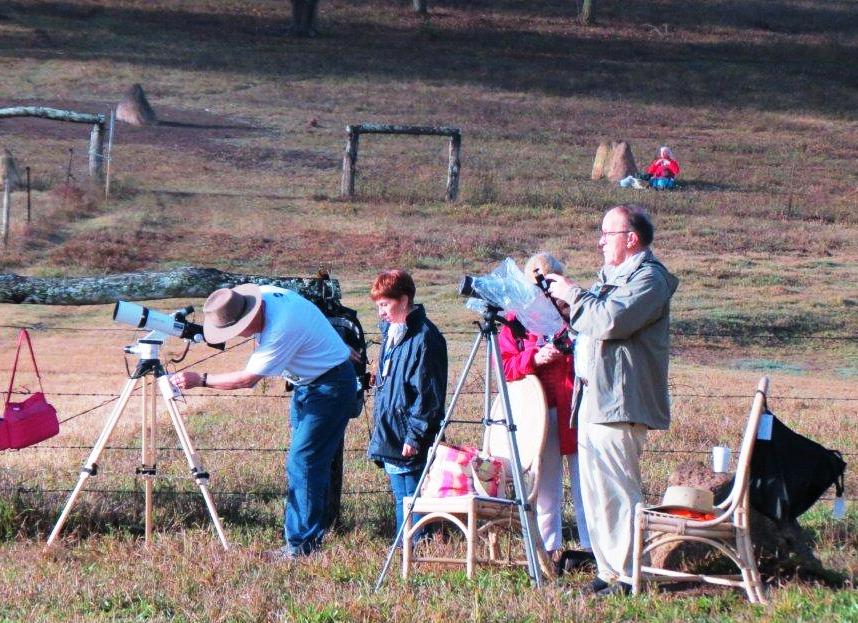 About 100 of us were scattered over five acres of Wetherby Station cattle ranch. Some came with elaborate cameras and telescopes.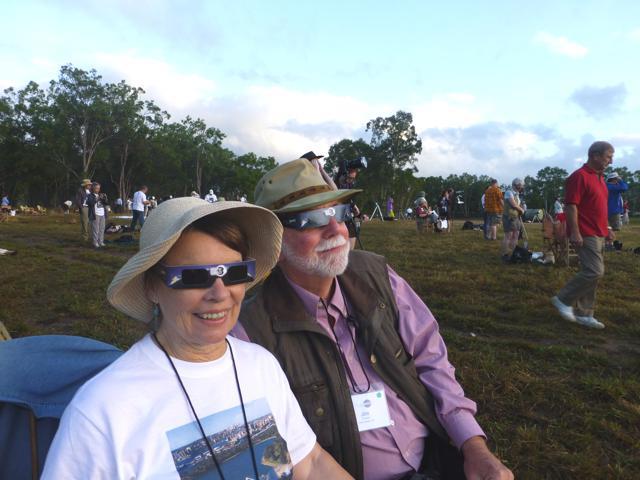 A few minutes before totality. When totality is reached you can stare straight at the sun and remove filters from cameras for a few minutes.
People always ask me what is so special about eclipses that makes someone travel around the world to see one. As always, I realize that words cannot describe the experience; however, a description may be enough to encourage someone to see one, so here goes. The edge of the moon makes four distinct contacts with the sun's edge. Little happens during the first and fourth. The real action takes place at the second and third, when totality begins and ends.
Various unusual events occur during the process, and that is why training is advised. The time is so short that one will miss many of the events if he is not prepared to observe and see them. The saying that "All eclipses last eight seconds," means that it seems that way even though some last up to six or more minutes. This one would last 2 minutes and 3 seconds. Until second contact, or totality, actually occurs our surroundings are quite well lit up, and one must wear solar filters to protect one's eyes when looking at the sun. Our eyes continue to adapt as less light comes to us from the sun and it is not immediately obvious that our surroundings are getting much less light even when 98% of the sun is blocked. There is, however, an eery feel to the lighting of the surroundings. The contrast of shadows lessens, allowing easy and different observation of anything in the shadows. The eye no longer sees the wide dynamic range of intensity, so what is in the shadow appears as clear as what is outside. Also, the surroundings begins to get noticeably cooler and a cool breeze usually begins.
Immediately before totality time seems to speed up and going from light to dark is more like a step function. Just before totality, the remaining light is a point source and it simply switches off, leaving a black hole in the sky where the sun was. The sun's corona can be seen surrounding the black hole. At this point one can look straight the black hole, and the protective glass are no longer needed. Our surroundings are dark, it becomes immediately cool, winds usually begin to stir more, birds stop singing. One's eyes must begin adapting to dark. The surrounding horizons are all appear as though we are completely surrounded by sunrises while the sky overhead is dark.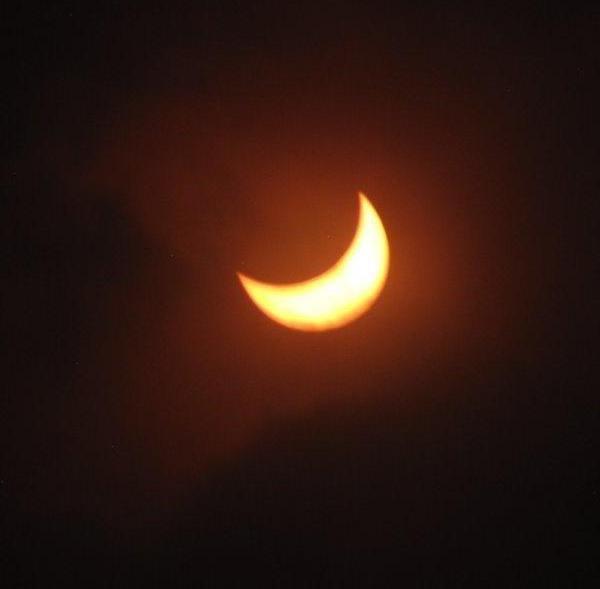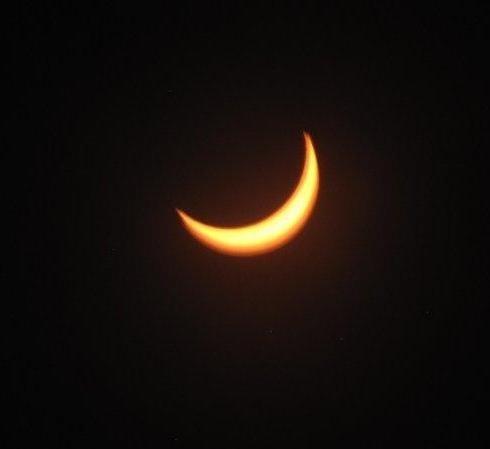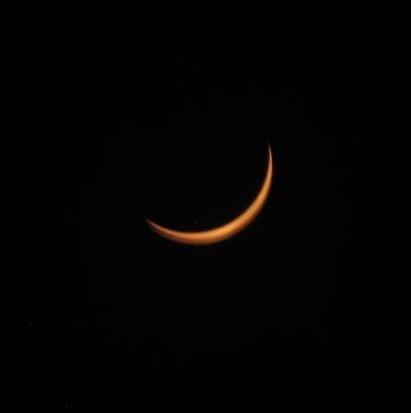 About half an hour before--------------------------------------    Fifteen minutes before------------------------------          Ten minutes before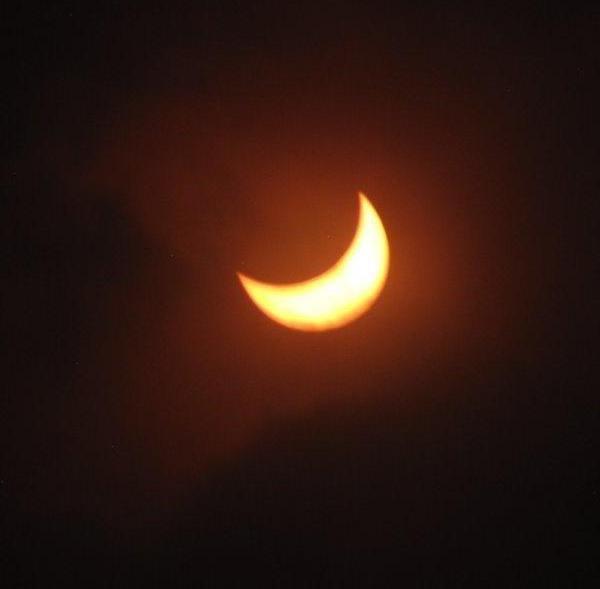 Totality is reached and will last 2 minutes                                            ------------------------------- Fifteen minutes after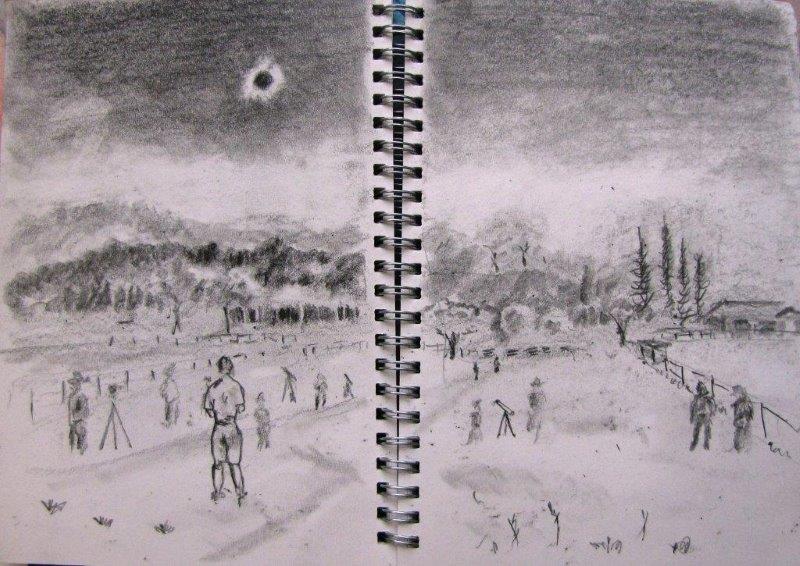 The total eclipse of the sun
Sketch done while waiting on totality. I added the eclipsed sun in later.

This provides the first deeply moving experience. The guide shouts, "Lens caps off!" to remind everyone that now we can look directly at the sun with no protection on out eyes and cameras. Otherwise, in the excitement people do forget to remove filters. At the moment I become ever so grateful that the universe has moved the clouds and allowed me the full experience that I have come halfway around the world to see. Second, I am overcome with the beauty of it all. Third, I am moved by the delights collectively expressed by all around me. As I gasp in delight, I hear others crying, gasping, laughing, and some even claim to have orgasms. Then it gets quiet as people immerse themselves into the experience.

Some serious astronomers are totally engrossed in filming, while others hug and kiss their partners and weep together. Just before third contact, a guide starts a count down because this is a very fast event that can be missed by the blink of an eye. Also, it is extreme because now the eyes have dark adapted. At third contact, a blinding flash takes place and for an instant the sun appears like a huge diamond ring, with the corona comprising the ring part and the point of light being the diamond. This can only be observed for less than a second before solar glasses and filters must be replaced to protect eyes and cameras. If you blink, you can miss it. This instant is always accompanied by a roar from the crowd followed by applause. (There are other events like shadow bands that I have not discussed here.) For most, this essentially ends the experience and people then began laughing, sharing experiences, and checking to see if they got good pictures.

As for photography, it is advisable not to waste valuable time taking photos of an eclipse-the time is too precious-unless you have serious, sophisticated equipment and a detailed rehearsed plan. Good pictures are easily available from professionals and amateurs will miss much of the experience if they waste the time attempting a point and shoot recording. Pauline and I allow ourselves one or two shots, and I always promise myself not to spend valuable time looking through a camera during these precious moments. I took one; it was lousy. Pauline had better luck and took several of reasonable quality. I used her shot of totality here.
Everyone was filled with joy after the eclipse. Serous photographers remained set up until fourth contact. The rest of us convened at the ranch house where we were give a steak and egg and champagne breakfast and a full blown outback entertainment program.
The owner of the ranch and his daughter demonstrated the various methods of herding cattle using dogs and horses. Cattle run wild in the outback until near the time for market so rounding them up is a critical task. Motorcycles, all terrain vehicles, and helicopters are also employed.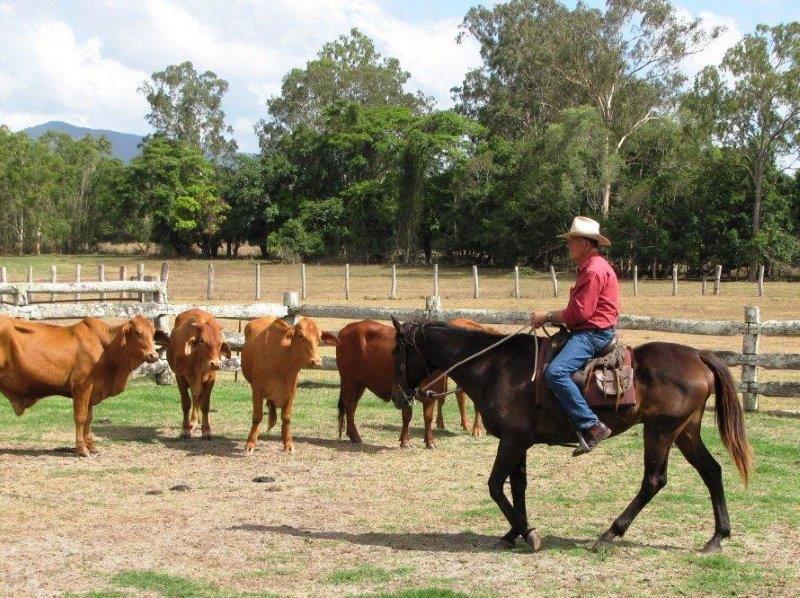 Herding cattle on the Wetherby Station Ranch

With the rest of the afternoon off, Pauline and I explored Port Douglas, a small  tourist town that supports the local resorts. The main street sports about 50 stores and restaurants that cater mostly to tourists. After scrutinizing all the Australian sombreros we could stand, I sat on the beach drawing the pier while Pauline wandered around taking photos. After tea and a cake we headed back to the Sea Palace.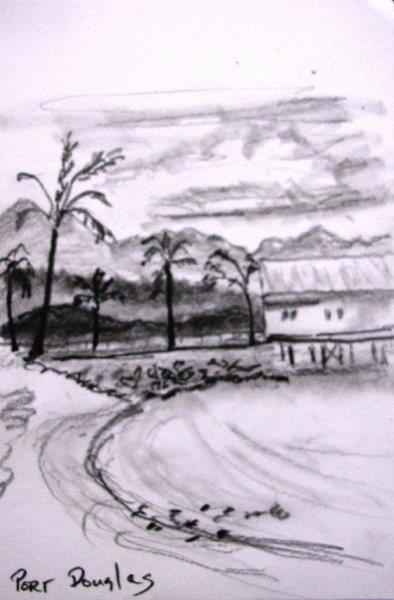 Beach at Port Douglas

On Thursday we took a bus the a nearby train station and boarded a train to take us through the Daintree Rain Forest up to the  town of Catoomba. The  train ride was real treat with beautiful views of waterfalls, forest, mountains, and eventually the Coral Sea.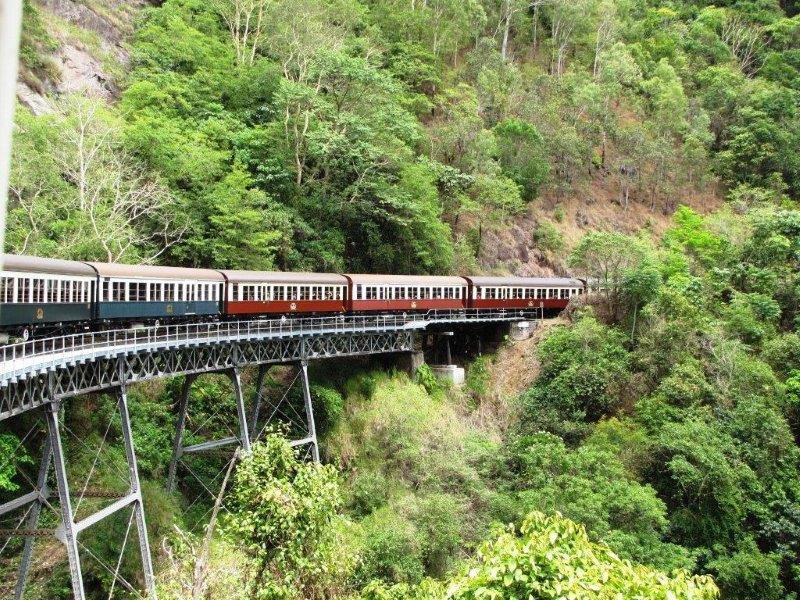 Train ride to Catoomba through the Daintree Rain Forest.

The train made several view stops and the one overlooking Barron Falls was especially beautiful. We got a look at the falls from the other side while descending the mountain in a cable lift, which also made strategic stops for viewing. That one provided enough time to do a quick sketch of the falls.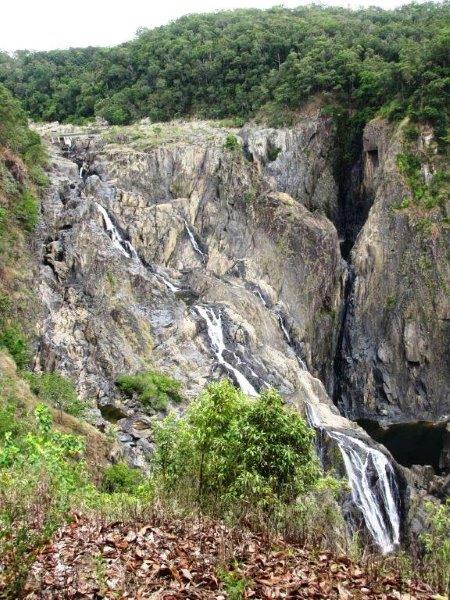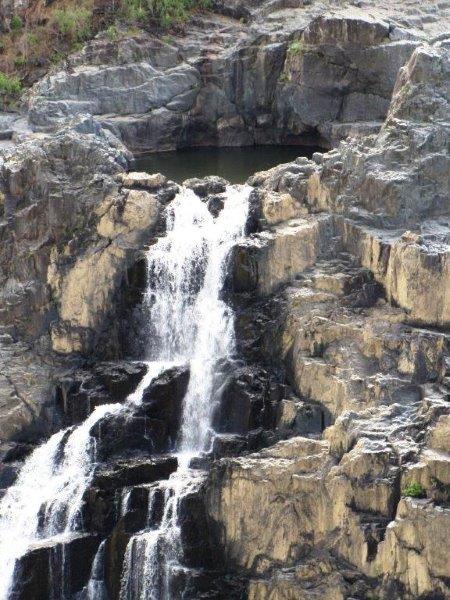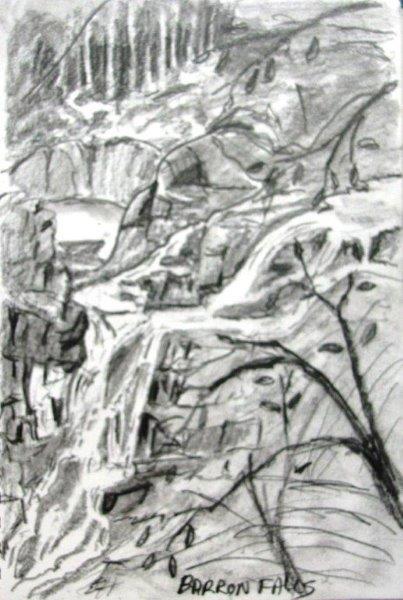 Barron Falls
Catoomba is a tourist town at the peak that provides excellent museums, stores, art shops, jewelry, especially Australian opals, and restaurants. Pauline elected to visit the Butterfly Sanctuary, while I preferred drawing it. I found a nice, comfortable spot in the shade across the street, augmented my drawing equipment with coffee and cookies from the local bakery, and sat down to paint. I couldn't ask for more. I even had the occasional tourist bus to remind me of the hazards of plein air painting.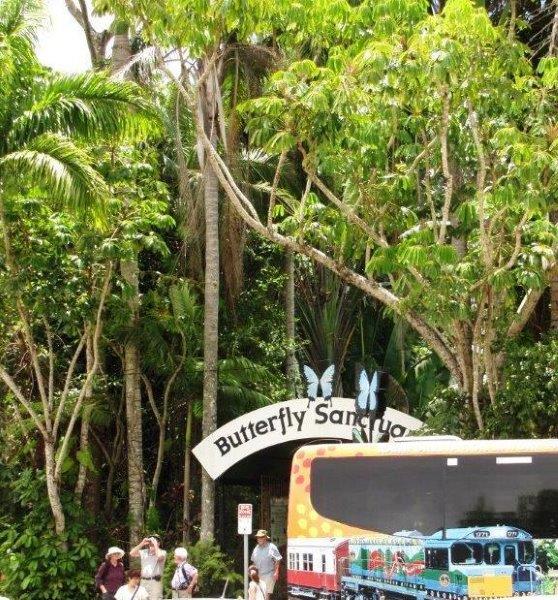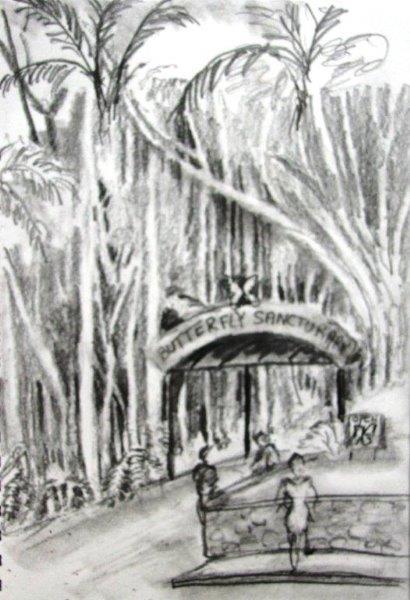 The Butterfly Sanctuary complete with tour buses to block my view so I could pause and have coffee and cookies as I painted.
We had about an hour in Catoomba before taken the gondolas down to meet the bus. The gondola rides gave us even more spectacular views of the rain forest.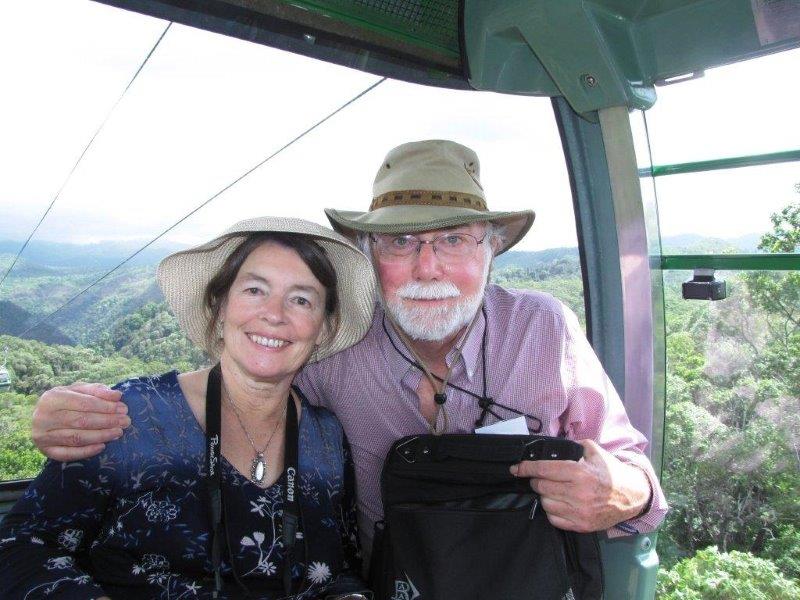 Ride down the mountain through the Daintree National Forest Park

A primary disadvantage of traveling with a travel group is the concrete schedule. Regardless of how much you are enjoying an experience or regardless of what you have found, when the bus is ready to leave you have to be on it. Just as bad is that regardless of how bored or uncomfortable you are, you can't leave until the bus is loaded and ready. This day was loaded with the former. By the time we arrived and the base of the mountain, the bus was waiting and ready and we were not ready to leave.
Friday began another early day. The bus took us to a local marina where we boarded the Quicksilver, a boat that would transport us to the Great Barrier Reef where we could spend the day snorkeling, scuba diving, and riding in glass bottom boats. It took about an hour for the boat to reach the pontoon platform that gave us access to the reef. What could have been a pleasant boat ride turned into another example that makes me yearn for places without tourists. We had gotten on the boat early enough to secure two window seats, providing a great view. As the boat filled with tourists, a Chinese family of four filled out our table. That would not have been a problem, except for the fact that since they didn't speak English, they had no interest in listening to the slide shows, instructions, and requests that accompanied the trip. That wouldn't have been a problem except for the fact that they constantly kept a loud conversation going in Chinese that prevented us from listening either. Even when important instructions were announced we could not get them to quieten down. An announcement would begin, "Attention! This is a very important message, immediately upon arriving at the ………….." and that would be about all we could make out from the message. A slide show explained how to get the most out of the visit to the reef. We could only see the pictures and here a few words above the "Ching Chang, Wang, bong."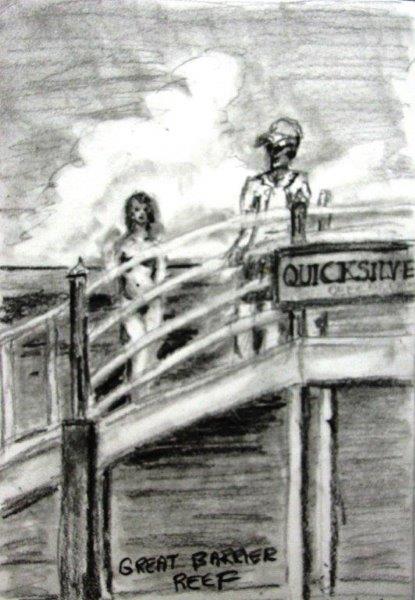 At the Great Barrier Reef

We explored the reef from various vantage points, did a bit of snorkeling, had lunch, and I even found time to draw the scenery.
On the way back, we moved to an available center seat without much of a view just to escape the din. I spent this part of the trip sketching passengers and especially a beautiful Chinese fellow sitting by the window.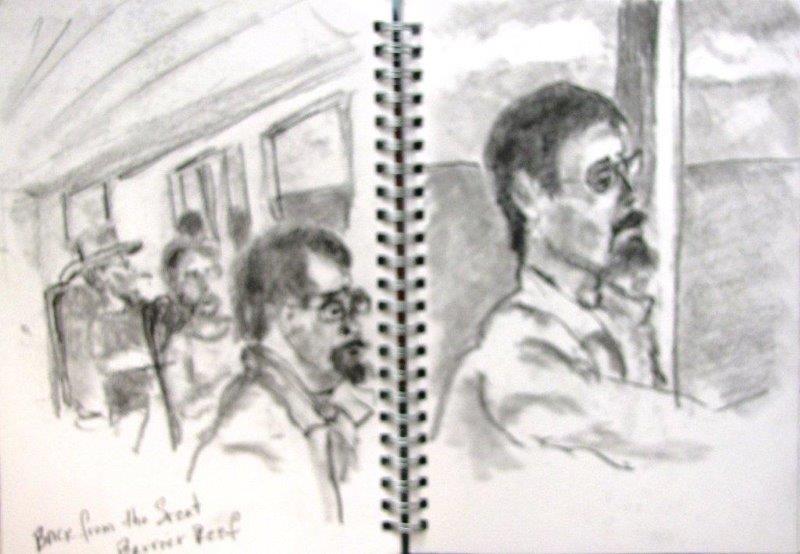 Boat trip from the Great Barrier Reef

Saturday was another adventure filled day. At least the bus didn't leave until 8 AM. We passed through the town of Mossman, took a quick look at a sugar mill, then moved on to a river cruise. The rivers is this part of the country are filled with alligators, and we did see a few in addition to several exotic birds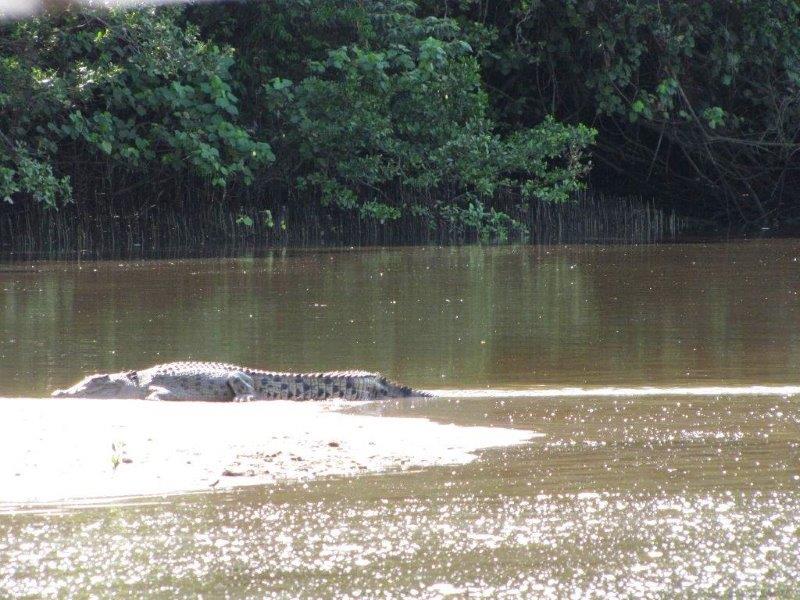 River Cruise

We were done with the river by noon, had lunch in Mossman and moved on to a second rain forest. This one had walking paths elevated above the forest to allow a better view as well as one that stuck to the ground.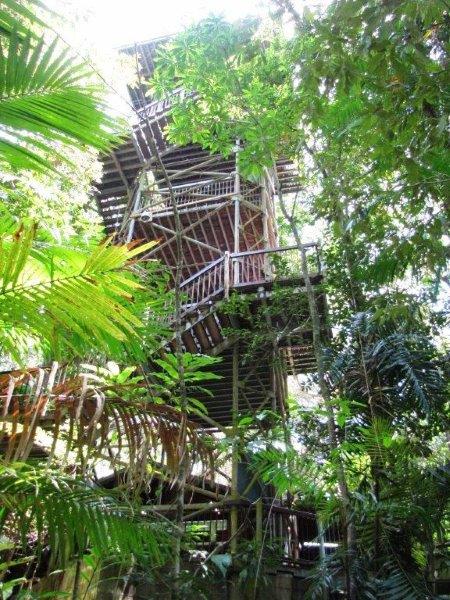 Tower above the rain forest

Sunday, the end of the eclipse adventure had arrived and we parted ways with the group. This group had an extended optional tour to Ayer's Rock; however, we chose to do that on our own since we wanted more freedom to come and go as we please, and I wanted time to paint. That is another story. Read "Painting Uluru".